This Week in Lottery: Rollovers, Mystery Winners and More
Last Updated: December 2, 2018
Powerball Jackpot Soars Yet Again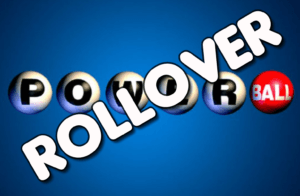 It seems the US Powerball is headed towards yet another big payout! During last Saturday's draw, lottery officials confirmed that no one won the jackpot. So, what was supposed to be a $79 million jackpot, will now become $92 million—with a cash option of $56.8 million—come Wednesday, January 24. As for secondary prizes, no one matched the five white numbers so no one will go home $1 million richer. The silver lining is that there were two tickets that matched four white balls in Michigan—which means each will walk home with $50,000. The winning numbers were:
26-28-47-49-58
, Powerball:
3
, Power Play:
4x
If you purchased tickets for the January 20, 2018 US Powerball draw, check them again because you might be among those who won secondary prizes. Overall, there were 619,961 winners who won at least $4 each.
AU Powerball Winner Still a Mystery
Lottery officials are still looking for winner of the life-changing $55 million Australia Powerball jackpot for the January 11, 2018 draw. A week after the draw, the winner—who is entitled to the entire jackpot—has yet to come forward. In a bid to prompt the winner to claim his/her prize, Tatts released more details about the winning ticket. So, if you purchased an Australia Powerball ticket from Scole Lotto and News on Sydney Road in Brunswick, it could be you! Just a refresher, the winning numbers were:
5-7-11-32-34-38
, Powerball:
12
Mega Millions Jackpot Rolls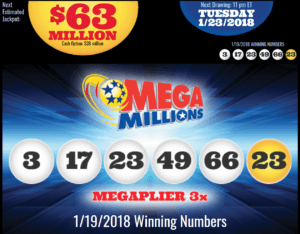 As if mimicking the US Powerball, the Mega Millions is also building towards a huge win as no jackpot winners were found during the draw last Friday, January 19. The jackpot was $55 million but will now become $63 million—with a cash option of $38 million—come Tuesday, January 23. On the bright side, there was one winner of the $1 million second prize and ten winners of the $10,000 third prize. In total, there were 169,073 winners of at least $4 each. The winning numbers were:
03-07-23-49-66
, Mega Ball:
23,
Megaplier:
3
Dayton Goes After Lottery Winners
Some 300 letters have been sent to Ohio lottery winners after the city of Dayton discovered that there were countless unpaid taxes on lottery winnings that go all the way back to 2014. Around $35,000 have been collected since the city's government started its initiative during October last year. While not all municipalities tax lottery winnings, the city of Dayton reports prizes $600 and up to the IRS. Since 2014, around 9,000 lottery players have won at least $600. So, if you received a letter—or if you won in an Ohio lottery draw before—don't prolong paying what you owe in taxes any longer!
No Winners of €75M Euromillions Jackpot
There were no jackpot winners during the January 19, 2018 draw of the Euromillions lottery, which means the top prize will climb to €81 million come Tuesday, January 23. Luckily, there were 4 winners of the second prize—which meant they matched 5 numbers and one Lucky Star number. Each will take home €317,749.96. The winning numbers were:
3-8-17-44-50
, Lucky Stars:
2
&
7
Meanwhile, the UK Millionaire Maker codes were:
VXPF51556
&
XXNX90620
Ireland Town Celebrates Euromillions Plus Win
The town of Cavan, which is situated near the border of Northern Ireland, was in a joyous mood as one of its residents became the sole top prize winner of the Euromillions Plus draw last Friday, January 19. The owner of the Lees Gala Store in Ballyhaise, where the winning ticket was purchased, is sure a local will scoop up the princely sum. Could it be you? Better double check your ticket if you did buy one there! The winning numbers were:
2-9-12-26-39