Spain Lotto Results, Jackpots & Fun Facts!
Results Updated On:14 Aug 2020 (GMT)
Game
Winning Numbers
Details
EuroMillions Superdraw

Regular Numbers

4
16
27
37
39

Additional

3-6

Next Jackpot

€130,000,000

EuroMillions

Regular Numbers

8
13
14
42
50

Additional

3-9

Next Jackpot

€85,000,000

El Gordo

Regular Numbers

10
34
37
42
49

Additional

0

Next Jackpot

€7,400,000

La Primitiva

Regular Numbers

1
4
6
17
23
26

Additional

0

Bonus

3

Next Jackpot

€5,400,000

BonoLoto

Regular Numbers

7
10
15
26
34
35

Bonus

37

Next Jackpot

€1,400,000
About Lotto in Spain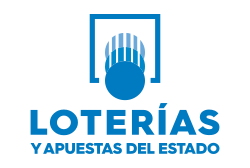 Most major lotteries in Spain are administered by a company called Loterías y Apuestas del Estado (LAE). The company is owned by the government of Spain under the Ministry of the Treasury. Its current iteration was founded last December 2010, replacing the previous lottery operator of a similar name.
Some Spanish lotteries go back all the way to 1763, most notably La Primitiva. The game has seen many changes since its inception. It was even abolished sometime in the 1800's, only to make a comeback more than a century later. Today, lotteries in Spain are very much alive and kicking – having awarded billions of Euros in prizes.
List of Spanish Lotteries
Being the biggest transnational lottery in Europe, EuroMillions makes an unsurprising appearance in LAE's lineup of games.
To play, just pick 5 numbers from 1 to 50, and 2 Lucky Star numbers from 1 to 12. If you match all numbers drawn, you take home the jackpot! It's not unusual to see grand prizes in the hundreds of millions range, and with relatively favorable overall odds of winning, EuroMillions should be one game on your radar.
EuroMillions has draws every Tuesday and Friday evening at 9:00 PM CET.
As one of the oldest lotteries in the world, La Primitiva, which started in 1763, is one of Spain's biggest lotteries. It features a minimum jackpot of €3 million which rolls over each draw until it's won.
To play, you have to pick 6 numbers from 1 to 49. One of those numbers is called the Complementario. It can be any of your 6 picks and is used solely to determine second prize winners. A separate number between 0 and 9, called the Reintegro, is randomly assigned to you and printed on your ticket. If you match all 6 numbers plus the Reintegro, you take home the grand prize.
La Primitiva has draws every Thursday and Saturday evening, at 9:30 PM CET.
Spain's BonoLoto can be best described as a miniature version of La Primitiva. It has pretty much the same set of rules: You pick 6 main numbers from 1 to 49, one of which is used as the Complementario. A seventh number called the Reintegro is also randomly assigned to your ticket.
The biggest differences between the two games are the prizes up for grabs, the drawing schedule, and the ticket price. BonoLoto's biggest prize starts at €400,000 and rolls over every draw until won.
BonoLoto has draws everyday from Monday to Saturday at 9:30 PM CET.
El Gordo
El Gordo de La Primitiva, or simply El Gordo, is a once-a-week lottery game that features a minimum jackpot of €5 million. Like all other lotteries on this list, the grand prize rolls over every week until someone wins it.
To play, just choose 6 numbers from 1 to 54, plus an additional number from 0 to 9. If you match all, you win the grand prize. Interestingly, El Gordo is also the term for grand prizes in most other Spanish lotteries.
El Gordo has draws every Sunday evening at 9:30 PM CET.
Spanish Lottery Games Schedule
| | | |
| --- | --- | --- |
| EuroMillions | Tuesday and Friday | 9:30 PM |
| La Primitiva | Thursday and Saturday | 9:00 PM |
| BonoLoto | Monday, Tuesday, Wednesday, Thursday, Friday, Saturday | 9:00 PM |
| El Gordo | Sunday | 9:00 PM |
Past Spanish Lottery Winners
Here are some notable wins in the history of Spanish lotteries:
€101.7 million. This jackpot was awarded to a sole winner of the October 15, 2015 La Primitiva draw. The record jackpot reached such impressive levels after rolling over 56 times!
£96 million. This EuroMillions jackpot was won by another lucky winner with nobody to share the prize with. The winning ticket was purchased from Ciudad Real in July 2019.
Can lottery winners stay anonymous in Spain?
Yes. Lottery winners in Spain can remain anonymous.
Spain Lottery Information
Odds of Winning Spanish Lotteries
Still deciding which Spanish lottery has the best odds? We've summarized the odds for four of the biggest lotteries. Check out the table here:
| | | |
| --- | --- | --- |
| | Jackpot Odds | Overall Odds |
| EuroMillions | 1 in 139,838,160 | 1 in 13 |
| La Primitiva | 1 in 139,838,160 | 1 in 8.4 |
| BonoLoto | 1 in 139,838,160 | – |
| El Gordo | 1 in 31,625,100 | 1 in 6.1 |
Spain Lottery Tickets and Age Restrictions
Lottery tickets for draw games and instant win games can be purchased from any authorized retailer, through the LAE website, or the official mobile app.
All players must be at least 18 years old in order to purchase a ticket.
Lottery Taxes in Spain
Generally, lottery winnings €2,500 and above are taxable up to 20% in Spain. There may also be additional taxes withheld if the prize is taken out of the country.
Spanish Lottery Contact Information
Customer Support
You can contact LAE customer representatives through the following details:
Social Media Accounts
You can also follow LAE on their social media accounts:
Mobile App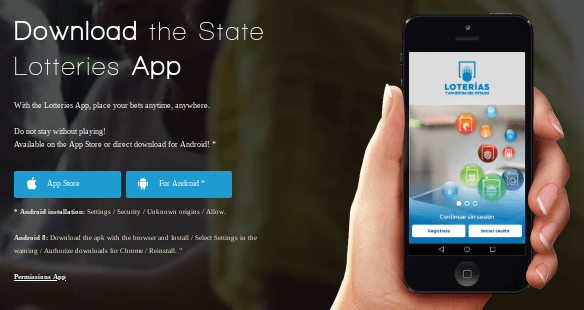 LAE supports an official mobile app that lets players take the lottery with them wherever they go. You can use the app to buy lotto tickets online, view results, contact support, and much more.
Just go to the Apple App store if you're using an iOS device. If you're on Android, you can download the LAE app from the website.