United Kingdom (UK) Lotto Results, Jackpots, & Fun Facts!
Lottery Results Updated On:10 Jul 2020 (GMT)
Rating:
Game
Winning Numbers
Details
EuroMillions

Regular Numbers

12
16
23
33
41

Lucky Stars

08-10

Next Jackpot

$15,000,000

Lotto

Regular Numbers

05
18
22
31
50
59

Bonus

30

Next Jackpot

$7,500,000

Lotto HotPicks

Regular Numbers

05
18
22
31
50
59

Lunchtime 49s

Regular Numbers

06
19
25
28
37
48

Bonus

26

Health Lottery

Regular Numbers

07
08
14
28
35

Bonus

38

Millionaire Raffle

Regular Numbers

VTXT72321

Thunderball

Regular Numbers

12
14
17
23
36

Thunderball

10

Teatime 49s

Regular Numbers

03
04
05
20
30
39

Bonus

31
List of UK Lotteries
National Lottery UK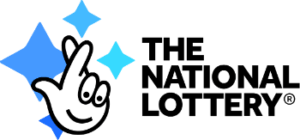 The National Lottery is the official government-sanctioned lottery of the United Kingdom. They offer several draw games and dozens of instant win games, which include the following:
Lotto is the UK's favorite lottery game. For a shot at any of the six prize tiers up for grabs, players must choose 6 numbers from 1 to 59. To win the jackpot, just match all six main numbers drawn. A seventh Bonus Ball is also drawn to determine the second prize winner(s).
The expected minimum jackpot is £3.8 million for the Saturday draw, and £2 million minimum for the Wednesday draw. Rollovers are limited to five, at which point the jackpot is shared among all cash prize winners if nobody matches all six main numbers.
Lotto draws take place on Wednesday and Saturday evenings at 8:30 PM BST.
As its name would suggest, EuroMillions is a transnational lottery that is played in many countries across Europe. It also happens to have some of the biggest jackpots around, with grand prizes reaching the hundred-millions range.
The game also features pretty unique mechanics. Players have to choose 5 numbers from 1 to 50, and 2 extra numbers, called Lucky Stars, from 1 to 12. To win the multi-million jackpot, a player must match all the numbers drawn. There are also 12 other prize tiers available, bringing your overall chances of winning to a favorable 1 in 13.
EuroMillions draws are broadcast in the UK twice a week – Tuesdays and Fridays at around 8:45 PM BST.
Thunderball's top payout of £500,000 may be dwarfed by the previous lotteries' multi-million jackpots, but the good news is that it's a guaranteed prize. That means if you manage to match all 5 main numbers plus the sixth Thunderball number, you won't have to share the jackpot with any other winners.
Additionally, there are 8 other prize tiers for the taking. And with relatively good odds of winning, the game is definitely worth a shot!
Thunderball drawings take place every Tuesday, Wednesday, Friday, and Saturday evening at approximately 8:00 PM BST.
Set for Life
As the most recent addition to the UK National Lottery's selection of draw games, Set for Life offers players the chance to win the jackpot of £10,000 per month for thirty years! The secondary prize of £10,000 per month for one year isn't too shabby, either. And as usual, there are other prize tiers available.
For a shot at winning any of the cash prizes, players have to pick 5 numbers from 1 to 47, and an additional Life Ball number from 1 to 10.
Set for Life has drawings twice a week, every Monday and Thursday evening at approximately 8:00 PM BST.
You can play UK's Lotto Hot Picks in five different ways. Choose to play from 1 to 5 numbers, and if you match ALL the numbers you picked, you win!
Hot Picks uses the same numbers drawn for UK Lotto, specifically the first 6 main numbers drawn. If you picked 5 numbers and all of them appear in the draw, you win an instant £350,000. Betting on fewer numbers has better odds but lower payouts.
UK Millionaire Maker
If you purchase a EuroMillions ticket in the UK, you are automatically entered into the UK Millionaire Raffle.
A unique UK lotto raffle code, consisting of four letters and five numbers is printed on your ticket and if your code is the one picked, you win a fixed £1 million!
Only raffle codes that are played are entered into the draw, so there is always a guaranteed winner. That also means that your chances of winning depends on the total number of people who participate. Generally, more people play later in the week so focusing on the earlier draw can be more strategic.
UK Millionaire Maker follows the same schedule as EuroMillions, with two winners announced every week, every Tuesday and Friday night.
Other UK Lotteries
UK 49's is a privately owned and operated lottery that has drawings broadcast on live television. It's a twice-daily game. The first drawing is at lunchtime, and takes place at approximately 12:49 PM BST. The second draw is held at teatime, at approximately 4:49 PM or 5:49 PM BST, depending on the month of the year.
The rules of UK 49s allows for a lot of flexibility, as they give the player a lot of choice and different ways of winning. You can choose how many numbers you want to play, how much to bet, and even how many of the drawn numbers you can use to make a match. Prizes and odds vary depending on how you play.
The Health Lottery is a charitable Great Britain lottery organization that offers one cash draw lottery, and a variety of virtual and instant games. You can learn more about them by checking out our Health Lottery review.
To play main game, just pick 5 numbers from 1 to 50. During the draw, 5 main numbers are randomly chosen, with the addition of a bonus number for secondary prizes. The more numbers you match, the bigger your prize. Jackpots are a guaranteed minimum of £25,000, and go as high as £100,000.
Drawings for The Health Lottery are held 5 days a week, every Tuesday, Wednesday, Thursday, Friday, and Saturday at 9:55 PM BST.
UK Lottery Draw Times and Schedule
Check out the table below for a quick overview of all games and their corresponding draw times:
| | | |
| --- | --- | --- |
| UK Lotto | Wednesdays and Saturdays | 8:30 PM |
| EuroMillions | Tuesdays and Fridays | 8:00 PM |
| Thunderball | Tuesdays, Wednesdays, Fridays, Saturdays | 8:00 PM |
| Set for Life | Mondays and  Thursdays | 8:00 PM |
| Lotto Hot Picks | Wednesdays and Saturdays | 8:30 PM |
| Millionaire Maker | Tuesdays and Fridays | 8:00 PM |
| 49's | Everyday | 12:49 PM, 4:49 or 5:49 PM |
| The Health Lottery | Tuesdays, Wednesdays, Thursdays, Fridays, Saturdays | 9:55 PM |
Past UK Lottery Winners
Below are some of the most noteworthy winners in the history of UK lotteries:
Christine and Colin Weir: Still the biggest winners of EuroMillions UK to date, the Weirs won the £161.6 Million jackpot last 2011.
Adrian and Gillian Bayford: The controversial couple won the second-largest EuroMillions UK jackpot back in April 2012. They took home £148.6 million.
Hugh and Isobel Lundy: They won £800,000 from the UK Postcode Lottery last May 2014 – still the record for the biggest Postcode Lottery jackpot in history.
If you'd like to learn more about their stories, as well as those of other notable winners, feel free to check out some of our articles.
The Biggest Lottery Winners: Where are They Now?: Head over to our giant list of the largest lottery jackpots in history and the lucky individuals who won them. You'll find separate sections for the biggest UK lotto winners, including the biggest Postcode Lottery wins!
The Youngest Lottery Winners of All Time: Curious to find out more about young lottery winners, aged 25 and below? Check out our list of the youngest lotto winners of all time where you'll find stories of how winning the lottery at an early age can be more than some can handle.
UK Lotto Information and Fun Facts
UK Lottery Tickets and Age Restrictions
The minimum age required to participate in EuroMillions, UK Lotto, Lotto Hot Picks, Set for Life, Thunderball, the Health Lottery, the Postcode Lottery, and the UK Millionaire Maker Raffle is 16.
For UK 49's, the minimum playing age is 18.
Tickets can be purchased from authorized retailers in the UK, through the official website, and via the UK National Lottery mobile app.
Can international players play UK lotteries online?
Only people who are physically located in the UK or Isle of Man are allowed to purchase tickets from the UK National Lottery website and mobile app.
International players can enlist the services of a third-party agent to buy UK lottery tickets over the internet. Check out our top recommendation, theLotter.
UK Lottery Taxes
Winnings from any of the National Lottery's games are not subject to tax. However, if you played online from a different country, you might still have to pay taxes depending on your local laws.
Prize Claiming
UK National Lottery prizes must be claimed within 180 days of the relevant draw. For instant win games, prizes must be claimed within 180 days after you bought your ticket. For scrathcards, the 180 day window starts when the game closes.
Prizes up to £500:

Online Players: Winnings automatically deposited to your player account or registered direct debit account.
Retail Players: Can be claimed from authorized retailers and designated post offices.

Prizes from £501 to £30,000:

Online Players: Winnings will be deposited to your player account or registered direct debit account.
Retail Players: Can be claimed from from designated post offices, National Lottery head offices, or by post.

Prizes from £30,001 over:

All large prizewinners must call the lottery headquarters to make arrangements to personally claim their prize.
UK National Lottery Contact Information
Customer Support
You can use the following details to get in touch with UK National Lottery representatives:
Telephone:

For Online Players: 0333 234 44 33
For Retail Players: 0333 234 50 50

Minicom, for the hearing impaired: 0370 737 8249
Mail or Post:

The National Lottery, PO Box 251, Watford WD18 9BR
Social Media Accounts
Stay up-to-date on all things concerning the UK National Lottery by following their social media accounts below:
UK Lotto App and Scanner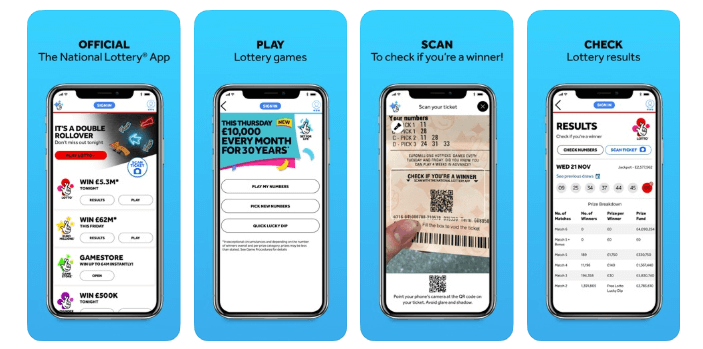 The official UK National Lottery app is available free to download, so you never miss out on the latest draw results, promotions, and other goodies.
You can check official draws, buy lotto tickets, scan your tickets and much more. Follow the link appropriate to your device: