58 Lottery Games Offered
Regular Lottery Games
The variety of lottery games offered by MultiLotto is impressive, but there is one issue that bothered me.
Let's start with the good. As their name suggests, MultiLotto offers a wide array of lottery games for you to bet on. These include mega popular games like the US Powerball, Mega Millions, SuperEnaLotto and Euromillions
The beauty of their game selection is that it doesn't stop at well-known games—they also offer less globally popular ones like Poland Lotto or the Hoosier Lotto. In other words, you're getting a melting pot of international lotteries here.
For a list of all the games offered by MultiLotto, refer to the table below:
MutliLotto's Lottery Games
US Powerball
Mega Millions
Euromillions
EuroJackpot
SuperEnaLotto
California SuperLotto
La Primitiva
El Gordo
Cash4Life
Irish Lotto
Poland Lotto
Mega-Sena
New York Lotto
Bonoloto
Lotto 6aus49
Aus Powerball
UK National Lottery
Canada Lotto 6/49
Saturday Lotto
Florida Lotto
Illinois Lottery
Norway Lotto
Finland Lotto
Sweden Lotto
Belgium Lotto
Austria Lotto
Hoosier Lotto
France Loto
Oz Lotto
New Zealand Powerball
OtosLotto
New Jersey Pick Six
SuperStar
Oregon Megabucks
Megalot
Super Loto
Gosloto 6/45
Gosloto 7/49
Viking Lotto
Ontario 49
Thunderball
Romania Lotto 6/49
South Africa Lotto
Lotto Max
Quebec 49
Greece Lotto
Hong Kong Mark Six
Double Lotto
Loto 6
Melate
Swiss Lotto
Turkey Lotto 6/49
Washington Lotto
Colombian Baloto
Greece Joker
Netherlands Lotto
El Gordo Navidad
While the deep and varied game selection is nice, there's one thing that really bothered me. That is, at the time of writing, there is no way to play a good chunk of the games they offer.
There's no "Play Now" button that takes you to the purchase page—only a "Read More" button. Clicking on the "Read More" button, as expected, takes you to an informational page about the lottery game.
Thinking that the games might be on some sort of hiatus (which is highly unlikely), I checked another lottery site to see if one of MultiLotto's inactive games—France Loto—was also unavailable.
Lo and behold, you can play France Loto at the other lottery site! That nixes my theory—so I'm not really sure what's going on with MultiLotto. This one issue aside, playing their other games is 100% problem-free.
Bitcoin Jackpot
As if 57 lottery games weren't enough, MultiLotto also offers a very unique lottery draw in the form of Bitcoin Jackpot.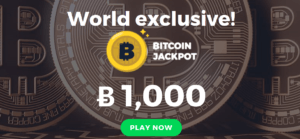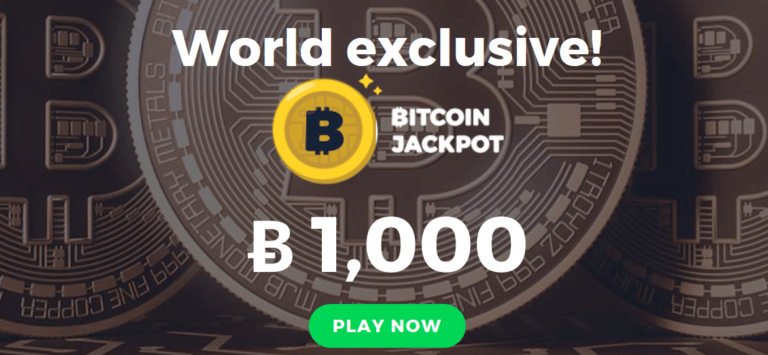 As its name implies, Bitcoin Jackpot allows you to win as much as 1,000 Bitcoins—or around €11,119,278 (at this time of writing, that is). This unique game bases its winning numbers on Bonoloto draws so you know that the game isn't rigged by Multilotto.
Draws are held every day except Sunday, and it works just like any lottery game offered on the website. You can purchase entries for single games, group games, and system games, too.
Even better, the chances of winning aren't that bad:
| | |
| --- | --- |
| Numbers Matched | Odds of Winning |
| 6 | 1 in 13,983,816 |
| 5 | 1 in 55,492 |
| 4 | 1 in 1,033 |
| 3 | 1 in 57 |
| 2 | 1 in 8 |
System Games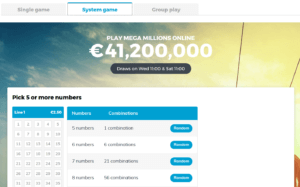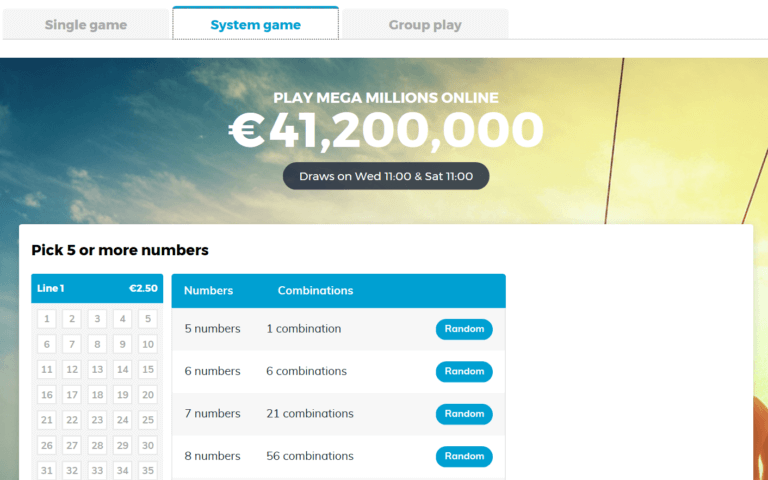 As I mentioned above, MultiLotto also allows players to purchase system entries.
To recap, system entries allow you to pick more numbers than what is normally allowed for a single ticket. If you wanted to play a system entry for, say, US Powerball, MultiLotto's System Game option allows you to pick up to 12 main numbers and up to 2 Powerball numbers. Of course, it must be noted that the more numbers you pick, the more it will cost you.
One other thing: one disadvantage of System Games is that you can only purchase tickets for a single draw at a time. There's no multi-draw option here, so better take that into consideration before deciding to go with a system entry.
Syndicates
If System Games are a bit expensive for your taste, you might want to consider MultiLotto's Group Play games.
MultiLotto does things a bit differently when it comes to Group Play games (also known as syndicates). While other lottery sites place you in groups of random people from all over, MultiLotto lets you create your own group. That means you'd have to find people willing to join a lotto syndicate before you can actually play. It's worth the trouble though, especially because the price is much more affordable than a system game.

To be clear though, the price per line is the same as a system entry. But because this is a group game, you'll be splitting the cost with other people. The more people in your syndicate, the less each of you will have to pay.
For instance, if you picked the maximum amount of numbers in a US Powerball syndicate entry, the total damage would be €5,544.
If you were to find around 20 people, you'd only have to pay €277.20 each—less, if you can find more people.
Deposit and Withdrawal with MultiLotto
MultiLotto accepts a decent variety of payment methods. But more options wouldn't hurt.
Currently, they only accept 12 payment methods. That includes major credit cards like Visa, MasterCard, JCB and Diners Club International, along with other online payment options like Wirecard, Entropay, Zimpler, Skrill, Neteller, Trustly, paysafecard, and bank transfers. These are decent enough, but more options are certainly welcome.
It's important to keep in mind that the availability of certain payment options depend on the country where you live. Some payment options don't support some countries so don't be surprised if you don't see all the options I mentioned above when you make a deposit.
Is MultiLotto Safe?
Absolutely. MultiLotto is serious when it comes to keeping players safe.
For starters, upon sign-up, they tell you that they don't sell player information to third parties. Many websites don't even tell you that they reserve the right to sell information to third parties, so MultiLotto gets two thumbs up in my book for being transparent and making a privacy-friendly stance.
Beyond that, they also utilize DigiCert SSL encryption to protect any data going to and from their website. If you're worried that they are not a legitimate lottery site, MultiLotto is licensed and regulated by the Curacao government.
In other words, you can be sure they abide by strict gaming standards.
MultiLotto's Customer Support
MultiLotto's self-help materials are quite good, but they could use the addition of some live help options.
For troubleshooting on your own—or simply learning more about MultiLotto's services—their FAQ's get the job done well enough.
On the other hand, if you need to get in touch with them, you're at the mercy of email-only support. If you encounter a problem that demands immediate attention, there's no way for you to get in touch with a live agent and speak to them 1-on-1 (either via phone or live chat).
Other Features
Lottery Education Materials
MultiLotto's education materials aren't the most extensive as far as lottery sites go, but they do get the job done.
For the most part, you're only going to get the most basic information about each lottery game—like game mechanics and odds of winning. If you're looking for in-depth information that includes hot and cold numbers, charts, and the like, you won't find any of those in MultiLotto.
For most people, that shouldn't be a problem. After all, most players will be content in knowing how to play a certain lottery game. For serious lottery fanatics, however, the education materials might feel a bit lacking.
Mobile App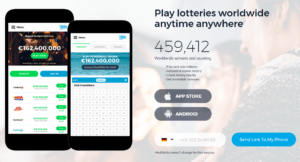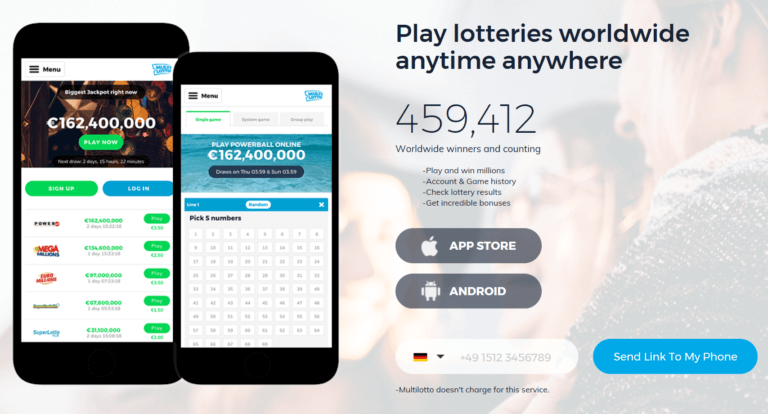 For those who are constantly on the move, you can play lottery away from your computer thanks to MultiLotto's mobile app.
Available for both Android and iOS devices, MultiLotto's mobile app is a full-featured app. In other words, all the things you can do on their website, you can also do in the app.
You can, for instance, check lottery results, check your account, and, of course, play lottery. If you spend more time on your mobile device than on your computer or laptop, this is definitely good news for you.
Encouraging Responsible Gambling
MultiLotto also offer features that should help curb gambling addiction.
In your account dashboard, you get several options, the first of which allows you to set daily play limits so you don't go overboard.
You can also set account timeouts so you won't be able to play, deposit or withdraw during pre-determined periods. You can set your account to timeout for a day, a week, and a month. Or, you can set a custom duration that can last up to 179 days.
If you feel you need heavier restrictions for yourself, you can tap into the self-exclusion feature. This works almost the same as timeouts, but durations are longer here. You can self-exclude for 6 months, a year, 3 years, or even 5 years.
Finally, if you fear gambling addiction is getting hold of you, you can activate permanent exclusion. And yes, it works exactly as it sounds. If you permanently exclude your account, this means that you won't be able to reactivate your account under any circumstances—nor will you be able to create a new one using the same login credentials.
As such, it is important to withdraw any winnings you might have in your account or use up any money you have deposited before activating permanent exclusion.
Casinos
If you're tired of lottery games and want something a bit more interactive, MultiLotto also offers online casino games.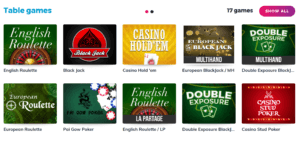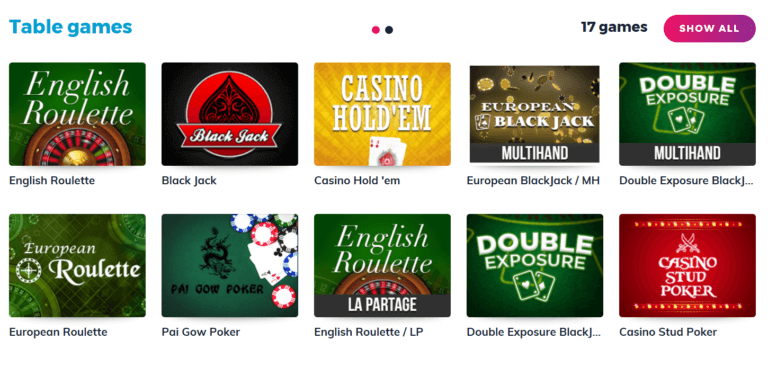 Their collection of online casino games are quite impressive, so you won't get bored any time soon. They offer slots, table games (like roulette, blackjack, casino hold'em, and more), video poker, and a variety of other interactive games.
For online casino newcomers, MultiLotto also provides guides and tutorials that should get you up and running—and betting—in no time.  
How MultiLotto Works
Setting Up an Account
Signing up with MultiLotto is easy and straightforward.
Here's how:
Click on the "Sign Up" button on the top right corner of MultiLotto's website.
Fill up the registration form. Provide details such as: first and last names, email, password, date of birth, gender, country, address, city, postcode, preferred currency, and phone number.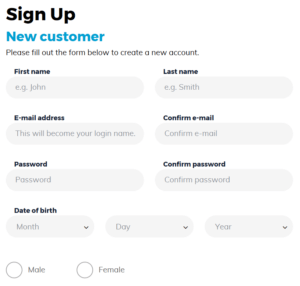 You will also be asked if you have a bonus code. If you do, enter it in the given field. If not, skip it.
Confirm that you have read MultiLotto's terms and conditions, as well as their privacy policy.
Click the green "Sign Up" button if you're done.
Start playing!
A caveat: like many lottery sites, MultiLotto only accepts players from countries where it's legal to play online lotteries.
For instance, if you're from the United States, you won't be able to sign up at all. It's best to check your local laws regarding lotteries before anything else.
Playing
MultiLotto doesn't reinvent the wheel. If you've played online lottery before, you'll feel at home here.
If this is your first time, here's a quick guide:
Log in to your MultiLotto account.
Pick from any of the lottery games on offer.
Choose whether you want to play in a single game, system game or group play game. Below are the differences:

Single Game: This is the default mode of play. "Single" refers to the fact that this game type is meant to be played by one person.
System Game: A system entry allows the player to pick more numbers in a single game panel than usual.
Group Play Game: Also known as syndicates, numerous players group up and pool their entries together for increased chances of winning. Prizes are split among the group.

Pick your numbers. If you chose the Single Game option, you can also add more lines if you want.
Choose how many draws you want to participate in. You can choose up to 12 months' worth of draws if you want. That said, the ability to choose multiple draws only applies to the Single Game option.
Click on the "Play Now" button.
Choose your payment method and choose whether you want to activate auto-renewal. If you do, MultiLotto's system will save your numbers and automatically play them for every draw until you decide to stop.
Click on the "Continue to Payment" button to finalize your purchase.
Cross your fingers and hope that it'll be your lucky day!
Winning
Thanks to the fact that MultiLotto is a lotto betting site, claiming prizes is easy and streamlined.
For starters, regardless of how large or small your winnings are, MultiLotto automatically notifies winners through email. And because players aren't actually officially entered into lottery games, you also don't need to travel and appear in person just to collect your prize.
MultiLotto transfers all winnings into your account, and will be available 5-6 hours after each draw. You can then withdraw your prize to your bank account in just a few clicks.
Convenient!
The Bottom Line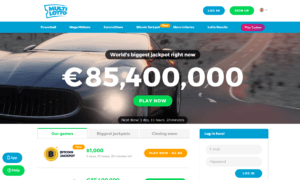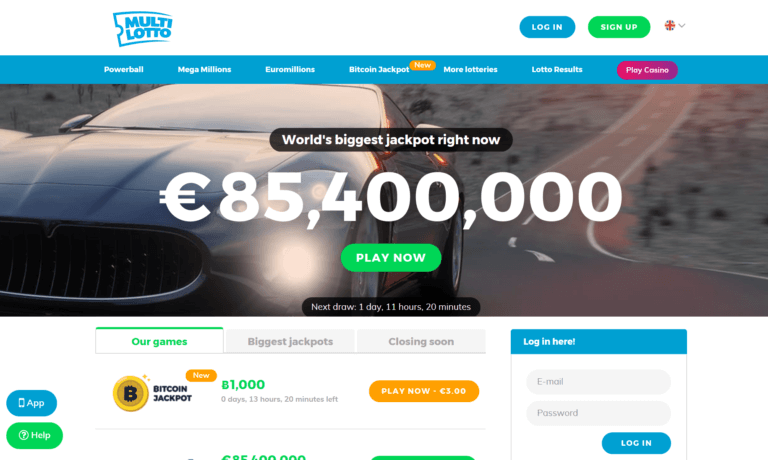 If you don't mind its lotto betting approach, then give it a shot.
There's something refreshing about a lottery website that not only offers a multitude of lotteries and other interactive casino games, but also provides a privacy-friendly service that encourages responsible gambling.
In a nutshell, MultiLotto is as easy-to-use as it is an enjoyable lottery site. It may have several shortcomings, but none of them are serious enough that the entire experience is ruined.
And while I prefer lottery agents over lotto betting sites, MultiLotto is one of the few that has actually impressed me. Of course, if you prefer to be officially entered into lottery games, then this might not be for you.
However, you might miss out on a lot—especially if you want to get in on the current Bitcoin craze.
About MultiLotto
Owned and operated by Multi Pay N.V., MultiLotto is a lottery site that allows players to bet on the outcomes of a wide array of international lotteries.  Players from around the globe, except the United States and other countries where playing online lottery is deemed illegal, can create an account and bet on the available games. It is licensed and regulated by the government of Curacao and has been in operation since launching in 2012.