Multilotto Overview
Launched in 2011, Multilotto lets you bet on the outcomes of lotteries from all over the globe.
Multi Brand Gaming Limited operates Multilotto and holds an eGambling license issued by the Curacao government. Additionally, it possesses a remote gambling license from Malta, a remote operating license in the UK, and a remote bookmaker's license in Ireland, giving Multilotto credibility and legitimacy that a few lottery sites have.
What is Multilotto?
Multilotto is a lotto betting site with a hefty serving of online casino gambling on the side. When you play the lottery at Multilotto, you're not participating in the official game. Instead, you're placing bets on the outcomes. Any prizes you win will be paid out from Multilotto's own earnings and/or successful claims made with its third-party insurance provider, based out of the U.K.
How does Multilotto work?
Multilotto is a platform for players to bet on the outcome of various international lotteries instead of buying tickets as an official participant. In that regards it is different than lottery agents like theLotter or Lotto Agent that purchase actual lottery tickets on your behalf.
Multilotto uses Lotto Warehouse Ltd. as its bookmaker, and any payouts will be claimed from Lotto Warehouse Ltd.'s financial hedging partners.
You have two main options when it comes to playing:
Solo play: You can buy up to 5 tickets for the current draw in one go.
Group play: You can buy a set of tickets for your personal syndicate or lottery pool.
Like many lottery sites, Multilotto also lets you buy ahead for multiple draws or subscribe to all upcoming draws indefinitely.
You also get systematic forms, which let you get tickets that cover all the possible combinations for your chosen set of numbers. Multilotto joins our top-ranked sites theLotter and Lotto Agent as one of the few lottery sites offering this option.
Aside from lotto betting, Multilotto also offers an extensive array of virtual casino games:
Virtual scratch cards
Slots
Livestreamed roulette games
Table games like baccarat and blackjack
Slot machine-type jackpot games
You can play with virtual credits or real money. To learn more about Multilotto's wide game selection, read on!
Multilotto registration and signup
Multilotto used to have a long registration form but they simplified the process. 
As a first step, you create your account by providing your name, email, choosing a password, and your country of residence.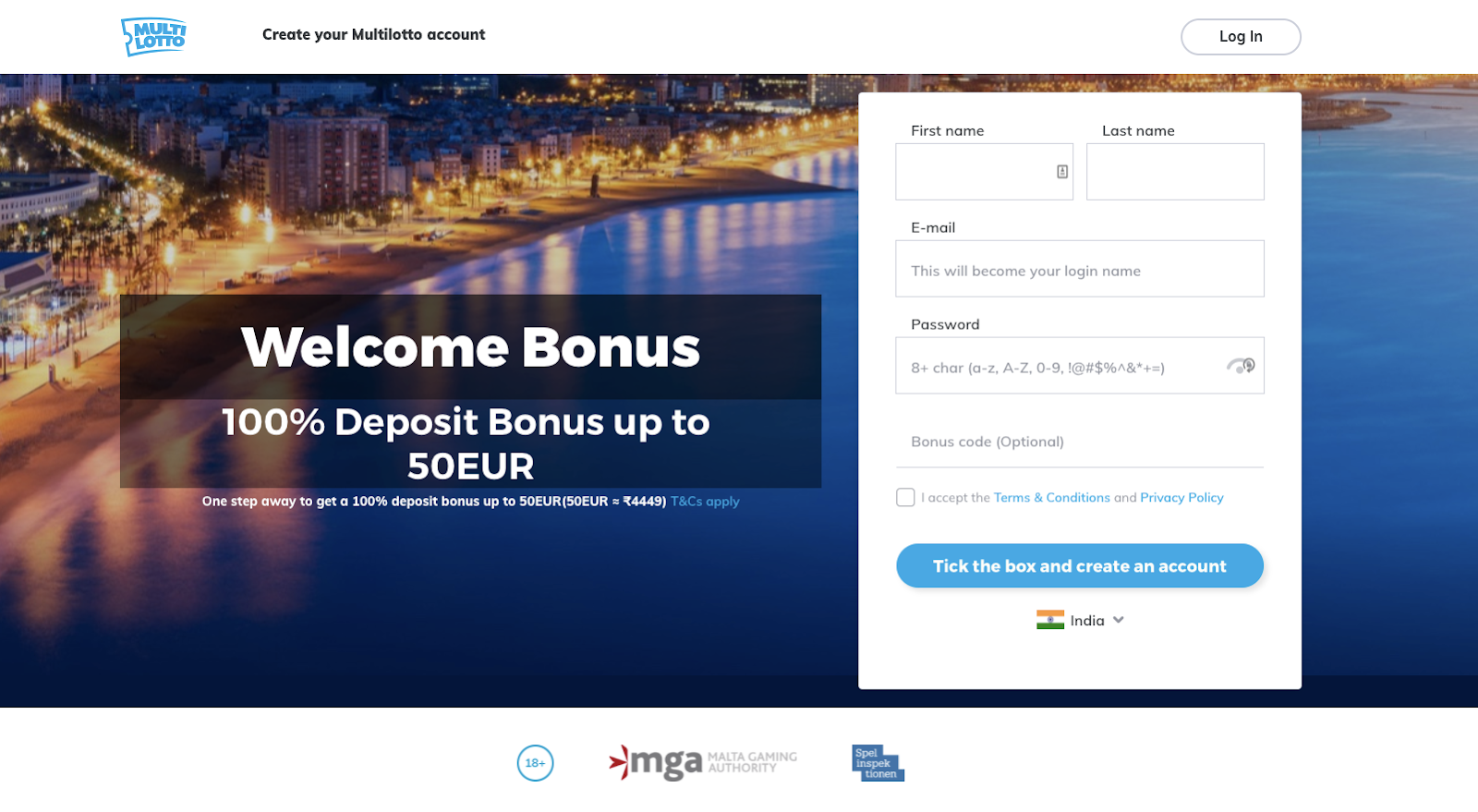 The next step is to activate your account by entering the verification code Multilotto sent to the email you used for your account.
After this, you should be all set to browse the various lotteries, pick numbers and even add the tickets to the cart.
But you cannot play unless you deposit the money and that requires you to complete your profile by providing information like your birth date, address, phone number. I know it sounds like an invasion of your privacy but remember, as a licensed operator Multilotto has to adhere to strict Know Your Customer (KYC) and Anti-Money Laundering (AML) requirements.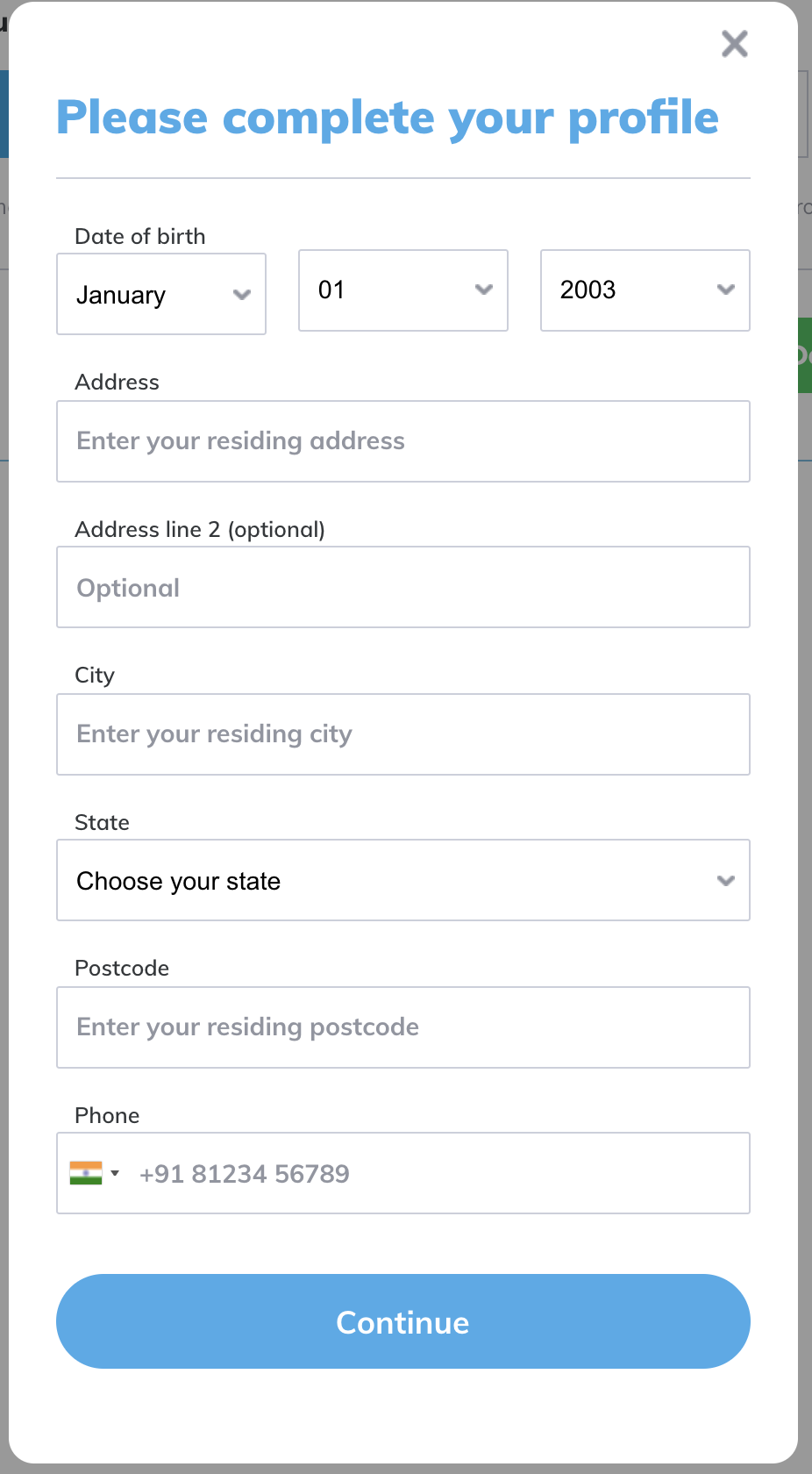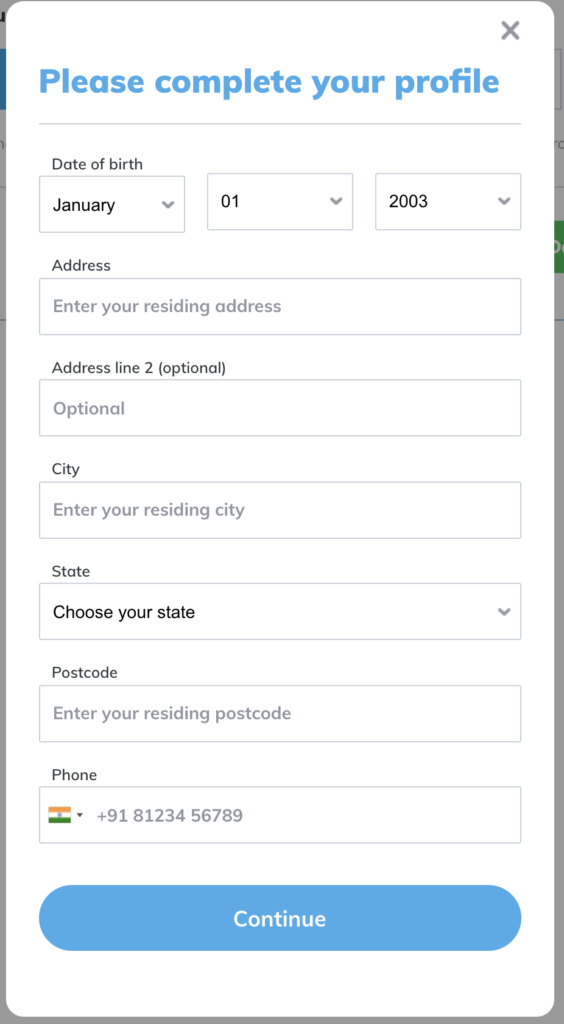 If you are ready to register, click here to get started!
Review of Multilotto's Games, Promos, Bonuses
Multilotto Promo Codes, Vouchers, and Discount Codes
Multilotto occasionally offers deposit bonuses, free tickets, and free trial subscriptions. Some popular promotions Multilotto offers are –
Deposit Bonus – is the most common type of promotion offered to new customers to incentivize them to make the first deposit. As of March 2022, Multilotto is offering a 100% Deposit Bonus of up to 50 Euros.


welcome bonus

Free lotto bets – as the name suggests it's a promotion that lets you play one line on a lottery of your choice completely free. Imagine winning the jackpot on a free lotto bet!
Money-back – guarantees money back in case the draw doesn't generate you a win. Keep in mind though, there are amount limits and this kind of promotion is rare.


Money back bonus
Popular Lottery Games at Multilotto
Multilotto lists 65 lotteries in its selection, out of which 37 of them seem to be playable.
There's something strange about Multilotto's game selection. Sure, there's a staggering amount of games available here: Multilotto's page lists 65 lotteries in all. There's a fantastic range of games here, from the blockbusters like the US Powerball or US MegaMillions to lesser-known games like the Finland Lotto or Multilotto's very own Bitcoin Jackpot.
However, only 37 of Multilotto's listed lotteries have a "Play Now" button that redirects you to an actual purchasing page. The rest have a "Read More" button that leads only to basic information about the lottery. This isn't a seasonal thing, either: many of the lotteries without "Play Now" buttons are active.
I'm not sure what's going on with Multilotto here, but it's a little misleading to include so many lotteries that you can't actually play.
Here are all the lotteries available for solo play at Multilotto:
| | | | |
| --- | --- | --- | --- |
| US Powerball | EuroJackpot | EuroMillions | Mega Millions |
| California SuperLotto | SuperEnaLotto | Viking Lotto | Finland Lotto |
| French Lotto | Mega-Sena | Hoosier Lotto | El Gordo |
| Cash4Life | La Primitiva | Australia Powerball | New York Lotto |
| Canada Lotto (64/9) | Colombia Baloto | Saturday Lotto | Bitcoin Jackpot |
| Irish Lotto | Mexico Melate | South Africa Powerball | Hong Kong Mark Six |
| Norway Lotto | Chile Lotto | Austria Lotto | Bonoloto |
| Poland Lotto | UK National Lottery | Germany Lotto | South Africa Lotto |
| Mini Lotto | Swiss Lotto | Gold Lottery | Lotto2022 |
| South Africa Daily Lotto | | | |
You can buy up to 5 tickets in one go. Multilotto lets you pick your own numbers, but you can also use the Quick Pick function to get a random set of numbers instead.
You also have the option to use systematic forms. Multilotto is one of the few lottery sites offering this option: it lets you pick a set of numbers, and it places bets on all possible combinations of those numbers. For example, 7 numbers give you 7 combinations, while 8 numbers get you 28 possible combinations.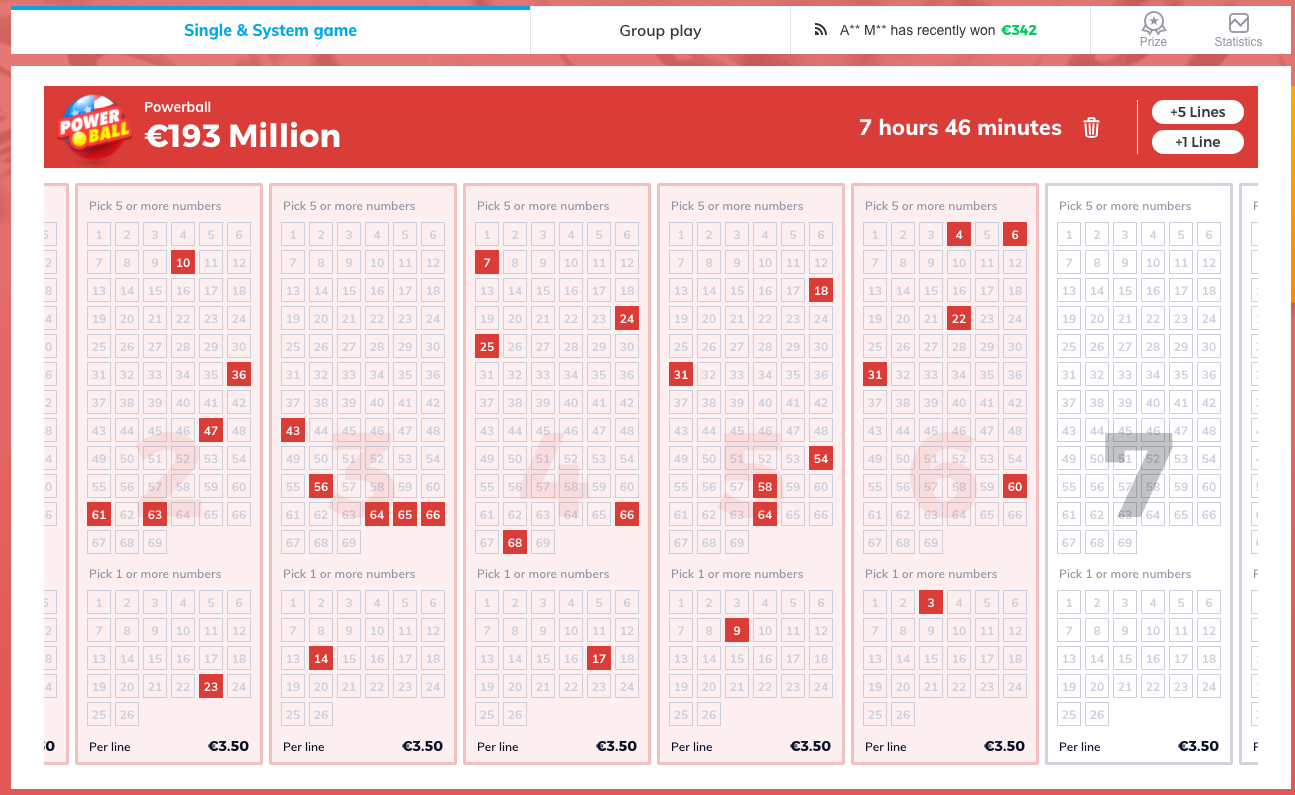 At the time of purchase, you can decide to buy tickets for the immediate draw or the next 4 subsequent draws. You also have the option to play every draw by enrolling in the Multilotto monthly subscription plan, the cost of which varies depending on the lottery you are playing. Paying upfront for a 12-month subscription does give you a 20% discount for most lotteries.

Some games, like the US Powerball or US Mega Millions, have an additional Boost option. This functions like the multipliers sometimes offered for these lotteries, doubling your prize money if you win.
Here are the other lotteries listed on Multilotto's page, though without corresponding "Play Now" buttons or options to place bets:
| | | | |
| --- | --- | --- | --- |
| Florida Lotto | Illinois Lotto | Belgium Lotto | Sweden Lotto |
| Oz Lotto | New Zealand Powerball | Otoslotto | New Jersey Pick Six |
| SuperStar | Oregon Megabucks | Megalot | Super Loto |
| Gosloto 6/45 | Gosloto 7/49 | Ontario 49 | Thunderball |
| Romania Lotto 6/49 | Lotto Max | Quebec 49 | Greece Lotto |
| Double Lotto | Loto 6 | Turkey Lotto 6/49 | Washington Lotto |
| Greece Joker | Netherlands Lotto | El Gordo Navidad | Christmas Lottery |
Multilotto Results
Multilotto displays results for 56 different lotteries from all over the world.
Multilotto reports results for all the lotteries it offers, as well as some extra games like the New Zealand Lotto Strike. You can view previous results as well as winner lists per prize tier.
You can find the Multilotto results page here. And of course, you can check any lottery results right here on LotteryCritic.
Other Multilotto Games and Syndicates
Bitcoin Jackpot
As if 65 lottery games weren't enough, MultiLotto also offers a very unique lottery draw in the form of Bitcoin Jackpot.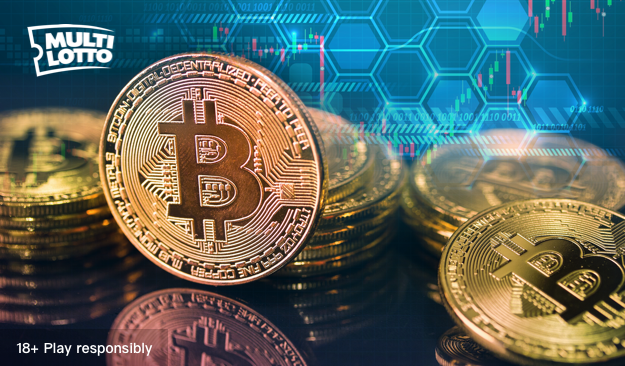 As its name implies, Bitcoin Jackpot allows you to win as much as 100 Bitcoins, down from 1000 Bitcoins from a couple of years back given the exponential increase in Bitcoin price.
This unique game bases its winning numbers drawn in the official Spanish lottery, Bonoloto draws so you know that the game isn't rigged by Multilotto.
Draws are held every day except Sunday, and it works just like any lottery game offered on the website. You can purchase entries for single games, group games, and system games, too.
Players need to pick 6 numbers from the range of 1 to 49 and can win a jackpot as high as 100 Bitcoins. For a $3 ticket and the current price of Bitcoin at approximately $48,000, that win would be extremely rewarding!
Even better, the chances of winning aren't that bad:
| | |
| --- | --- |
| Numbers Matched | Odds of Winning |
| 6 | 1 in 13,983,816 |
| 5 | 1 in 55,492 |
| 4 | 1 in 1,033 |
| 3 | 1 in 57 |
| 2 | 1 in 8 |
Multilotto Scratch Cards
You can play 35 virtual scratch card games at Multilotto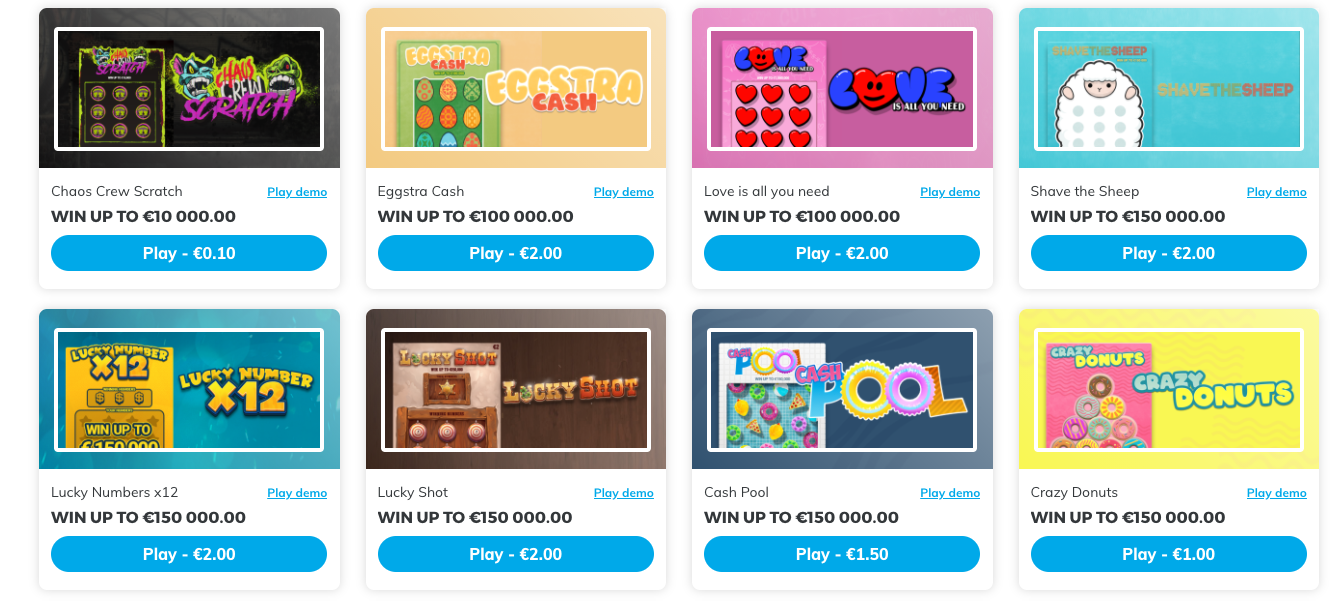 Multilotto gives you the option to play with virtual credits or real money when it comes to scratch cards. Using virtual credits means you'll only win virtual currency in return: you can use these to participate in more Multilotto games, but you can't cash these out.
Of course, virtual scratch cards are easy on the wallet even if you do opt to use real money. Most Multilotto cards cost a mere €0.10 or less, though there are more expensive cards (at around €3) that give you better odds.
The mechanics for Multilotto's scratch cards are the same as their real-life counterparts. Just get a card, reveal the underlying numbers or icons, and claim your prize when you get a match. Multilotto's especially generous because prizes can go as high as €250,000 depending on the type of card you buy.
Multilotto Casino Games
Multilotto offers a wide array of casino games for a refreshing change of pace.
A whole section of Multilotto's site is dedicated to various virtual casino games that you can play for real money. You'll find slots, table games like blackjack and baccarat, and more. There are even live games of roulette streamed over the web.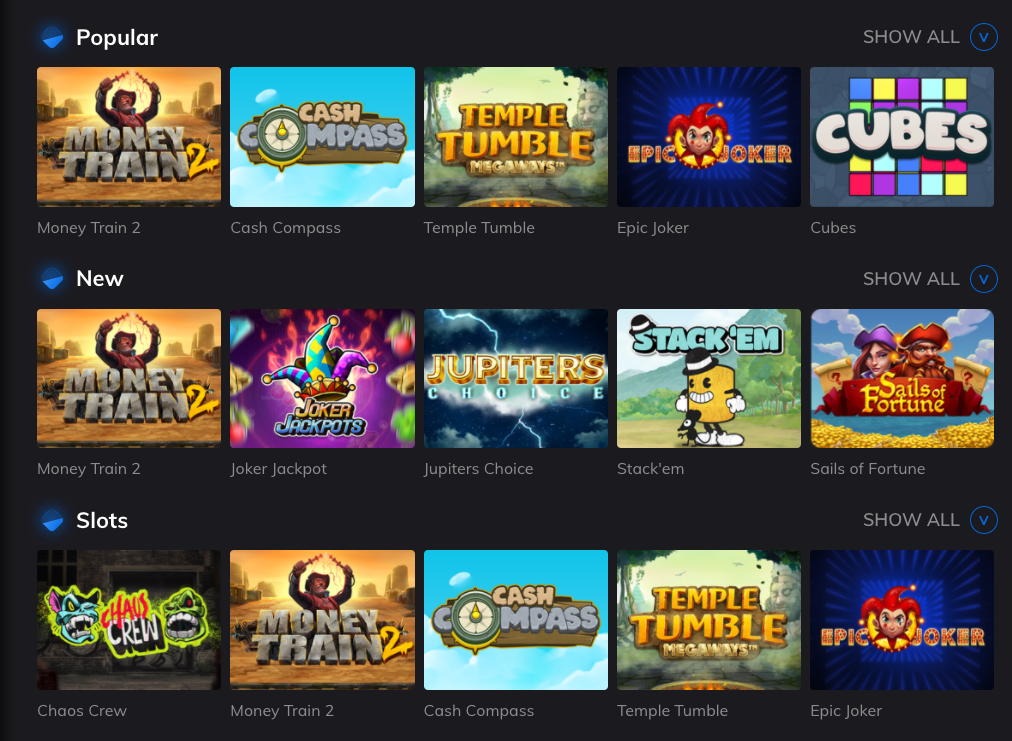 Of course, minimum bets and jackpot amounts vary wildly depending on your chosen game. You can opt to play with virtual credits, though any winnings will only go to your Multilotto virtual wallet and can't be withdrawn as cash. Alternatively, you can play with real money—giving you a chance to score jackpots as high as €6,243,703 if you get lucky.
Multilotto Syndicate
All of Multilotto's solo play games are available for group play, too.
Multilotto's group play option works a little differently compared to other sites. Here, you're not buying shares to an existing syndicate that's open to the public. Instead, Multilotto assumes that you're buying tickets on behalf of a personal lottery pool or group.
That's why you'll see a handy calculator that lets you select the number of people you want to split your syndicate tickets with. The calculator will then tell you how much each person owes for each share.

This is a handy feature if you've already got interested friends, family, or co-workers who want to play in a lottery pool with you. If you're a solo player looking for a public syndicate group to join, though, you're better off looking elsewhere.
To be clear though, the price per line is the same as a system entry. But because this is a group game, you'll be splitting the cost with other people. The more people in your syndicate, the less each of you will have to pay.
For instance, if you picked the maximum amount of numbers in a US Powerball syndicate entry, the total cost would be €5,544.
If you were to find around 20 people, you'd only have to pay €277.20 each—less, if you can find more people.
Multilotto Review of Security, Trust, and Scams
Is Multilotto a scam?
Definitely not. Multilotto has been in business since 2011, and it's owned and operated by Multi Brand Gaming Limited, a gambling company that's duly registered and licensed in Malta.
Below are MultiLotto licenses and links to official records where available –
Bookmaker's License in Ireland
All lottery bets are placed through Lotto Warehouse Ltd., a lottery bookmaker that uses financial hedging systems to fund prize payouts. So you are guaranteed your winnings. Here are the licenses f
Is Multilotto legit?
Yes, Multilotto is run by a bona fide gambling company called Multi Brand Gaming Limited. The company is based in Malta, and it holds a gambling license from the Malta government.
In 2017, Multilotto was acquired by 500.com (NYSE: WBAI), a publicly listed company, for $56M in cash giving Multilotto increased legitimacy.
Is Multilotto safe?
Yup. Multilotto uses 256-bit SSL encryption to secure all transactions and information on their website.
Is Multilotto a real or fake company?
Multilotto is owned and operated by a real company called Multi Brand Gaming Limited. It's duly authorized and regulated by the government of Malta gambling commission.
Who owns Multilotto?
500.com, a leading online sports lottery provider owns Multilotto (Multi Brand Gaming Limited) through an acquisition in 2017.
How does Multilotto make money?
Multilotto doesn't charge commissions for your winnings. Instead, it earns from the handling and processing fees that are tacked on to each purchase.
Is Multilotto legal?
Yes, Multilotto is legal. It's regulated and licensed by the Malta & UK government's gambling commission, so you know you're in safe hands.
Does Lottery Critic Trust Multilotto?
Yes. Multilotto holds an up-to-date gaming license from a government gambling commission, which means it undergoes regular inspections to check compliance with established gambling laws. Additionally, their website uses bank grade 256-bit SSL encryption to secure the information transmitted and processed through its website.
Multilotto Review on Payouts, Withdrawals, and Winners
Multilotto Payout Rules
Multilotto pays you directly—no need to claim anything in person, even jackpots.
Multilotto's lotto betting system means it doesn't depend on the official lottery operator for prize money. That has its pros and cons.
On the one hand, you can get all your winnings credited directly to your account. Yes, even jackpots! No need to claim a physical ticket and travel to a lottery operator's office to get your prize money. This is incredibly convenient, especially if you're playing lotteries from different countries.
On the other hand, Multilotto's prize payouts come from the third-party financial hedging institutions used by its lottery bookmaker, Lottery Warehouse Ltd. As you can imagine, claiming huge jackpot sums can be quite a process. Multilotto's own Terms and Conditions state a waiting period of up to 90 days — 3 whole months — before jackpots or second prizes get credited to your account.
Multilotto Deposit, Payment and Withdrawal Methods
Multilotto only supports about 6 payment methods, that vary based on the country you're signing up from. 
Multilotto has very limited payment options, unfortunately. The website doesn't support any currency other than the euro, for example. When it comes to payment methods, Multilotto offers only the following options:
| | | | |
| --- | --- | --- | --- |
| Method | Processing Time | Minimum Deposit | Maximum Deposit |
| Visa | Instant | €10 | €1000 |
| NetBanking & UPI | Instant | €6.50 | €600 |
| WebMoney | Instant | €0.20 | €1000 |
| AstroPay | Instant | €5 | €9999 |
| PaysafeCard | Instant | €10 | €1000 |
| Neteller | Instant | €10 | €1000 |
| Skrill | Instant | €10 | €1000 |
| Cryptocurrency | Instant | €1 | €99,999 |
| Bank transfer | 2-3 banking days | €10 | – |
How to withdraw money from Multilotto
You can withdraw winnings by requesting a payout from your account's dashboard. Multilotto requires that you use part of your account funds to pay for any Multilotto services. Otherwise, you'll need to pay a 5% administrative fee for your payout request.
Multilotto uses the same payment methods to give you your payouts, if possible. If you choose a method that doesn't allow Multilotto to transfer funds to you, Multilotto uses bank transfers instead. All withdrawal requests are processed within 3 days of being received and acknowledged.
Has anyone won on Multilotto?
Multilotto's homepage displays a running tally of its total payouts. Currently, the site claims to have paid €370+ million in total winnings across all its lottery betting and casino games. That's over $450 million USD, which is not trivial!
Some of the recent winners are
Jan 2020 – Anette from Germany who won €11,114 from the German Lotto
Sept 2019 – Swedish player who won €30,000 playing the Polish Mini Lotto
2018 – A player from England who won €40,000 playing Roulette!
Multilotto Review of Mobile Options
Multilotto offers dedicated mobile apps for both Android and iOS.
Multilotto offers a full-featured mobile app that lets registered users check results and place lottery bets directly from their mobile phone.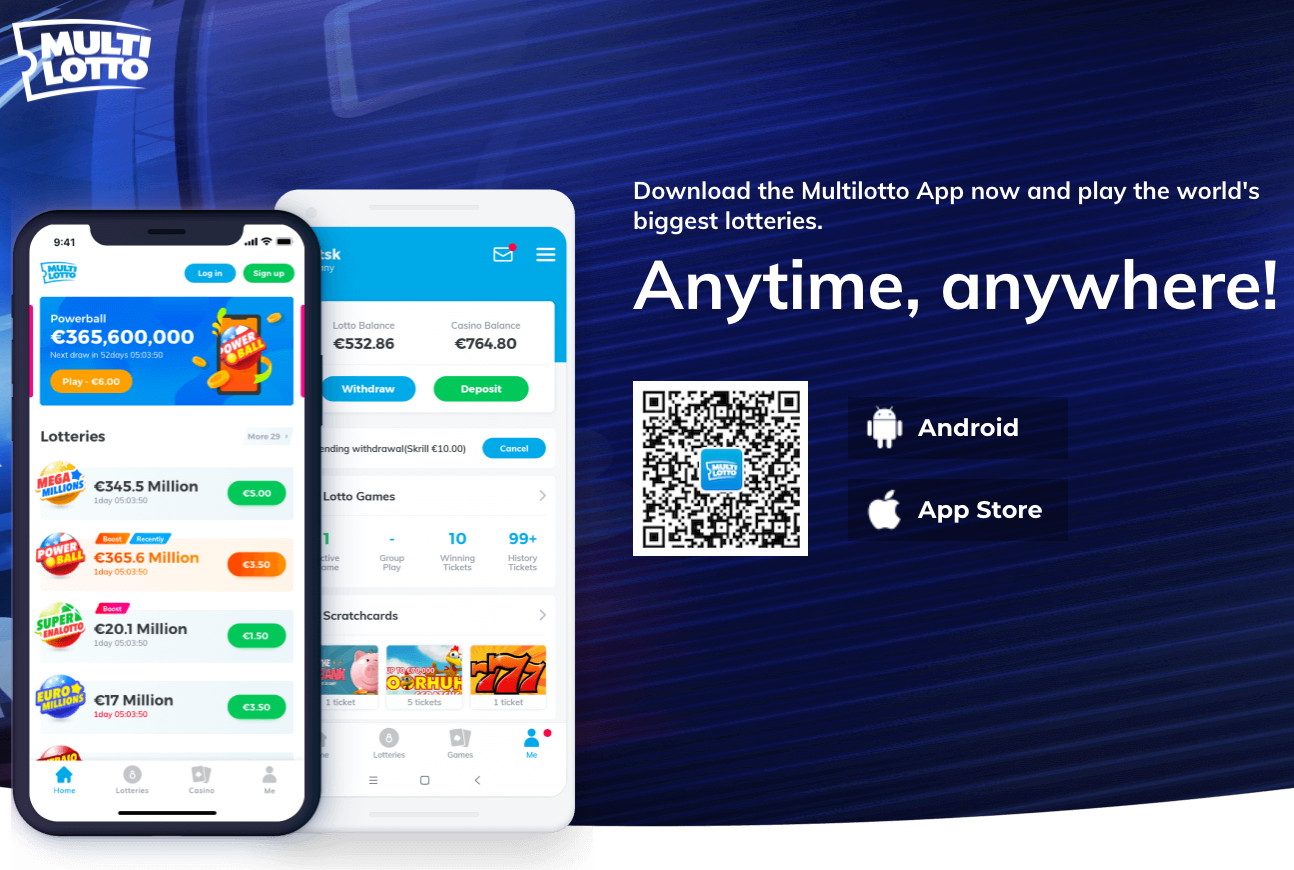 One thing to note, though, is that the Multilotto site leads you to a direct download of the Android APK instead of installing the app through Google's Play Store. If you're not confident about non-Play Store-facilitated installations, you might want to stick to Multilotto's mobile-responsive website. This is primarily due to Google's restricted policy on gambling apps.
The Google Play store offers a results app from Multilotto but it is poorly rated and barely has any downloads. I recommend leveraging a website like LotteryCritic to check lottery results instead of downloading a poorly rated app.
Customer Support at Multilotto
Multilotto has limited customer support resources.
You can reach Multilotto's support team through email. That's it. This is a bit disappointing since you don't have alternatives if you need urgent assistance.
LottoPalace also has a short FAQ, which is another letdown. Most of the information here is background information on each lottery. While that's appreciated — especially for beginners — it falls short. There are a few rudimentary answers about how aspects of the site work, for example, but nothing more.
Our Experience with Multilotto
Multilotto Website
Multilotto sticks to the usual lottery website formula.
There's not much that differentiates Multilotto's website from other lottery services on the web. That's both a good and bad thing. On the upside, you'll have an easy time navigating to important sections like lottery results pages. On the other hand, though, Multilotto's overall design can feel a little tired.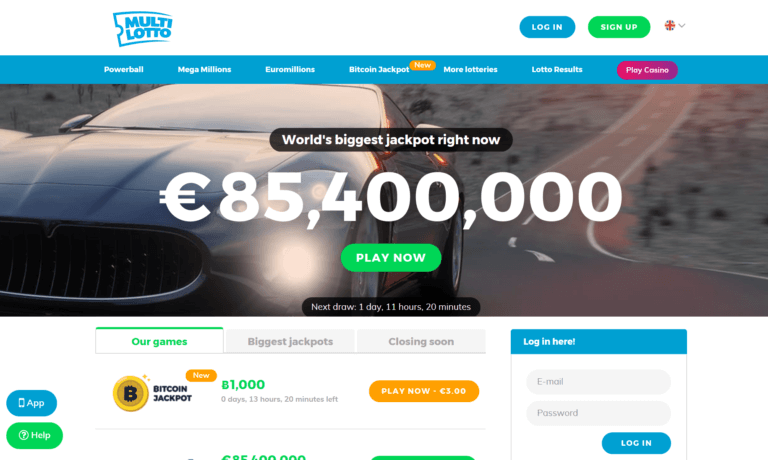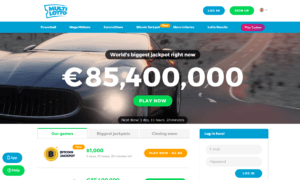 I have to give Multilotto props for its language options, though. You can switch between 16 different languages, ranging from German and Russian to Magyar, Chinese, and Tagalog. Multilotto is one of the few lottery sites I've seen with decent support for Asian languages on top of the usual European options, so kudos for that.
Multilotto Playing Experience
It's extremely easy to place bets on Multilotto's site.
There are quick-purchase buttons available just by hovering on items in the navigation bar. You can also jump to any lottery you like from Multilotto's game listings page.
The purchase page itself sticks to the usual template: you can pick numbers, opt for Quick Pick, and sign up for multi-draw or subscription options.
I do appreciate Multilotto putting solo play, systematic forms, and syndicates on the same page. It's incredibly convenient to simply toggle between their tabs without having to hop to a different part of the site. It's a small detail, but it's so useful, I wish more sites would follow Multilotto's lead.
Multilotto Encourages Responsible Gambling
Multilotto also offers features to address gambling addiction, allowing users to set their own gambling limits and boundaries easily.
In your account dashboard, you get several options, that help you set daily play limits so you don't go overboard.

Deposit Limit: In your Multilotto account, you can set limits on the amount of funds you can deposit into your account on a daily, weekly, or monthly basis. Once you have reached the limit, you are forced to wait till the required time has elapsed.
Wagering Limit: As the name suggests, this feature lets you set limits on the amount of funds you can wager on a daily, weekly or monthly basis. Once you reach the limit you cannot wager till the set time has elapsed.
Session Limit: This feature lets you set limits on the time you can spend gambling once you are logged in. When the limit is reached you are automatically logged out of your account for the day.
Loss Limit: Helps you limit the funds that you can lose on a daily, weekly or monthly basis allowing you to control how much money you can lose at a time.
For players who want to take a break from gambling altogether, Multi lotto offers a couple of handy features.
Time Out: This allows you to set an account timeout for a day, a week, or a month. You can also set a custom timeout duration that can last up to 179 days.
Self-exclusion: If you feel you need heavier restrictions for yourself, you can use this feature which works similar to timeouts except that the durations are longer. You can self exclude for 6 months, 1 year, 3 years or even 5 years.
Permanent Closure: If you feel gambling addiction is getting a hold of you, you can activate permanent exclusion. And yes, it works exactly as it sounds. If you permanently exclude your account, this means that you won't be able to reactivate your account under any circumstances – nor will you be able to create a new one using the same login credentials.
We at LotteryCritic take gambling addiction quite seriously and have put together this exhaustive article for your reference if you ever feel out of control.
Final Thoughts on Multilotto
Multilotto offers an impressive range of games and convenient features, but some issues pull down its score.
Multilotto is a great place to start if you're interested in lotto betting. The registration process can be a bit tedious, but the long list of available games more than makes up for it. An equally wide-ranging list of language options makes this a website well-suited for international audiences, too.
Unfortunately, that doesn't extend to Multilotto's payment methods or working currency. You can only transact in euros here. Plus, any payouts could take longer than usual: up to 90 days for jackpots and second prizes, in fact.
Multilotto goes a long way towards reducing my skepticism towards lotto betting sites. It still has some notable shortcomings, but it's definitely worth a shot.