Maine Lottery: Results, Winning Numbers, and General Information
Last Updated: February 18, 2019
About the Maine Lottery

The Maine Lottery was established in 1974 and was created as a way of raising money for the benefit of all Maine citizens. To date, the lottery has awarded more than $2.2 Billion in prize money to its players. More significantly however, the lottery has raised more than $1.2 Billion for Maine's General Fund – supporting various programs that support local schools, higher education, health services, environmental conservation, and many more.
Maine Lottery Tickets
You can purchase Maine Lottery tickets from any authorized retailer within the state of Maine. Winning tickets are valid for 1 year from the date of the drawing.
Can I buy ME Lottery tickets online?
No. Current laws do not permit the purchasing of Maine Lottery tickets over the internet. All tickets must be purchased in person.
Maine Lottery Games and Drawing Schedule
With a minimum jackpot of $1 million, and great overall odds of winning a prize, it's no wonder why Tri-State Megabucks is one of the Maine Lottery's most popular games. It also has very simple mechanics and 9 prize tiers in total. To play, just choose 5 numbers from 1 to 41, plus an additional number from 1 to 6.
Megabucks Plus has twice a week drawings, Wednesdays and Saturdays at 7:59 PM ET.
Lotto America features a minimum jackpot of $2 million. There are 9 prize tiers, and with the All Star Bonus, players can multiply their non-jackpot winnings by up to 5 times! To play, just pick 5 numbers from 1 to 52, and an additional number from 1 to 10.
Lotto America features drawings every Wednesday and Saturday, at 11:15 PM ET.
In Lucky For Life, players try their luck at winning that much coveted top prize – a cool $1,000 per day for life. To play, just pick 5 numbers from 1 to 48, plus a Lucky Ball number from 1 to 18.
Lucky For Life drawings are held twice a week, on Mondays and Thursdays, at 10:38 PM ET.
Gimme 5
Gimme 5 gives players a chance at winning a $100,000 cash jackpot. It features 4 prize tiers and a traditional 5/39 matrix. Drawings are held every Monday, Wednesday, and Friday at 6:59 PM ET.
Pick 3
In Pick 3, players pick any 3-digit number and choose their wager type and amount. There are different ways to win. For example, a player can choose to match the draw in exact order or in any order. They may also just match the first or last 2 numbers, or even just a single digit. Players can bet from 50 cents to $5 per play.
Pick 3 drawings are held twice daily, the first at 1:10 PM ET, and the second at 6:50 PM ET.
Pick 4
Pick 4 requires players to pick any 4-digit number, and the rest is pretty much similar to Pick 3. There are different wager types and players can also bet an amount between 50 cents and $5.
Pick 4 drawings are held twice daily, the first at 1:10 PM ET, and the second at 6:50 PM ET.
World Poker Tour
World Poker Tour combines Poker with lotto to deliver a unique game experience. Players have two opportunities to win. First, a random hand of 5 cards is printed on their ticket, and they can instantly win up to $5,000 cash if they form any winning Poker hands.
Second, their ticket also qualifies them for the nightly drawing for a chance of winning the $100,000 jackpot. Drawings are held every evening after 9:05 PM ET.
Here's a rundown of the Maine Lottery's weekly schedule:
| | | |
| --- | --- | --- |
| Megabucks Plus | Wednesdays and Saturdays | 7:59 PM |
| Lotto America | Wednesdays and Saturdays | 11:15 PM |
| Lucky For Life | Mondays and Thursdays | 10:38 PM |
| Gimme 5 | Mondays, Wednesdays, Fridays | 6:59 PM |
| Pick 3 | Daily | 1:10 PM, 6:50 PM |
| Pick 4 | Daily | 1:10 PM, 6:50 PM |
| World Poker Tour | Daily | 9:05 PM |
Winners of Maine Lotteries
Here are some recent winners of different Maine Lottery games:
Norman Willette of Winslow won $30,000 playing Megabucks. He bought his winning ticket at Cumberland Farms in Winslow.
Muriel Stuart of Windham won $100,000 playing Wheel of Fortune. She bought her winning ticket at Cigaret Shopper in Windham.
Cory Rines of Wicasset won $500,000 playing Jumbo Bucks. He bought his winning ticket at Lil Mart in Wicasset.
Maine Lottery Instant Games
The Maine Lottery has a variety of instant games available at any one time. Ticket prices range from $1 to $25 per play – with the more expensive games giving players a chance to instantly win $1 million.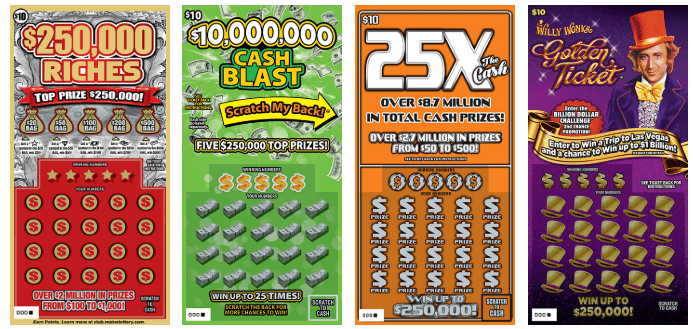 Maine Lottery Second Chances – What is Second Chance?
Second chance drawings are promotional events where players can submit their non-winning instant game tickets for a second shot at winning. Prizes vary, but most commonly include cash, vacation packages, event tickets, and more.
How does Second Chance work for the ME Lottery?
To enter second chance drawings, players have to first register an account with the Maine Lottery Player's Club. Upon successfully creating an account, players can join and second chance drawings currently running and submit any eligible tickets they might have.
Information on the Maine Lottery
Maine Lottery Office
The Maine Lottery is headquartered in 10 Water Street, Hallowell, Maine 04347
Mailing Address:
Bureau of Alcoholic Beverages and Lottery Operations
8 State House Station
Augusta, Maine 04333-0008
Maine Lottery Customer Support
If you'd like to get in touch with Maine Lottery representatives, you may contact them through the following channels:
Toll free in ME: (800) 452-8777
Phone: (207) 287-3721
Fax: 207-287-6769
Email: mainelottery@maine.gov
Maine Lottery Social Accounts
For regular updates, you can also follow the Maine Lottery on any of their social media accounts:
Maine Lottery Apps and Technology
The Maine Lottery has an official app called RewardME available for iOS and Android mobile devices. With RewardME, players can manage their Maine Lottery account and even earn points towards awesome prizes. The app can be downloaded from the Apple App Store and the Google Play Store.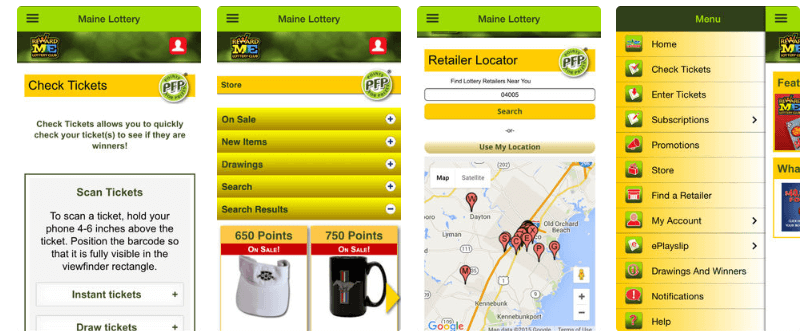 The Maine Lottery App includes the following features:
Ticket scanner to check for winning tickets
Store and retailer locator
Updates on the latest drawings and winning numbers
News and current promotions
and more
Maine Lottery Results and Winning Numbers
Want to find out what the current Maine Lottery winning numbers are? You can visit Lottery USA for more up-to-date information on the latest Maine Lottery results. There you'll find news on all Maine Lottery draw games – including winning draws, jackpot size, next drawing dates, and more.