Texas Lottery (TX): Results, Winning Numbers, & Fun Facts!
Lottery Results Updated On:10 Jul 2020 (GMT)
Rating:
Game
Winning Numbers
Details
Mega Millions

Regular Numbers

16
20
25
30
43

Mega Ball

18

Megaplier

3

Next Jackpot

$83,000,000

Powerball

Regular Numbers

03
10
34
36
62

Powerball

05

Power Play

10

Next Jackpot

$79,000,000

Lotto

Regular Numbers

02
10
23
32
34
38

Next Jackpot

$25,500,000

Two Step

Regular Numbers

23
25
30
32

Bonus

20

Next Jackpot

$950,000

Cash 5

Regular Numbers

06
16
21
23
35

Next Jackpot

$25,000

Daily 4 Day

Regular Numbers

8
2
3
0

FIREBALL

9

Pick 3 Morning

3-6-8

FIREBALL

6

Pick 3 Night

5-6-5

FIREBALL

8

All or Nothing Day

Regular Numbers

03
05
07
08
11
12
13
14
16
21
23
24

Daily 4 Morning

Regular Numbers

6
2
9
6

FIREBALL

4

Daily 4 Night

Regular Numbers

2
9
5
2

FIREBALL

5

Pick 3 Evening

0-2-9

FIREBALL

8

All or Nothing Morning

Regular Numbers

02
05
07
11
13
15
16
17
19
21
22
23

All or Nothing Night

Regular Numbers

03
04
06
08
09
10
11
12
14
15
20
23

Daily 4 Evening

Regular Numbers

1
9
9
0

FIREBALL

2

Pick 3 Day

1-5-0

FIREBALL

3

All or Nothing Evening

Regular Numbers

02
04
07
10
11
12
13
16
18
19
20
21
About the Texas Lottery

The Texas Lottery, operated by the Texas Lottery Commission, is the government's official lottery for the state of Texas. It sold its first ever ticket way back in 1992.
Today, the Texas Lottery not only provides players with the chance to win millions, but also raises funds for Texas state programs and other good causes. Over $28 billion in revenue has been contributed to programs that support Texas education and veterans.
Texas Lottery Tickets
You can purchase your Texas Lottery tickets from any licensed retailer within the state of Texas. Winning tickets are valid for 180 days from the date of the drawing.
Can I buy TX Lottery tickets online?
No. Texas laws and regulations do not permit the sale of Texas Lottery tickets over the internet.
Texas Lottery Games and Drawing Schedule
Lotto Texas is Texas Lottery's original jackpot game. The rules are simple: Just pick 6 numbers from 54, and match as many as you can. Match all 6 and win the jackpot, which typically reaches multimillion dollar levels. Drawings are on Wednesdays and Saturdays at 10:12 PM Central Time.
The Texas Two Step is easy and fun to play. Pick 4 numbers and an extra bonus ball, and try your luck at the $200,000 rolling jackpot. Drawings are on Mondays and Thursdays at 10:12 PM Central Time.
In All or Nothing, players can win up to $250,000 by matching all 12 numbers from a pool of 24. You can also win the same prize if you match none of the numbers. Smaller prizes ranging from $2 to $500 are also up for grabs. Drawings are held 4 times a day, 6 days a week.
The Texas Lottery's Pick 3 game lets players pick 3 single-digit numbers from 0 to 9. Winners can take home the top prize of $500 by matching all 3 numbers. Drawings are held 4 times a day, from Mondays to Saturdays.
One of the more complicated games offered by the Texas Lottery, Daily 4 involves picking 4 single-digit numbers from 0 to 9. Numbers picked may be repeated, and the odds of winning are determined by a player's chosen combination. Players also have the option to pick how they play – whether by matching the numbers in the same order as the draw, or in any order they appear – potentially winning up to $5000. Draws are held 4 times a day, from Mondays to Saturdays.
Take home up to $25,000 cash if you match 5 of 5 numbers in Texas Lottery's Cash Five game. All you have to do is choose your combination from a pool of 35 numbers. Drawings take place from Mondays to Saturdays at precisely 10:12 PM Central Time.
Here's a rundown of the Texas Lottery's weekly schedule:
| | | |
| --- | --- | --- |
| Lotto Texas | Wednesdays and Saturdays | 10:12 PM |
| Texas Two Step | Mondays and Thursdays | 10:12 PM |
| All or Nothing | Mondays to Saturdays | 10:00 AM, 12:27 PM, 6:00 PM, 10:12 PM |
| Pick 3 | Mondays to Saturdays | 10:00 AM, 12:27 PM, 6:00 PM, 10:12 PM |
| Daily 4 | Mondays to Saturdays | 10:00 AM, 12:27 PM, 6:00 PM, 10:12 PM |
| Cash Five | Mondays to Saturdays | 10:12 PM |
Notable Winners of Texas Lotteries
As of October 2018, the Texas Lottery has produced thousands of winners whose prizes total more than $58 billion. Below are some of the most notable wins in 2018:
Denise Flanagan from Frisco, won $612,000 with Texas Two Step
Edwin Jordan from Spring, won $10,000 with Daily 4
Richard N. Lerma from Victoria, won $10,718 with Lotto Texas
Here are more winners who won from scratch-off tickets in 2018:
Opal Crouch from Seguin, won $250,000 with Season's Greetings
David Felix Sauceda from Amarillo, won $100,000 with $200 Million Payout
Raymond L. Faulk from San Antonio, won $50,000 with The Cash Wheel
Of all Texas Lottery winners throughout history, however, perhaps the most famous one is Joan R. Ginther. Often dubbed the luckiest woman in the world, Ginther won four multi-million jackpots between 1993 and 2010. She took home over $20 million, total.
Texas Lottery Scratch-Off
The Texas Lottery offers a wide range of scratch-off games to choose from. Scratch-off ticket prices range from $1 to all the way up to $50. Jackpots range from $500 to $5M.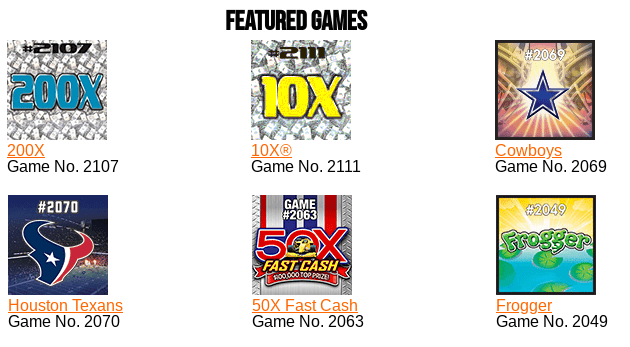 Texas Lottery Second Chances – What is Second Chance?
Second chance drawings offer exactly that – a second chance at winning. Second chance winners won't be eligible for the same prizes as the original draw's, but in Texas Lottery's case, second chance prizes can reach up to a cool $5 million.
How does Second Chance work for the TX Lottery?
Second chance draws are very easy to join for the Texas Lottery. Simply log in to the Texas Lottery Luck Zone from their official website and register an account. After which, you'll be able to enter your non-winning scratch tickets and qualify for a chance to win some awesome prizes.
Information on the Texas Lottery
Texas Lottery Office
The Texas Lottery is headquartered in 611 E. 6th Street, Austin, Texas 78701.
Texas Lottery Customer Support
If you'd like to get in touch with Texas Lottery representatives, you may contact them through the following channels:
You may also reach them via:
Texas Lottery Social Accounts
For regular updates, you can also follow the Texas Lottery on any of their social media accounts:
Texas Lottery Apps and Technology
The Texas Lottery App is available for download for all iOS and Android mobile devices. While you can't purchase tickets with the app, you can still enjoy a number of useful features especially if you're a regular player.

The Texas Lottery App lets you:
Scan your ticket bar codes to see if you've won.
Save your lucky numbers for future play.
View the winning draws for all of Texas Lottery's draw games.
Enter second chance drawings.
Find the nearest Texas Lottery ticket retailers.
and more
Other United States Lotteries
    * No state-sanctioned lottery