Missouri Lottery (MO): Results, Winning Numbers, & Fun Facts!
Lottery Results Updated On:10 Jul 2020 (GMT)
Rating:
Missouri Lottery (MO) Results and Winning Numbers
Game
Winning Numbers
Details
Mega Millions

Regular Numbers

16
20
25
30
43

Mega Ball

18

Megaplier

3

Next Jackpot

$83,000,000

Powerball

Regular Numbers

03
10
34
36
62

Powerball

05

Power Play

10

Next Jackpot

$79,000,000

Lotto

Regular Numbers

17
28
29
30
34
41

Next Jackpot

$4,400,000

Show Me Cash

Regular Numbers

04
06
14
23
29

Next Jackpot

$60,000

Pick 3 Midday

Regular Numbers

4
3
5

Lucky For Life

Regular Numbers

10
24
28
33
39

Lucky Ball

12

Pick 4 Midday

Regular Numbers

6
3
9
5

Pick 3 Evening

Regular Numbers

1
6
7

Pick 4 Evening

Regular Numbers

9
8
9
5
About the Missouri Lottery

The Missouri Lottery is run by the state of Missouri, and held its first ever drawing back in 1988. In the beginning, funds raised by the Lottery were directed to the state's General Revenue fund. That changed in 1992, when voters decided that the funds be used for education programs instead.
Missouri Lottery Tickets
Missouri Lottery tickets can be purchased from any authorized retailer within the state of Missouri.
Winning tickets are valid for 180 days after the draw date, which means that players must claim their prizes within that time frame.
Can I buy MO Lottery tickets online?
No. Missouri law prohibits the sale of Missouri Lottery tickets over the internet.
Missouri Lottery Games and Drawing Schedule
The original in-state draw game of the Missouri Lottery, Lotto gives players a shot at becoming an instant millionaire. Jackpots start at $1 million and grow until someone wins. With the EZ Match and Doubler features, your chances at winning become even better!
Lotto drawings are held two times a week, Wednesdays and Saturdays at 8:59 PM CST.
Show Me Cash features another rolling jackpot, but this time starting at $50,000. It also carries the EZ Match bonus game mode for added chances of winning. Show Me Cash drawings are held every day, Mondays through Sundays at 8:59 PM CST.
With the chance to win $1,000 per day for life, what's not to love about Lucky For Life? There's 10 prize tiers in total and your overall odds of winning are much better than in most games. Lucky For Life Drawings are held Mondays and Thursdays, at 9:38 PM CST.
Club Keno & Keno To Go
Missouri Lottery's two Keno games are played exactly the same. They feature the same game rules and prizes, and the only difference is where they are available.
To participate in Keno, you can play anywhere from 1 to 10 numbers (spots), then set your wager and how many times you'd like to play. The Multiplier, Bulls-Eye, and Double Bulls-Eye features add even more customization, allowing you to multiply your winnings by up to 10 times!
Club Keno and Keno To Go drawings are held daily, every four minutes.
Win up to $600 every day with Pick 3. To play, pick 3 single-digit numbers to form a single 3-digit number. Match the draw in exact order or in any order to win. You can also win by matching the first or last 2 digits, 1-off matches, or combination – allowing for many ways of winning.
Pick 3 drawings are held twice every day, at 12:45 PM and 8:59 PM CST.
Win up to $6,000 with Pick 4. This game features a similar set of rules to Pick 3, but you must pick 4 numbers to play. Pick 4 drawings are held twice a day, at 12:45 PM and 8:59 PM CST.
Here's a rundown of the Missouri Lottery's weekly schedule:
| | | |
| --- | --- | --- |
| Lotto | Wednesdays and Saturdays | 8:59 PM |
| Show Me Cash | Daily | 8:59 PM |
| Lucky For Life | Mondays and Thursdays | 9:38 PM |
| Club Keno | Daily | every 4 minutes |
| Pick 3 | Daily | 12:45 PM, 8:59 PM |
| Pick 4 | Daily | 12:45 PM, 8:59 PM |
Notable Winners of Missouri Lotteries
Here are some of the Missouri Lottery's notable winners:
Kathy Lamkemeyer won $1.3 million from playing Lotto last February 25, 2017.
Brenda Engelbrecht won $143,000 from playing Show Me Cash last December 8, 2018.
Sheila Anderson won $3,250 from playing Pick 4 last December 3, 2018 – marking her third win. She had won $1,300 from Club Keno in 2016, and $169,000 from Show Me Cash in 2012.
Missouri Lottery Scratchers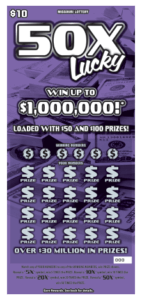 The Missouri Lottery provides dozens of instant games, called Scratchers, for you to choose from. Ticket prices range from $1 to $30, and some of the biggest prizes go all the way up to $10 million!
Missouri Lottery Second Chances – What is Second Chance?
Second chance drawings are promotional events that the Missouri Lottery occasionally runs that allow players to submit eligible Scratcher tickets for the chance to win cash prizes, paid trips, and more.
How does Second Chance work for the MO Lottery?
To find out what second chance promotions Missouri Lottery currently has available, you can visit the Missouri Lottery's promotions page for the latest information. In order to participate, you must create an account with the Missouri Lottery Player's Club.
Information on the Missouri Lottery
Missouri Lottery Offices
The Missouri Lottery is headquartered in 1823 Southridge Drive, Jefferson City, MO 65109-1603. You can call them at the following numbers:
Phone: (573) 751-4050
Fax: (573) 751-5188
Winner's Hotline: (573) 751-1111
The Missouri Lottery also has district offices in the following locations:
Kansas: 3630 Arrowhead Ave., Independence, MO 64057
Springfield: 1506 E. Raynell, Springfield, MO 65804
St. Louis: 1831 Craig Park Ct., St. Louis, MO 63146
Missouri Lottery Customer Support
If you'd like to get in touch with Missouri Lottery representatives, you may contact them through the following channels:
Missouri Lottery Social Accounts
For more information and regular updates, you can also follow the Missouri Lottery on any of their social media accounts:
Missouri Lottery Apps and Technology
Get the latest news and updates from the Missouri Lottery directly from your mobile device or phone. You can download the official Missouri Lottery app directly from the Apple App Store and Google Play Store.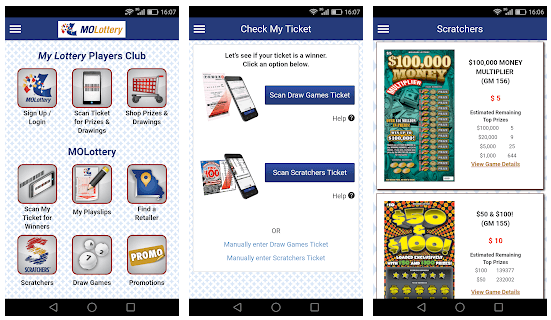 The Missouri Lottery App lets you:
Scan your draw game and Scratcher tickets to find any winners
Check the most recent results and winning numbers
Log into and manage your Player's Club account.
Participate in second chance drawings.
View the latest promotions.
and more.
Other United States Lotteries
    * No state-sanctioned lottery