Irish Lotto Results, Jackpots, & Fun Facts!
Lottery Results Updated On:13 Jul 2020 (GMT)
Rating:
Game
Winning Numbers
Details
Lotto

Regular Numbers

1
6
11
15
41
44

Bonus

20

Next Jackpot

€3,200,000

Daily Million

Regular Numbers

3
15
25
27
35
38

Bonus

21

Next Jackpot

€1,000,000
We've got more than just results and winning numbers in the sections below. Learn everything you need to know about all the major lotteries in Ireland.
About the Irish National Lottery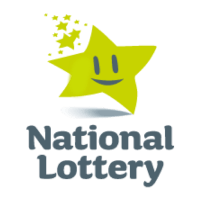 Launched in 1986 to support various good causes, the Irish National Lottery is the Republic of Ireland's official state lottery. Its primary aim is to raise funds for individuals and groups in the areas of sports, health, culture, and many more.
Today, the state lottery is operated by Premier Lotteries Ireland (PLI), and raises over €4 million every week.
List of Irish Lotteries
Irish Lotto
The country's flagship draw game, Irish Lotto features a minimum jackpot of €2 million. The grand prize rolls over every draw until it's won, so you can expect it to reach impressive amounts quite often.
To play, just pick 6 numbers from 1 to 47. Match all six with the numbers drawn and you take home the jackpot. There's also a bonus ball to determine secondary prizes, and there are 8 prize tiers in total.
Irish Lotto has drawings every Wednesday and Saturday evening, at 8:00 PM GMT+1.
The Irish National Lottery started offering EuroMillions in October 2004, joining the ranks of Spain, the UK, and a few other European countries. Today, the transnational game accounts for about a quarter of all lottery ticket sale in Ireland.
As you can expect, rules for EuroMillions are the same as in other countries. Pick 5 numbers from 1 to 50, and 2 Lucky Star numbers from 1 to 12. If you match all 7 numbers, you take home the jackpot. However, an added game feature that is unique to the Irish version, called EuroMillions Plus, is available for more chances of winning.
EuroMillions has drawings every Tuesday and Friday at approximately 8:45 PM GMT+1.
Daily Million
Win up to a €1 million with Ireland's Daily Million lottery, a twice-a-day game that has a fixed prize structure. Rules are simple. Just pick 6 numbers from 1 to 39. If you match all six with the official draw, you become a millionaire!
Like Irish Lotto, Daily Million also has a bonus ball to determine secondary prize winners. With relatively good odds, and 7 prize tiers up for grabs, it's worth checking out.
Daily Million has drawings twice a day, at 2:00 PM and 9:00 PM GMT+1.
Irish National Lottery Draw Times
| | | |
| --- | --- | --- |
| Irish Lotto | Wednesday and Saturday | 8:00 PM |
| EuroMillions | Tuesday and Friday | 8:45 PM |
| Daily Million | Everyday | 2:00 PM and 9:00 PM |
Instant Win Games and Scratch Cards

The Irish National Lottery has dozens of instant win games for you to choose from. If you want instant lottery gratification, then don't miss out on all the fun. There's millions to be won and plenty of variety to keep you hooked.
Individual ticket prices range between €1 and €20.
Past Lotto Winners from Ireland
Here are a few short stories about past notable winners of Irish lotteries:
Syndicate of 15 men and 1 woman: This group of workers from the Darn Morrissey quarry won the biggest Irish Lotto jackpot ever of €18.9 million. This happened back in June 28, 2008.
Frances and Patrick Connolly: Fairly recent winners of the largest EuroMillions jackpot won in Northern Ireland, this lucky couple took home about £115 million last April 2018.
Tracey Makin: Currently the youngest lottery winner we have on record, Tracey Makin from Belfast, Ireland won €1 million from Lucky Dip back in 1998. She was 16 years old at the time.
Learn more about their stories and other big winners in our list of the biggest lottery winners and where they are now.
Can lottery winners stay anonymous in Ireland?
Yes. All winners of the Irish National Lottery have the right to remain anonymous.
Ireland Lottery Information
Odds of Winning Irish Lotto
Of the three lottery main lottery games in Ireland, the one with the best odds of winning the jackpot is Daily Millions, with a 1 in 3,262,623 chance to win the jackpot. The odds of winning Irish Lotto's jackpot are relatively worse at 10,737,573 to 1. EuroMillions has the worst odds, giving players a 139,838,160 to 1 shot at taking home the jackpot.
However, that's only considering the jackpot. You have to take into account the total prize, ticket costs, and the overall odds of winning. Here's a handy table for some easy comparisons:
| | | | | |
| --- | --- | --- | --- | --- |
| | Jackpot Size | Jackpot Odds | Overall Odds | Cost of 1 Line |
| Irish Lotto | at least €2 million | 1 in 10,737,573 | 1 in 29 | €2 (minimum 2 lines) |
| EuroMillions | at least €17 million | 1 in 139,838,160 | 1 in 13 | €2.50 |
| Daily Million | fixed €1 million | 1 in 3,262,623 | 1 in 28 | €1 |
Ireland Lottery Tickets and Age Restrictions
The minimum age to play lottery in Ireland is 18. This was raised from 16 years, after new gambling legislation was passed in 2017.
You can purchase lottery tickets from authorized retailers around the country. These lottery agents can also payout smaller prizes to winners.
You can also play any Irish National Lottery game on the internet, using a browser or by downloading the official mobile app.
Can international players play Irish Lotto online?
Players need to register a credit or debit card issued from a regulated financial institution in Ireland in order to play on the Irish National Lottery's website. If you don't have an Irish bank account, we recommend checking out theLotter, the best online lottery site where you can play Irish lottery from almost anywhere in the world.
Lottery Taxes in Ireland
Lottery winnings are not taxed in Ireland.
If you played Irish lotto online from another country, you may be required to pay taxes to claim your prize. Laws wary per country. Be sure to check with your local authorities to find out.
Prize Claiming
All prizes from Irish lotteries are paid in a single lump sum, and must be claimed within 90 days of the applicable drawing dates.
The steps to claim Irish lottery prizes vary depending on where you bought your ticket.
For online players:
Prizes €1 to €99: Automatically credited to your digital wallet. You may request to withdraw any time and a cheque will be mailed to your registered address.
Prizes €100 to €500: A cheque is automatically mailed to your registered address.
Prizes €501 to €9,999: The lottery operator will contact you to verify your details before issuing you a cheque.
Prizes €10,000 and more: You will have to go to the lottery operator's main office in Dublin to verify your details.
For retail store players:
Prizes €1 to €100: Can be claimed directly from any Irish National Lottery agent. Agents may sometimes be able to pay higher prizes, up to a maximum of €2,500.
Prizes €101 to €14,999: Can be claimed from authorized prize claim centers after completing a prize claim form. You can also mail in your ticket with a completed form and valid ID to redeem your prize.
Prizes €15,000 and more: You will have to go to the lottery operator's main office in Dublin to claim your prize.
Also, please remember to sign the back of your winning ticket immediately!
Contact Details
Customer Support
You can reach Irish National Lottery customer representatives through the following channels:
Telephone:

For online players: 1890-244-344 or 01-889-1000, Monday to Saturday (9:30 AM to 8:00 PM)
For retail store players: 01-836-4444, Monday to Thursday (9:15 AM to 5:30 PM), Friday (9:15 AM to 5:15 PM)

Mail or Post: National Lottery, Abbey Street Lower, Dublin 1, D01 Y1X2
Social Media Accounts
You can also follow the Irish National Lottery online on any of their social media accounts:
Ireland Lotto App and Ticket Scanner
Download the official mobile app to take the game with you wherever you go. You can scan tickets to check for winners, view the latest results, buy tickets for the next draws, manage your account and winnings, view the latest promotions, and much more.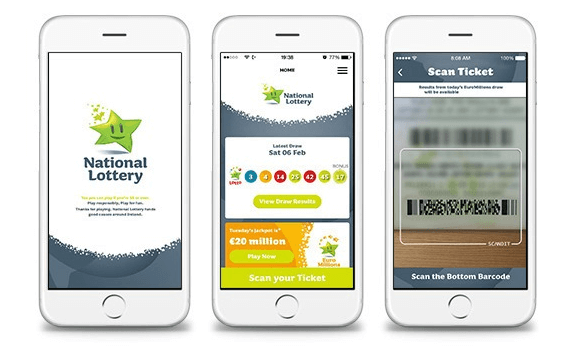 Download the official Ireland Lotto App through the following links: