Georgia Lottery: Results, Winning Numbers, and General Information
Last Updated: February 17, 2019
About the Georgia Lottery

The Georgia Lottery was created in 1992 with the purpose of raising funds to support the state of Georgia. Since then, it has generated over $70 billion in sales, and contributed more than $20 billion of that towards funding educational programs. These programs provide tuition grants, scholarships, loans, and so on, to students in Georgia.
Georgia Lottery Tickets
You can purchase Georgia Lottery tickets from any authorized retailer within the state of Georgia. Winning tickets are valid for 180 days from the date of the drawing.
Can I buy GA Lottery tickets online?
Yes, but only for certain games, and you MUST be physically located within the state of Georgia when making your purchase.
You can buy tickets for KENO! and Fantasy 5 (as well as Mega Millions and Powerball) directly from the Georgia Lottery's official website or mobile app.
Georgia Lottery Games and Drawing Schedule
Georgia's daily jackpot game, Fantasy 5 features a 5/42 matrix with very simple mechanics. Just match anywhere from 2 to 5 numbers, and win a prize. The grand prize jackpot starts at $125,000 and grows every draw until it's won. And with the Cash Match game mode, there's even more ways of winning!
Fantasy 5 drawings are held everyday at 11:34 PM ET.
Jumbo Bucks Lotto is Georgia's biggest lottery game, with a rolling jackpot that starts at a whopping $1 million. It features a traditional 6/47 matrix and also the Cash Match option. Drawings are held every Monday and Thursday, at 11:00 PM ET.
KENO!
The Georgia Lottery also hosts the ever popular game Keno, complete with Multiplier and Bulls-Eye options for more ways of winning. KENO! drawings are held everyday every 3.5 minutes.
Cash4Life
Always a crowd favorite, Cash4Life gives players the chance to win up to $1,000 every day for life. Just pick 5 base numbers from 1 to 60, and a bonus ball from 1 to 4.
Georgia Lottery Cash4Life drawings take place every Monday and Thursday at 9:00 PM ET.
Cash 3
If you're familiar with Pick 3 games then Cash 3 is Georgia's version of that. Players have to pick a number from 000 to 999 and then choose how they'd like to play – whether by matching the draw in exact order, any order, combo, or by matching the front or back pair. Prizes go as high as $500 and drawings are held three times a day, seven days a week at 12:29 PM, 6:59 PM, and 11:34 PM ET.
Cash 4
Cash 4 is Georgia's version of Pick 4. It's very similar to Cash 3, but players have to form a four digit combination, meaning a number pool from 0000 to 9999. The maximum prize is $5,000 and drawings are held three times a day, seven days a week at 12:29 PM, 6:59 PM, and 11:34 PM ET.
Georgia FIVE
Georgia Five rewards players with up to $10,000 and there are 15 ways of winning! To play, you essentially have to pick a 5 digit number from 00000 to 99999. You win the top prize if you match the draw exactly, and secondary prizes for other combinations. Drawings are held two times a day, everyday, at 12:29 PM and 6:59 PM ET.
All or Nothing
In All or Nothing, you pick 12 numbers from 1 to 24, and win the top prize of $250,000 if you match all or none of the numbers. Secondary prizes are also awarded, depending on how many numbers you match. Drawings are held everyday, four times, at 10:00 AM, 2:00 PM, 6:00 PM, and 10:00 PM ET.
5 Card Cash
5 Card Cash combines the lottery and poker in one exciting game. You don't have to choose any numbers to play. Instead, when you buy a 5 Card Cash ticket, you will automatically be dealt a random five-card hand which will be printed on your ticket. If you form a winning poker hand, you can win up to $5,000 instantly. Your ticket will also qualify you for the daily drawing. And if you match the cards drawn, you can win up to $150,000.
5 Card Cash drawings are held everyday at 6:45 PM ET.
Here's a rundown of the Georgia Lottery's weekly schedule:
| | | |
| --- | --- | --- |
| Fantasy 5 | Daily | 11:34 PM |
| Jumbo Bucks Lotto | Mondays and Thursdays | 11:00 PM |
| KENO! | Daily | every 3.5 minutes |
| Cash4Life | Mondays and Thursdays | 9:00 PM |
| Cash 3 | Daily | 12:29 PM, 6:59 PM, 11:34 PM |
| Cash 4 | Daily | 12:29 PM, 6:59 PM, 11:34 PM |
| Georgie FIVE | Daily | 12:29 PM. 6:59 PM |
| All or Nothing | Daily | 10:00AM, 2:00 PM, 6:00 PM, 10:00 PM |
| 5 Card Cash | Daily | 6:45 PM |
Notable Winners of Georgia Lotteries
Here are some big-time winners of the Georgia Lottery:
Earnest Hines Jr. from Macon, won $3.8 million from playing Jumbo Bucks Lotto last July 20, 2017.
Curtis Davis from Dawson, won $1.5 million from playing Jumbo Bucks Lotto last November 2013.
Laura Mullis from Chickamauga, won $142,908 from playing Fantasy 5.
Georgia Lottery Scratchers
The Georgia Lottery offers plenty of variety when it comes to instant-win scratch-off cards. There are dozens of games active at any given time, and ticket prices range from $1 to $30. Prizes for some of the biggest games can reach $10 million!

Georgia Lottery Second Chances – What is Second Chance?
Second chance drawings give players with non-winning scratchers another shot at taking home a prize. Prizes are usually cash, but brand new cars and vacation getaway packages are not uncommon.
How does Second Chance work for the GA Lottery?
To participate in second chance drawings, players have to register an account with the Georgia Lottery Player's Club. After which, they can submit any eligible tickets as entries to any active second chance drawings.
Information on the Georgia Lottery
Georgia Lottery Office
The Georgia Lottery is headquartered in 250 Williams Street, Suite 3000 Atlanta, GA 30303
Georgia Lottery Customer Support
If you'd like to get in touch with Georgia Lottery representatives, you may contact them through the following channels:
Main Office Telephone: 404-215-5000
Hotline: 1-800-GA-LUCKY (58259)
Email: glottery@galottery.org
Georgia Lottery Social Accounts
For regular updates, you can also follow the Georgia Lottery on any of their social media accounts:
Georgia Lottery Apps and Technology
The Georgia Lottery is available on-the-go, right from your iOS or Android device, thanks to the official app. It's available for download from the official website, as well as the Apple App Store.
Android users will have to manually download the APK file from the Georgia Lottery website and install the app themselves. This will require users to enable Unknown Sources on their device.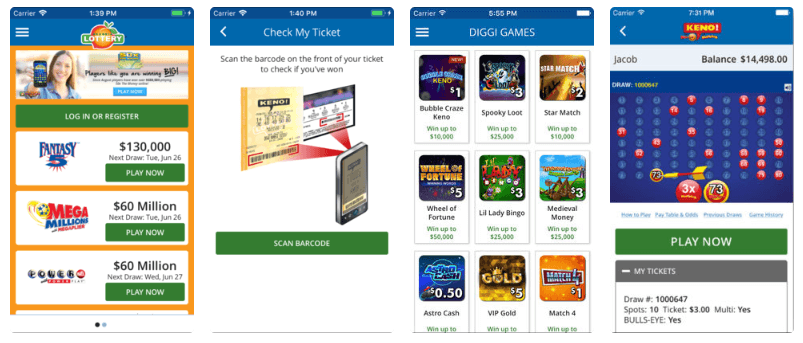 The Georgia Lottery App includes the following features:
Scanner app which scans all your scratchers and draw game tickets to see if you've won.
Updated draw schedules, winning numbers, and jackpot amounts.
Shopping cart to purchase Fantasy 5, KENO!, Powerball, and Mega Millions tickets.
Instant games
Retailer maps
and more
Georgia Lottery Results and Winning Numbers
Want to find out what the current Georgia Lottery winning numbers are? You can visit Lottery USA for more up-to-date information on the latest Georgia Lottery results. There you'll find news on all Georgia Lottery draw games – including winning draws, jackpot size, next drawing dates, and more.