Viking Lotto
Lottery Results Updated : Dec 31, 1969 07:00 PM EST
Viking Lotto, one of the Scandinavian region's most well-known lotteries, offers a laundry list of features that lotto lovers—regardless of country—will definitely appreciate. Not only is it an easy game to learn, it also offers huge jackpots that keep growing until someone bags the top prize. And while draws are only held once a week, you do get decent odds and several chances to win via the 9 prize categories. What else does Viking Lotto have in store? Find out as I take a closer look below:
About Viking Lotto

Launched way back in 1993 in Norsk Tipping, Hamar, Norway, Viking Lotto was known as the world's first multi-national lottery. Five Nordic countries—namely, Norway, Finland, Sweden, Denmark, and Iceland—came together and created the Viking Lotto in the hopes of increasing each country's lottery turnover at the time by offering a game with large jackpots at stake to the entire Scandinavian region.
A few years later, after some success, the Viking Lotto bloc grew to a total of 6 countries, with Estonia joining the fray on March 22, 2000. Then, in 2011, Viking Lotto saw 2 more countries join—Latvia and Lithuania—which completes the current lineup of 8 countries offering the lotto.
Some Quick Viking Lotto Facts
Draws Once a Week: Viking Lotto draws are held only once week—on Wednesdays, to be exact.
Minimum Jackpot: Jackpots start at a guaranteed €1 million.
Features Rollovers: Should no one win the jackpot, it will simply roll over to each succeeding draw until someone wins. In other words, Viking Lotto offers the potential to win big prizes.
Simple Mechanics: Viking Lotto features simple, easy-to-learn mechanics—even lotto neophytes won't have problems here.
Nine Ways to Win: In addition to the jackpot, there are 8 more secondary prize categories you can win in.
Tax-Free: All Viking Lotto prizes are tax-free.
How Does Viking Lotto Work?
The Basics
Viking Lotto operates on a 6/48 plus 1/8 format. For the uninitiated, this simply means that, to play, you must choose six main numbers from a selection range of 1 to 48, plus an additional number—called the Viking—from a pool of 1 to 8. To win the jackpot, you must match all six of your main numbers, as well as the Viking number.
If you don't match all six numbers plus the Viking number—don't fret—there are eight more prize categories you can win in. All in all, that's a total of 9 prize categories—where the minimum requirement to win a prize is by matching only the Viking number.
As far as jackpots go, they usually start at a guaranteed €1 million. In the event that no one wins a draw, the jackpot will simply rollover to the next draw until someone manages to match all 7 winning numbers.
The Odds of Winning
For the most part, the odds of winning in Viking Lotto isn't that bad—but it's not exactly the best, either. It's better than, say, the odds of La Primitiva, but not Ukraine Megalot's, for example. Your odds of winning the jackpot? 1 in 98,172,096. Check out the breakdown below:
| | |
| --- | --- |
| Numbers Matched | Odds of Winning |
| 6 + Viking | 1 in 98,172,096 |
| 6 | 1 in 14,024,585 |
| 5 + Viking | 1 in 389,572 |
| 5 | 1 in 55,653 |
| 4 + Viking | 1 in 7,061 |
| 4 | 1 in 1,086 |
| 3 + Viking | 1 in 428 |
| 3 | 1 in 61 |
| Viking | 1 in 19 |
So What Happens if You Win?
All Viking Lotto prizes are 100% tax-free—though, of course, if you're not from any of the countries running Viking Lotto, your local tax laws will still apply (if any). At the very least, you won't get double taxation because, at the source, you won't have to worry about tax deductions. Even better, prizes are paid out in cash, as a lump sum.
Meanwhile, jackpots and second-tier prizes are paid out at least three weeks after the draw. Winners have up to one year—or 365 days—to claim their prizes. Otherwise, unclaimed funds will go directly to various worthwhile causes and charities.
As for claiming your prizes, each participating country has its own process. The same goes for which prizes can be claimed directly at an authorized Viking Lotto retailer, and which prizes must be claimed at their office/s. Needless to say, it's better to check with your local Viking Lotto officials what their criteria are.
Biggest Viking Lotto Winners
Viking Lotto may not be as popular as heavy hitters like the US Powerball or Euromillions, but it's certainly no slouch as far as jackpots go. At the very least, it offers better odds than those two games. Over the years, numerous players have won big in Viking Lotto. Below are the biggest so far:
| | | |
| --- | --- | --- |
| Jackpot | Winners | Year |
| NKr216.22 million (approx. €25M) | 1 | 2013 |
| NKr189.7 million (approx. €20M) | 4 | 2012 |
| NKr63.2 million (approx. €8.5M) | 1 | 2013 |
| DKr48.2 million (approx. €6.4M) | 1 | 2005 |
| NKr46.5 million (approx. €6.2M) | 1 | 2010 |
Viking Lotto Fun Facts
A portion of the revenue from ticket sales goes to various good causes and charities.
Each participating country distributed the profits differently. For instance, Danske Spil, which covers Denmark, funnels the proceeds to sports, cultural projects, non-profit charities like the Danish Organization for Disabled Persons, and even youth activities.
Viking Lotto goes by other names, depending on the country. For example:

In Denmark, it is called Onsdagslotto (or Wednesday lotto)
In Lithuania, it is called Vikingu Loto

The main jackpot offered is the same for all 8 participating countries, but the secondary prizes are different.
The Bottom Line on Viking Lotto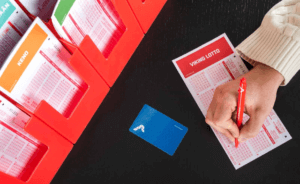 All in all, there is a lot that lotto lovers will like about Viking Lotto. For starters, the minimum jackpot is nothing to scoff at, while the inclusion of a rollover mechanic is definitely welcome. And while draws are held only once a week, you do get nine ways to win—not to mention some decent odds. Finally, if you live in any of the countries that hold Viking Lotto draws, you'll definitely love that prizes are paid out in cash and are 100% tax-free.