Classic Lotto 47 – Michigan Lottery
Lottery Results Updated On: 14 Aug 2020 (GMT)
Results, Winning Numbers and Jackpot Amounts
Winning Numbers
Date
Jackpot

Regular Numbers

12
13
22
34
43
47

Jackpot

$14,000,000

Regular Numbers

01
02
04
24
26
41

Jackpot

$13,550,000

Regular Numbers

01
04
12
17
23
35

Jackpot

$13,100,000

Regular Numbers

10
11
26
33
43
45

Jackpot

$12,650,000

Regular Numbers

05
15
19
29
44
47

Jackpot

$12,250,000

Regular Numbers

13
34
37
40
44
46

Jackpot

$11,800,000

Regular Numbers

08
09
16
31
37
47

Jackpot

$11,400,000

Regular Numbers

04
05
09
18
29
30

Jackpot

$11,000,000

Regular Numbers

02
04
16
22
43
46

Jackpot

$10,550,000
Classic Lotto 47 Michigan Hot and Cold Numbers
Hot Numbers
Regular Balls

43

23 Times

28

22 Times

2

21 Times

10

19 Times

16

17 Times

4

17 Times

18

17 Times

38

16 Times

39

16 Times

12

15 Times

5

15 Times

45

15 Times

33

14 Times

36

14 Times

46

14 Times

47

14 Times

34

14 Times

22

14 Times

17

13 Times

41

13 Times

23

13 Times

37

13 Times

44

13 Times
Cold Numbers
Regular Balls

32

3 Times

27

6 Times

35

7 Times

40

8 Times

14

9 Times

19

9 Times

25

9 Times

1

10 Times

3

10 Times

29

10 Times

7

10 Times

11

10 Times

13

10 Times

6

11 Times

21

11 Times

20

11 Times

42

11 Times

24

11 Times

31

12 Times

9

12 Times

8

12 Times

15

12 Times

26

12 Times

30

12 Times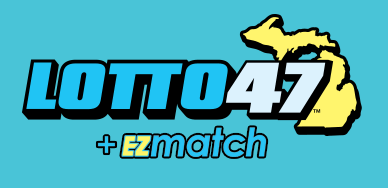 Michigan Lotto 47 is the Michigan Lottery's biggest game. It features bi-weekly draws, held every Wednesday and Saturday, and a rolling jackpot that starts at $1,000,000.
In comparison, the state's second biggest game is Fantasy 5, which has much smaller starting jackpot of $100,000.
[/section]
Michigan Lotto 47 Winners
Two of the biggest winners of Michigan's Classic Lotto 47 are:
$23.6 million. The biggest prize ever won from Michigan's Lotto 47 was snatched by an anonymous individual from Macomb County. They won the record jackpot all the way back in March 1, 2008.
$22.6 million. An anonymous man from Montcalm County is the second biggest Lotto 47 winner ever. He won the February 18, 2017 drawing with the numbers 12, 17, 19, 29, 36, and 39. The winner chose the lump sum option, and took home an estimated $14.3 million. When he claimed his prize in March of the same year, he said that he had already quit his job, and that he was planning on buying a new house.
You can also visit the official Michigan Lottery Winners Page to see a list of all their recent game winners.
Michigan Lotto 47 Rules
Michigan Lotto 47 rules are simple: Just choose 6 numbers from 1 to 47, and take home the jackpot if you match all with the official draw. As usual, the Easy Pick option is available.
Jackpots start at $1,000,000 and continue to roll until someone wins. Secondary prizes are also awarded for matching fewer numbers.
Lotto 47 costs $1 for each set of numbers played.  You can play Lotto 47 in-store or online.
Michigan Lotto 47 Payout
Lotto 47 has four prize tiers. Their corresponding prize amounts and odds of winning are:
| | | |
| --- | --- | --- |
| Numbers Matched | Prize | Odds |
| 6 of 6 | Jackpot | 1 in 10,737,573 |
| 5 of 6 | $2,500 | 1 in 43,649 |
| 4 of 6 | $100 | 1 in 873 |
| 3 of 6 | $5 | 1 in 50 |
Michigan Lotto 47 Drawing Time
Classic Lotto 47 has drawings twice a week – Wednesdays and Saturdays at 7:29 PM EST.
Tickets for the current draw can be purchased in-store or online until 7:08 PM. If you purchase your tickets after this time, you will only be qualified for the next draw. Ticket sales resume at 7:10 PM for in-store purchases and 7:08 PM for online purchases.
EZmatch
For $1 more per play, you get the chance to win instant cash prizes with EZmatch. When one or more of your regular draw numbers matches an EZmatch number, you win! Prizes are predetermined for every draw, but range from $2 to $500.
Double Play
For an additional $1, players can also enable Double Play to double their chances of winning.
After the main draw, a second drawing takes place and only players who have enabled Double Play are eligible to win.
Prizes for Double Play are doubled, except for the top prize which has a cap of $1.5 million.
Double Play is only available in-store through authorized Michigan Lottery retailers.
Lotto 47 Jackpot
Lotto 47 jackpot winners have the option to receive their prize as either a single lump sum or annually over the next 30 years. They have 60 days after the draw to decide.
If two or more persons match all six winning numbers, the jackpot is shared equally between them.