LottoGopher Review
Written by Nicholas Christensen
Last Update: June 22, 2018


LottoGopher offers a unique subscription-based approach to online lottery, but it doesn't hold up compared to other sites.
LottoGopher gets several things right: Their ticket prices are affordable, they don't take commissions from winnings, they claim prizes on a winner's behalf, and security is top-notch. Unfortunately, their subscription-based model feels incredibly unnecessary, and the limitations of their service don't do them any favors, either. It's hard to wholeheartedly recommend them to lotto lovers because of these, but if you are still intrigued, read on to find out more!
Number of Lotteries: 3
Powerball
Megamillions
SuperLotto Plus
LottoGopher Promotions and Bonuses
Refer a friend, get free credits.
Overall 3.0/5
Registration 4.0/5
Bonuses, Promotions, and Games 2.3/5
Trust and Security 4.4/5
Experience (Interface and Ease of Use) 3.8/5
Payment/Withdrawal Options 3.0/5
Customer Support 2.5/5
Other Great Online Lottery Reviews


Score: 5/5
TheLotter Review


Score: 4.5/5
Lotto Agent Review


Score: 4/5
WinTrillions Review
Registration
4.0
Registering an account with LottoGopher was a breeze. 
It didn't take long for me to go from filling up the form to playing their games. Unlike some lottery sites that ask you to fill up a needlessly long form, LottoGopher's--with only 2 fields to fill up--is ridiculously simple. Plus, they also allow you to connect your Facebook account so you won't have to fill any forms at all. Of course, with the recent scandal about Facebook, connecting your social account may not be such a good idea..
Anyway, back to LottoGopher. While they offer an easy-peasy registration process, there is one big caveat: their service is for California residents only. While you can certainly register, there is no guarantee that you'll be able to play.
Bonuses, Promotions, and Games
2.3
Regular Lottery Games
LottoGopher's game offerings are pretty weak compared to other lottery sites.
Currently, they only offer three lottery games: SuperLotto Plus, Powerball, and Mega Millions. They don't offer any international lotteries, so don't expect to play Euromillions, SuperEnalotto, and the like. What you see here is what you get.
That said, the great thing about LottoGopher's games is that they don't tack on any handling fees to tickets, so the prices you see here match ticket prices at retail. This makes their tickets some of the most affordable in the online lottery industry. Unfortunately, their subscription-based model undercuts this feat (more on this later).
---
Syndicates
Surprisingly, LottoGopher also offers group play options for their games – which is great.
It works a bit differently here though. Instead of pre-set syndicates like in other lottery sites, you can create your own groups, which you can set to public or private. If you don't want to create your own group, you can also browse ones that have been created by other players. Joining one is easy: after ordering your ticket, you simply browse the available groups and choose the one you would like to add your ticket to. It's that simple.
---
Membership
As previously mentioned, LottoGopher differs from other lottery sites in that their business is subscription-based.
They do have a free plan, but some features – like being able to purchase multiple tickets for one draw – are locked behind different membership tiers. Worse, ticket prices are separate from membership prices, so you're actually only paying for features here. Features, I might add, that are free to use in just about any other lottery site. Below is a sampling of their different plans, for reference:
| | | | | |
| --- | --- | --- | --- | --- |
| | Free | 1 Day | Monthly | Yearly |
| Price | $0 | $3/day | $12/mo. | $99/year |
| Order tickets | Yes | Yes | Yes | Yes |
| Access all games | No | Yes | Yes | Yes |
| Access public syndicates | No | No | Yes | Yes |
| Create private syndicates | No | No | Yes | Yes |
| Automatic subscriptions | No | No | Yes | Yes |
| Lottery tools | Yes | Yes | Yes | Yes |
---
Bonuses & Promotions
LottoGopher offers only one promotion via a simple referral system. Whenever you refer someone to LottoGopher and he/she signs up, both of you will receive free credit. How much credit you will receive depends on whether your referral signs up for a monthly or yearly subscription. If they sign up for a monthly subscription, both of you will receive a $5 credit each. But if they sign up for a yearly subscription, you'll receive a $20 credit instead. Not bad! It pales in comparison to other lottery sites' various discounts and promotions though.
Trust and Security
4.4
Despite its limitations, LottoGopher is – at the very least – a safe lottery site.
In addition to using GoDaddy 128-bit SSL encryption to secure data going to and from their website, they also abide by lottery commission regulations. They also follow the necessary business registration and tax requirements. Finally, the Better Business Bureau gives them an A+ score. In short, they are as legitimate as lottery sites can be.
Experience (Interface and Ease of Use)
3.8
Lottery Education Materials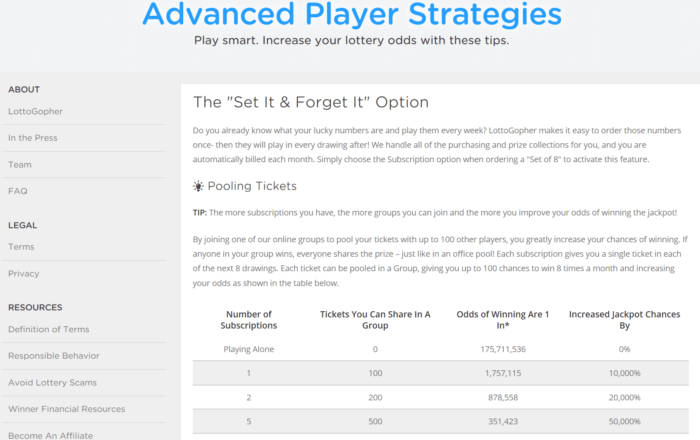 For the most part, LottoGopher's education materials are a bit of a mixed bag.
While they don't seem to provide in-depth information about each lottery game they offer, they make up for it in other areas. For instance, they offer a meaty resource page that tackles everything from common lottery terminologies, to avoiding lottery scams, to expert player strategies and more. They also offer an in-depth look at the history of lottery, but that doesn't really help players understand more about the specific games LottoGopher offers.
---
Ease of Use
 LottoGopher, limited as it is, has quite a user-friendly website.
I really liked how, with each step you take on their website, they guide you to what you need to do next. In fact, they provide a step-by-step process for ticket purchases, so even newcomers will know exactly what to do. You can also learn how their process works, how syndicates will benefit you and the like. More than that, it's also easy to accomplish things without handholding thanks to the simple and smart layout of their website.
---
Playing
Purchasing and playing their lottery games is easy as well – though it involves more steps compared to other lottery sites.
Here's how:
Log in to your LottoGopher account.
Click on the "Order lottery tickets" tab.
Select the lottery game you want to play.
Choose from two ticket options:
Single Tickets – This allows you to purchase tickets for the next drawing.
Set of Eights – This allows you to purchase tickets for the next eight drawings.
Choose how many tickets you want to buy.
Select your numbers. You can choose them manually or use the Quick Pick option to automatically pick them.
You can also choose to make your purchase a recurring ticket subscription by ticking on the "Never Forget to Play" box.
After selecting your numbers, you can choose between two options:
Add to Cart & Order More – Pick this option if you intend on purchasing tickets for other lottery games.
Checkout – Pick this option if you want to complete your transaction.
After selecting "Checkout", you can review your order and select your membership plan (if you haven't already). You can also apply promo codes here.
Click on yet another "Checkout" button to finalize your order. You will also be asked to provide your billing information and payment method of choice.
Agree to the Terms and Conditions.
Click on the green "Purchase Now".
Wait to see if you win!
---
Winning
Despite LottoGopher's unique approach to online lottery, winning and what happens after feels familiar here.
Small winnings, in this case prizes less than $600, will be automatically credited to your account. Once your winnings have been successfully transferred to your account, you can then choose to have a check mailed to you, or have the money credited to your credit card.
If, however, your winnings exceed $600, LottoGopher representatives will collect it on your behalf. Or, you can also opt to collect it on your own. Should you decide to have them take care of it, however, you need to wait around 5 business days before they can send you a check in your name.
For jackpot winners, they will get in touch with you to make arrangements to meet with you in person within 24 hours to facilitate the secure transfer of your ticket to you.
Payment/Withdrawal Options
3.0
LottoGopher's banking methods pale in comparison to the competition, but it's understandable seeing as how they don't cater to an international audience.
Currently, they only accept two types of payment methods: credit cards – like Visa, MasterCard, Discover and American Express – and debit cards. They don't accept any other payment methods like prepaid cards, checks, cash, or even PayPal as they want each transaction easily identified, easily traced, and impossible to misuse. At the very least, their reasoning is sound – but I find it a bit odd that bank transfers weren't included in the mix.
Customer Support
2.5
Live Support
Yes
Phone Support
Yes
Their FAQs are quite comprehensive, but I wasn't impressed by their live chat.
LottoGopher's self-help measures do a fantastic job of explaining nearly every facet of their service. You can glean information from just about every relevant topic; plus, they even include helpful video guides in articles. If you feel that the self-help measures are not enough, you can give them a call or send them an email. You can also use the live chat option – though I was not impressed when I used it myself.
I waited and waited for a live chat agent to assist me, but he/she never came (even though they claim to offer 24/7 support). Thinking that they must be quite busy, I left the chat window open while I attended to other things. Two hours and thirty minutes later, still not a word from them. That's not a good sign.
Review


Bottom Line for LottoGopher
Overall: 3.0
Fine, but look for alternatives.