General Information on LottoGopher
Since starting in 2010, LottoGopher has received a lot of press from major news outlets like Forbes and TIME. Originally known as LottoJar, LottoGopher is a duly licensed lotto agent service based in Los Angeles. It offers subscribers access to online lottery ticket purchases, community forums, several lottery tools, and more.
What is LottoGopher?
LottoGopher is an online lottery agent. This means it lets you buy official tickets to established lottery games like the Powerball, Mega Millions, and the California SuperLotto Plus.
How does LottoGopher work?
LottoGopher uses a subscription model for its memberships. You can sign up for 1-day, 1-month, or 1-year passes. Once you have a pass, you can buy tickets for your state lottery: for example, Californians can play the US Powerball, Mega Millions, and SuperLotto Plus.
Tickets come in two types:
Single tickets: You can buy up to 20 tickets for the current draw in one go.
Sets of eight: You can buy tickets for 8 consecutive draws.
Aside from solo play, you can play in syndicates. LottoGopher lets you join any of the public groups listed on their site. Or you can invite friends and make your own group!
Login and Signup
LottoGopher has lightning-fast registration.
All you need is your email address and preferred password. If you want to speed up the process even more, you can sign in using your Facebook account, too.
Here's the catch: LottoGopher only allows sign-ups for players who live in California or Texas.
Registered users can also login using the button at the top of the website.
LottoGopher Promo Codes, Vouchers, and Discount Codes
You won't find many long-running promotions or discounts on LottoGopher.
LottoGopher Referral Program
What LottoGopher lacks in promo codes, it makes up for with a generous referral program. You only need to share your unique referral link via email, Facebook, or Twitter. Once somebody signs up through your link, you get:
$5 credit if they sign up for a monthly pass
$20 credit if they sign up for an annual pass
The great news is that anyone you referred gets the same credits in their account, too.
Popular Lottery Games at LottoGopher
LottoGopher gives you online access to your state's lotteries — no more, no less.
LottoGopher is the closest you'll get online to buying from the official lottery operator. Its game selection mirrors your local corner store: just the lotteries available in-state. This is understandable, especially since the United States has strict federal laws against out-of-state participants in local lotteries.
LottoGopher caters only to California and Texas residents.
Here's what you'll get at LottoGopher:
| | |
| --- | --- |
| California | Texas |
| US Powerball | US Powerball |
| US Mega Millions | US Mega Millions |
| SuperLotto Plus | |


You can buy up to 20 tickets in one go. If you'd like to play in advance, LottoGopher lets you buy "sets of 8"—meaning you'll get tickets for 8 consecutive draws. Multi-draw options are always convenient, especially for regular players. However, it would've been better if LottoGopher let you choose how many draws you can play in advance.
LottoGopher Results
LottoGopher reports results for all the lotteries it carries.
Unfortunately, lottery results aren't easily spotted when you visit LottoGopher. You can get to the Lottery Results page by clicking a link in the site's footer.
You can only view the latest results. What's great is that LottoGopher reports prize results, too, so you can see how many people won for each prize tier.
Other LottoGopher Games and Syndicates
LottoGopher Syndicate
LottoGopher offers a unique group play system.
LottoGopher lets you join an existing lotto group or create one with your friends and family. What's interesting is that LottoGopher doesn't set up these groups like the typical lottery syndicate: instead of buying shares for an existing set of tickets, you'll buy your own tickets and just add these to the group's set.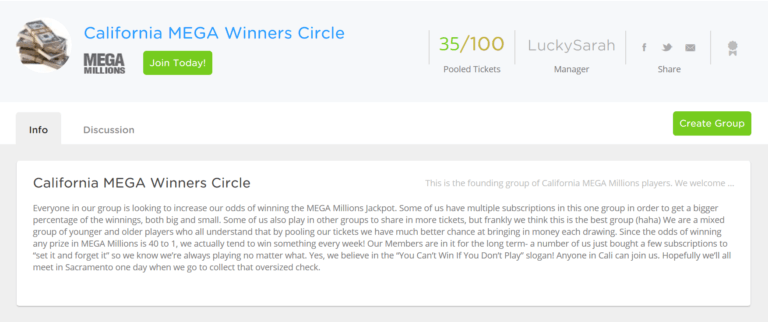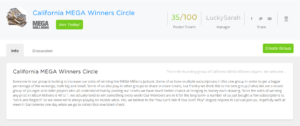 There are pros and cons to this approach. The most obvious benefit is that you can pick your own numbers. That's great news, especially if you have a set of lucky numbers you like playing regularly.
The drawback is that this might make for a sub-optimal set of tickets. Many online lottery syndicates use some kind of system to ensure a good spread of numbers for each set of tickets. That might be through systematic forms (which try to play as many possible combinations of a given set of numbers) or another tactic.
With LottoGopher's system, there's no such guiding strategy. Plus, if you join a public group, you can't even talk to your group members to implement a plan before buying your tickets.
LottoGopher Review of Security, Trust, and Scams
Is LottoGopher a scam?
Absolutely not. LottoGopher is a legitimate company with outstanding security and certifications. The LottoGopher site is protected by 256-bit SSL encryption, and the company is licensed to operate as a lotto agent in California and Texas. It's got a BBB (Better Business Bureau) accreditation, too.
Is LottoGopher legit?
It sure is. LottoGopher is a duly registered and licensed lotto agent company based in Los Angeles. It's regulated by California's and Texas' lottery commissions, and it's BBB-accredited, to boot.
Is LottoGopher safe?
Definitely. All transactions on the LottoGopher website are protected with 256-bit SSL encryption. What's more, LottoGopher abides by all applicable local, state, and federal laws governing lotto agents.
Is LottoGopher a real or fake company?
LottoGopher is 100% real. It's based in Los Angeles, and it holds lottery agent licenses from California's and Texas' respective Lotto Security Divisions.
Who owns LottoGopher?
LottoGopher is owned and operated by Galaxy Group LA.
How does LottoGopher make money?
LottoGopher doesn't charge commissions for your winnings. It doesn't add handling fees to its ticket prices, either. Instead, it uses a membership model: regular users buy monthly or yearly passes that give them access to LottoGopher's services.
Is LottoGopher legal?
Yes, LottoGopher is legal. It's duly registered and works closely with each state's lottery commissions to abide by the applicable laws.
Does Lottery Critic Trust LottoGopher?
Definitely. Like I said, LottoGopher is the closest you're going to get to official lottery operators when you play online. LottoGopher has bank-grade 256-bit SSL encryption plus all the requisite licenses and certifications to ensure your peace of mind.
LottoGopher Review on Payouts, Withdrawals, and Winners
LottoGopher Payout Rules
LottoGopher has a simple, straightforward payout system.
LottoGopher doesn't charge commissions for your winnings. Any prize up to $600 automatically gets credited to your account.
For prizes beyond $600, LottoGopher can send a representative to claim the amount on your behalf. The money will then be credited to your account within 5 days. Alternatively, you can get the ticket from LottoGopher and claim the prize yourself.
For jackpots, LottoGopher contacts you immediately to arrange for the secure transfer of your ticket. You'll get your ticket within 24 hours, then you must claim the prize yourself.
How to withdraw money from LottoGopher
You simply request to cash out your winnings through the Payout page of your LottoGopher account. All winnings are paid out using eCheck: this lets you print out a check, which you can then deposit through mobile banking, an ATM, or through an in-person visit at your bank.
LottoGopher Payment and Withdrawal Methods
LottoGopher only supports a few payment methods—but they have a good reason.
LottoGopher only supports 5 payment methods:
Debit cards
Visa
MasterCard
American Express
Discover
This is a bit disappointing in comparison with the laundry list of payment methods accepted by other lottery websites. However, LottoGopher deliberately limits its payment methods: it only supports methods that will leave complete, traceable records of payments. This ensures that all transactions are above-board, transparent, and easily verifiable.
Though inconvenient for some, I have to applaud the dedication to security here.
Has anyone won on LottoGopher?
LottoGopher doesn't provide information about past winners or its biggest payouts. However, it does make the bold claim that at least one LottoGopher player has won some kind of prize in almost every draw. Unfortunately, there's no way to verify this information.
LottoGopher Review of Mobile Options
LottoGopher relies on a mobile-responsive website—but it's expanding into text-based gaming soon.
LottoGopher doesn't have a dedicated mobile app, but its website is mobile-responsive. You won't have problems logging in and buying tickets from your phone.
What's more exciting is LottoGopher's recent acquisition of SMS-ENGINE, a text message-powered gaming system. Once integrated into the LottoGopher system, players will be able to play the lottery through text. SMS-ENGINE will also allow LottoGopher to send more convenient text notifications of wins and lottery results.
Customer Support at LottoGopher
LottoGopher offers support through phone and email.
You can reach the LottoGopher support team via email or phone (866-LOTTO-GO). Unfortunately, there's no live chat available, so a voice call is your only option for urgent assistance.
LottoGopher also has a pretty thorough FAQ section that offers quick answers to common questions.
Our Experience with LottoGopher
LottoGopher is a great alternative for players based in California and Texas.
However, I have some quibbles with LottoGopher's membership model.
LottoGopher Website
The LottoGopher website is simple and easy to navigate, but it could use a better structure.
LottoGopher welcomes visitors with handy draw countdows and a quick guide to using the service. That's great, especially for new players. However, registered users will likely appreciate having the lottery results available on the homepage rather than buried in the site footer.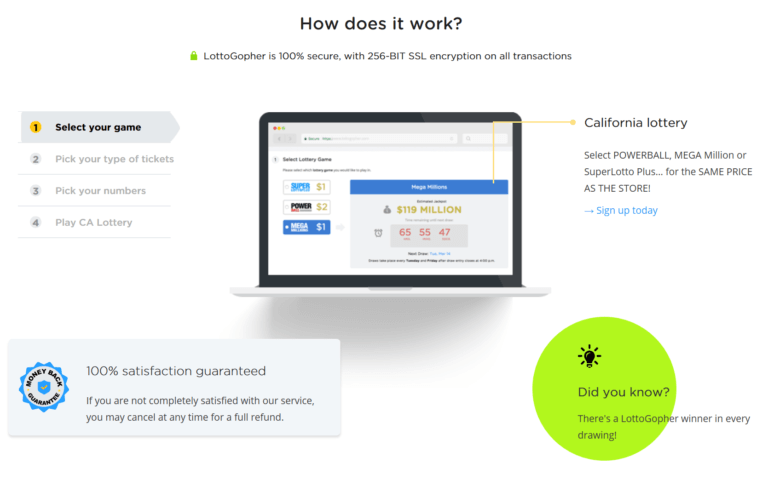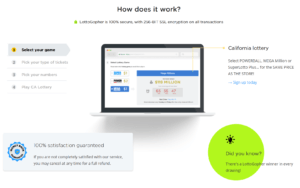 LottoGopher doesn't offer the website in other languages, though considering its highly localized operations, there's little point for multi-language options here.
You can also toggle the site between California or Texas versions, which might get a bit confusing. Make sure you're on the right site before buying any tickets. For example, if you want to play the California SuperLotto, you're not going to find it if you're on the Texas-version website.
LottoGopher Playing Experience
Buying tickets on LottoGopher is a breeze. Just click through the purchase pane, select what kind of tickets you want (single tickets or sets of 8), and pick your numbers.
If you're on monthly or yearly membership, you can also choose to place your tickets in a lottery pool.
LottoGopher Membership Model
LottoGopher earns money by offering subscription-based access to its services. Users have the following options:
| | | | | |
| --- | --- | --- | --- | --- |
| | Free | 1 Day | Monthly | Yearly |
| Price | $0 | $3/day | $12/mo. | $99/year |
| Order tickets | Yes | Yes | Yes | Yes |
| Access all games | No | Yes | Yes | Yes |
| Access public syndicates | No | No | Yes | Yes |
| Create private syndicates | No | No | Yes | Yes |
| Automatic subscriptions | No | No | Yes | Yes |
| Lottery tools | Yes | Yes | Yes | Yes |
I understand that LottoGopher needs to earn money, so a membership model is completely justified. More so when you consider that LottoGopher doesn't add handling fees to its ticket prices or subtract commissions from your winnings.
However, I also have to point out that many of the features that LottoGopher locks behind a paywall are available for free from other lottery websites. This weakens LottoGopher's advantages over those sites: ultimately, a per-ticket handling fee might turn out to be more economical than a long-term subscription. This is especially true for people who only want to buy tickets occasionally.
Final Thoughts on LottoGopher
LottoGopher is a great option for players in California and Texas.
LottoGopher offers a smooth, convenient playing experience. You can easily buy tickets, join lottery pools, and get commission-free winnings. It's a shame, then, that LottoGopher's services are limited to two states (California and Texas) and 3 lotteries (the US Powerball, Mega Millions, and California SuperLotto Plus).
That big issue aside, it's worth pointing out that LottoGopher can feel restrictive in other ways. There's the "set of 8" option that lets you play in advance for 8 draws, with no option for fewer or more draws. There's also the membership model, which limits access to some core features like lottery pools unless you sign up for the long haul.
Ultimately, this highlights LottoGopher's focus on providing convenient online options to regular lottery players in California and Texas. If that sounds like you, then you should definitely give LottoGopher a try.