TheLotter Review Overview
---
What We Like About It:
Massive range of games, from 58 lotteries to millionaire raffles and more
Fantastic mobile app
A wide array of accepted payment methods
Secure, well-designed, and beginner-friendly website
What We Don't Like About It:
Their fees. But they have to make money somehow!
---
TheLotter is the best place to play the lottery online. And there are $90 million reasons why!
TheLotter stands far ahead of the competition in terms of game variety, player support, and overall ease of use. This website acts as a ticket agent, buying official lottery tickets on your behalf. Through its convenient system, you can enter any of 58 lotteries from all over the world — including huge games like the Powerball and Mega Millions. We highly recommend you check out TheLotter's discounts and limited-time offers!
It supports multiple languages and currencies, as well as 20+ banking methods. If you're always on the go, you can even keep up with your games through theLotter's iOS and Android apps.
We also recommend you see how TheLotter ranks against all the other best online lottery sites out there such as the second-place platform, Lotto Agent.
General Information
TheLotter started in 2002, and it buys tickets on players' behalf for 58 different lottery games, including Powerball, MegaMillions, and EuroMillions. To date, it has had over 4 million winners, paying out over $90 million in prizes.
TheLotter is one of the online lottery pioneers, and it remains one of the biggest online lottery websites. It's owned and operated by Lotto Direct Limited, a duly licensed company with headquarters in Malta. It also has local offices in over 20 different areas, ensuring speedy ticket purchases for a wide variety of international lotteries.
What is theLotter?
TheLotter is an online lottery agent. It buys tickets to official lottery games on users' behalf.
How Does it work?
TheLotter uses the lottery agent model, allowing you to buy official tickets for lottery games from all over the world. Here's how that works:
Buy tickets through theLotter's website

TheLotter sends out local agents to buy them for you

Your tickets are scanned and stored in a safe. You receive scans as proof of ownership
Here's a quick walkthrough straight from the company itself:
There are 58 lotteries available, and you may enter as many of them as you want.
To further expand your options, theLotter offers three different modes:
Single Game:

Buy at least 3 and up to 25 tickets in one go. Pick your own numbers or use Quick Pick.

Syndicates (Group Game):

Buy shares in a large set. Split costs and winnings with other players.

Bundles:

Get the best of both worlds by combining syndicate shares and personal purchases.
Aside from these, theLotter offers convenient features like:
Multi-draw purchases:

You can "buy ahead" for as many as 58 draws. This makes sure you don't miss any future draws.

Subscriptions:

Similar to multi-draw purchases, a subscription automatically buys you tickets for upcoming draws. TheLotter even runs a free ticket promo for subscribers.

Systematic forms:

Get tickets that automatically cover every possible combination of your chosen numbers. More expensive, but it may boost your chances.
The best thing about playing at this website is that you're an official participant in any lottery games you choose. Whether you buy personal entries or join a syndicate (or both!), you'll always have an actual entry.
Plus, any winnings will come directly from the particular operator — not theLotter. Unlike many lotto betting sites, this company doesn't depend on its own revenues or insurance coverage for prize payouts. You're far more likely to receive your winnings.
Limited Time Deals On TheLotter!
Login and Signup
TheLotter's login and registration are a breeze. You can even sign up with your Facebook account.
Signing up on this website takes less than a minute. You don't need much when you create an account: just your email address, preferred password, and country.
For even faster registration, you can sign in using your Facebook account. Easy peasy, right?
Players from all over the world can register. The registration form doesn't exclude countries where an online lottery is illegal, either. Of course, if it's against your local laws, you sign up at your own risk.
Already have an account? Login here.
Review of theLotter's Games, Promos, and Bonuses
Promo Codes, Vouchers, and Discount Codes
You can get tons of limited-time deals on their website. For example, players who buy at least 4 shares to Spain's Loteria de Navidad (Christmas Raffle) right now will get a 10% discount!
The VIP Club
For more consistent discounts, there's theLotter VIP Club. You don't need anything special to join — just keep playing through their platform.
Every $1 you spend is worth 1 VIP point. The more VIP points you have, the higher your level — and the bigger your discount.
| | | |
| --- | --- | --- |
| Level | VIP Points | Discounts |
| Diamond | 5000+ | 20% |
| Platinum | 2001 – 5000 | 12.5% |
| Gold | 501 – 2000 | 7.5% |
| Silver | 201 – 500 | 5% |
| Bronze | 51 – 200 | 2.5% |
VIP Club members also get access to exclusive deals and promotions. Plus, they get priority assistance from the customer support team.
Other Deals and Offers
This platform gives you 25 VIP Points when you sign up for a subscription. Subscribers also get every 10th ticket free.
Popular Lottery Games
No other website can compete with theLotter's list of games.
An account on this website lets you play any of 58 lotteries from all over the world. That's more than double what you'll get at competing lottery sites. It also carries syndicates, but it does not offer scratch cards.
Of course, with 50+ games, theLotter has more than enough variety, even without scratch cards. You'll find blockbuster games like the Powerball and Mega Millions here, of course. But there are also excellent (though less popular) alternatives like the French Loto, Australia's Oz Lotto, and more.
Some games you can play at theLotter:
| | | | |
| --- | --- | --- | --- |
| US Powerball | US Mega Millions | EuroJackpot | EuroMillions (Spain) |
| SuperStar (Italy) | SuperEnaLotto | La Primitiva | EuroMillions (Austria) |
| Vikinglotto | Switzerland Lotto | Romania Loto 6/49 | EuroMillions (France) |
| Australia Powerball | New Zealand Powerball | El Gordo (Spain) | France Loto |
| Australia Saturday Lotto | Australia Monday Lotto | BonoLoto (Spain) | Canada 649 |
| Australia Wednesday Lotto | Australia Oz Lotto | Italy Lotto | Ontario 49 |
| New York Lotto | Irish Lotto | Italy MillionDAY | Colombia Baloto |
| New York Cash4Life | Mexico Melate | Peru Tinka | Chile Clasico Loto |
| Japan Loto 7 | Japan Loto 6 | South Africa Powerball | South Africa Lotto |
| Austria Lotto | Poland Lotto | Otoslotto | Ukraine Super Lotto |
| Brazil Dia de Sorte | Poland MiniLotto | Latvia Latloto 535 | Ukraine Megalot |
| Brazil Dupla Sena | Brazil Mega Sena | Brazil Quina | Brazil Lottofacil |
| Mexico Melate Retro | New York Take 5 | Germany Lotto | Hungary Hatoslotto |
Powerball
TheLotter carries several Powerball games from different countries. There's the ever-popular US Powerball, of course, but you'll also find the ones from Australia, New Zealand, and South Africa.
All of these games are available for solo players. If you want to boost your chances, they also offer syndicates and bundles — some using pre-selected random numbers, others using systematic forms.
If you're new to lotteries, theLotter also provides a comprehensive overview of all the games on its roster, including the various Powerball lotteries from the US, Australia, and more. You can see important details like draw schedules, the range of numbers in a game, and even your odds of winning each prize.
Mega Millions
You can play the US Mega Millions through theLotter, too. Like in the previous case, theLotter offers entries in the form of solo games, syndicates, and bundles (a combination of both).
TheLotter also carries a page dedicated to giving you more information about the Mega Millions lottery. You'll find draw schedules, your odds of winning, and even guidelines for taxes on winnings.
EuroMillions
TheLotter lets you buy entries for EuroMillions from Spain, Austria, or France. It's up to you to decide which one to enter. The main difference? For Spain and France, a ticket also counts as an automatic entry to the corresponding country's millionaire raffle: El Millón (Spain) and My Million Raffle (France).
You can buy standard solo entries, participate in syndicates, or try both through convenient bundles to win the jackpot.
If you want to get more information about EuroMillions, theLottery also has detailed pages for all three variants on its site.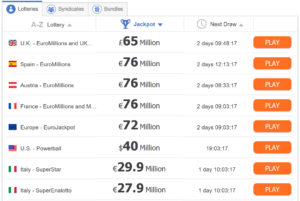 TheLotter Results
You can track 90+ lottery game results on their website.
The platform reports results for the 58 lottery games it carries, and then some. There's a dedicated page where you can view results for 97 lotteries in all.
You'll find the usual big jackpots (like the Mega Millions or Australia's Oz Lotto), as well as less popular lotteries like the Irish Lotto, Ukraine's MegaLot, and more.
TheLotter even includes draw schedules so you know which lotteries will have results soon. You can also activate notifications to get alerts for your favorite lotteries' results.
Limited Time Deals On TheLotter!
Other theLotter Games and Syndicates
Scratch cards
TheLotter doesn't offer any scratch cards. 
But there are many other opportunities to hit the jackpot!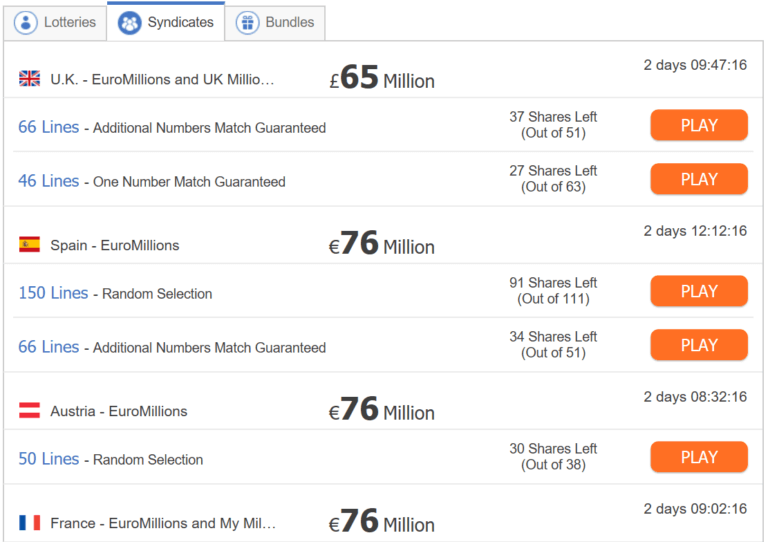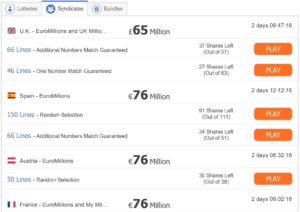 Syndicate
Their platform gives you 30 syndicates to choose from. Not only do these cover popular games like the Mega Millions and EuroMillions, but you'll also see support for smaller games like the Vikinglotto or Ukraine's MegaLot. You may also take a look at Lottogo if you're interested in syndicates.
Check out the whole range of syndicates below:
US Mega Millions

Syndicate

Number of Lines

Number of Shares

Random Selection

200

150

Systematic Forms (8 Numbers)

56

50

US Powerball

Syndicate

Number of Lines

Number of Shares

Random Selection

200

144

One Number Match Guaranteed

65

56

EuroJackpot

Syndicate

Number of Lines

Number of Shares

Random Selection

200

104

Random Selection

100

60

Additional Number Match Guaranteed

45

33

EuroMillions

Syndicate

Number of Lines

Number of Shares

Spain – Random Selection

150

111

Spain – Additional Number Match Guaranteed

66

51

Austria – Random Selection

50

38

France – Random Selection

30

15

European Lotteries

Syndicate

Number of Lines

Number of Shares

Italy SuperEnaLotto

40

14

La Primitiva – Systematic Forms (9 Numbers)

84

47

Spain – El Gordo

40

22

France Loto

30

15

Germany Lotto

60

22

Australia and New Zealand Lotteries

Syndicate

Number of Lines

Number of Shares

Australia Powerball Lotto

100

36

New Zealand Powerball

50

23

Saturday Lotto – Systematic Forms (9 Numbers)

84

31

Superdraw Saturday

100

40

Oz Lotto

60

22

Wednesday Lotto

55

18

Monday Lotto

55

20

Other Lotteries

Syndicate

Number of Lines

Number of Shares

South Africa Powerball

150

40

South Africa Powerball (Systematic x8)

56

13

Ontario 49

30

12

Canada Lotto 649

30

30

TheLotter Bundles
Bundles are great if you want the best of both worlds.
If you want to try your luck with both group and solo play, theLotter has you covered. Their bundles combine syndicate shares and personal entries in one package.
You'll have over 60 bundles to choose from, covering everything from Mega Millions to Australia's Oz Lotto, Saturday Lotto, Wednesday Lotto, and Monday Lotto.
TheLotter Review of Security, Trust, and Scams
Is it a Scam?
Not at all! With almost 2 decades in the business and over 4 million people who have won the jackpot on record, theLotter is the prime example of a reliable online lottery website.
Thanks to its lottery agent business model, any ticket you buy is an official entry to your chosen lottery game. Any winnings come directly from the lottery operator. All their available lotteries are legitimate games too.
As proof of ownership, you get scanned copies of your purchases. Once scanned, they are stored in a secure safe until you need them.
What's stopping them from taking your prizes for themselves? Well, they're licensed under the Malta Gaming Authority. That means all of theLotter's operations are monitored and regulated by Malta's government.
Limited Time Deals On TheLotter!
Is it Legit?
Yes! TheLotter is operated by Lotto Direct Limited, a company that's registered and based in Malta.
Is it Safe?
Absolutely. Every action you make on their website passes through 128-bit GeoTrust SSL encryption. Additionally, you can easily get details about how they handle your tickets and transactions, so they get plus points for transparency, too.
Their platform is also PCI compliant, meaning all financial transactions and payment credentials are airtight and adhere to stringent regulations that banks are required to adhere to.
Is it a Real or Fake Company?
It is a real company and has been in business since 2002. The website is run by Lotto Direct Limited, which is based in Malta and also operates out of 20+ local offices all over the world.
Who Owns It?
Lotto Direct Limited owns and runs theLotter. The company is duly registered in Malta, where it has its headquarters.
How Do They Make Money?
Every ticket purchase on theLotter includes a handling fee. This is how they fuel their operations.
Is it Legal?
Yes! All of theLotter's operations run under a license from the Malta Gaming Authority. Depending on your country's laws, though, using their services might not be allowed. It's best to check if your country has laws against lotteries online.
Does Lottery Critic Trust theLotter?
Definitely. It was one of the first online lottery services around, and their longevity says a lot about how reliable they are.
From SSL encryptions to legitimate government licensing, theLotter also has solid measures in place to protect players. Finally, they've got a good track record of winners and payouts, so you're sure to get your winnings no matter the size of the jackpot.
TheLotter Review on Payouts, Withdrawals, and Winners
Payout Rules
TheLotter doesn't charge commissions on your winnings. However, it does deduct any local taxes that may be required by the law in the country where a lottery is based.
Prizes are divided into two main types:
Big or Locally Taxed Prizes: These include

lottery jackpots,

any prizes worth more than $2,500, and

prizes subject to local tax

Secondary Winnings: Any other prizes
Secondary winnings are collected and deposited directly in your TheLotter account.
For big or locally taxed prizes, you'll typically have to claim these yourself. This is especially true for jackpots, in which lottery operators often require players to claim their winnings in person.
For non-jackpot prizes that are above $2,500 or taxable, if the local law permits it, TheLotter tries to collect these on your behalf and credit the amount to your account.
How to Withdraw Money from theLotter
You get 7 options for withdrawing your winnings from your TheLotter account. Most of these are through bank transfer or trusted banking networks like VISA and MasterCard.
Just go to your account's "My Account" tab and click "Withdraw."
Payment and Withdrawal Methods
The Lotter gets two thumbs up for accepting a wide array of payment methods.
You have 25 deposit methods and 7 withdrawal methods available. That's more than you get from many other lottery websites. Better still, theLotter's banking methods work with a wide range of currencies, too.
Limited Time Deals On TheLotter!
Here's a quick rundown of theLotter's available banking methods:
Deposit Methods
| | | | |
| --- | --- | --- | --- |
| | Currency | Minimum | Maximum |
| Visa | US$ / € / £ / AUD / руб / CAD / CHF / SEK / ZAR / ₹ | – | 5,000 |
| MasterCard | US$ / € / £ / AUD / руб / CAD / CHF / SEK / ZAR | – | 5,000 |
| Diners Club | US$ / € / £ / AUD / руб / CAD / CHF / SEK / ZAR | – | 5,000 |
| Skrill | US$ / € / £ / CAD / CHF / SEK / ZAR | – | – |
| Neteller | US$ / € / £ / руб / CAD / CHF / SEK / ZAR | – | 5,000 |
| PaySafe Card | US$ / € / £ / CAD / CHF / ZAR | – | – |
| Trustly | US$ / € / £  / CAD / CHF / SEK / ZAR | – | – |
| Sofort | US$ / € / £ | – | – |
| Eps | US$ / € / £  / CAD / CHF / SEK / ZAR | – | – |
| Bleue | US$ / € / £ | – | – |
| CartaSi | US$ / € / £ | – | – |
| Postepay | US$ / € / £ | – | – |
| Bancontact | € | – | – |
| RAPID | US$ / € / £ / CAD / CHF / ZAR | – | – |
| PSE | US$ / € / £ / CAD / CHF / ZAR | 10 | – |
| Efecty | US$ / € / £ / CAD / CHF / ZAR | 10 | – |
| Safety Pay | US$ / € | – | – |
| Zimpler | US$ / € | 5,000/span> | – |
Withdrawal Methods
| | | | | |
| --- | --- | --- | --- | --- |
| | Currency | Minimum | Maximum | Processing Days |
| Visa | US$ / € / £ / AUD / руб | US$1 | US$1,000 | 1-3 |
| MasterCard | US$ / € / £ / AUD / руб | US$1 | US$1,000 | 1-3 |
| Skrill | | US$1 | US$2,000 | 1-3 |
| Neteller | | US$1 | US$2,000 | 1-3 |
| Discover | US$ / € / £ / руб | US$1 | US$2,000 | 1-3 |
| Diners Club | | US$1 | US$2,000 | 1-3 |
| Bank Transfers | US$ / € / £ / AUD | Varies | US$50,000 | Varies |
Has Anyone Won?
Absolutely! Over 4 million people have won prizes since the company started in 2002. There's even a (long) list of winners on their website!
Biggest Payouts
Aura D., a player from Panama, holds the record for the website's biggest win so far. Aura got $30 million as the sole winner of the Florida Lotto on July 19, 2017. She flew in on theLotter's dime to claim her prize and has been living out a happy retirement since then.
Aura's quiet post-win life is pretty typical for lottery jackpot winners. Check out our article on the lottery's biggest winners to learn how other lucky players chose to spend their prize money.
In 2016, another lucky player from Iraq bet on the Oregon Megabucks lottery through theLotter and won the $6.8 million jackpot!
There are also about 5 winners who have won $1 million prizes each. Four of them hit the US Powerball's second prize by matching 5 of the winning numbers. Another hit the $1 million US Mega Millions prize in 2017.
TheLotter Winners – Australia
G. won $1 million by hitting the second prize for the US Powerball's draw in October 2016. He had been playing through theLotter since 2003. G. racked up over 452 wins of minor prizes from various lotteries before hitting the million-dollar prize.

8 lucky Aussies struck gold with $106,300 in prizes after joining theLotter's Powerball syndicate. Every line in their syndicate's set won a prize, and the total was split among the 55 players who bought shares.

L.M. won €25,000 from La Primitiva in 2015 by purchasing entries at theLotter.

Howard L. won 885,377 rubles in the Russian Gosloto 6/45 lottery after just 6 months of playing through theLotter.
TheLotter Winners – The UK
B.U. won $1 million after hitting the US Powerball's second prize in April 2012. The major win came just five tickets after B.U. first started playing at theLotter. In another stroke of luck, B.U. won shortly after the new prize rules bumped up the second prize from $200K to a cool $1M.

F.M. won €47,748 in Italy's SuperStar draw after matching 5 of the winning numbers.
Additionally, there are plenty of winners (with pictures) between $50,000 and $1M providing further proof to the doubters regarding the authenticity of this platform.
Review of Mobile Options
TheLotter lets you play lottery games — anytime, anywhere, on both iOS and Android.
You can keep up with even the busiest lifestyles, thanks to excellent mobile apps for iPhone, iPad, or Android devices.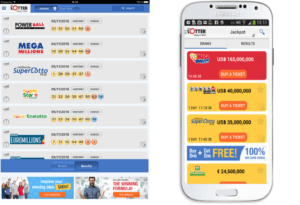 Install theLotter app and you'll get full functionality, with all the services you'd get from the main website. You can:
Access all 58 lottery games

Buy entries for solo or group play

View your purchases

Get instant results for 90+ lotteries

Receive jackpot alerts for your favorite lotteries

Get notifications if you win
This app boasts a sleek interface and works without a hitch. If you're always on the go, it's a fantastic mobile lottery companion.
Customer Support On TheLotter
TheLotter gives you 24/7 support and tons of resources.
This website clearly makes it a mission to help you succeed. If you ever need help, you can reach their support team via a ton of channels.
Their customer support service is available 24/7 and takes inquiries in 14 different languages.
Live chat

Email: We sent test inquiries and got a response within 2 hours!

Telegram: Just search for TheLotter.com

Viber: +356 793 63536

WhatsApp: +356 793 63536

Phone: +44 20 3150 0476

Fax: +44 20 7691 7234
There are also dedicated, toll-free phone lines available for select countries:
The UK: 0800-1700-409

Australia: 1-800-259-355

Canada: 1-888-786-3072

France: 0805-109-968

Germany: 0800-724-1082

Russia: 880-0100-3681

Ukraine: 0800-500-596

South Africa: 0800-981-870
Aside from these support channels, you can also check out their comprehensive FAQ and lottery game guides.
Our Experience with theLotter
In summary – they set a very high bar for online lottery services.
We know the ease of buying tickets and getting support from theLotter firsthand. Long story short: we're all praises for this agent. Sure, those of us who love scratch cards are a bit disappointed, but that's a minor quibble. As a lottery agent, they hit all the right notes.
Website
TheLotter boasts a simple, easy-to-use website.
Design is one of the most basic things about a lottery website. After all, you're spending a lot of time there, right? Luckily, they have a well-designed website that's easy to navigate, even if this is your first time trying such a service.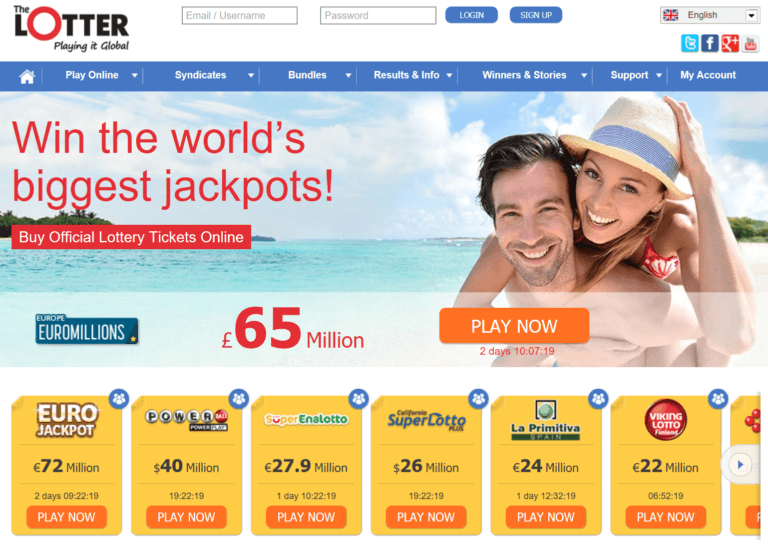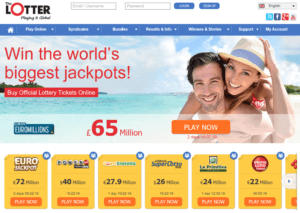 It's refreshing to see a lottery site that isn't saddled by poor or outdated design; even more so when it isn't littered with distracting and annoying ads. Though it isn't unique in this regard, it is one of the better sites that puts a premium on user experience.
Navigation is a breeze. All the information (and there's a lot!) is well-organized, so you're never overwhelmed. You can jump quickly from lottery results to jackpot updates, game news, and more.
Satisfaction Guarantee
TheLotter offers new players a full refund on their first purchase if they're not happy with their services. All it takes is a quick message to their support team, and you'll get your money back. You get six months from the time of purchase to claim your refund.
Note that this only applies to your first purchase. It's a great safety net if you're just trying them out — you can check out their services without risking your money.
TheLotter Australia
There are a lot of lotteries in Australia, and theLotter supports many major games::
Oz Lotto

Australia Powerball

Australia Monday Lotto

Australia Wednesday Lotto

Australia Saturday Lotto
While they are not an official partner of Australia's lottery operators, it's perfectly legal to join this service Australia. In fact, there are a fair number of Aussies who have won prizes from lotteries around the world via theLotter.
TheLotter UK
TheLotter doesn't carry the UK National Lottery, but you can still join major European lotteries like the EuroJackpot and EuroMillions. You can even venture outside of the continent and try your hand at popular games like the US Powerball, Mega Millions, or various lotteries from Brazil, Australia, and more.
TheLotter USA
Until recently, thanks to the US' laws about online lottery, you're unlikely to hear of US-based winners at theLotter. Federal laws still forbid participation in online lotteries, and there aren't a lot of states where you get enough of a legal grey area to participate.
But that changed last year for residents of Texas and Oregon who can now purchase entries online from theLotter, who are licensed by the respective state lotteries.
theLotter for Texas Residents!
Final Thoughts
Should you try theLotter? Absolutely. You get tons of games to choose from and fantastic playing experience.
Sure, they charge slightly more than its competitors. But for those fees, you get 58 games, group game options, an excellent VIP discount system, rock-solid security, and a robust payout record. And that's not even all their good points.
There's a reason they have stayed on top of the online lottery game for more than a decade now. Whether you're a newbie or a seasoned player looking for a change of scenery, there's no better place to play than theLotter.