TheLotter Review
Written by Nicholas Christensen
Last Update: August 14, 2018


TheLotter is undoubtedly the best place to play online lottery. $87 million reasons why!
TheLotter has been around for over a decade and is one of the most successful online lottery platforms on the web. To date, $87 million has been paid out in winning jackpots all over the world! Players looking for variety can pick from any of the 50 games they offer and can choose between solo play, group play, or a combination of both via bundles.
Depositing and withdrawing money is extremely convenient, thanks to the various options available. theLotter also employs 128-bit SSL security, spam monitoring and filtering, and a money-back guarantee. And for players who are constantly on-the-go, free mobile apps ensure you get the same lottery experience wherever you are.
Limited Time Offer:
Number of Lotteries: 50
| | | | |
| --- | --- | --- | --- |
| US Powerball | Mega Millions | EuroMillions | EuroJackpot |
| SuperStar | SuperEnalotto | La Primitiva | El Gordo |
| Spain EuroMillions | Austria EuroMillions | France EuroMillions | Australia Powerball |
| Saturday Lotto | Mega-Sena | Canada Lotto 6/49 | New Zealand Powerball |
| SuperLotto Plus | Oz Lotto | VikingLotto | Ireland Lotto |
| New York Lotto | New Jersey Cash4Life | Switzerland Lotto | Pick 6 XTRA |
| Melate | Otoslotto | South Africa Lotto | France Loto |
| Lottomatica | South Africa Powerball | Baloto | Melate Retro |
| Ontario 49 | Austria Lotto | Ireland Daily Million | HatosLotto |
| Romania Lotto 6/49 | Brazil Quina | Ukraine Super Loto | Monday Lotto |
| Wednesday Lotto | Megalot | Poland Lotto | BonoLoto |
| Clasico Loto | Dupla Sena | New Jersey Cash 5 | California Fantasy 5 |
| New York Take 5 | Germany Lotto | | |
TheLotter Promotions and Bonuses
25% off your first tickets!
Multi-draw discounts
Every 10th ticket free for subscriptions
VIP loyalty program
Discounts for bundles
Overall 5/5
Registration 5/5
Bonuses, Promotions, and Games 5/5
Trust and Security 5/5
Experience (Interface and Ease of Use) 5/5
Payment/Withdrawal Options 5/5
Customer Support 5/5
Registration
5
---
Signing up for an account at theLotter is an absolute breeze – it shouldn't take more than 5 minutes of your time.
If you want an even more simpler approach to creating an account, you can simply link your Facebook account for quick social logins. Seriously, how many times a day do you log on to FB anyway?
Another thing that I really liked about the account creation process is that the system tells you if the password you are currently typing is either weak, strong, or something in between. It's a small detail, but it helps you secure your account better.
Bonuses, Promotions, and Games
5
theLotter gives players a fantastic array of game choices.
Many websites offer between 1 to 20 games but none of them can compete with theLotter's long list of lottery game choices. theLotter offers an astounding 50 lottery games hailing from all over the world. That's more than double than what other lottery sites have in their repertoire of lottery games.
If variety rocks your boat, this is your best bet. Take note, however, that theLotter tacks on a handling fee to ticket prices – so expect them to fetch a slightly higher price compared to their actual store value. It's a small price to pay for convenience, unless you have the time and money to drive or fly to another country to buy a lottery ticket. Try explaining that trip to your boss or spouse! In addition to that, they don't take a commission from your winnings, so the fee is definitely worth it if you win.
Regular Lotteries
A great selection of regular lottery games awaits you.
The 50 games offered by theLotter include the most popular and lucrative lotteries out there – such as the US Mega Millions, EuroJackpot, 3 country-specific iterations of the EuroMillions (one for Austria, one for Spain, and one for France), Italy's SuperEnalotto, and more. On the other hand, if you want to go where the player pool is less dense, popular lotteries should be last on your list. Huge jackpot = more players = less chances to win. Thanks to theLotter's research, it also offers less popular games, like Switzerland Lotto, New York Cash4Life, Hungary's Otoslotto, Spain's BonoLotto, Colombia's Baloto, Mexico's Melate Retro, and more.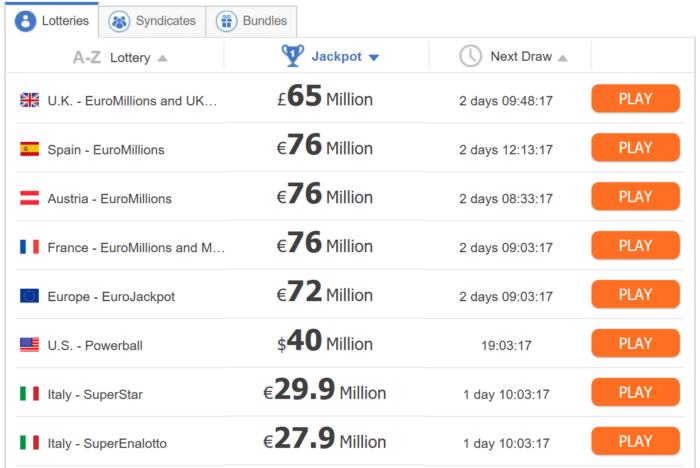 Syndicates
theLotter also offers a variety of syndicate games.
Solo play isn't the only way to win money in theLotter; they also offer group play, also known as syndicates. A syndicate comprises a group of players who pool their money together and buy a large amount of tickets, increasing the odds of winning. Typically, most lottery sites offer less syndicate games and some don't even have that option. theLotter has 23 games which is double what many sites offer. Some of theLotter's syndicate games include: the US Mega Millions, EuroJackpot, US Powerball, SuperEnaLotto, Viking Lotto and more.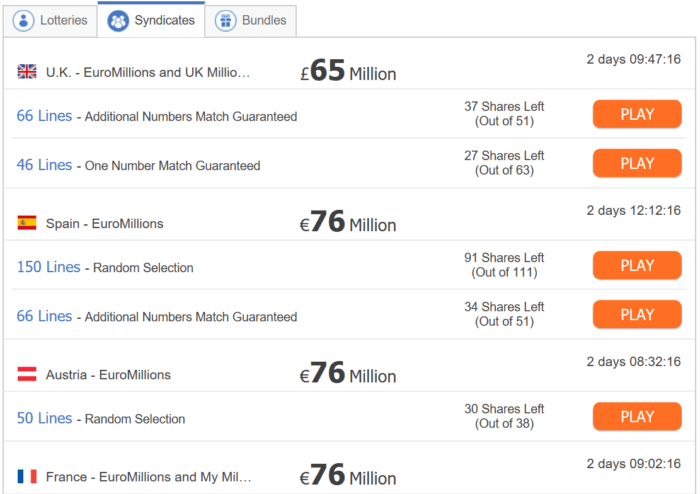 Bundles
Bundles make it much easier for those who want the best of both worlds.
If you can't decide whether to go solo or go with a group, theLotter's bundle options help you cover all your bases. One purchase entitles you to both personal and group entries. Some of the bundles you can purchase include: 256 lines + a personal entry, 45 lines + a personal entry (3 lines), 40 lines + a personal entry (2 lines), and more.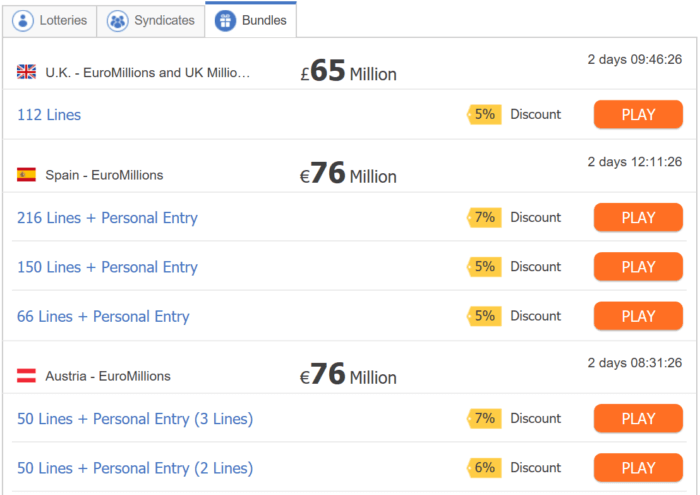 Millionaire Raffles
As if the wealth of single and group play games weren't enough, theLotter also throws in millionaire raffles for good measure.
Millionaire raffles are special draws that offer millions in prizes. Unlike lotteries, raffles don't allow the freedom to choose your own numbers. In theLotter, the only offering you'd usually see is Loteria Nacional Extra, but during the middle of the year, ticket sales for the Christmas raffle, the Loteria de Navidad, open up. The latter is one of the biggest raffles in the lottery industry, with billions of Euros at stake.
Satisfaction
theLotter's satisfaction guarantee assures customers a full refund, with a few caveats.
If you ever find yourself dissatisfied with theLotter's service, the company guarantees a full refund of your first purchase. Just contact their support team and provide the full details of your purchase. After providing a short explanation of why you're dissatisfied, they claim to give you a full refund.
But, take note that the refund only applies to your first purchase, and not on any future ones. But, at least you have up to six months after your first ticket purchase to submit a refund claim.
VIP Club
Anyone can be considered a VIP at theLotter.
Typically, VIP Clubs are exclusive to a select few. theLotter's VIP Club, however, is available to anyone that purchases a ticket at least at US$1 worth. That translates to 1 VIP point, and the more points you rack up, the higher you climb up the VIP level hierarchy – which, in turn, gives you deeper discounts.
Understand that 1 VIP point does not entitle you to discounts just yet – just a spot on the VIP club. You need at least 51 VIP points to be eligible for a Bronze-tier VIP level, which entitles you to a 2.5% discount for every purchase. You also get special promotions, and round-the-clock account management and assistance from their team. Here is a quick breakdown:
| | | |
| --- | --- | --- |
| VIP Level | VIP Points Needed | Discounts Offered |
| Bronze | 51-200 | 2.5% |
| Silver | 201-500 | 5.0% |
| Gold | 501-2,000 | 7.5% |
| Platinum | 2,001-5,000 | 12.5% |
| Diamond | 5,000+ | 20% |
Trust and Security
5
theLotter takes customer security seriously. And that's awesome!
All transactions on their site are secured with 128-bit GeoTrust SSL encryption. theLotter is also transparent about their policies and each detail of your ticket purchase is spelled out and easy to understand. Beyond that, theLotter also adheres to strict mailing guidelines and utilizes Return Path to curb spam mail.
Experience (Interface and Ease of Use)
5
Ease of Use
theLotter owes part of its success to its simple, easy-to-use website.
Isn't this a no-brainer? After all, any website worth its salt should take pride in its user-friendliness. Thankfully, theLotter stays ahead of the curve by avoiding many of the mistakes that some lottery websites often make. It's refreshing to see a lottery website that isn't saddled by poor or outdated website design; even more so when it isn't littered with distracting and annoying ads. Though theLotter isn't unique in this regard, it is one of the better sites that puts a premium on user experience.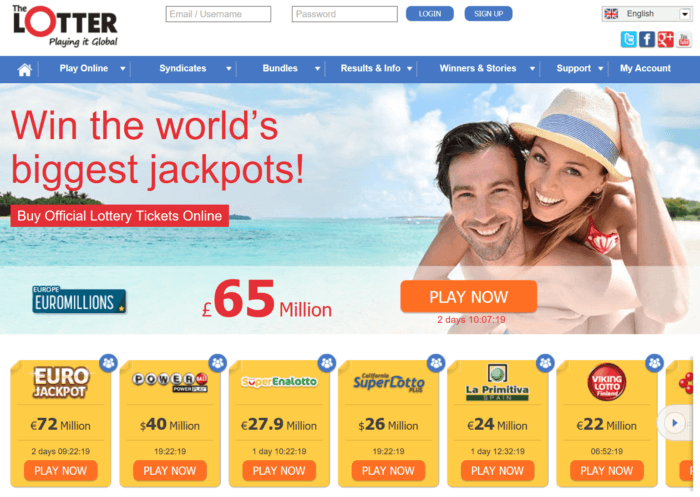 Their website is concise and uncluttered, and despite all the content being presented to visitors on the home page, navigation remains a breeze and never overwhelming. The latest lottery jackpots, results, news, and even a quick "How-to" video immediately greet site visitors, further cementing the user-friendly nature of their service. If you dig a little deeper, you can access in-depth information on each lottery game they offer. theLotter's focus is kept squarely on giving players a fun, hassle-free, yet informational, experience. Kudos to the web designers!
Mobile Apps
Mobile apps can help you keep up with your lottery games—anytime and anywhere.
If your active lifestyle prevents you from constant access to a computer or laptop, theLotter's handy mobile apps should definitely be a win-win in your book! Just download their app on your iPhone, iPad or Android device. All versions of their app offer full functionality too, meaning all the essential features found in the website are also present here.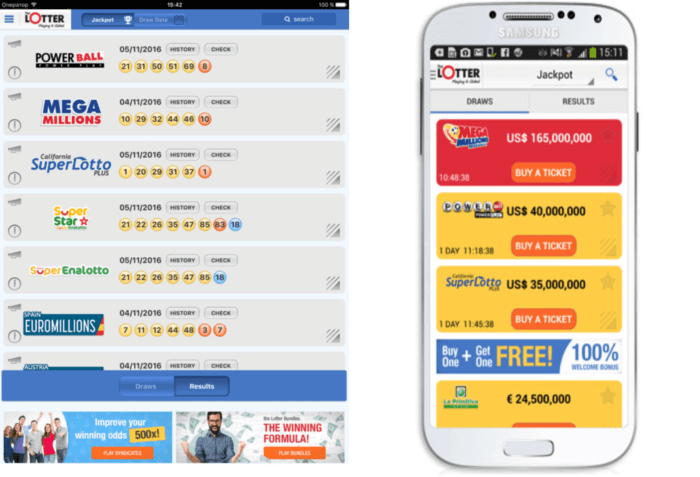 Here are all the things the app allows you to do:
Access all available lottery games

Purchase tickets

View your ticket

Check lottery results

See instant results for all lotteries

Join syndicates

Receive jackpot alerts straight to your mobile device      
Playing
theLotter's process is pretty straightforward and hassle-free.
Here are the basic steps:
First, choose from any of the 50+ lottery games on tap.
Next, choose how many lines you want to play.
Pick your numbers the traditional way – or pick from any of these other options:

Quick Pick: Your numbers are randomly chosen for you by theLotter.
Lucky Numbers: You can save your favorite numbers in your account and choose to play them at any time with the click of a button.
Systematic Forms: You can also opt to go with The Lotter's systematic forms, which allows you to cover every possible combination of the numbers you pick. This option is more expensive but can improve your chances significantly.

Now, decide whether you wish to enter only one draw or multiple draws. Or you can opt for a subscription which will enter you in every consecutive draw until you cancel.
Click on Play and choose your payment method of choice.
After confirming your entry, one of TheLotter's local offices around the world will purchase the actual ticket/s for you. Yes, somebody will march into a local Payzone store, or head to the hot lotto spot in Australia's Craigiburn neighborhood and buy for you!
They will then scan it and upload the copy to your account. And that's it! All you have to do now is wait for the results. Hopefully you will get that SMS or email notifying you that you are a winner!
Game Rules
theLotter does a pretty good job explaining all the different rules for each of their games.
Below are a few samplings:
EuroJackpot: Players must choose 5 main numbers from a selection range of 1-50, plus 2 additional numbers, between 1-10, from a separate pool.
EuroMillions: This works almost the same as EuroJackpot, but instead of choosing additional numbers from a range of 1-10, players choose their Lucky Stars numbers from 1-12.
US Powerball: Unlike EuroJackpot or EuroMillions, players choose their 5 main numbers from a pool that consists of the numbers 1-69, and 1 additional Powerball number from a range of 1-26.
The website also fills each game page with tons of informational content – from several quick how-to's to the latest news, and more.
Payment/Withdrawal Options
5
theLotter receives two thumbs up 👍👍 for the wide array of payment methods they accept.
Currently, there are 32 deposit options, and 7 withdrawal options available – which is more than what other online lottery websites usually offer. Deposit options include Visa, MasterCard, Diners Club, Discover, giropay, Maestro, entropay, CAIXA, and more. Withdrawal options include Visa, MasterCard, Diners Club, Discover, Skrill, Neteller, and bank transfers. Below is a rundown and comparison of the payment options:
Deposit Options
| | | | |
| --- | --- | --- | --- |
|   | Currency | Minimum | Maximum |
| Visa | US$ / AUD / € / £ / RUB | - | 5,000 |
| MasterCard | US$ / AUD / € / £ / RUB | - | 5,000 |
| Skrill | US$ / € / £ | - | - |
| Neteller | US$ / € / £ / RUB | - | 5,000 |
| Diners Club | US$ / AUD / € / £ / RUB | - | 5,000 |
| Discover | US$ / € / £ / RUB | - | 5,000 |
| WebMoney | US$ / € | - | 5,000 |
| POLi | US$ / € / £ | - | - |
| Paysafecard | US$ / € / £ | - | - |
| Trustly | US$ / € / £ | - | - |
| Giropay | US$ / € / £ | - | - |
| Maestro | US$ / € / £ | - | 5,000 |
| Nordea | US$ / € / £ | - | - |
| Entropay | US$ / AUD / € / £ / RUB | - | 5,000 |
| Eps | US$ / € / £ | - | - |
| Bleue | US$ / € / £ | - | - |
| CartaSi | US$ / € / £ | - | - |
| Postepay | US$ / € / £ | - | - |
| SEPA Lastschrift | US$ / AUD / € / £ / RUB | - | - |
| ePay.bg | US$ / € / £ | - | - |
| Przelewy 24 | US$ / € / £ | - | - |
| RAPID | US$ / € / £ | - | - |
| Itau | US$ / € / £ | 10 | - |
| Banco Do Brasil | US$ / € / £ | 10 | - |
| CAIXA | US$ / € / £ | 10 | - |
| PSE | US$ / € / £ | 10 | - |
| Boleto Bancário | US$ / € / £ | 10 | - |
| Efecty | US$ / € / £ | 10 | - |
| OXXO | US$ / € / £ | 10 | - |
| Banamex | US$ / € / £ | 10 | - |
| Santander | US$ / € / £ | 10 | - |
| BBVA Bancomer | US$ / € / £ | 10 | - |
Withdrawal Options
| | | | | |
| --- | --- | --- | --- | --- |
|   | Fee | Minimum | Maximum | Processing Days |
| Visa | None | US$1 | US$1,000 | 1-3 |
| MasterCard | None | US$1 | US$1,000 | 1-3 |
| Skrill | None | US$1 | US$2,000 | 1-3 |
| Neteller | None | US$1 | US$2,000 | 1-3 |
| Discover | None | US$1 | US$2,000 | 1-3 |
| Diners Club | None | US$1 | US$2,000 | 1-3 |
| Bank Transfers | Varies | Varies | US$50,000 | Varies |
Winning
It's easy to claim prizes at theLotter, but, like most lottery sites, it comes with a few caveats.
Picture this: what happens if your numbers win, but you forget to check the results, or are simply too busy at the moment? Here's where theLotter's automated notification system kicks in. When you win, the system automatically notifies you via email. Your account is also updated to show your draw and winning details. If you don't regularly check your email or your account, but have a mobile phone, then you can always opt in to theLotter's free SMS Alert system.
Hey, lucky winner! Do your happy dance, buy your friends a pint at the pub but now it's time to collect your prize! Currently, there are 3 ways:
If your prize is classified as a "secondary winning," then the money will be automatically transferred to your account within 24 hours of results publication.
If your winning is considered "locally taxed," then your money will be transferred to your account within 15 days upon receipt of prizes from the official lottery operator. You may be required to appear in person and collect your winnings locally. This is at the discretion of the local lottery operators.
If you win the jackpot, most lotteries will expect you to appear in person and collect the prize locally. If you joined an international lottery, this means you would have to travel to another country.
Wait, here are more tidbits to take into consideration after your big win:
If your winnings are deposited to your account, you can also leave it there for future ticket purchases. Meanwhile, non-cash prizes are converted to the equivalent monetary value before being awarded to you.
If you win the jackpot, you may have the option to either receive your prize in installments over a predetermined number of years, or as a lump sum.
Customer Support
5
Live Support
Yes
Phone Support
Yes
---
theLotter provides an exhaustive amount of informational material scattered throughout their website.
How-to guides, videos, and articles can be found on almost all of their pages, and not just on the dedicated support sections. Their FAQ is quite comprehensive and manages to address the most common concerns and queries about their website. Live help options are similarly impressive, as phone, fax, live chat and email options are all present. There's even support via WhatsApp! Beyond that, email and live chat agents provide assistance in 13 languages, while dedicated phone lines are provided for the UK, Australia, Canada, Ukraine, Russia, Germany, South Africa and France.
Lottery Critic Weekly Giveaway
Want a shot at becoming a millionaire? Good news! We just partnered up with TheLotter and each week we'll be giving away credits so you can buy lottery tickets of your choosing. Check out the rules and sign up for the giveaway below!
Giveaway Rules
You must be at least 18 years old to enter the giveaway.
You must also reside in a country where online lottery is legal. United States residents may not participate.
Each contest will run for a week starting from Sunday at 12:00am PST and will end on Saturday @ 11:59pm PST.
Winners will be notified via email.
Simply login using your email or a social account and then follow the instructions below. Each completed task gives you the corresponding number of entries. Some tasks can be repeated daily so keep visiting to earn more entries!
Review


Bottom Line for TheLotter
Overall: 5
Great, highly recommended!