The Biggest Lottery Winners: Where are They Now? [Updated Oct 2019]
Last Updated: February 8, 2023
Most of us imagine that all lottery winners live happily ever after, but that simply isn't the reality for a lot of them. Even with hundreds of millions at their disposal, the biggest jackpot winners are still regular people. And that means they still have their own problems to deal with like the rest of us.
For many of these people, winning the lottery wasn't the golden ticket they'd imagined it to be. Some may have had better luck than others, but for the most part, these stories prove that having loads of money doesn't exempt you from life's challenges.
In this mega list of lottery winners, we've compiled the record-breaking jackpots from the most popular lotteries across the world. Find out who the biggest winners are, and what each one has been up to since claiming their prize.
Here are the record-breaking jackpots from the biggest lotteries around the world:
Powerball USA
Jackpot Amount
Date of Drawing
Winner(s)
Location
1.
$1.58 Billion
January 13, 2016
John and Lisa Robinson;
Maureen Smith and David Kaltschmidt;
Marvin and Mae Acosta
Tennessee;
Florida;
California
2.
$768.4 Million
March 27, 2019
Manuel Franco
Wisconsin
3.
$758.7 Million
August 27, 2017
Mavis Wanczyk
Massachusetts
4.
$687.8 Million
October 27, 2018
Robert Bailey
Lerynne West
New York;
Iowa
5.
$590.5 Million
May 18, 2013
Gloria McKenzie
Florida
Mega Millions
1.
$1.53 Billion
October 23, 2018
Anonymous winner
South Carolina
2.
$656 Million
March 30, 2012
Merle and Patrica Butler;
A group known as "The Three Amigos";
Anonymous winner
Illinois;
Maryland;
Kansas
3.
$648 Million
December 17, 2013
Ira Curry;
Steve Tran
Georgia;
California
4.
$543 Million
July 24, 2018
Group of 11 coworkers
California
5.
$536 Million
July 8, 2016
Anonymous couple
Indiana
EuroMillions
1.
€190 Million
October 8, 2019
Anonymous winner
United Kingdom
2.
€190 Million
August 10, 2012
Adrian and Gillian Bayford
United Kingdom
3.
€190 Million
October 24, 2014
Anonymous winner
Portugal
4.
€190 Million
October 6, 2017
Anonymous winner
Spain
5.
€187 Million
June 7, 2013
Anonymous winner;
Anonymous winner
Ireland;
Belgium
Top 5 Largest Lottery Jackpots from the USA
Starting at the very top, the five largest jackpots ever won in US lottery history are:
Learn more about those wins and what the winners have been up to in the sections below.
Powerball Biggest Lottery Winners
$1.58 Billion Powerball Jackpot Winners
The largest ever lottery jackpot in history, the $1.586 billion Powerball jackpot back in January 13, 2016 was split between three winning ticket-holders.
Two of the winning ticket holders, couple John and Lisa Robinson, and 70-year old Maureen Smith, came forward and claimed their winnings not long after the draw. However, it took the third ticket holders, Mae and Marvin Acosta, over 6 months to come forward and claim their prize.
All three ticket holders opted to go for a lump sum payment and took home $327.8 million each, before taxes.
John and Lisa Robinson ($327.8M Won)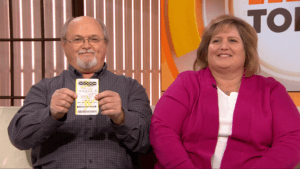 Where are they now?
Since winning the Powerball, John and Lisa Robinson have upgraded to a multi-million dollar home, complete with home theater and a private lake. Other than the noteworthy house, they've kept out of the headlines.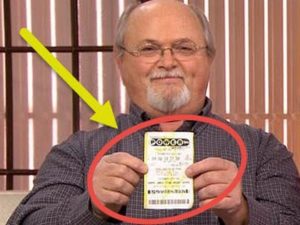 On January 13, 2016, couple John and Lisa Robinson won a third of the historic $1.58 billion Powerball jackpot. Like the other two winners, the Robinsons chose to take their winnings as a lump sum, getting $327.8 million before taxes.
Despite their newfound wealth, the couple planned to keep their modest Munford, Tennessee home. John said, "These big fancy houses are nice, but you gotta clean 'em." Lisa, meanwhile, said that she wanted to continue working.
2 years after their big win, the Robinsons now live in a $6.2 million 10-bedroom home. Sitting on a 320-acre lot, their luxury home comes with a private lake and some of the best views of Tennessee. More than that, it has eight bathrooms and even a well-equipped home theater. So much for staying in a modest home!
Lisa went back to work the day after they won, but wasn't treated well. It's not a surprise then that the Robinsons keep to themselves and ask for privacy. Who could blame them? They're probably tired of all the strangers and "long lost relatives" asking for a handout!
Maureen Smith and David Kaltschmidt (327.8M Won)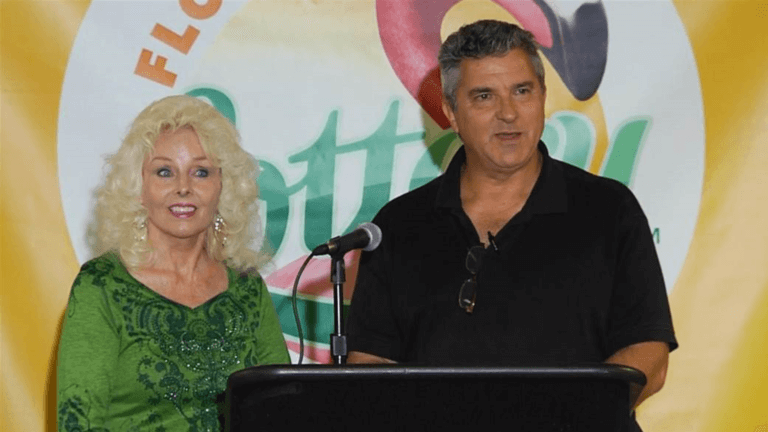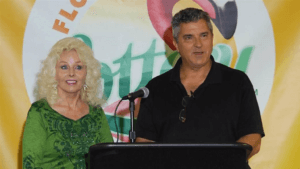 Where are they now?
Maureen Smith and David Kaltschmidt still buy lottery tickets. Other than a few luxury buys, the couple have kept up their old routines.
Unlike the Robinsons, Maureen Smith and David Kaltschmidt have continued living a modest lifestyle after their Powerball win. Save for a $90,000 Tesla and a new SUV, the couple haven't splurged with their winnings. They still live in their $300,000 home in Florida (Florida is also home to one of the largest state lotteries) and frequent the same shops and restaurants.
They also go about their daily routine as if nothing big had happened. In fact, despite winning a lump sum of $327.8 million (before taxes), the couple still plays the Powerball!
Where are they now?
The Acostas stayed quiet before claiming their jackpot, and they've kept up the silence since. Scammers tried to take advantage of their charity plans, so we can only assume the Acostas have opted to keep their philanthropy private.
Marvin and Mae Acosta, the final third of 2016's $1.58 billion Powerball jackpot winners, have stayed quiet since their big win. It shouldn't be a surprise: the pair laid low for over 6 months before claiming their prize. The Acostas didn't want any publicity then, and nothing has changed after 2 years!
Today, the Acostas are still keeping a low profile. Their plan to stay out of the public eye seems to be the right call: once they shared their plans to create a charity, scammers went to work. People began receiving obvious scam letters claiming to be from the Acostas. There was even a website called AcostaFoundation that ripped off the Bill & Melinda Gates Foundation website!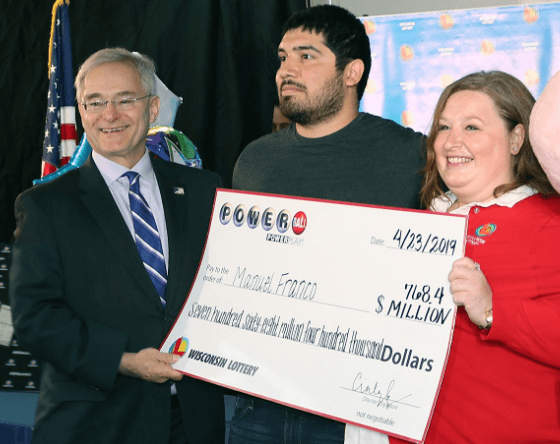 Where are they now?
There has been no official word about Manuel Franco since he came forward to claim his prize.
Manuel Franco, a resident of Milwaukee, came forward last April 23, 2019 to claim the third-largest jackpot in lottery history. He opted for the single lump sum of $477 million, and will take home about $326 million after taxes. He purchased his ticket from the Speedway store in New Berlin, Wisconsin.
Franco won the March 27, 2019 drawing with the numbers 16, 20, 37, 44, and 62, with Powerball number 12.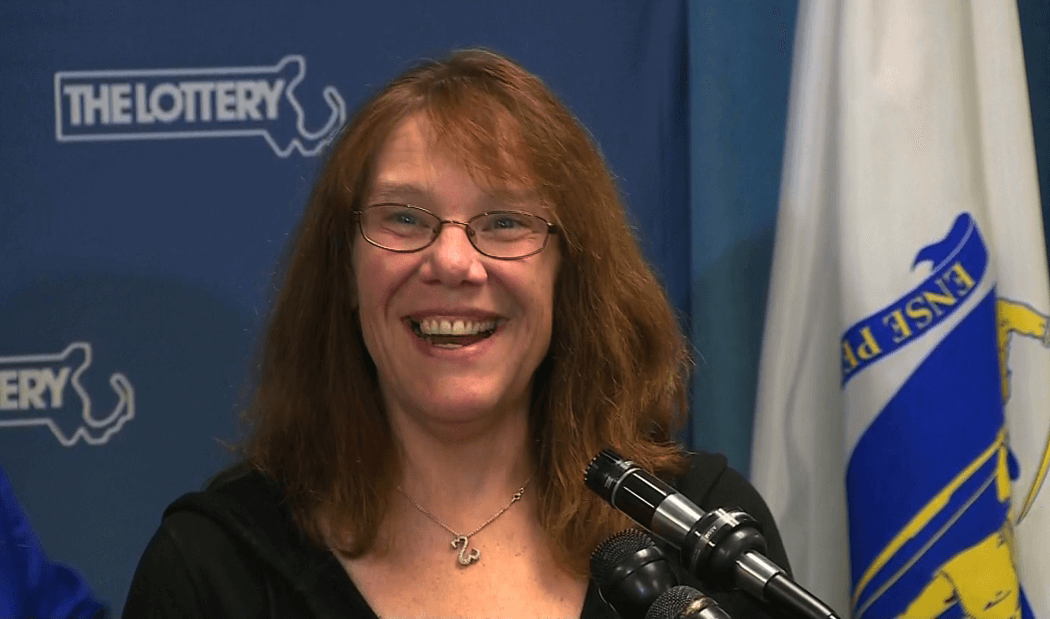 Where are they now?
Mavis Wanczyk quit her job and retreated from the public eye. When she claimed her prize, Wanczyk said she wanted to be alone and figure out what to do next – and it looks like she did just that.
Mavis Wanczyk was the sole winner of the August 27, 2017 draw of the US Powerball. With nobody to split the prize with, the 50-something mom from Massachusetts took home a lump sum of $336,350,655 after taxes.
Not long after, Mavis quit her job at Mercy Medical Center in Springfield. However, her current whereabouts and her status are both unknown. And that's actually part of her plan!
Post-win, Mavis said that she'd rather be alone, hide in her bed, and think about what she wanted to do next. Judging by the lack of any news about her, it looks like she got her wish!
Scammers did try to use Mavis' name, but authorities and the media quickly caught on.
$687.8 Million Powerball Jackpot Winners
Robert Bailey ($343.8M Won)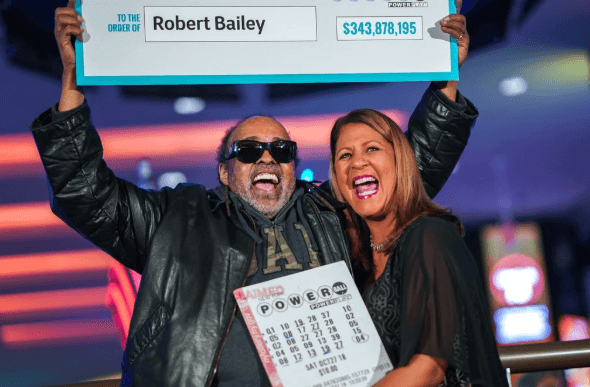 Where are they now?
Robert Bailey seems to have stuck to his plan to be smart about protecting his newfound wealth. There has been very little news about his current status, and in the world of lottery winners, that's usually a good sign.
Robert Bailey from New York won half of the $687.8 million jackpot for Powerball's October 27, 2018 drawing. He took home about $125 million after federal and state taxes.
After claiming his prize, Bailey revealed in a press conference that he had hired the help of a lawyer and financial adviser to guide him through his new life as a millionaire.
Interestingly, Bailey claimed that the winning combination he used to win the jackpot was one he'd been playing for more than 25 years. He later said that he would still continue playing the same numbers even after his big win.
Lerynne West ($343.8M Won)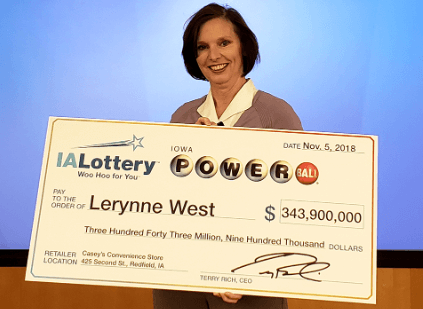 Where are they now?
Single mom Lerynne West from Iowa seems to be doing good with her wealth – not just financially, but also in the philanthropic sense.
Lerynne West retired from her job in the insurance industry soon after her win. She later appeared on The Ellen DeGeneres Show where she pledged to donate $500,000 to the Travis Mills Foundation.
With the help of her family and a newly hired wealth manager, West set up the Callum Foundation in honor of her grandson. The charitable foundation provides financial support to organizations that work towards improving children's education, health, animal welfare, and veteran affairs.
$590.5 Million Powerball Jackpot Winner, Gloria MacKenzie ($278M Won)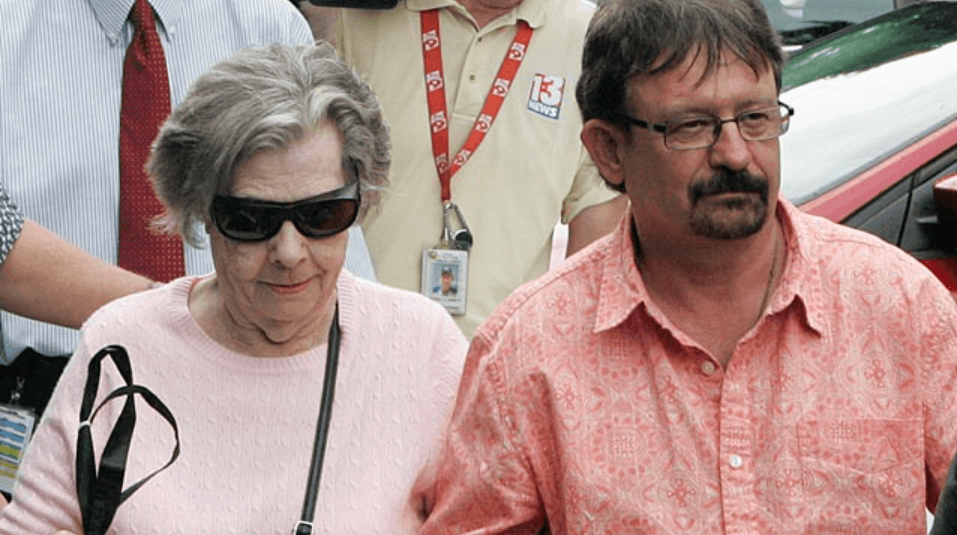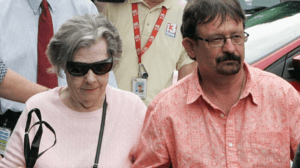 Where are they now?
Gloria McKenzie replaced her rundown apartment with a seaside mansion and donated $2 million for a Maine high school's repairs.
In May 2013, Gloria MacKenzie, an 84-year-old from Zephyrhills, Florida hit the $590.5 million jackpot with nobody else to split the prize. As the sole winner, MacKenzie took home a sizable $278 million after taxes.
After her big win, MacKenzie bought a seaside mansion worth $1.2 million in Jacksonville, Florida – a big upgrade from her run-down $30,000 rental apartment. MacKenzie also donated a cool $2 million to a Maine high school that needed new roofing. The generous grandmother also pledged to share her winnings with her son, Scott.
How is the Powerball winner is doing now? It's hard to tell: her family has requested for privacy, and there has been no news since.
$587.5 Million Powerball Jackpot Winners
Two winners shared the pot when their tickets won on November 28, 2012: couple Cindy and Mark Hill of Missouri, and a then 37-year old Matthew Good of Fountain Hills, Arizona.
Cindy and Mark Hill ($136.5M Won)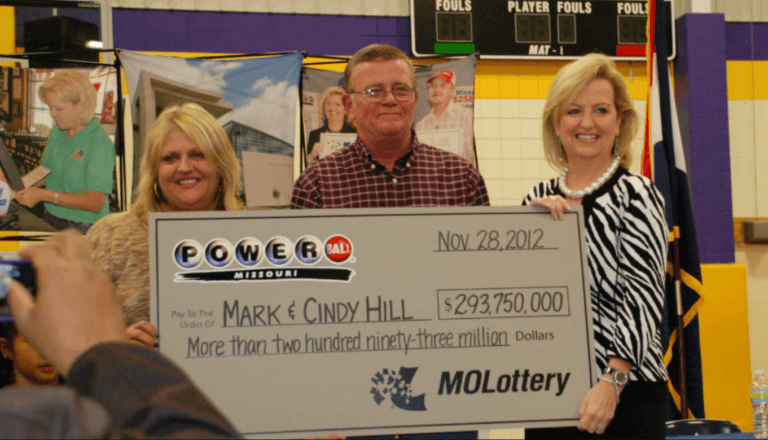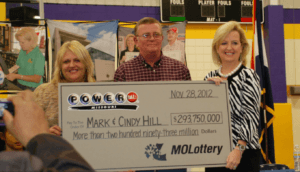 Where are they now?
Cindy and Mark Hill have maintained their modest lifestyles, spending most of their money funding civic projects and charity work in their Missouri hometown.
In November 2012, Cindy and Mark Hill won half of the $587.5 million Powerball jackpot. Like Maureen Smith and David Kaltschmidt, the Hills have continued living modestly since their win.
For instance, Mark still gets his morning coffee at the local convenience store. He's also chosen a modest pickup truck over the Camaro sports car he had been eyeing.
But that doesn't mean the Hills haven't been using their winnings. Before hitting the Powerball jackpot, the Hills had already donated to civic projects in their hometown of Camden Point, Missouri. Now, with millions of Powerball winnings in the bank, the Hills' generosity seems to have multiplied by tenfold!
Camden Point has the couple to thank for their new fire station and a new ball field. The Hills also gave more than $50,000 so the town could buy a site for building a new sewage treatment plant. Finally, the Hills also pledged a large amount to North Platte High School's scholarship fund.
It isn't clear what the Hills have been up to since then. But given their philanthropic ways, it's a good bet that they've put that $136.5 million prize to good use!
$564.1 Million Powerball Jackpot Winners
On February 11, 2015, it was another case of three winners splitting half of a billion dollars from the Powerball jackot. One of the winners was an anonymous player from Puerto Rico, while the second winning ticket was cashed in by an Andrew Weber, who was claiming it on behalf of a trust in Texas. The third one was single mom Marie Holmes of North Carolina.
Marie Holmes ($188M Won)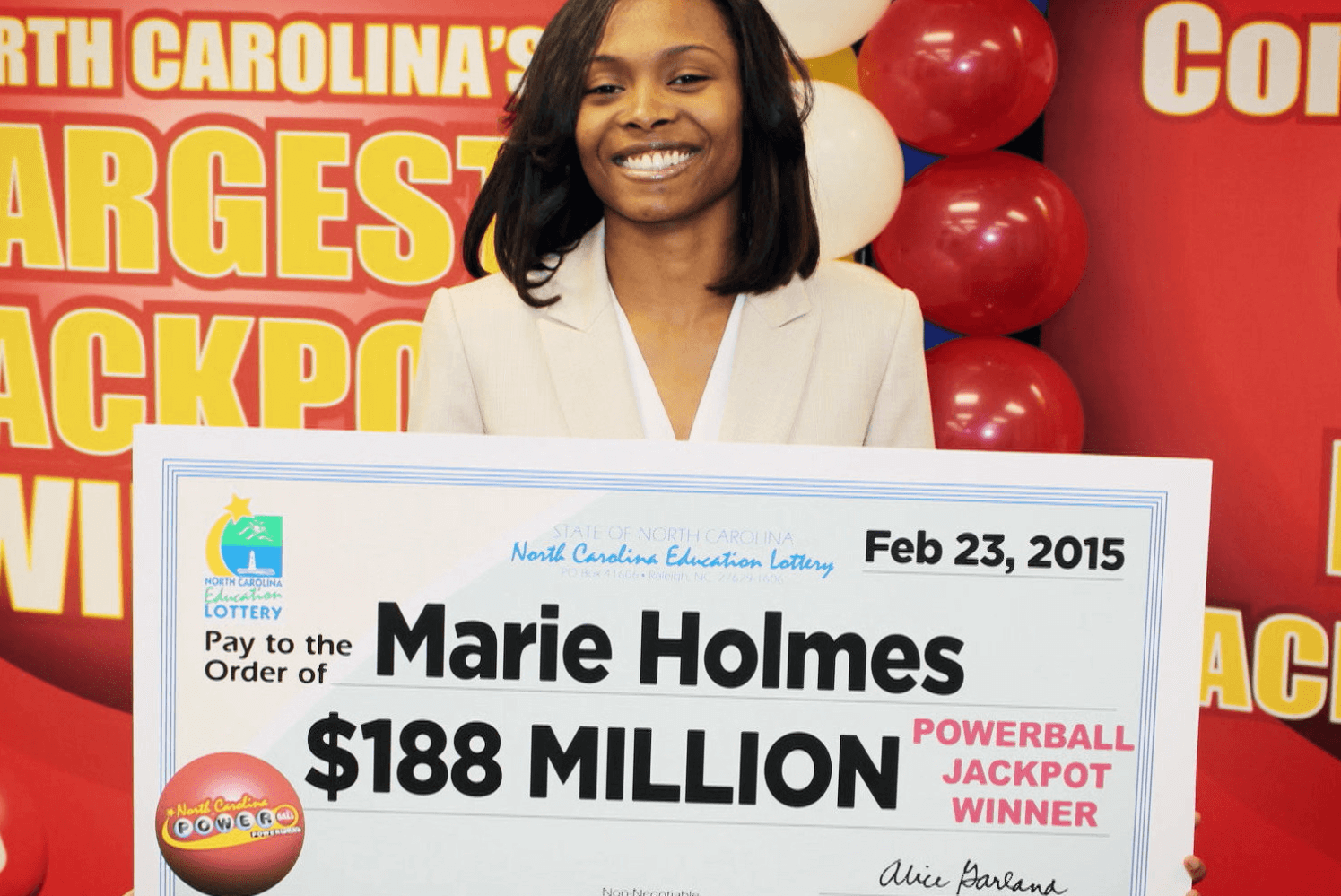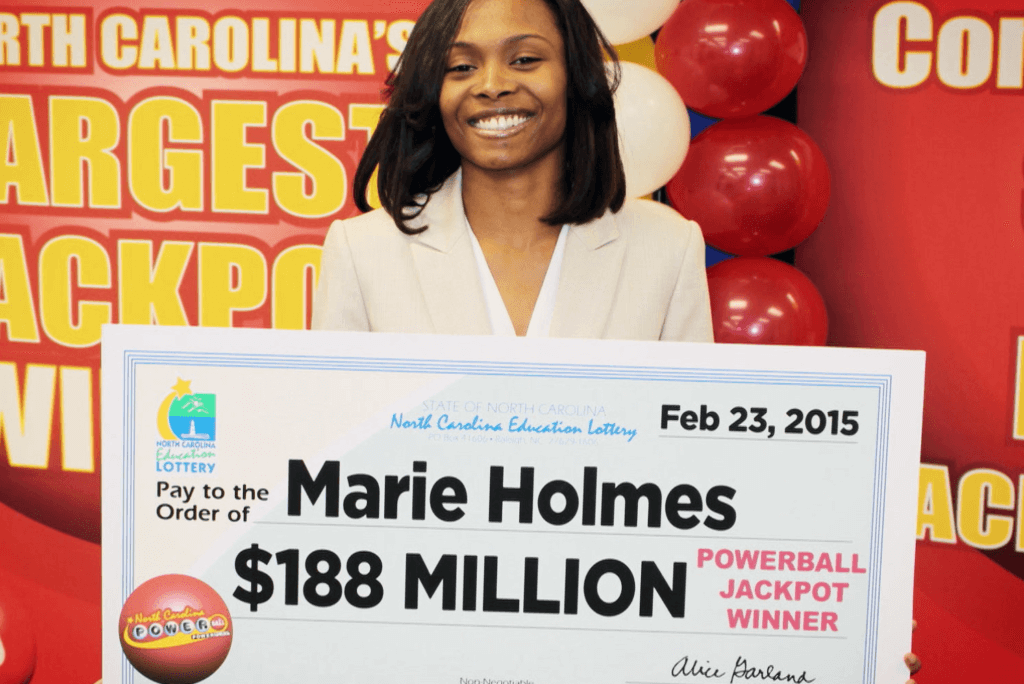 Where are they now?
Marie Holmes has used most of her winnings on supporting the people she cares about.
Marie Holmes won one third of the $564.1 million Powerball jackpot back in February 11, 2015. She went with the lump sum option and took home about $127 million before taxes.
Marie used to work at supermarkets and fast food joints to support her children, one of which has cerebral palsy, before her lucky win. She planned on using the money to further support her kids – plus, she also wanted to finish college, support charities, and even buy her mom a new house.
She also donated 10% of her winnings to Pleasant Hill Missionary Baptist Church. After taxes, the charitable contribution amounted to about $1.5 million, which is the largest ever made to a church from a lottery win.
That however, didn't stop the pastor of the church from suing Marie Holmes for more money – claiming that the lottery winner pledged to donate up to $10 million. Marie Holmes responded by saying that she would honor this agreement.
$487 Million Powerball Jackpot Winners, Anonymous Family from New Hampshire ($256M Won)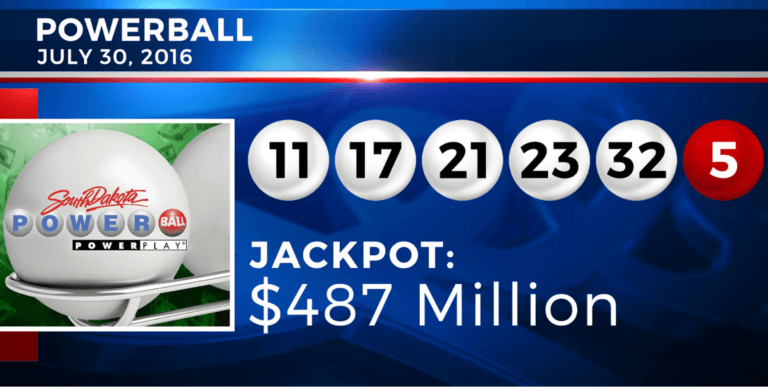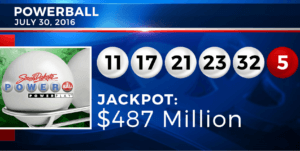 For the July 30, 2016 drawing, a family from New Hampshire won the $487,000,000 Powerball jackpot. They opted to go for the $341.7 million cash option, which allowed them to take home $256.3 million after taxes. The family set up a trust so their lawyers could claim the prize for them while they remain anonymous.
The $448.4 Million Powerball Jackpot Winners, Ocean's 16 ($149M Won)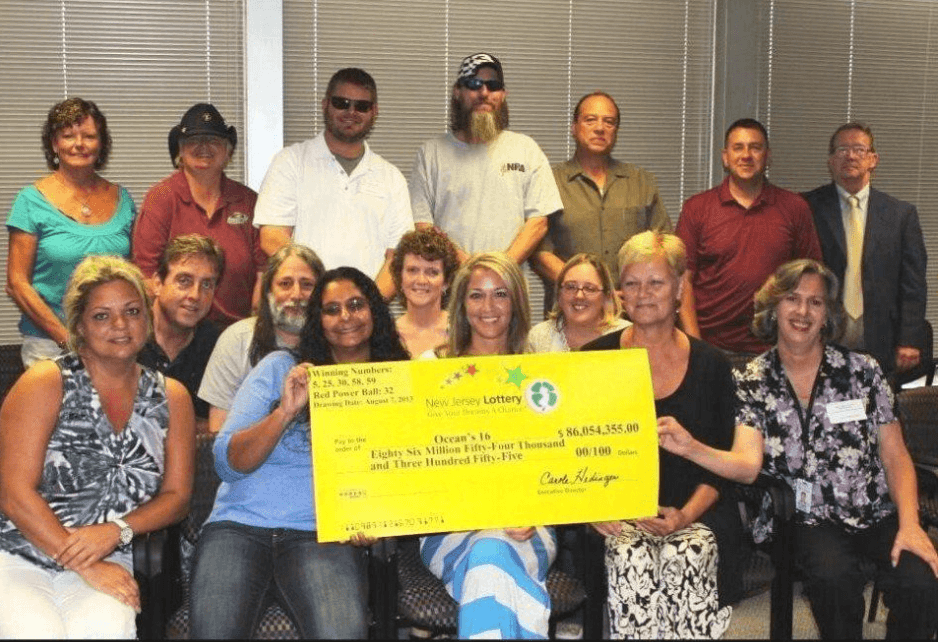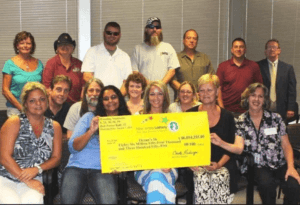 On August 27, 2013, three ticket holders won the $448,000,000 Powerball jackpot. The first two were Paul White, a Minnesota engineer, and South Brunswick resident Mario Scarnici.
The third, and most notable ticket holder was a group who called themselves Ocean's 16, as all 16 of them were victims of Superstorm Sandy.
Mega Millions Lottery Winners

Where are they now?
The anonymous winner of the biggest ever payout in lottery history is giving a portion of her prize money to charity. Not much else is known about her.
The jackpot for the October 23, 208 Mega Millions drawing is the biggest in the game's history. And since there was only one winner for this draw, it was also the largest ever payout in the history of lotteries. (In contrast, the bigger $1.58 Powerball jackpot was shared between three winners.)
The lucky winner, a woman from South Carolina, opted for the lump sum of $878.8 million. She is represented by lottery attorney Jason Kurland, and has donated a portion of her winnings to various good causes.
$656 Million Mega Millions Jackpot Winners
The $656 Mega Millions Jackpot is the second largest jackpot in Mega Millions history. This happened way back in March 30, 2012, and produced three winning tickets. Merle and Patricia Butler were the only ones who came out publicly. The other winners were a group who called themselves "The Three Amigos" and an anonymous individual.
Merle and Patricia Butler ($157.8M Won)

Where are they now?
Merle and Patricia Butler built a legal and financial advising team to help manage their winnings. They've had to speak against scammers using their name, but they've maintained their privacy since.
Merle and Patricia Butler split the $656 million Mega Millions jackpot with two other winners in 2012. The Butlers took their winnings home as a $157.8 million lump sum, and they haven't been in the public eye since.
Like the Acostas, Merle and Patricia Butler consulted legal and financial advisers before claiming their prize. If their absence from the spotlight is any sign, they seem to be following their legal team's advice. After all, if a lottery winner is in the news often, they're probably doing something wrong.
Unfortunately, the Butlers couldn't stay out of the spotlight completely. Like the Acostas, they found their names used in various scams. Merle had to go on record to clear the Butler name. But after that, no news stories – good or bad – have come out about the couple.
$648 Million Mega Millions Jackpot Winners
Ira Curry ($120M Won)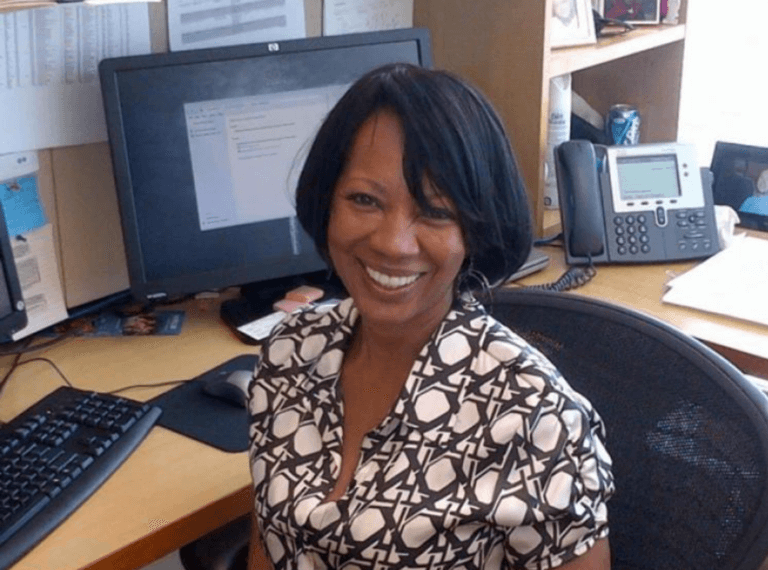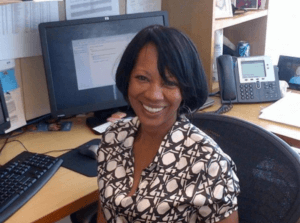 Where are they now?
Ira Curry claimed her prize within days and vanished just as quickly.
Back in December 2013, Ira Curry split the $648 million Mega Millions jackpot with one other winner. Curry opted to receive her winnings in cash, taking home around $120 million after taxes.
Shortly after her big win, Curry and her family suddenly went into hiding. What Ira Curry ended up doing with the money and where she is now is anyone's guess.
Steve Tran ($120M Won)
Where are they now?
Steve Tran quit his job and kept his peace.
Steve Tran was the second winner of the $648 million Mega Millions jackpot in 2013. Like Curry, he's stayed out of the public eye since his big win, so nobody knows where he ultimately ended up. We do know what he didn't do though – work!
After his win, Tran called up his boss and said, "I don't think I'm going to come in today, tomorrow or ever." If all went according to plan, Tran is probably relaxing in a tropical island right now!
$536 Million Mega Millions Jackpot Winner, Anonymous Couple from Indiana ($271M Won)
An anonymous couple with two children won the aforementioned Mega Millions jackpot on July 8, 2016, in Indiana. They opted to go with the cash option of $378 million, and took home $271 million after taxes.

Where are they now?
Shane Missler continues to share his experiences on his social media accounts.
Shane Missler was the only winner of the $451 million Mega Millions drawing in January 5, 2018. Immediately after finding out he'd won, he posted about it online and soon found himself right in the middle of a Twitter scam. The hoax involved a fake tweet, claiming to have come from Missler himself, and a false promise of $5000 to people who would retweet it.
Nowadays, it's easy to see for yourself what Missler is up to. He maintains a presence on social media sites and you're free to follow him.
Top 5 Lottery Jackpots from Europe
Over in Europe, jackpots for games like EuroMillions and Eurojackpot are subject to prize ceilings. You won't be seeing the same earth-shattering amounts like you would across the pond in the US.
Here are the top 5 biggest lottery jackpots ever won in Europe.
€209.1 Million for the August 13, 2019 SuperEnalotto draw. Won by an anonymous individual from Italy.
€190 Million for the October 8, 2019 EuroMillions draw. Won by an anonymous individual from the UK.
€190 Million for the August 10, 2012 EuroMillions draw. Won by Adrian and Gillian Bayford from England.
€190 Million for the October 24, 2014 EuroMillions draw. Won by an anonymous individual from Portugal.
€190 Million for the October 6, 2017 EuroMillions draw. Won by an anonymous individual from Spain.
Learn more about those wins and what the winners have been up to in the sections below. Also, please note that preserving a winner's anonymity is more of a norm in these territories, so the announcement of their win is usually the last you'll ever hear about them. In any case, you can learn more about their stories in the sections below.
EuroMillions Lottery Winners UK
Below are the biggest EuroMillions wins from the United Kingdom. Take note that the lottery's base currency is the euro (€), but when a player from the UK wins, the prize is converted to its equivalent in pound sterling (£) – based on the exchange rate at that time, and a special formula that accounts for the UK's contribution to the total prize fund.
In this manner, the rankings may change when using different currencies. For this list, jackpot amounts are listed in pounds sterling.
£170 Million EuroMillions Lottery Winner, Anonymous
One winning ticket-holder has become the recipient of the UK's largest every lottery jackpot prize of £170 million, equivalent to €190 million. The lucky individual has chosen to remain anonymous – and rightfully so, as far as we're concerned.
The record-setting prize was for the October 8, 2019 draw, where the numbers drawn were 7, 10, 15, 44, 49, with Lucky Star numbers 3 and 12.
The winner managed to beat some very long odds – 116,531,800 to 1, to be more specific – and is now richer than some of the country's biggest names, including singer Adele and actress Rachel Weisz.
Where are they now?
There hasn't been any new word about this win as it's the most recent one on this list. We do have confirmation that the winner has already come forward and collected their winnings.
£161.6 Million EuroMillions Lottery Winner, Christine and Colin Weir

Where are they now?
Christine and Colin Weir upgraded to multi-million homes, invested in football, and established the Weir Charitable Trust. Recently in April 2019, the couple announced they are divorcing.
The July 12, 2011 EuroMillions draw made Christine and Colin Weir two of Scotland's richest people overnight. Unlike some of the winners on this list, the Weirs have not been shy about their winnings. Since their win, they've snapped up several mansions to replace their three-bedroom home in Largs.
First there was Knock House, which cost an estimated £850,000 – not counting the extensive renovations and upgrades, including a new wine cellar. In 2013, they bought a £3.5 million estate called Frognal House, which came with greenhouses and fountains. Colin Weir also added a £1.5 million waterfront mansion to the list.
The Weirs haven't just been spending on themselves, though. They've invested millions in Partick Thistle, a Glasgow-based football club. Colin Weir even sits as director for Three Black Cats, the developer working on the football club's expansive new training grounds.
That's not all! Christine and Colin Weir have also established a very active foundation called the Weir Charitable Trust. The philanthropic organization has provided millions in funding to Scottish community groups and small charities.
As if that weren't enough, Christine and Colin Weir have also been active in national politics. They're among the biggest donors for the Scottish National Party (SNP). They initially gave the party £1 million after they first hit the EuroMillions jackpot. Since then, the Weirs have contributed over £4 million to the SNP's general election campaigns, as well as the "Yes" campaign in the Scottish independence referendum.
In an unfortunate turn of events, the couple announced that they are in the process of ending their marriage – eight years after their record-breaking win.
£148.6 Million EuroMillions Lottery Winner, Adrian and Gillian Bayford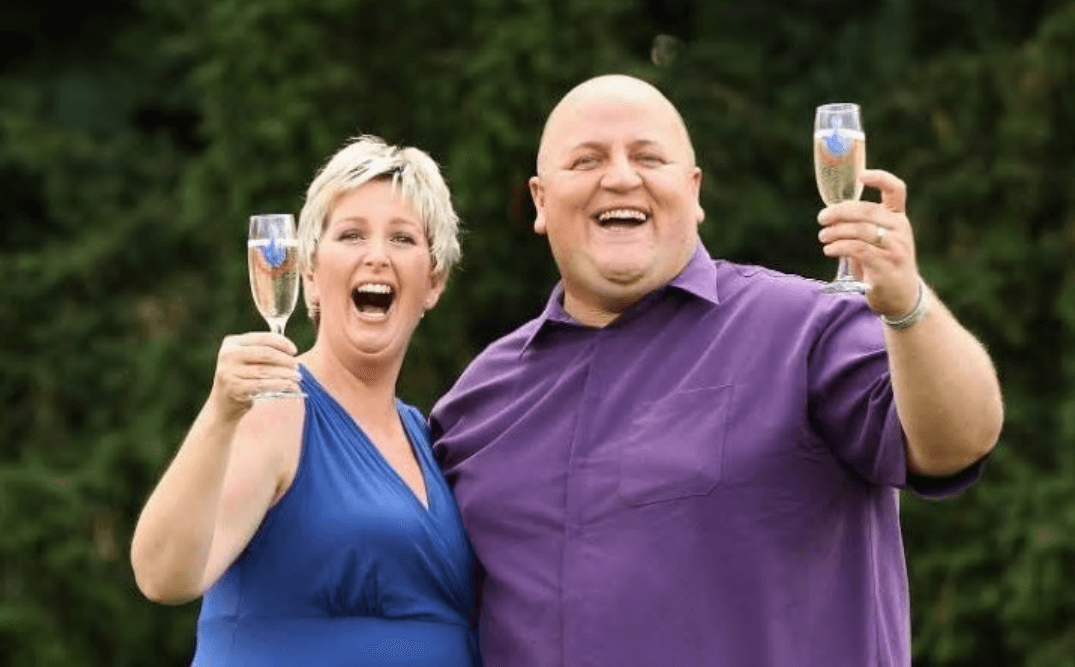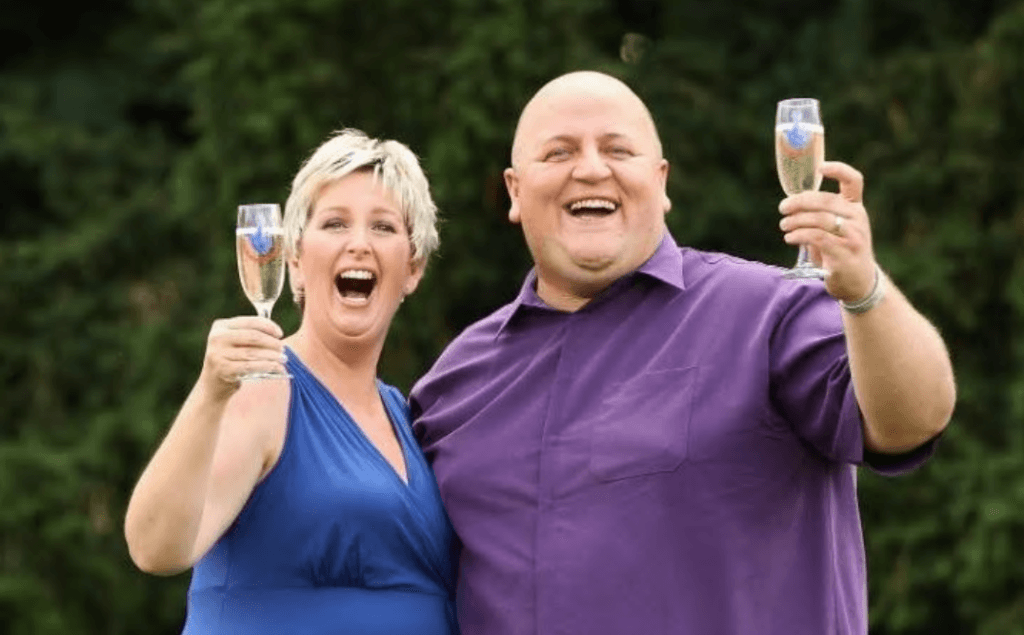 Where are they now?
Adrian and Gillian Bayford split up just 15 months after their win. They have since spent their share of the winnings on houses, cars, and other luxuries. 
Residents of Haverhill, Suffolk at the time, Adrian and Gillian Bayford won the EuroMillions back in August 2012. They hit the jackpot of £148,656,000 – now the UK's second largest lottery win. After claiming their prize, the couple said they planned to enjoy their prize.
However, just 15 months after their win, Adrian and Gillian split. Reports say that the two split their winnings equally.
Since then, both parties have spent their money on living it up, as well as getting into multiple failed relationships along the way. They've spent most of their money on lavish homes, cars, vacations, gifts, animals, etc.
Gillian got romantically linked with several people since the divorce. Adrian dated three other women and even got engaged once. Sadly, none of those relationships worked out. According to those close to him, he now wishes to start anew in a secret location to "reinvent" himself.
£114.9 Million EuroMillions Lottery Winner, Frances and Patrick Connolly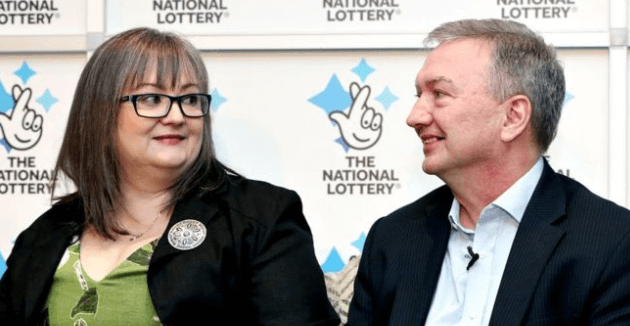 Where are they now?
It looks like things are are looking up for lucky couple, Frances and Patrick Connolly. 
Frances and Patrick Connolly are the UK's fourth-largest EuroMillions jackpot winners. They won £114,969,775.70 back in January 2019. (The third place goes to an anonymous winner of the £121.3 million EuroMillions jackpot in April 2018.)
The lucky couple shared that they wanted to buy a second-hand car and maybe take a trip to Mauritius.
More significantly, Frances said that they plan to share their good fortune with the people she loves. "This win gives us the chance to really make a difference for our family and friends," explaining that she has already prepared a list of people they would like to help.
One of whom was her sister, Sharon Bordessa. Sharon was forced to put her home up for sale due to financial struggles. Luckily, Frances swooped in and saved her sister's home.
£107.9 Million EuroMillions Lottery Winner, Neil Trotter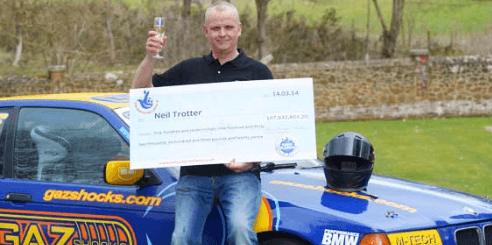 Where are they now?
Even with millions in his bank account, Neil Trotter believes that winning the lottery was the worst thing that ever happened to him.
Neil Trotter of Coulsdon, South London took home £107,932,603 – now the UK's sixth largest EuroMillions jackpot – last March 2014. When asked what he wanted to do with his prize money, he said he wanted to buy a fleet of super cars to replace his old one.
Since his win, Neil says that he has been hounded by strangers looking for a piece of his fortune non-stop. Most recently in 2018, a woman named Dawn Scully has come forward demanding for Neil to cough up £100,000 as child support payment for her son who she claims is also Neil's.
In reaction, Neil denied these claims. He was then challenged to take a paternity test, but this too was also denied. He went on to say that his life has been this way ever since he won – with people demanding for handouts in real life and on social media – and that the constant attention has caused him to regret ever winning the lottery.
£101.2 Million EuroMillions Lottery Winner, Dave and Angela Dawes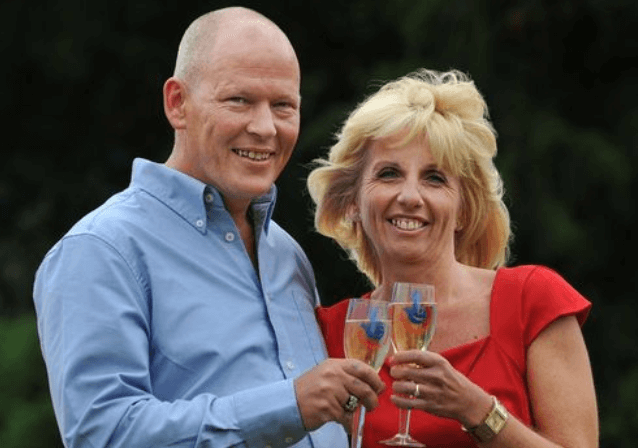 Where are they now?
Dave and Angela Dawes splurged on their winnings and had to fight a legal battle with their own son.
In October 2011, a couple from Wisbech, Cambridgeshire, Dave and Angela Dawes, were the winners of the £101,203,600 EuroMillions jackpot.
They immediately gave £1 million each to about 20 of their closest friends and family, and this spirit of giving didn't soon end. The couple eventually set up a charitable organization to help causes close to their hearts.
As for things they splurged on, one of their first big purchases was a luxury flat in West London. They sold that place in 2017 and moved into a mansion in Etchingham, East Sussex. It was a home formerly owned by Tom Jones and Engelbert Humperdinck. They also reportedly spent thousands on luxury cars and designer clothes.
Their son, Michael, went after them in court after Dave was cut out of the will. Michael claimed his father was being ungenerous and that he was entitled to keep receiving financial support indefinitely. The judge ruled in favor of Dave – explaining that Michael's claims had no basis.
Postcode Lottery Winners
This section is devoted to the biggest People's Postcode Lottery winners throughout history. Each of these winners took home the largest piece of the shared monthly prize. There's been hardly any news about where they are today, but you can find out what they said they planned to do with their newfound wealth in the sections below.
£800,000 Postcode Lottery Winner, Hugh and Isobel Lundy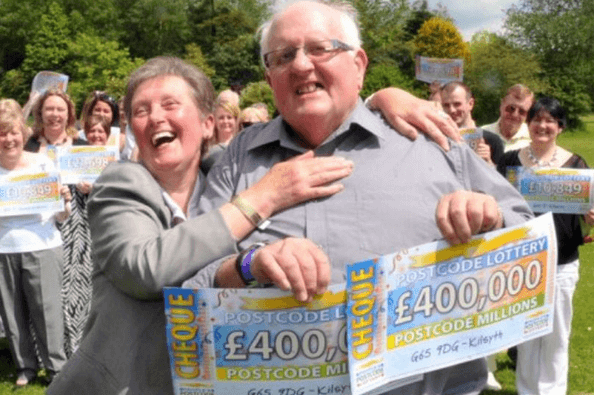 Where are they now?
Hugh Lundy, A retired bus driver from Kilsyth, Lanarkshire (with the postcode G65 9DG), shares the record for the highest Postcode Lottery payout in history. He, along with his town and surrounding villages, won the May 2014 draw for £2 million. Lundu took home the biggest piece of the prize – winning £800,000 with two tickets played. When asked what he plans to do with the money, Lundy said that he and his wife intend to give some of it to charity, and spend some of it for a US vacation down route 66.
£800,000 Postcode Lottery Winner, Stuart and Elizabeth Hodgson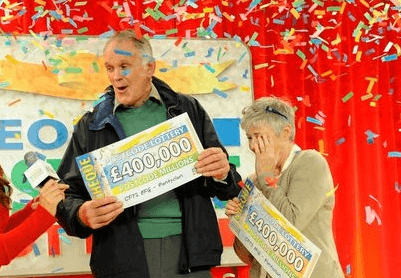 Where are they now?
Also snagging the top spot, South Wales bed and breakfast owner Stuart Hodgson was the biggest winner of the November 2015 monthly drawing. He shared the £2 million prize with the rest of his community after it was revealed that CF72 8FG was that month's lucky postcode. After taking home their prize – £800,000 for playing two tickets – Hodgson and his wife Elizabeth immediately went back to business as usual. "We've got B&B guests coming later tonight," they said to the press. "So we'll need to get back to the house and get it ready for their arrival."
£666,666 Postcode Lottery Winner, John and Barbara Washington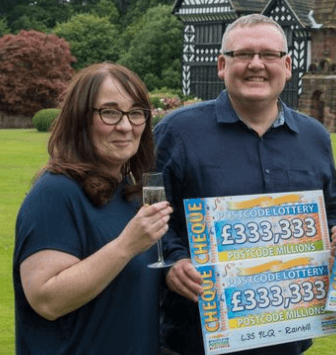 Where are they now?
John and his wife Barbara Washington – with full postcode L35 9LQ – were the biggest winners of the July 2015 Postcode Lottery monthly drawing. Their lucky village of Rainhill shared the £3 million prize, and the Washingtons won £666,666 for having played two tickets. Before leaving the prize claiming ceremony, John said that he wanted to buy a new house as an upgrade from their rental. Barbara said that she wished to take a family vacation to Australia.
£666,666 Postcode Lottery Winner, Tracie Barry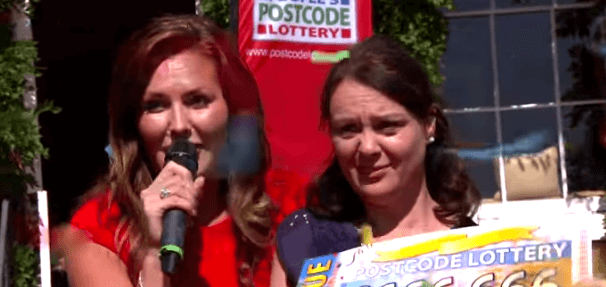 Where are they now?
The August 2013 Postcode Lottery drawing awarded £2 million to the residents of Boreham, a village in Essex. Welfare officer and single mother Tracie Barry took home the largest windfall – with two checks of £333,333 for having played with two subscriptions. After claiming her prize, Barry stated that she already knew what she wanted to do with the money – to help buy her father a new bungalow, go on a cruise, and help the people who are close to her.
SuperEnalotto Lottery Winners
€209.1 Million SuperEnalotto Lottery Winner, Anonymous
The current record for the biggest lottery jackpot ever won in Europe goes to the August 13, 2019 SuperEnalotto draw. This historic jackpot was the result of 14 months worth of rollovers. One lucky ticket-holder took home the massive prize.
The winner, who has chosen to remain anonymous, purchased their ticket in Bar Marino in Lodi, a city in northern Italy, with the number combination 7, 32, 41, 59, 75, and 76. They came forward to claim their prize 2 months after their winning numbers were announced.
€177.7 Million SuperEnalotto Lottery Winner, Syndicate of 70
70 lucky players from Italy shared the second-largest SuperEnalotto jackpot in history. This win took place last October 30, 2010, when the numbers 4, 26, 40, 54, 55, and 67 were drawn.
The winning ticket was apparently purchased in Milan, but the syndicate that bought the ticket was comprised of players from 38 different towns and cities around the country.
€163.5 Million SuperEnalotto Lottery Winner, Anonymous
The October 27, 2016 drawing for Italy's biggest lottery produced 1 grand prize winner from Vibo Valentia, a city in the south of Italy. The winner, whose identity hasn't been revealed, matched all 6 main numbers – 3, 12, 23, 71, 76, and 83 – – and snatched the massive jackpot of €163.5 million. They also matched the SuperStar, netting them an additional €2 million.
Dumbest Lottery Winners Who Lost it All
Whether by their own fault or not, some lottery winners end up losing most, if not all, of their money. Below are some stories of big lottery winners whose luck took a turn for the worse.
£9.7 Million UK National Lottery Jackpot Winner, Michael Caroll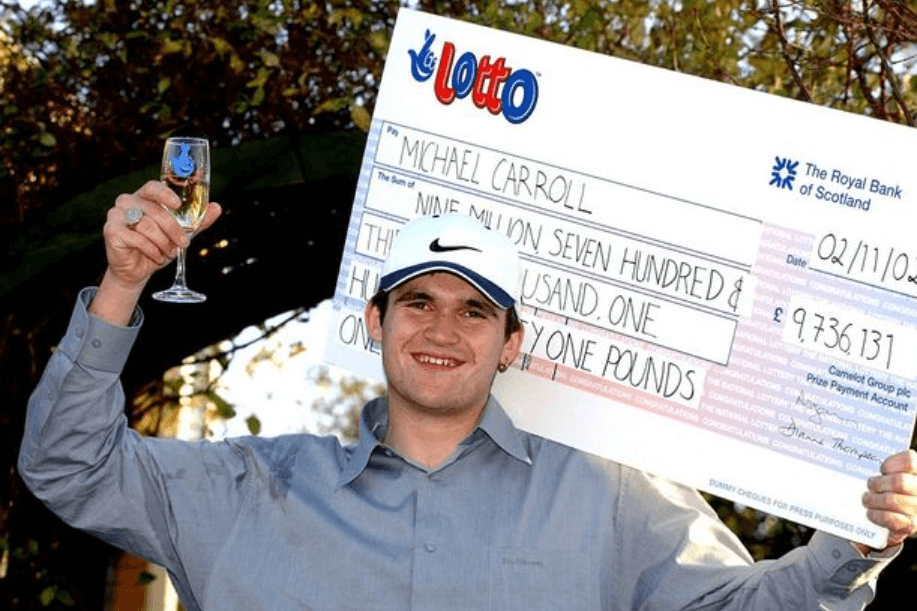 Where are they now?
Michael Carroll was the winner of the £9,736,131 UK National Lottery jackpot back in November 2002. He was only 19 at the time. Very soon after his win, Carroll said that he would not be tempted into spending his money lavishly, and that he wanted to live a relatively modest life.
Unfortunately for him, things didn't go according to plan. Carroll spent most of his money on houses, cars, prostitutes, drugs, and even his very own makeshift demolition derby. It wasn't exactly the smartest of choices, and by 2006 he was reportedly almost broke.
In 2010, after having squandered his own little fortune, Carroll went back to the working force and applied for his old job. He says that he doesn't regret how he spent his winnings.
$314.9 Million Powerball Jackpot Winner, Jack Whittaker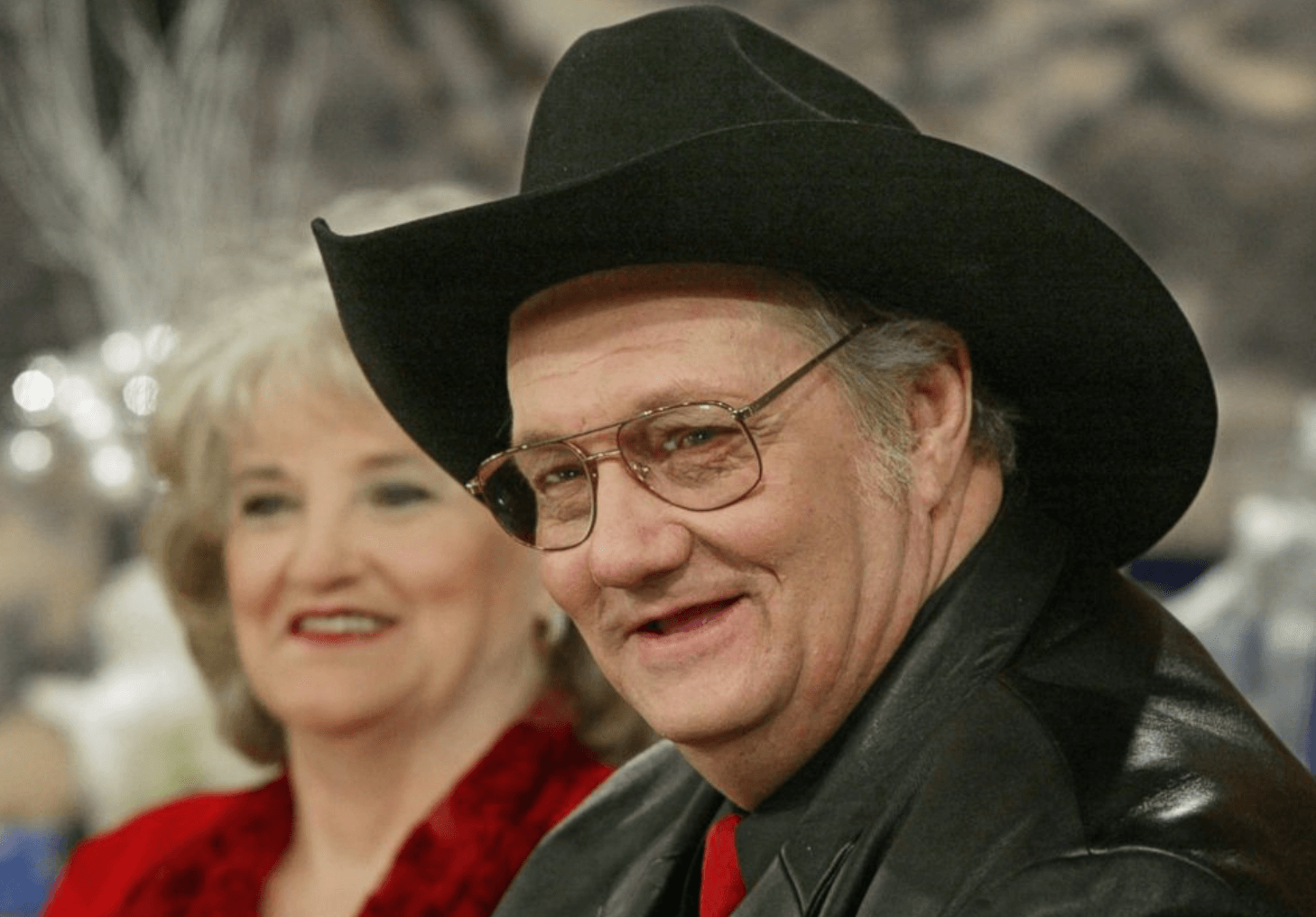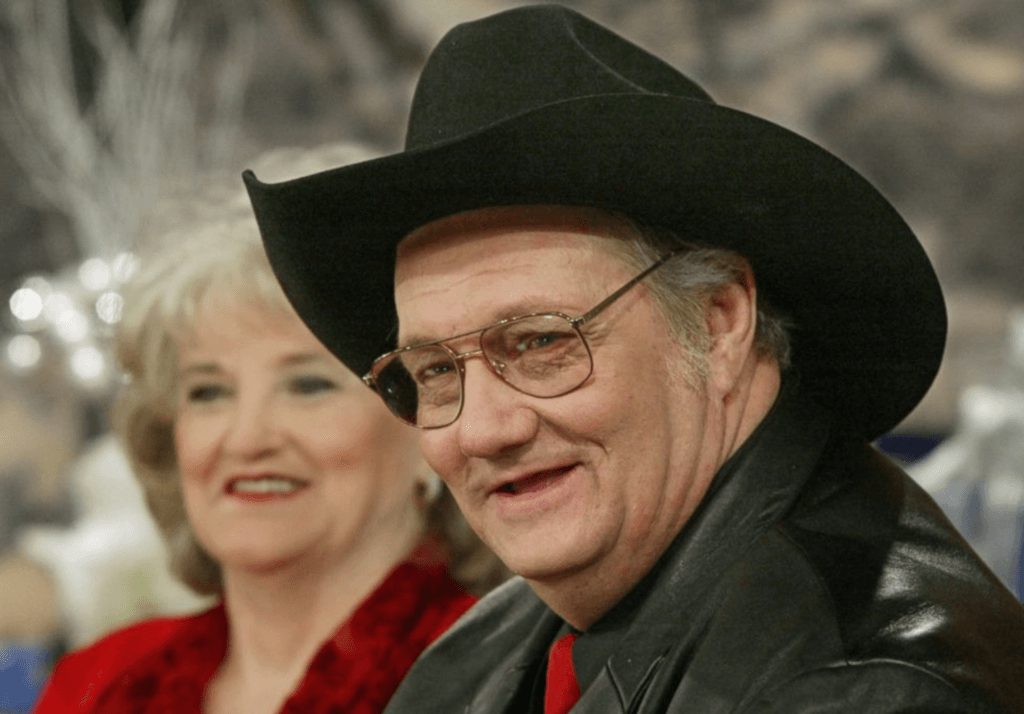 Where are they now?
Jack Whittaker was no stranger to huge sums of money. Even before his $315 million Powerball jackpot in December 25, 2002, Whittaker was already enjoying a comfortable lifestyle as president of a West Virginia contracting firm, with a net worth of about $17 million.
He obviously wasn't dumb, but that didn't exempt him from the challenges that come with striking it big in the lottery. Since taking home his prize, Whittaker has been the victim of at least two burglaries, the target of multiple lawsuits, and was even accused of sexual harassment – events which probably wouldn't have taken place if he hadn't won.
The worst part? Whittaker lost his granddaughter to drug addiction and an eventual overdose, which was funded by money Whittaker had been giving her.
In an interview with ABC in 2007, Whittaker said: "I wish I'd torn that ticket up."
---
Curious about other winners who went broke? You can read our article on the strangest things lottery winners spent their money on for similar stories, or check out this article of the most tragic lottery stories for even more terrible news.
What Happens to Lottery Winners?
As there are no guarantees to winning the lottery, there are also no guarantees to being successful if you do win. As you can see in the stories above, the life of a millionaire can be very challenging. Not only will you have to face outside threats, you might have to wrangle with a few inner demons as well.
The bottom line: The lottery curse is real. Take our crash course on what to do if you win the lottery to avoid falling into the same trap. With millions at stake, it definitely won't hurt to be prepared.