South Africa Lottery Results, Jackpots, & Fun Facts!
Lottery Results Updated On:13 Jul 2020 (GMT)
Rating:
Game
Winning Numbers
Details
Lotto

Regular Numbers

7
20
24
36
43
52

Bonus

11

Next Jackpot

R27,000,000

Powerball

Regular Numbers

11
16
44
46
50

Additional

1

Next Jackpot

R27,000,000

Daily Lotto

Regular Numbers

1
21
23
27
32

Next Jackpot

R300,000
Learn more about South Africa Lotto and other popular games offered by the South African National Lottery. We have more than just results and winning numbers. See drawing schedules, what prizes are up for grabs, your odds of winning, and much more in the sections below.
About the South African National Lottery

South Africa's National Lottery was introduced to players in March 2000 and is currently operated by Ithuba Holdings RF (Proprietary) Limited, a privately owned company comprised of high profile investors from around the region. Ithuba Holdings is regulated by the National Lottery Commission, and is responsible for promoting and conducting various games of chance in South Africa.
Quite appropriately, Ithuba translates to "opportunity," which is exactly how most players view the lottery.
List of South African Lotteries
South Africa's original jackpot game, Lotto is today the country's most popular lottery. The game features a minimum guaranteed top prize of R2 million which rolls over each draw until it's won.
To play, just choose 6 numbers from 1 to 52. Match all your picks with those of the official draw's, and you can take home the advertised jackpot! A seventh Bonus ball is drawn to determine secondary prizewinners. You can also add Lotto Plus 1 and Lotto Plus 2 to your game ticket for added chances of winning.
South Africa Lotto has draws every Wednesday and Saturday evening, a few minutes before 9:00 PM GMT+2.
Patterned after the super successful US Powerball, South Africa's version of the game has quickly gained a large fan base due to its impressive jackpot sizes. Like the previous game, PowerBall features a rolling jackpot, and it starts at a whopping R3 million!
To play, pick 5 numbers from 1 to 45, plus an additional number from 1 to 20. Match all your numbers with the ones drawn, and you can take home the gold. There are 9 prize tiers in total for the base game, and if you enable PowerBall Plus on your ticket, you get more shots at winning something.
PowerBall has drawings every Tuesday and Friday evening, at 9:00 PM GMT+2.
Daily Lotto
Daily Lotto offers players from South Africa a chance to win big every single day. Payouts are determined by ticket sales, so there's no minimum jackpot amount, but you can expect division one prizes to go up to R100,000 – sometimes even more.
Rules are simple: just pick 5 numbers from 1 to 36. If you match all of them with the official draw, you win! There are also 3 other prize divisions for the taking, and with relatively good odds of winning, Daily Lotto is worth checking out.
Daily Lotto has draws every evening at 9:00 PM GMT+2.
South Africa Lottery Games and Schedule
| | | |
| --- | --- | --- |
| South Africa Lotto | Wednesday and Saturday | 9:00 PM |
| PowerBall | Tuesday and Friday | 9:00 PM |
| Daily Lotto | Every day | 9:00 PM |
Instant Win Games – EAZiWIN
Don't forget the scratch cards! They're called EAZiWIN games in South Africa, and you can play them online as well as in-store. They have varying mechanics, but if you're familiar with instant games, you should know exactly what it takes to win. Prizes are typically in cash.
South African Lotto Winners
The South African National Lottery has awarded millions to lucky winners from all over the country. According to the official website, below are the biggest jackpots paid out in the past.
R232 million. Won by a man in his 50's from Cape Town. He won the February 19, 2019 PowerBall draw.
R145 million. Won by an engineer from Secunda during the August 3, 2018 PowerBall draw.
R102 million. Won by a man who almost threw away his winning ticket. He won the June 3 2011 PowerBall draw.
Can South African lottery winners remain anonymous?
Yes. As evidenced by the big winners listed above, the South African National Lottery allows winners to stay anonymous.
South Africa Lottery Information
Odds of Winning South African Lotto
Take a look at this table to see which South African lottery has the best odds of winning:
| | | |
| --- | --- | --- |
| | Odds of Winning the Jackpot | Overall Odds of Winning |
| Lotto | 1 in 20,358,520 | 1 in 38 |
| PowerBall | 1 in 42,375,200 | 1 in 18 |
| Daily Lotto | 1 in 376,992 | 1 in 7.6 |
South Africa Lottery Tickets and Age Restrictions
Players must be at least 18 years old to buy South African lottery tickets.
You can buy tickets to draw games and instant games from approved retailers and partners, as well as participating banks in South Africa.
You can also purchase tickets over the internet, through the official website or mobile app, but must register with a South African bank account and have a South African address. A South African ID is also required.
Can international players play South African Lotto online?
Players from outside South Africa can play South African National Lottery games via a reputable third-party service like theLotter.
South Africa Lottery Taxes
South African National Lottery prizes are not subject to any tax.
However, players from overseas may have to pay taxes when claiming their winnings.
Prize Claiming
Here's how you can claim lotto winnings in South Africa:
Prizes R2,000 below: Winners may claim their prize at any South Africa National Lottery outlet one day after the draw.
Prizes between R2,000 and R50,000: Winners may claim their prize at an authorized prize payment center, including designated post offices.
Prizes over R50,000: Winners may claim their prizes at a South Africa National Lottery office. Winners must also complete a claim form and provide proof of identity.
The deadline to claim all prizes is 1 year after the relevant draw.
South Africa National Lottery Contact Details
Customer Support
You can reach South African lottery customer representatives through the following channels:
Player Hotline: 0800 484 822
Retailer Hotline: 0860 456 886
Regional Offices:

Bloemfontein: +27 51 410 1060
Eastern Cape: +27 41 397 4900
Kzn: +27  31 536 6960
Gauteng: +27 11 346 6000
Limpopo: +27 15 294 9480
Mpumalanga: +27 13 741 6500
North West: +27 14 597 8900
Western Cape: +27 21 672 6760
Social Media Accounts
You can also follow the South African National Lottery on any of their social media accounts:
South Africa Lotto App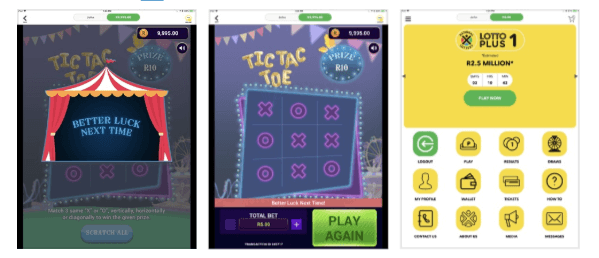 An official South Africa National Lottery mobile app is also available for Android and iOS devices. With the app, you get easy access to all of the lottery's games, so you can play while on the go. You can also check the latest results and winning numbers for each draw, and even participate in a number of virtual instant win games.
You can download the official app from the Apple App Store. For Android devices, you can head to the official app page to learn how to install it on your device.