20 Lottery Games Offered
Jackpot.com offers a pretty decent collection of regular lottery games. They lack some game types though.
Currently, there are over 20 lottery games on tap. These range from popular ones like Powerball, Euromilions, and Mega Millions, to less known lotteries like the Polish Lotto or Saturday Lotto. One thing that I don't like about Jackpot.com though, is how limited their game types actually are.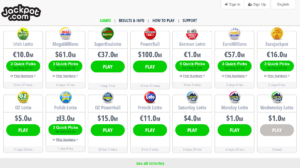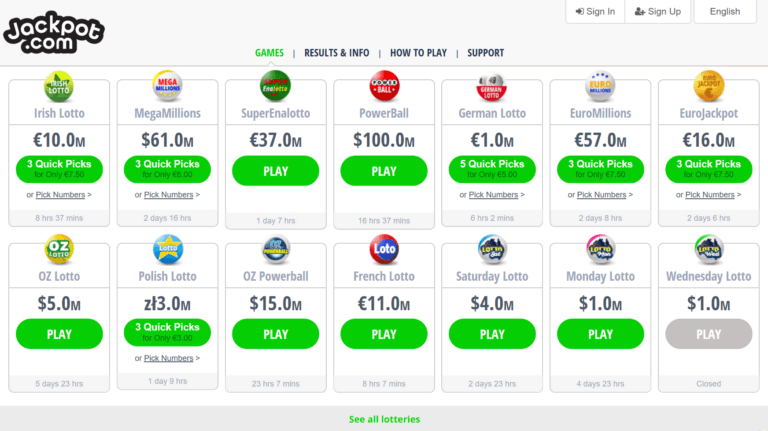 Yes, 20 lotteries are nothing to scoff at, especially when there are websites that offer less than 10 games. That said, Jackpot.com only offers regular lottery games. You won't find syndicates or millionaire raffles here. If regular lotteries are all you're after, they definitely deliver. But, if you want to be able to play in group play games or raffles too, it's best to look elsewhere. That said, they now offer other game types that should scratch your itch for some variety.
Side Games
Before, Jackpot.com lagged behind some of their competitors with regards to side games—but it seems the tables have turned.
Jackpot.com now offers more than 20 different scratch cards for you to enjoy. Interestingly, these are the same ones that sites like WinTrillions and LottoKings once offered (until recently, that is). Depending on the scratch card and the number of games you want to play, prices range from €0.50 to €22.50.
As for the prizes, don't expect anything too substantial. You'll still be better off winning at the lottery. For instance, the lowest amount you can win from their Cash Cuisine scratch card is a measly €0.50. Of course, winning the top prize is a different story. First prizes range from €1,000 to as high as €25,000. Still not as big as a second, third or even a fourth prize lottery win, but it's not so bad.
If scratch cards aren't your thing, Jackpot.com has recently added other game types that might catch your fancy, such as Keno, Bingo, and a variety of virtual slots.
Prices
Thankfully, prices here are generally much more affordable.
A single draw, 3-line Euromillions entry, for example, only costs €9.00 (around $10.57). At theLotter, on the other hand, it will cost you $18.69, while at LottoKings it will cost you $18.00. Jackpot.com only allows you to bet on lottery outcomes – they don't purchase actual tickets for you – so this affordability isn't surprising. Check out this quick rundown of some games' prices:
| | |
| --- | --- |
| Game | Price (1 line, 1 draw) |
| Euromillions | €3.00 |
| Powerball | €3.50 |
| EuroJackpot | €2.50 |
| German Lotto | €1.00 |
| SuperEnalotto | €2.50 |
| OZ Lotto | €1.75 |
| French Lotto | €2.75 |
Deposit and Withdrawal with Jackpot.com
One thing I liked about Jackpot.com is the sheer number of payment methods they accept.
Currently, they accept a total of 32 payment methods – ranging from popular credit cards to a wide array of alternative payment methods.
Deposit
Here is a quick sampling of the payment methods Jackpot.com accepts for deposits:
| | | |
| --- | --- | --- |
| Visa | MasterCard | Skrill |
| NETeller | Abaqoos | Astro |
| DineroMail | EPS | Epay.bg |
| Giropay | Halcash | Lobanet |
| Sofort | Sporopay | WebMoney |
Something to take note of: Jackpot.com recently added the option to pay using bank transfers. Unfortunately, it seems this feature is still in its infancy. It seems that you can only deposit if you have an account with Barclays Bank. It's still better than nothing though.
Withdrawal
As for the accepted withdrawal methods, Jackpot.com doesn't really specify beyond Visa, MasterCard, Skrill and NETeller. They do mention that there are other "independent payment methods" available, but you would have to actually reach the point where you can withdraw some money to know what those are. Of course, you can ask their customer support as well.
Is Jackpot.com Safe?
As far as security goes, Jackpot.com doesn't differ much from other sites.
They offer Thawte SSL encryption, though they don't really advertise it. One scan using Norton SafeWeb, however, confirms this fact – not to mention how Jackpot.com is pretty safe overall. Unlike other lottery sites though, they don't make use of Return Path to curb spam mail.
Beyond that, it's interesting to note that Jackpot.com is licensed and/or regulated by 3 different entities. They are both licensed and regulated by the Malta Gaming Authority and the UK Gambling Commission, for starters. Meanwhile, they are licensed as a remote bookmaker by the Irish National Excise License Office. So, if you have doubts about their legitimacy, these should ease your fears.
Jackpot.com's Customer Service
Jackpot.com's support is pretty good – you get a helpful knowledgebase and various ways to get in touch with the company's support team.
The website's FAQs are packed with a ton of information about their service. These should be more than enough to fill you in, but you can contact them directly if you need assistance.
Jackpot.com can be reached via email, phone, live chat, Whatsapp, Facebook messenger, and their very active social media accounts. Both phone and live chat channels aren't available 24/7 though – you can contact them between 6:00GMT and 22:00GMT.
Jackpot.com's Additional Features
Lottery Education Materials
As far lottery education goes, Jackpot.com provides ample materials.
While not as comprehensive as other sites, they do a good job of introducing players to each lottery game. Each page contains bite-sized information about each game – from how to play to the odds of winning, and more.
Their FAQ section, meanwhile, also provides snippets of information about scams. Ultimately, Jackpot.com's attempt at educating players is good – though more depth is definitely welcome.
Ease of Use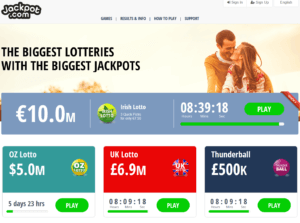 Jackpot.com's website is one of the simplest ones I've encountered.
It looks and feels just like any other lottery site; the latest lottery jackpots are displayed front and center, while menus let you access more games and the results page.
However, because they only offer regular lottery games, the website feels a lot more lighter and streamlined as a result. It also helps that the design is minimalistic to the point that it doesn't really get in your way. There are no annoying ads, either – which is always a plus. Overall, you're getting a simple and very easy to use lottery site here.
Player Protection
One of the more interesting features that Jackpot.com offers is player protection controls.
With this, players can manually set a maximum daily spend limit at any time. You can either set daily, weekly or monthly limits for deposits or wagers – your choice.
If you want to further nip the possibility of gambling addiction in the bud, you can also temporarily suspend your account for a predetermined period. Finally, Jackpot.com also verifies each player's age on sign-up to keep minors at bay.
Promotions
Want to save on purchases? Jackpot.com offers weekly promotions!
One of their promotions allows you to receive a surprise gift if you spend €5 or more on Sundays. You can also get a nearly 60% discount on Powerball, Mega Millions, Irish Lotto or EuroMillions subscriptions. Or, you can save up to 15% on 30 scratch cards! So, if you're looking to save up, Jackpot.com's regular promotions can definitely help you out!
How Jackpot.com Works
Setting Up an Account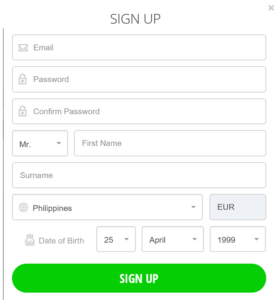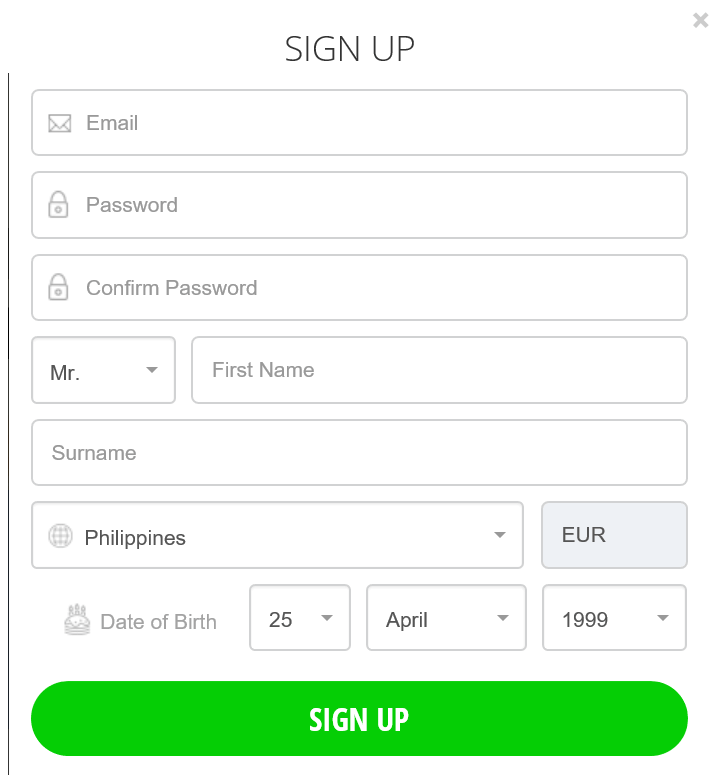 Creating a free Jackpot.com account is pretty quick and hassle-free.
Here's how:
Click the "Sign Up" button located at the topmost part of their website.
Fill up the short registration from – provide your name, email, password, country and date of birth.
Click on the green "Sign Up" button when you are done.
Start playing!
Playing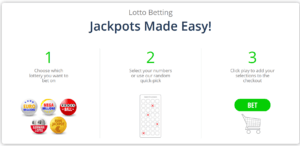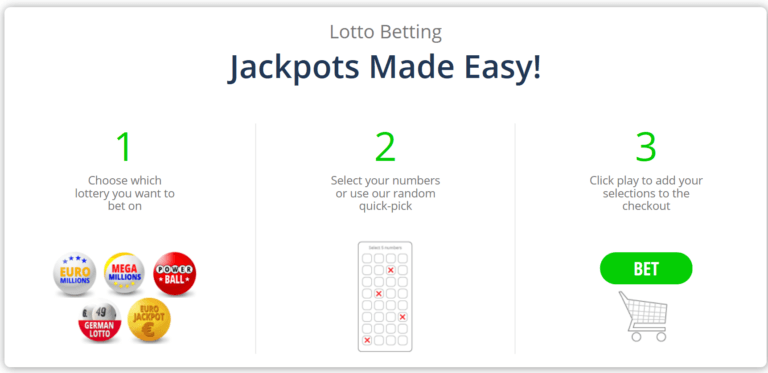 Much like any other lottery site, playing at Jackpot.com is pretty straightforward – though options are a bit limited here.
Login to your free Jackpot.com account.
Choose from their selection of lottery games – click on the "Play" button when you've chosen one.
Pick your numbers. You can choose to do so manually or via the Quick Pick option.
Choose between a single purchase, or a continuous subscription.
Click on the "Continue" button.
That's all there is to it! Take note that you can also manually choose how many draws you participate in. You can choose to participate in a single draw, multiple draws or you can take part in every draw via subscriptions. And, if you subscribe, you also have the benefit of changing your numbers or cancelling your subscription at any time.
Winning
It's easy to find out if you've won, and it's even easier to receive your winnings – for the most part, anyway.
You can either get a notification email of your big win, or you can check the results page or your Jackpot.com account. Unlike more popular lottery sites, though, there is no SMS alert feature here, so you better keep a close watch on your email or the Jackpot.com website when you are on the go.
As for receiving your winnings, Jackpot.com deposits all prizes directly to your account. That said, take note that for jackpots, you will have to get in touch with their Customer Support team first before you can receive your prize. This is because the payment method differs for larger wins compared to smaller prizes. It's not a big deal, to be honest.
What is a big deal, however, is that Jackpot.com's Terms and Conditions state that, for the higher prize categories of Powerball and Mega Millions, 39.6% of your winnings will be withheld by the company. This is contrary to their claims of not taking any commissions from winnings.
To be fair, they don't do this for other games – just the ones I mentioned. Still, 39.6%  is pretty huge, considering you still need to abide by your local tax laws.
Jackpot.com's Big Winners
So far, Jackpot.com seems to have only one winner under its belt. Their "Winners" section is still under construction though, so more of their winners might be announced in the future. In any case, here is their biggest winner so far:
€248,000: 40-year old Valentin Z., a welder from Enfield, London won the March 21, 2017 EuroMillions draw by matching six of the seven numbers. The winning numbers were 1, 20, 23, 44, 47, 4, and 11.
Alternatives to Jackpot.com
TheLotter has more than double the lottery games!
They have over 53 lottery games for you to choose from – plus syndicates, if you want to for group play.
They are considered a lottery agent.
theLotter purchases tickets on your behalf, then scans it and sends you a copy. This means that you are officially entered into the lottery games of your choice – not just betting on the outcome.
Their prices are slightly more expensive.
theLotter tacks on some handling fees to their prices, which makes them a bit more expensive than other lottery sites. In comparison, Jackpot.com's prices are slightly more affordable – but you won't actually own tickets.
WinTrillions offers more games than Jackpot.com!
They have over 20 lottery games, ranging from popular ones like Powerball and Mega Millions, to some relatively obscure ones. They also provide several syndicates and millionaire raffles.
WinTrillions is a lottery agent.
They purchase tickets for you and actually enter you into official lottery games.
They lack single draw options.
WinTrillions does not allow players to purchase tickets for single draws. And because you can only purchase tickets for consecutive draws, prices are slightly more expensive here.
LottoKings have more game variety than Jackpot.com!
They currently offer 19 lottery games, 4 syndicates, and 4 millionaire raffles.
They offer easy prize claiming.
Prizes below $600 are automatically deposited to your account, while you can choose from a variety of options for claiming larger prizes. Apart from collecting you prize in person, you can have the lottery commission issue you a check, or have LottoKings collect it for you then claim the prize at any of their offices.
LottoKings does not scan your tickets.
Instead of scanned copies of your tickets, LottoKings only provides purchase invoices.
The Bottom Line – Should You Use Jackpot.com?
It's worth a look – but you have to make peace with Jackpot.com's shortcomings.
The shortcomings make it hard for me to see them among my top 3 list. But, as I've mentioned before, Jackpot.com is still a pretty new lottery site so expect a lot of room for improvement. Only a year in though, they've managed to catch up with a lot of established online lotteries.
For instance, they started out offering only a mere 4 lottery games, but now they have 20. They also added a variety of new game types, accept a wide array of payment methods, and offer regular promotions. This continued evolution, not to mention the simple, secured lottery experience they offer, makes them a company worth keeping an eye on.
About Jackpot.com
Jackpot.com, launched in 2016, is an online lottery company licensed and regulated by the Malta Gaming Authority and the UK Gambling Commission. They are classified as a lotto betting site, which means that they don't send out agents to purchase lottery tickets on your behalf. Buying an entry here means that you are simply betting on the outcome of games.