PCH Lotto Review Overview
---
What We Like About PCH Lotto:
Free to play
Has an official mobile app
Many chances of winning
What We Don't Like About PCH Lotto:
Plenty of ads
Limited to in-house games
Open only to the US and Canada
---
As far as free lottery sites go, it doesn't get any bigger than PCH Lotto.
PCH Lotto is one of Publisher Clearing House's online gaming platforms. Their games are free to participate in and rewards include real cash prizes. But with a chance to win upwards of $1 million or even $5,000 a week for life at completely no cost, there has to be a catch, right?
In this review, find out what those are exactly. Read about what PCH Lotto does well, and see what we think they could improve upon.
What is PCH Lotto?
PCH Lotto is one of Publisher Clearing House's internet gaming properties. It's a free lottery site, where players can enter games at no cost and win real cash prizes – up to $4 million and more.
It's not like other lottery sites we've reviewed. You won't find popular lotteries like Powerball or Mega Millions here. Instead, you'll be limited to playing PCH's own selection of games.
How does PCH Lotto work?
PCH Lotto has a number of different games available on their sites – and all of them are free to participate in. To enter, a player must have sufficient PCH Tokens to 'pay' for a game.
The good news is that tokens are free to acquire, requiring only that you complete certain activities on the site. These include playing other games, entering the sweepstakes, watching winners' videos, and more.
Login and Signup
To register an account on PCH Lotto, players have to provide their full name, email, home address, and date of birth. It's quick and costs nothing.
Note that only players from the United States can register an account. However, players from Canada can participate in some games, most notably the sweepstakes, by mailing their entries to PCH Lotto. Players from other parts of the world are ineligible to play.
Review of PCH Lotto's Games, Promos, and Bonuses
PCH Lotto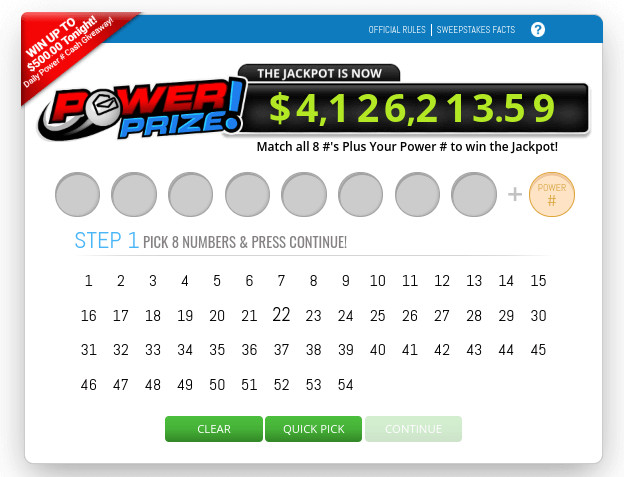 Technically a sweepstakes since it doesn't cost money, PCH Lotto's in-house lottery game is their biggest offering. And since it isn't like regular lotteries, rules and payouts can change over time.
Currently, their lotto game requires players to pick 8 numbers from 1 to 54, plus a PowerPlay number. To win the top PowerPrize of $4 million, you have to match all 9 numbers. That means your chances of winning are very, very low – about 1 in 25 billion.
Fortunately, there are other prize tiers which offer more reasonable odds. Also, entering the PCH Lotto draws rewards free PCH Tokens.
PCH Search & Win
PCH has a unique way of rewarding players with bonus tokens with PCH Search & Win. It's basically a search engine, and you can earn rewards by simply using it.
PCH Games
You'll also find PCH's version of other popular games like Keno and slots. They also have scratch offs, card games, word games, and more – and all of them have the potential to reward you with cash or free tokens.
PCH Lotto Review of Security, Trust, and Scams
Is PCH Lotto a scam?
No. PCH Lottery may have been in the middle of plenty of controversy in the past, and been the target of many lawsuits, but it definitely isn't a scam. The company has made many changes over the years to protect player's interests and continues to do so up to this day.
Is PCH Lotto legit?
Yes. PCH Lotto is a legitimate gaming site that rewards players with real cash at absolutely no cost.
Is PCH Lotto safe?
Yes. PCH Lotto makes use of industry-standard security protocols to protect player information. However, you might find plenty of marketing material sent to you as a result of playing on their site.
Is PCH Lotto a real or fake company?
Publishers Clearing House is a real company that was launched in 1953 by Harold Mertz. It first started selling magazine subscriptions via mail and since then, has grown to offer other products including books, jewelry, and other consumer items.
The company is also known for its prize-based games, most notably its sweepstakes, which can be played on several websites they own – one of which is PCH Lotto.
Who owns PCH Lotto?
PCH Lotto is owned by Publishers Clearing House – a private company that was founded by Harold Mertz, his wife LuEsther, and their daughter Joyce. The company is now headed by President and CEO Andrew Goldberg, who took the title in 2003.
How does PCH Lotto make money?
PCH Lotto's prizes are funded primarily by profits earned from subscription and merchandise sales, as well as ad revenue generated by their online properties.
Is PCH Lotto legal?
Yes. PCH Lotto is completely legal. However, players must be at least 18 to participate in their sweepstakes.
Does Lottery Critic trust PCH Lotto?
Yes. PCH Lotto gets Lottery Critic's seal of approval.
PCH Lotto Review on Payouts, Withdrawals, and Winners
PCH Lotto Payout Rules
Winners are notified by mail or in person, depending on the size of their prize. Winners of major prizes can expect a visit from PCH Lotto representatives to receive their check. Winners of lesser prize amounts can expect to get notified via express courier and occasionally via email.
Prizes are awarded within eight weeks of the winner(s) being selected. There are no fees attached, nor will PCH Lotto ask for bank details of any sort.
Please note that winners may be required to visit all of their internet properties, including the mobile site, to qualify to win.
PCH Lotto Payment Methods
PCH Lotto is free to play, so there is no need for players to make deposits like in other traditional lottery sites.
Has anyone won on PCH Lotto?
Yes. Some of the most recent winners from PCH Lotto are:
M. Flaherty from Valrico, Florida, who won $1 million last May 2019
J. Price from Stillwater, Oklahoma, who won $45,965 last May 2019
C. Brooks from Ontario, California, who won $54,565 last March 2019
C. Crawford from Jamaica, New York, who won $5,000 a week forever last February 2019
E. Hargraves from Oklahoma City, Oklahoma, who won $1 million last January 2019
There have been dozens of other winners in between those listed, and hundreds more before that. You can also find a news ticker on the front page of the PCH Lotto website that displays winners' names and the prize amounts they've won.
PCH Lotto Review of Mobile Options
PCH Lotto has an official mobile app that enable players to enjoy their games on the go.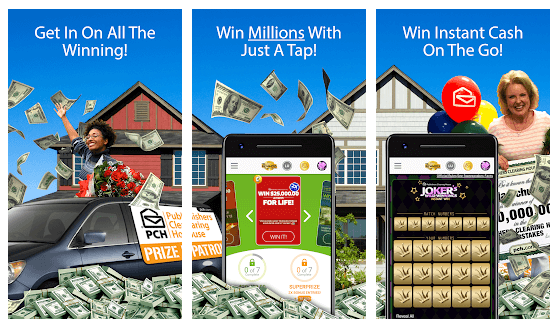 You can download the PCH App for any of your Android or iOS mobile devices. The best thing is that you can also earn bonus tokens and entries by simply installing it on your device.
Other features include:
App-exclusive giveaways
Easy access to their instant games
and more
Customer Support on PCH Lotto
PCH Lotto Live Chat and Contact Information
PCH Lotto has plenty of ways for you to get in touch with support.
Here are their contact details:
Email: [email protected]
General Questions: 1-800-459-4724
Website or Technical Issues: 1-800-476-4724
Mailing Address: Publishers Clearing House, 101 Winners Circle, Jericho, NY 11753
They also have a live chat feature that is open during office hours – Monday through Friday, 8:30 AM. to 11 PM & Saturday 8:30 AM to 5 PM Eastern Time.
PCH Lotto Player Resources
PCH Lotto provides plenty of helpful information to get you started, but it's not organized very well.
You'll find a very meaty FAQ section that has answers to most common questions. The problem is that you might have a hard time finding specific answers you need. The search feature helps a little, but in all honesty, they could've done a much better job here.
It feels like some sections and subsections are missing, and some questions are repeated in different places. The worst part is that for there are different responses to these redundant questions, so things can get really confusing.
Our Experience with PCH Lotto
PCH Lotto Website
PCH Lotto's website is pretty straightforward to use.
The website features good design and makes it easy to get right into the main attraction – the games. Apart from that, the winners list and results are easily accessed as well.
Overall, PCH Lotto's website is clean, loads quickly, and gets the job done.
Playing
The biggest drawback to playing on a free lottery website is the amount of ads you'll have to deal with.
And you won't be able to use an ad-blocker to bypass this problem. The website detects such programs and will force you to disable them to continue to enjoy their games.
We can't fault them for this one though. It is, after all, the price you'll have to pay for free chances of winning real money.
Final Thoughts – Should You Use PCH Lotto?
PCH Lotto has the biggest prizes we've seen from any free lottery site, and if you're willing to put up with the ads, it can be very fun and rewarding.
PCH Lotto takes an interesting approach to lotteries, no doubt. And they do deliver a a pretty solid service that's safe and enjoyable. There's a ton of games featured, and all of them have rewards ranging from free tokens to millions of dollars. You'll have a blast every time you log on.
However, the service is far from perfect. First, you'll only be able to play their in-house games. Also, you'll have to get used to plenty of advertisements as you play.
The bottom line: You'll have better chances of winning on other lottery sites, but since it's a free-to-play, PCH Lotto is still worth checking out.