New Jersey Lottery: Results, Winning Numbers, and General Information
Last Updated: December 20, 2018
About the New Jersey Lottery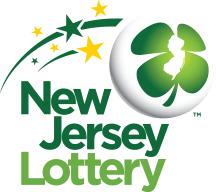 The New Jersey Lottery is the official, governemt-sanctioned lottery for the state of New Jersey. As a lottery operator, it is one of the oldest ones in the US, having sold its first ever lottery ticket in 1970. Back then and especially today, its mission is to raise funds for education and other key institutions that benefit the state of New Jersey and its residents.
New Jersey Lottery Tickets
New Jersey lottery tickets can be purchased directly from any licensed retailer within the state of New Jersey. Winning tickets are valid for one year after the original drawing. After which, tickets expire and prizes can no longer be claimed.
Can I buy NJ Lottery tickets online?
Unfortunately, the state of New Jersey has not authorized the sale of lottery tickets over the internet. You will have to physically visit a retailer to buy official lottery tickets.
New Jersey Lottery Games and Drawing Schedule
New Jersey's original jackpot game, Pick 6 requires players to pick 6 numbers between 1 and 49. Players can also make use of the XTRA option to increase any non-jackpot prizes they may win. Drawings for this game are held on Mondays and Thursdays, at approximately 7:57 PM EST.
Always a popular game, New Jersey's Cash4Life rewards winners with up to $1000 per day for life. Players have to choose 5 numbers from 1 to 60, plus an additional Cash Ball number from 1 to 4. The Doubler option lets winners of non-"for life" prizes double their prize. Drawings are held every Monday and Thursday, at approximately 9:00 PM EST.
Pick 3
In Pick 3, players choose 3 single-digit numbers from 0 to 9 and can win up to $250. Numbers chosen can be used more than once, and players can opt for straight play, box play, combination play, or pair play. The Fireball feature adds more ways of playing. Drawings are held twice a day, seven days a week, at approximately 12:59 PM and 7:57 PM EST.
Pick 4
Pick 4 has very similar mechanics to Pick 3. The same play choices are available, including the Fireball feature. Drawing schedules are also the same for the two games (daily at 12:59 PM and 7:57 PM EST). The main difference is that draws include 4 numbers, resulting in smaller odds of winning the top prize of $2,500.
With daily draws at approximately 7:57 PM EST, Jersey Cash 5 is another jackpot game that's sure to excite. Players choose 5 numbers from 1 to 43 and have the option to play XTRA for larger non-jackpot prizes.
5 Card Cash
A unique game that combines poker and the lottery, New Jersey's 5 Card Cash provides players with 2 ways to win – Win Now and Win Tonight. To play, simply purchase a ticket and your five cards will automatically be chosen for you. If you form any winning combinations – like a royal flush, for example – you can instantly win up to $5,000 plus the entire jackpot. Wait until the nightly drawing at 7:57 PM EST and you can take home the top prize of at least $100,000.
Here's a rundown of the New Jersey Lottery's weekly schedule:
| | | |
| --- | --- | --- |
| Pick 6 | Mondays and Thursdays | 7:57 PM |
| Cash4Life | Mondays and Thursdays | 9:00 PM |
| Pick 3 | Daily | 12:59 PM, 7:57 PM |
| Pick 4 | Daily | 12:59 PM, 7:57 PM |
| Jersey Cash 5 | Daily | 7:57 PM |
| 5 Card Cash | Daily | 7:57 PM |
Notable Winners of New Jersey Lotteries
Here are some of the most notable winners of the New Jersey Lottery from this year:
Michael Whitten, won $160,710 from Jersey Cash 5, last May 24.
Tershebra Hayes, won $279,513 from Jersey Cash 5, last March 24.
The Aloha Family LLC, won $1,000 a day for life, from Cash4Life, last March 1.
Carole Halleran, won $1,000 a week for life, from Cash4Life, but elected for the onetime lump sum of $1,o00,000.
Margaret Grove, won $5,000,000 from the scratch-off game $200 Million Cash Bonanza
New Jersey Lottery Scratch-Off
Players who enjoy scratch-off games will have plenty of choices when playing in New Jersey. The lottery offers dozens of different games with ticket prices ranging between $1 and $30. Top prizes for each game go from $500, all the way up to $5,000,000.

New Jersey Lottery Second Chances – What is Second Chance?
Second chance drawings give non-winning ticket-holders the opportunity to reuse their tickets and enter bonus draws for secondary prizes. Prizes can come in the form of cash, vacation packages, concert tickets, consumer products, and many more.
How does Second Chance work for the NJ Lottery?
Players who want to take advantage of second chance drawings for the New Jersey Lottery simply have to create an online account with the New Jersey Lotter VIP Club. From there, members can enter any second chance drawings available by submitting any eligible non-winning tickets.
Information on the New Jersey Lottery
New Jersey Lottery Office
The New Jersey Lottery is headquartered in Lawrence Park Complex, 1333 Brunswick Avenue Circle, Trenton 08648.
New Jersey Lottery Customer Support
If you'd like to get in touch with New York Lottery representatives, you may contact them through the following channels:
Telephone: 1-877-789-4935
Email: vipclub@njlottery.com
Mail: PO Box 041, Trenton, NJ 08625-0041
New Jersey Lottery Social Accounts
For regular updates, you can also follow the New Jersey Lottery on any of their social media accounts:
New Jersey Lottery Apps and Technology
Take the New Jersey Lottery with you, wherever you go, by installing the official mobile app on your iOS or Android device.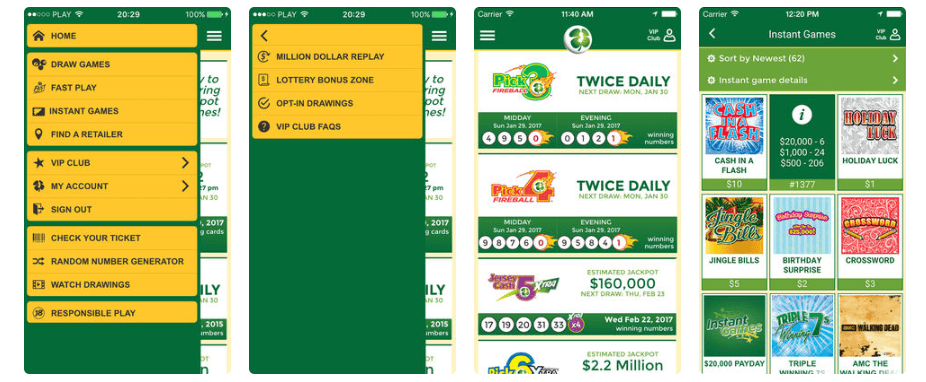 The New Jersey Lottery App lets you:
Find the latest winning numbers and estimated jackpots.
Learn about the current instant win games.
Find nearby authorized lottery ticket sellers.
Watch drawings live.
Enter second chance drawings.
and more
New Jersey Lottery Results and Winning Numbers
Want to find out what the current New Jersey Lottery winning numbers are? You can visit Lottery USA for more up-to-date information on the latest New Jersey Lottery results. There you'll find news on all New Jersey Lottery draw games – including winning draws, jackpot size, next drawing dates, and more.