18 Lottery Games & More Offered
Regular Lotteries
LottoKings offers good game variety.
The 19 games they have include the most popular lotteries today, such as: Powerball, Mega Millions, SuperEnalotto, and Euro Millions.
Beyond that, they also feature France's French Loto, Ireland's Irish Lotto, Brazil's Mega Sena, Canada's Canada Lotto, Australia's OZ Lotto, and more.
Check out the list below:
Lottery Games

US Powerball
Mega Millions
Euromillions
SuperEnalotto
EuroJackpot
Oz Lotto
Germany Lotto
UK Lotto
France Loto
Irish Lotto
Mega Sena
UK Thunderball
California SuperLotto
Canada Lotto
La Primitiva
El Gordo
New York Lotto
Oz Powerball
The prices, when compared to industry leader prices in my TheLotter Review, are surprisingly much more affordable.
A Mega Millions entry costs $14.86 at theLotter (because of the 3-line minimum), while it only costs a mere $3.50 at LottoKings (because you can purchase 1 line at a time).
For a quick look at their prices, take a look below:
Lottery Game
Ticket Price
1 Line, 1 Draw
2 Lines, 1 Draw
6 Lines, 1 Draw
Mega Millions
$3.50
$7.00
$21.00
Powerball
$3.50
$7.00
$21.00
Euromillions
$6.00
$12.00
$36.00
Mega Sena
$2.00
$4.00
$12.00
Syndicates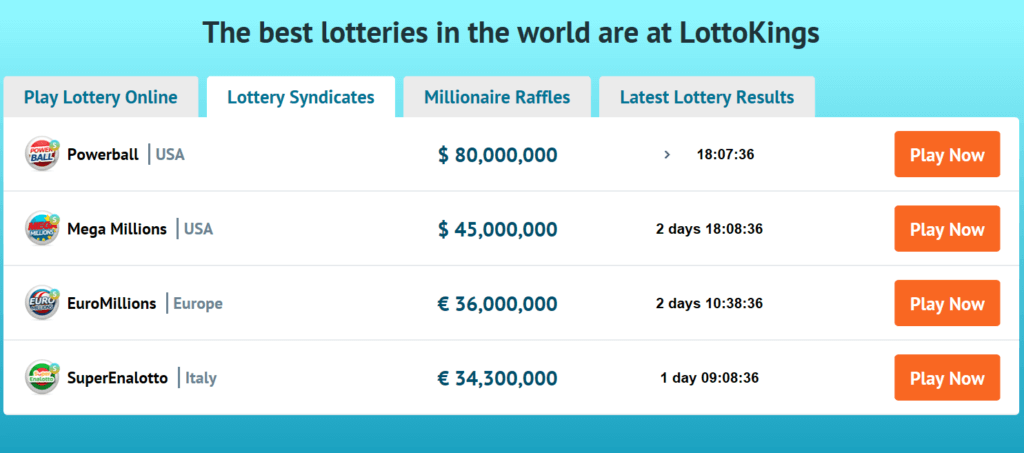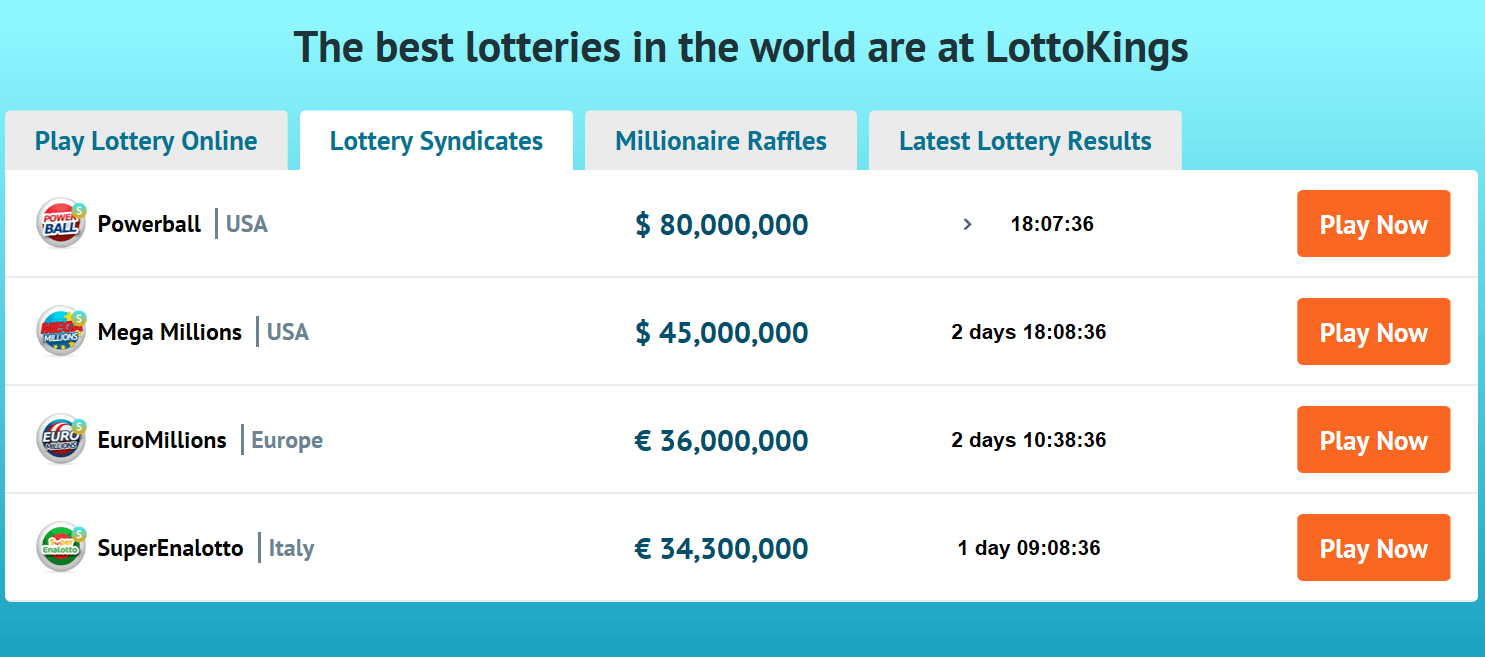 LottoKings also offers syndicate play, so you can group up with other people to increase your odds of winning.
If you win, the prize is divided and distributed accordingly to all members of your group. Purchasing more shares can help you bag a larger piece of the pie, though.
All of this sounds well and good, but one thing to note is that LottoKings' offerings are fewer compared to other lottery sites. They currently only offer 4 lotteries with syndicate play, which include: Powerball, Mega Millions, EuroMillions, and SuperEnalotto.
For most players, this should be enough, but having more choices is always better.
Millionaire Raffles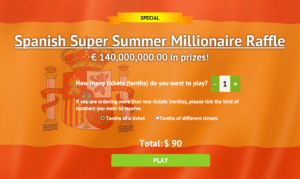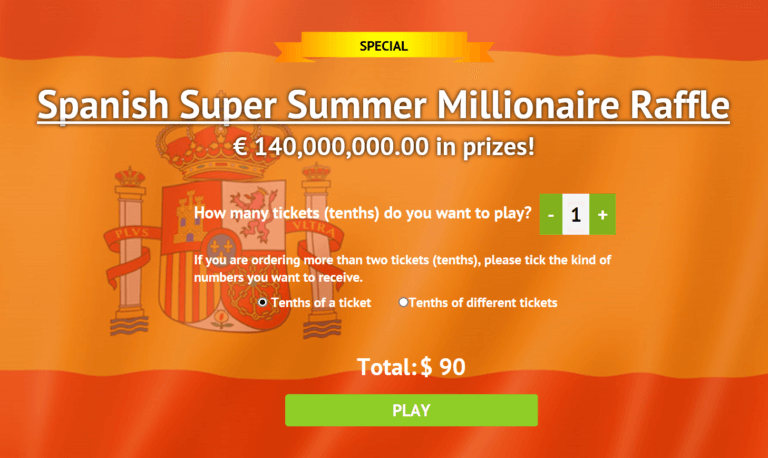 On top of syndicates, LottoKings also offers Millionaire Raffles.
Some of LottoKing's offerings include the Super Summer Millionaire Raffle, May's Special Draw, Saturday Draw, and Thursday Draw—all of which are Spanish raffles, by the way.
Take note that some of these raffles may not be available during certain times of the year and could have other raffles in their place, instead. This is because some raffles—like the Christmas El Gordo or the Sorteo Extraordinario de San Valentin—are only held for a few months at a time.
It's also important to note that entry prices for raffles are much more expensive than traditional lottery games, so if you're on a tight budget, it's best to just go with the regular games. 1 ticket entry to May's Special Draw, for example, will cost you $67.
Scratch Cards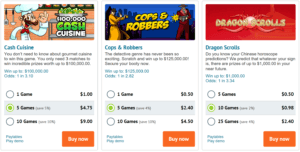 [Update: 04/10/17]: LottoKings used to offer virtual scratch cards (as seen above)—the same ones offered by WinTrillions, among other lottery sites—but it seems they no longer have this game type on their repertoire.
Deposit and Withdrawal with LottoKings
The number of accepted payment methods at LottoKings pales in comparison to other sites.
Back when LottoKings was known as CongaLotto, they accepted a wide array of payment methods. Now, however, they only accept 10.
Don't get me wrong, 10 isn't a terrible number, but the fact that they used to accept more back then compared to now is just disappointing.
At least the payment methods they do accept are par for the course though. They prefer Visa, MasterCard, and American Express, but you can also use Visa Debit, Visa Electron, MasterCard Debit, Delta, Discover, Entropay, and NETeller if you don't have any of the 3 aforementioned credit cards.
Is LottoKings Safe?
LottoKings runs a tight ship when it comes to player security.
For starters, they employ a 256-bit GoDaddy SSL encryption, which should ensure that your transactions with them are seured. On top of this, they also keep your tickets safe inside a deposit box for security.
They are also duly licensed and regulated by a Curacao gaming commission, so you can be assured that they aren't just some shady lottery scammer that will spirit your money away.
LottoKings' Customer Service
LottoKings offers good customer support overall.
On top of a helpful FAQ section, as well as all the informative tidbits scattered around their website, you can also get in touch with them through a variety of channels.
They have an online contact form that you can submit, but if you would rather talk to an agent on a one-to-one basis, they have live chat and phone lines as well. Though take note that these aren't 24/7 lines, so you would have to catch them during their operating hours in order to get in touch.
LottoKings Additional Features
Lottery Education Materials
It's easy to acquaint yourself with their service as well as the games they offer, thanks to education materials.
As I've mentioned before, LottoKings' sprinkles dollops of helpful information across their website. On top of their FAQs, each lottery game page—including syndicates—explain the rules, how much the usual prizes are, and more.
Ease of Use
LottoKings' website design is quite simple, so expect nothing short of a smooth browsing experience.
Like every other lottery site, the latest jackpots are displayed front and center, complete with quick links to their respective lotteries. When you scroll down, you will find helpful information about their services, lotteries, and even their triple satisfaction guarantee (more on this later).
Individual lottery pages offer more information about each particular lottery game, as well. Pretty standard stuff, right?
I like this about LottoKings' website; it's familiar enough for old hands, yet pretty accessible for newcomers, too. Obtrusive ads are nowhere in sight as well, which definitely deserves plus points in my book.
Quick Purchase Feature
What I'm on the fence regarding their website, however, is the quick purchase option.
This is done entirely through the main navigation menu. When hovering your cursor over the Powerball tab, for example, the dropdown menu that pops up gives you the option to quickly purchase tickets. No need to go through the usual process; you'll immediately be redirected to your cart.
If you are in a hurry, this is definitely a good option.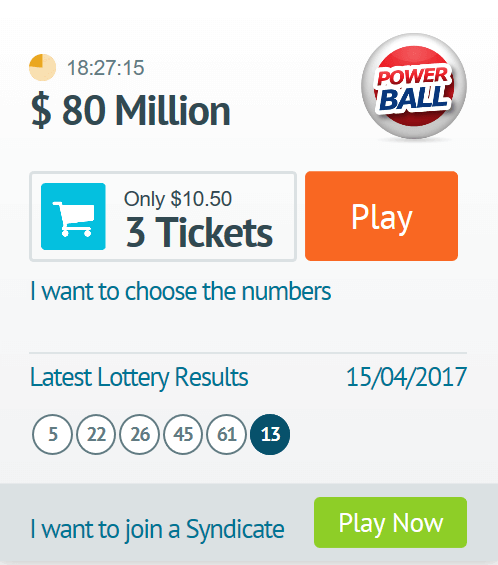 What makes me unsure about the overall practicality of this feature, however, is the fact that you have no control over which numbers are picked.
Plus, you also don't have control over how many plays you can purchase. Megamillions' quick purchase option, for instance, allows you to buy 5 entries only—that's $17.50 worth of plays you never picked the numbers for.
It's also important to note that not all the lotteries they have offers this quick purchase option—just the ones featured on their navigation menu.
Satisfaction
LottoKings' satisfaction guarantee is good, but there's a caveat.
Their "triple satisfaction guarantee" allows you to get a refund if you:
Do not win any prizes in the first 30 days
Aren't satisfied
Don't find their service or website up to par
Take note, however, that if you cancel in the middle of a subscription — that is, not at the end of a subscription and before a renewal — you will have to pay a $10 administration fee for opting out.
How LottoKings Works
Setting Up an Account
Creating an account at LottoKings is free and as easy as pie.
Click on the "Open an Account" button located at the topmost part of their website.
Fill up the registration form.
Click the "Sign Up" button.
Start playing!
Playing
LottoKings works much like any other lottery site out there. It's a pretty straightforward process, too.
Here's how you start playing:
Log in to your LottoKings account.
Pick a lottery game. If you choose to go with the quick purchase option, no need to do the next step—you can pay immediately.
Decide how many entries you want.
Pick your numbers—manually or automatically via the Quick Pick option.
Choose the number of draws you want to participate in—or go with a subscription if you don't want to miss a single draw.
Click on the Submit button and confirm your order.
One thing that LottoKings does differently, though, is that they don't provide scanned copies of lottery tickets. Rather, they provide purchase invoices.
It's a small detail, but having a scanned copy of your lottery ticket is preferable as it provides assurance that you are officially an entrant in the lottery game of  your choosing.
That said, I do think it's still commendable that LottoKings provides an invoice — whereas other companies will just ask you to take their word for it.
Winning
At first glance, their prize claiming process seems pretty standard stuff — but here's where LottoKings goes above and beyond the norm.
For instance, if you win a prize below $600, then it will automatically be credited to your account. However, if you manage to bag a much larger prize, LottoKings will call you personally and provide three options for claiming your prize.
You can:
Submit a claim form. LottoKings will then forward your form to the appropriate lottery commission for verification. Once verified, the lottery commission issues a check in your name and sends it to you.
Claim your prize at any one of LottoKings' offices. This means that, yes, they will claim it for you beforehand, so you can claim it in person at the nearest office.
Claim the prize yourself. If you'd rather do it yourself, LottoKings will mail the winning ticket to you so you can go to the lottery commission in person.
Finally, it's also important to note that unlike some lottery sites, LottoKings does not take commissions from your winnings.
Alternatives to LottoKings
LottoKings is a great online lottery site, but you might want to check out these other options if some of their shortcomings don't agree with you.
They have a huge collection of lottery games!
theLotter offers a whopping 51 lottery games for you to choose from — ranging from popular ones, like Powerball, Mega Millions, and Euromillions, to obscure ones like Italy's Lottomatica.
They have more payment options than LottoKings
They accept a total of 28 deposit methods, and 7 withdrawal methods. On top of Visa, American Express, and MasterCard, theLotter also accepts bank transfers, Skrill, Neteller, CAIXA, and more.
Their ticket prices are more expensive than LottoKings, though.
Unfortunately, theLotter's prices are on the expensive side. LottoKings' prices are much more affordable in comparison.
WinTrillions' game variety is good.
In addition to 19 lottery games, they also offer syndicates, and millionaire raffles —  much like LottoKings.
WinTrillions accepts more payment methods than LottoKings.
They accept 32 payment methods, from popular credit cards like Visa, MasterCard and Amex, to Entropay, JCB, Bitcoin and more.
You won't be able to purchase tickets for single draws.
WinTrillions doesn't allow you to participate in single draws, which slightly drives up ticket prices.
The Bottom Line – Should You Use LottoKings?
For a simple, straightforward online lottery experience, you can't go wrong with LottoKings.
The easy-to-use website gets out of your way so you can enjoy the variety of games on offer, for starters. They also provide 18 lottery games, plus syndicates and raffles. Prize claiming is also made easier than ever, thanks to the 3 options they offer. LottoKings also gets plus points for not taking a cut from players' winnings — not to mention employing good security measures.
On the other hand, there are several areas that they can improve upon. Ticket scans and mobile apps are disappointingly missing in action, while payment methods are fewer than what their previous incarnation, CongaLotto, used to offer.
Despite the small missteps though, LottoKings is still well worth checking out, especially since their prices are more affordable than even the leader in online lottery, see more in our review on theLotter.
About the Company
LottoKings began its life way back in 2007, which was known then as CongaLotto. It became one of the more well-known online lottery sites, and was able to pay winnings that went up to at least $1,000,000 to over 260,000 players. In 2016, they shifted gears and rebranded into the company we now know today. Apart from their name and site design, they have also made a ton of improvements to their service.