Gimme 5 Maine (ME) Lottery Results & Game Details
Lottery Results Updated On: 12 Aug 2020 (GMT)
Gimme 5 Results and Winning Numbers - Maine Lottery (ME)
Winning Numbers
Date

Regular Numbers

10
15
17
19
33

Regular Numbers

07
14
20
24
37

Regular Numbers

05
12
16
19
26

Regular Numbers

06
09
30
33
35

Regular Numbers

02
08
20
22
37

Regular Numbers

05
06
09
24
36

Regular Numbers

10
17
23
35
38

Regular Numbers

02
12
19
22
38

Regular Numbers

02
09
15
28
33
Gimme 5 Maine Hot and Cold Numbers
Hot Numbers
Regular Balls

12

20 Times

24

17 Times

6

17 Times

11

17 Times

5

17 Times

30

16 Times

14

16 Times

8

16 Times

7

16 Times

19

16 Times

22

16 Times

33

14 Times

9

14 Times

38

14 Times

35

13 Times

16

13 Times

17

13 Times

20

13 Times

18

13 Times

3

13 Times

4

13 Times
Cold Numbers
Regular Balls

25

7 Times

23

7 Times

36

7 Times

28

8 Times

39

9 Times

37

9 Times

21

10 Times

27

10 Times

10

11 Times

29

11 Times

31

11 Times

32

11 Times

2

12 Times

15

12 Times

26

12 Times

34

12 Times

1

12 Times

13

12 Times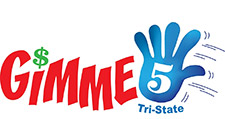 How to Play Maine Gimme 5
Pick Your Numbers
You can use the Easy Pick option and the computer will automatically choose your numbers for you, or you can pick your own numbers by filling out a play slip and selecting five numbers from 1 to 39.
Buy Your Ticket
You can buy Gimme 5 tickets from authorized retailers in Maine. Online play is not available.
Tickets cost $1 per play.
Maine Gimme 5 Drawing Schedule
Gimme 5 drawings are held every Monday, Wednesday, and Friday at 6:59 PM ET. Cut-off time for ticket sales is at 6:45 PM ET on draw nights.
Maine Gimme 5 Payout and Rules
Gimme 5 is a straightforward lottery with a traditional 5/39 matrix. Jackpots are fixed at $100,000 and there are four prize tiers in total.
Maine Gimme 5 Payout and Odds
Play Type
Prize
Odds
5 of 5
$100,000
1 in 575,757
4 of 5
$250
1 in 3,387
3 of 5
$7
1 in 103
2 of 5
$2
1 in 10
Overall Odds of Winning
1 in 9
Maine Pick 4 Claiming Your Prize
Prizes under $600 can be claimed at any Maine Lottery retail agent location.
To claim a prize of $600 or greater, you must bring your winning ticket to the Maine Lottery headquarters in Hallowell. You may also complete this process via mail.
All winners have 1 year after the winning draw to claim their prize.
Other Maine Lotteries
Check latest lottery results, jackpot amounts, winning odds, prize payouts, weekly drawing schedule and other useful information for all Maine (ME) lotteries like Tri-State Megabucks, Lotto America, Lucky For Life, Pick 3, Pick 4, World Poker Tour, Instant Tickets, and the ever-popular multi-state Powerball & Mega Millions lotteries.