Oregon Megabucks
Last Updated: October 3, 2018
Oregon Megabucks is a mid-range lottery that offers tri-weekly draws. Prizes are pari-mutuel and jackpots can keep growing until a winner is declared. It's an easy game to understand, plus you can also add a multiplier to your purchase to win quadruple the advertised secondary tier prizes. What else does Oregon Megabucks have on tap? Join me as I take a closer look!
About Oregon Megabucks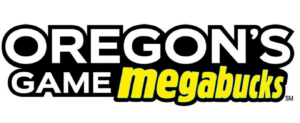 The Oregon Lottery began when an amendment to the Oregon Constitution enabled its existence. During the 1984 general elections, it was approved by voters. It is run by the state and is a part of the Multi-State Lottery Association (or MUSL), and has introduced a multitude of games over the years.
One of those games is the Oregon Megabucks, which was one of the first games they introduced in 1985. Not long after its introduction, the Oregon Megabucks added lump sum and annuity payout options in 1990—the first US-based lottery game to have done so at the time. Over the years it has become the flagship game of the Oregon Lottery, and is usually advertised or referred to as "Oregon's Game".
Quick Oregon Megabucks Facts
Pari-Mutuel: Oregon Megabucks is a pari-mutuel lottery, which means that how large prizes are depends on sales as well as the number of winning tickets.
Rollovers: Oregon Megabucks is also a rollover lottery, which means jackpots can keep growing until someone wins.
Tri-Weekly: Draws are held thrice a week, every Monday, Wednesday and Saturday.
Four Prize Divisions: You only get the chance to win in four prize divisions here, unlike other lotteries.
The Kicker: Like some lotteries, Oregon Megabucks features a prize multiplier that allows secondary prize winners to win as much as four times the amount.
How Does Oregon Megabucks Work?
The Basics
Oregon Megabucks is a pretty easy lottery to grasp. Thanks to its simple mechanics, even lottery novices will have no difficulty understanding the ins and outs of the game. How simple is it? To play, you simply pick six numbers from a selection pool of 1 to 48. To win the jackpot, all six of your numbers must match the winning numbers drawn. Top prizes start at $1 million and can rollover to the next drawing.
Of course, like other lotteries, you can also win by matching less numbers. Unlike other games, however, you can only win in four prize divisions—and you need to match at least 3 numbers to win. The good news is that Oregon Megabucks has some pretty favorable odds (more on this later), not to mention a fantastic multiplier feature.
The Kicker
The Kicker is Oregon Megabucks' answer to the likes of Powerball's Power Play or Mega Million's Megaplier. Essentially, if you add the $1 Kicker to your purchase, it allows secondary prizes to be multiplied by up to four times. For example, if you win in a prize tier that offers $4,000, applying the Kicker would net you $16,000. Check out the table below to get a better sense of the prize breakdown when the Kicker is applied:
| | | |
| --- | --- | --- |
| Numbers Matched | Est. Prize w/o Kicker | Est. Prize w/ Kicker |
| 5 | $800 | $3,200 |
| 6 | $40 | $160 |
| 3 | $1 (or free ticket) | $4 |
The Odds of Winning
As I've mentioned earlier, Oregon Megabucks offers some pretty good odds. Compared to mega lotteries, your chances of winning here are far better—despite the fewer prize tiers. Check it out for yourself below:
| | |
| --- | --- |
| Numbers Matched | Odds of Winning |
| 6 | 1 in 6,135,756 |
| 5 | 1 in 24,348.49 |
| 4 | 1 in 475.34 |
| 3 | 1 in 26.98 |
So What Happens if You Win?
Winners must choose between a lump sum or annuity payout. Going for the lump sum option means you'll be paid all your winnings—around a half of the advertised jackpot—in one single transaction. Meanwhile, going for the annuity option means your winnings will be paid out to you in installments over the course of 30 years.
You have a total of 60 days to make your decision, and if you fail to make your choice before the deadline, your prize will automatically be paid out as an annuity. That said, there are some cases wherein Oregon Megabucks officials may allow you to switch to a lump sum payout scheme—so long as payments have not been made out to you.
Also note that prizes are not tax-free and are subjected to local and federal taxes. Plus, if you played using an online lottery agent service, you may have to settle other fees as well (depending on the service you used). More than that, if you live outside the United States, you may also have to deal with your local tax laws.
The Biggest Oregon Megabucks Winners
Over the years, the Oregon Megabucks lottery has produced a ton of millionaires—thanks to the generally favorable odds. Below are some of the biggest winners so far:
| | | |
| --- | --- | --- |
| Jackpot | Winners | Draw Date |
| $7.8 million | 1 | Mar. 2, 2016 |
| $7 million | 1 | Jun. 10, 2017 |
| $6.8 million | 1 | Nov. 26, 2016 |
| $6.4 million | 1 | Aug. 24, 2015 |
| $5.9 million | 1 | Mar. 11, 2017 |
Oregon Megabucks Fun Facts
The Oregon Megabucks has produced more than 250 millionaires in its existence.
The winner of the $6.8 million jackpot on November 26, 2016 is actually a player from Iraq. The winner used the services of theLotter (Check out my awesome TheLotter Review) to purchase his ticket from the comfort of his home. Unsurprisingly, his big win made huge waves in the industry—which helped bolster theLotter's credibility as the leading lottery agent service even further.
The couple who won the $5.9 million jackpot in March 11, 2017 bagged his big win via a free ticket he won from an earlier draw.
Oregon Lottery officials claim that an alarming amount of Oregon Megabucks players don't claim their winnings. In fact, for the fiscal year of 2015, a whopping $5.9 million in unclaimed prizes were recorded.
Oregon Megabucks funds go to public education, programs that cultivate economic development, and natural resource programs.
Bottom Line on Oregon Megabucks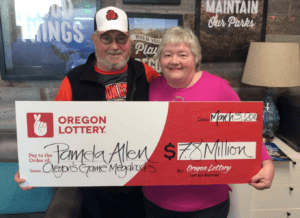 Oregon Megabucks might not offer prizes that go up to 9-figure sums, but this mid-range lottery definitely has something for lottery fans to chew on. Its mechanics are dead simple, the odds are quite good, draws are held three times a week, and the Kicker multiplier allows lower tier winners to take home quadruple the normal prize. It's not the best—nor the most lucrative—lottery out there, but the simplicity plus the good odds are reasons enough to check Oregon Megabucks out.