New York Cash4Life
Last Updated: October 3, 2018
There's a lot to like about New York Cash4Life, a relative newcomer in the lottery industry. It won't beat the offerings of mega lotteries like Mega Millions or Euromillions, but it is one of the few games out there that offers its top prize winner $1,000 every day, for the rest of their lives. Plus, it's very easy to learn and play! Curious? Join me as I take a closer look at New York Cash4Life.
About New York Cash4Life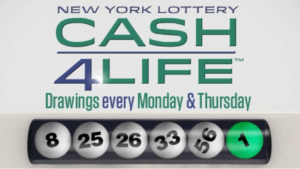 New York Cash4Life is a very young lottery game compared to its peers. It was only introduced into the New York Lottery on June 13, 2014, along with the New Jersey version of the game. It is a bi-weekly, multi-regional lottery game that offers players the chance to win as much as $7M—or $1,000/day for life—per draw.
Quick New York Cash4Life Facts
Bi-Weekly Draws: New York Cash4Life draws are held two times a week—every Monday and Thursday nights.
Simple, Easy Mechanics: New York Cash4Life's mechanics are dead simple—lotto newcomers will definitely appreciate the simplicity.
Nine Prize Tiers: You can win in any of the nine prize tiers of New York Cash4Life.
For Life Prizes: If you win the top two prizes, you can choose to be paid out in lump sum or annuity form. The annuity form allows you to receive either $1,000/day for life, or $1,000/week for life, depending on which prize tier you win.
How Does New York Cash4Life Work?
The Basics
As I've mentioned earlier, New York Cash4Life offers really simple mechanics. To play, you must pick 5 main numbers from a pool consisting of 1 to 60, plus a Cash Ball number from a pool ranging from 1 to 4. To win the jackpot, you must match all five of your main numbers along with the Cash Ball. Meanwhile, to win the second prize, you must match five of your main numbers. There are nine prize tiers in total. It's that simple!
The Odds of Winning
New York Cash4Life offers some relatively favorable odds compared to mega lotteries like US Powerball or SuperEnalotto. It's a smaller lottery, after all—so that's to be expected. For instance, the overall chances of winning anything is 1 in 8. Check out the complete breakdown below:
| | |
| --- | --- |
| Numbers Matched | Odds of Winning |
| 5 + 1 | 1 in 21,846,048 |
| 5 | 1 in 7,282,016 |
| 4 + 1 | 1 in 79,440 |
| 4 | 1 in 26,480 |
| 3 + 1 | 1 in 1,471 |
| 3 | 1 in 490 |
| 2 + 1 | 1 in 83 |
| 2 |  1 in 28 |
| 1 + 1 | 1 in 13 |
| | |
| --- | --- |
| Odds of Winning Anything | 1 in 8 |
So What Happens if You Win?
If you win the top two prize tiers, you can choose between a lump sum payout or annuity payout. If you choose the lump sum, you get $7,000,000 for the jackpot, while the second prize awards $1,000,000 in cash. Meanwhile, if you choose the annuity, you will get $1,000/day for life for the jackpot, while $1,000/week for life for the second prize. Finally, take not that New York Cash4Life prizes are subject to state and Federal taxes, so don't expect to get all of the advertised prize.
The Biggest New York Cash4Life Winners
Because of the unique prize structure of New York Cash4Life, technically there is no "biggest winner." Of course, while there isn't a player that won a prize larger than any other player, that's not to say there aren't big winners. All jackpot winners win $7,000,000 (before taxes) or $1,000/day for life, after all. That's still a respectably large sum! Here are some of New York Cash4Life's jackpot winners:
The first ever winner from New York City of the $1,000/day for life jackpot was Edna Aguayo of Ozone Park, Queens. Edna, a retired transit cop, won the coveted New York Cash4Life on the July 14, 2014 drawing.
The New York Lottery however confirmed that a jackpot-winning ticket for the June 23 drawing was purchased at a 7-Eleven in Bayside—that's a month prior to Edna's win. That said, it's not clear whether the winner did end up claiming his/her prize. There's currently no record of it.
Frederick McClendon, a retired bus driver from Brooklyn, won the top prize by way of—believe it or not—a Quick Pick. He bought his ticket on November 24, 2014 at an MX Wines & Spirits store in Brooklyn, where the clerk would later tell him that someone had won the latest drawing. McClendon checked his ticket immediately and, sure enough, he became the 160th New Yorker that would win more than $1M during the 2014 drawings of New York Cash4Life.
Rodney Cochran, who is also from Brooklyn (and, also worked as a bus driver at the time) won the $7M top prize for the July 31 drawing. At the time of his win he told the press that he would use his prize to help his family and improve his living conditions.
New York Cash4Life Fun Facts
The top three prize tiers have liability limits—which means that should there be more than a reasonable number of winners, each player will automatically get their prize in lump sum form.
Around 55% of ticket sales go to the prize pool.
New York and New Jersey were the first to offer Cash4Life games back in June 2014. However, as of 2017, there are a total of 9 states offering Cash4Life lottery games.
The Bottom Line on New York Cash4Life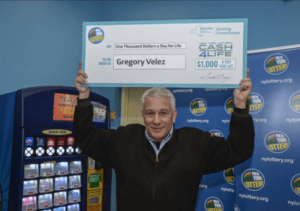 New York Cash4Life is an interesting lottery game. The prizes don't go up to nine figures and the simple mechanics immediately feel familiar. However, it's the prize structure that sets it apart from the rest. Sure, other lotteries allow you to choose between lump sum or annuity payouts, too. But New York Cash4Life takes that concept a step further. Who doesn't want to be paid out $1,000 a day for the rest of their lives?