Marvin and Mae Acosta: California's $327.8M-Winning Powerball Couple
Last Updated: May 26, 2020
Marvin and Mae Acosta: The Powerball Jackpot Mystery
In January 2016, the lottery world buzzed with anticipation. The US Powerball had rolled over to an unprecedented $1.58 billion jackpot — the largest prize in the game's history. Nineteen draws had already passed without any jackpot winners. On January 13, the massive prize would be up for grabs again.
Would anybody win?
Three tickets matched the numbers drawn that night: 4, 8, 19, 27, 34 for the main numbers, and 10 for the Powerball. The winning tickets had been bought in California, Florida, and Tennessee. More than 26 million tickets won other minor prizes for the January 13 draw, but the only question on everybody's lips was: Who would be splitting the historic Powerball jackpot?
Just days after the draw, the winners from Tennessee came forward to claim their prize. John and Lisa Robinson of Munford took their share of the jackpot in a lump-sum payment. A little over a month later, Maureen Smith and David Kaltschmidt from Melbourne Beach presented themselves as the owners of Florida's winning ticket.
California's jackpot winners were the only ones left. But month after month passed, and it didn't seem as though anybody would claim the rest of the $1.58 billion Powerball prize.
Who are Marvin and Mae Acosta?
The Lucky Powerball Couple from Chino Hills, California
News quickly spread about the mysterious California ticket-holders: The winning ticket had been bought at a 7-Eleven in Chino Hills, a quiet suburb to the east of Los Angeles.
Lottery players flocked to the place to buy tickets for the next draws, hoping that the store's luck would rub off on them. Meanwhile, Balbir Atwal, the convenience store's owner, himself received $1 million as a bonus for selling the lucky ticket.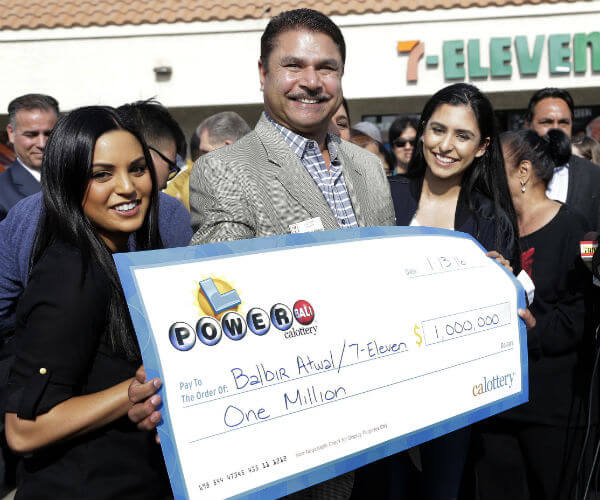 It wasn't until July 2016, that Atwal and the rest of the country would know who owned the winning ticket.
Six months after scoring the largest win in Powerball history, Marvin and Mae Acosta walked into the California Lottery's Van Nuys office to claim their prize. The couple came with a security detail. But security personnel weren't all that they'd prepared.
The Acostas had spent all those months building a team of lawyers and financial advisors to help manage their newfound wealth. Luckily, California gives jackpot winners up to a year to claim their prize money. In a statement released shortly after the Acostas' visit, the California Lottery's director, Hugo Lopez, even praised Marvin and Mae Acosta for taking the time to plan their financial future.
Marvin and Mae Acosta Net Worth
Since they chose to get their prize as a lump sum, Marvin and Mae Acosta took home $327.8 million before taxes. Thanks to California laws that exempt lottery winners from state tax, the Acostas only had to pay federal taxes for their winnings.
In a statement that they released after claiming their prize money, the Acostas noted that they planned to commit most of their winnings to a trust and to their chosen charities.
The Marvin and Mae Acosta Charities: Are These a Scam?
Those same charities have become the subject of many scams. Marvin and Mae Acosta have disappeared from public life since their landmark win, and scammers have taken advantage of their radio silence.
The scams usually take the form of emails, supposedly from Marvin or Mae Acosta. Recipients are either asked for donations to the Acostas' charities, or they're offered a share of Marvin and Mae Acosta's Powerball winnings. Either way, the emails ask recipients to send personal information to the email sender.
Scammers then use that information to extort money from the recipients. Usually, they do this by asking for donations or requesting for "transaction fees" to facilitate a bogus transfer of money to the recipient's account.
Here's a sample scam email:
Mr. Acosta donates to you.

Its heart warming to receive a response from you, but first, we will love to introduce our selves, I am Marvin Acosta , and my wife's name is Mae Acosta, we are the Chino Hills Power-ball Jackpot Winners of one-third of the historic, world record-breaking Power-ball jackpot of $1.58 Billion on January 13th 2016, and we finally came out to claim our share of the prize on July 19th 2016, which was an incredible $528.8 million, after which we were given a lump sum cash payment of $327,835,000.

We actually left the States after claiming our money and we are currently here in Luxembourg because we needed privacy and due to some previous stories we heard about some previous winners" we decided to come down here on a long vacation and to help others by donating part of our gift from God, and we also want it to be a private donation, we never had the plans of coming down here from the United States, but we were advised to do so by our attorney because, she knew there is gonna be a lot of responsibilities that is gonna come along with the win.

We just started our donation project ahead of the Xmas celebration and we are donating the sum of $1,800,000.00 U.S. Dollars to our church and 20 lucky Individuals from our $327,835,000 Jackpot, not because the money is too much but because we want the money to go round, and please, we will like you to assist as much as you can, with this money as soon as it gets to you, most especially, the needy around you, although we are just knowing you for the first time but we believe our heavenly father has directed us to you as we seek the advise of financial advisers and we also prayed and searched over the internet for assistance and we saw your email on a list of registered email addresses that was provided to us by Microsoft and AOL management team from which your email was selected, so if you receive this email from us, we believe you were chosen by God to receive our donation of $1,800,000.00 U.S. Dollars and we also hope that, you are a God fearing individual being a Christian or a Muslim, and as a believer, we believe that good things happens to those people who wait and also believe.

Please be rest assured that, you stand no risk as this is our money, for source and verification please click here on the Acosta family or see the link below

We are doing this not to gain fame as a matter of fact, we have decided to put this away from the media and our sole purpose of doing this was a result of a long talk with my wife who said to me "Honey, there are families out there who still survive on pay check and some nothing" I knew exactly what she was talking about because i have thought of it too.

We would love to introduce our selves more and also show you pictures of our lovely family but firstly we would like to know more about our winner by replying back with the below information's:

Your Name:

Country:

Mobile/Telephone number:

Age:

if you have kids:

May the Good Lord bless your heart to be a blessing to your family and your society as soon as our donation gets to you.

GOD BLESS YOU !

Mr & Mrs Marvin Acosta.
A friendly reminder from Lottery Critic: If you ever receive an email claiming to be from Marvin or Mae Acosta, don't reply or click on any links.
It goes without saying that Marvin and Mae Acosta are not emailing random people in order to send them millions of dollars. Don't fall prey to scammers trying to use the Acostas' names.
Lessons in Winning the Lottery
Avoiding lottery scams is one valuable lesson, but Marvin and Mae Acosta provide other examples worth following for any lottery player.
Considering how many lottery winners end up broke, for example, the Acostas' months of preparation make sense. The massive windfall represents a big change in the couple's lives. In fact, journalists who had looked into public records for information on Marvin and Mae Acosta found that a family with the same names had moved out of an Eastvale, California home just a day before the Acostas came forward.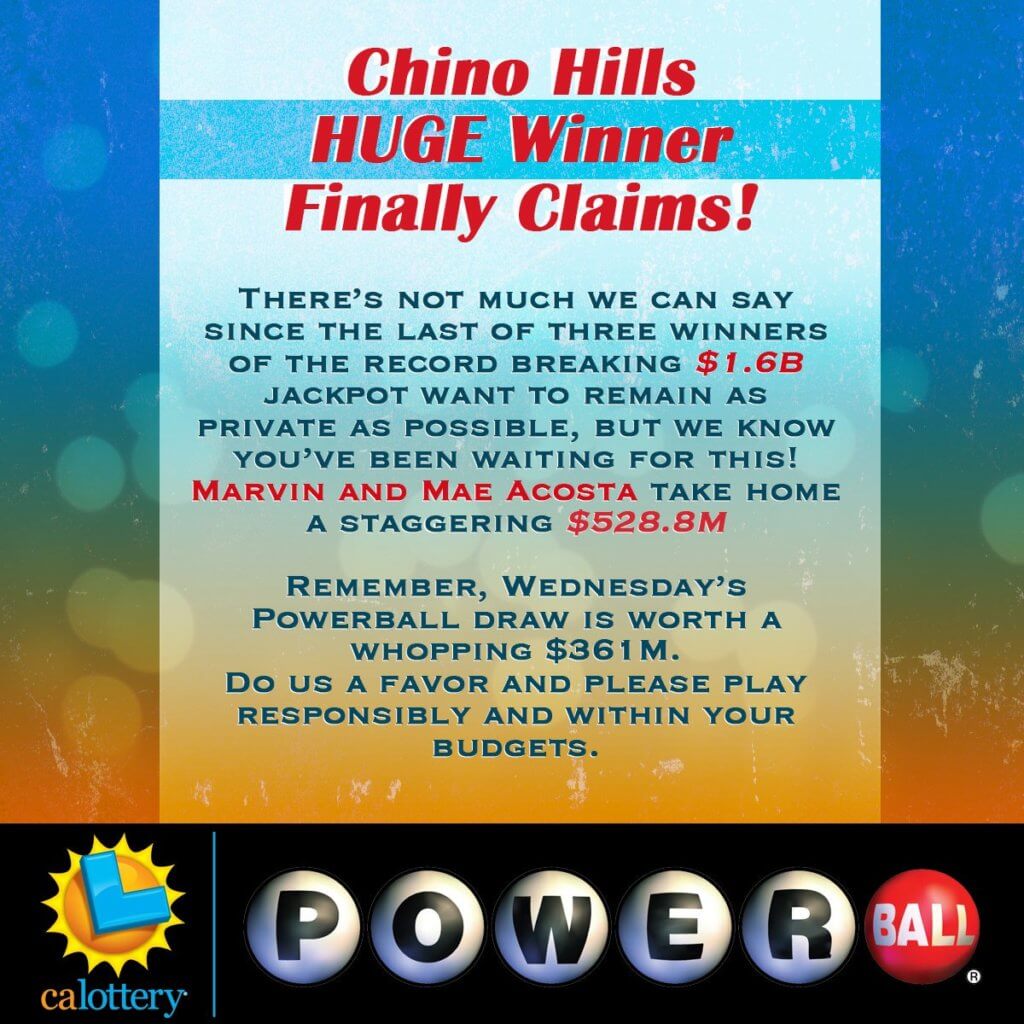 Under California state law, lottery winners' names must be made public. Even so, Marvin and Mae Acosta took care not to reveal anything more than their names when they came to the California Lottery office. The couple even refused photographs and interviews, and they have all but disappeared from public view since claiming their prize.
As with their preparation efforts, the Acostas' insistence on privacy makes sense considering their circumstances. The Charlotte Observer, looking up public records on the Acostas, determined that Marvin and Mae Acosta hit the Powerball jackpot at 39 and 40 years old, respectively. While they're far from the youngest lottery winners of all time, that still gives them decades of public scrutiny if they'd chosen to disclose more personal details.