theLotter vs Lotterymaster: The Ultimate Battle of Lottery Sites
Last Updated: May 6, 2021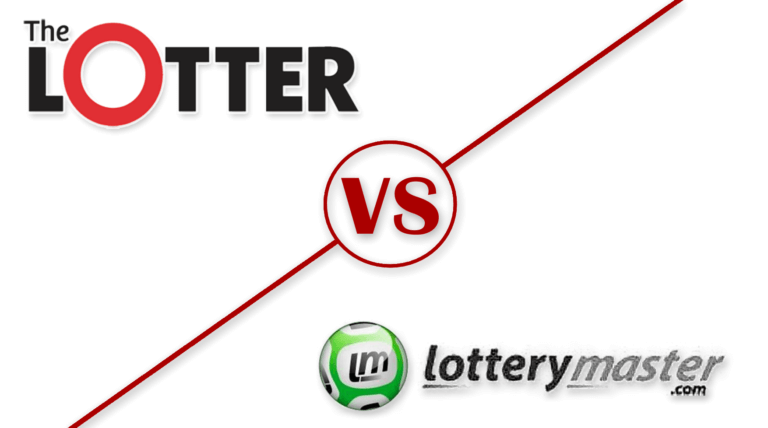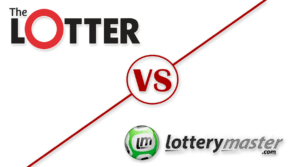 There are dozens of sites on the internet, all claiming to have the best platform and user-experience. Among those that stood out are theLotter and Lotterymaster. The former is well-regarded in the industry, while the latter is quite competitive. Let's compare them and you decide which of the two is the "master of the universe." Will it be theLotter, or Lotterymaster? Read on!
A Quick Look at Both Companies
theLotter was created back in February, 2002, making it one of the first online lottery sites to be established. The company is currently being operated by The Lotter Enterprises Limited, headquartered in Belize. They have over 20 offices worldwide where their staff purchases lottery tickets from official retailers on behalf of their clients.
Lotterymaster is registered in Malta by Safe Global Payments Limited with an operational address out of Bulgaria. Tickets can be purchased for major lotteries in the US, United Kingdom, Canada, Australia and Europe.
theLotter
Lotterymaster
Pros
A whopping 50 international lotteries and 25 syndicates to choose from.
Offers repeat player discounts and bonuses in their Frequent Player Program.
Website offered in 13 languages
Customer service available via chat, email and phone.
Payment options include 32 deposit and 7 withdrawal.
Lottery info section gives detailed view of 12 main lotteries.
Cons
Extra handling fees added to the price of the ticket.
Currently not offering syndicate play.
Limited amount of payment options.
Winner: theLotter
[thelotter_cta]
Number of Games Offered
Let's be honest – it's a numbers game and the more games offered translates to more ticket sales and more site visitors. Variety is the spice of life and theLotter is clearly in the lead here. They offer 50 lotteries from all over the globe as well as 25 syndicate games. And to top it off, bundles are offered in all the major lotteries such as Powerball, SuperEnalotto, EuroMillions Superdraw, to name a few.
Lotterymaster needs to step up their game (pun intended) to catch up here.  With an offering of 12 games, they are clearly not up to speed. Here is a comparison checklist:
| | | |
| --- | --- | --- |
| Lottery Games | theLotter   | Lotterymaster |
| Australia – Oz Lotto | ✓ | ✓ |
| Brazil – Mega-Sena | ✓ | |
| California – Super Lotto Plus | ✓ | |
| Canada – Lotto 6/49 | ✓ | ✓ |
| Colombia – Baloto | ✓ | |
| Europe – EuroJackpot | ✓ | ✓ |
| Europe – EuroMillions | ✓ | ✓ |
| Europe – UK Lotto | | ✓ |
| Ireland – Lotto | ✓ | |
| Italy – SuperEnalotto | ✓ | ✓ |
| Poland – Lotto | ✓ | |
| Spain – BonoLoto | ✓ | ✓ |
| Spain – El Gordo | ✓ | ✓ |
| Spain – La Primitiva | ✓ | ✓ |
| USA – MegaMillions | ✓ | ✓ |
| USA – New York Lotto | ✓ | ✓ |
| USA – Powerball | ✓ | ✓ |
Syndicates
theLotter
Lotterymaster
25
0
And kudos to theLotter which also offers bundles that include both personal and syndicate entries. Wherefore art thou, Lotterymaster?
Winner: theLotter
[thelotter_cta]
Ticket Prices
While theLotter is hands down the winner in the sheer number and variety of games, it gets points knocked off in ticket pricing.  Unfortunately, players have to buy multiple lines, rather than just one.  So, if you budgeted enough to buy one US MegaMillions ticket on theLotter, you can't.  Instead you have to buy a minimum of 3 for a total of US $15.
Whereas, Lotterymaster offers a single line for US $3. Now if you're doing the math like I am, 3 tickets at theLotter for US $15 is a lot more than 3 tickets at Lotterymaster for US $9.  But let's take it one step further.  If you have the extra cash sitting around to buy more tickets, in most cases, theLotter is a better deal.   Let's take a look at a comparison chart (all in US $) which is based on the minimum purchase for both sites:
| | | |
| --- | --- | --- |
| Lottery Game | theLotter | Lotterymaster |
| Australia – Oz Lotto | $15 – 6 line minimum | $2.99 – 1 line minimum |
| Canada – Lotto 6/49 | $11.80 – 2 line minimum | $7.25 – 1 line minimum |
| Europe – EuroJackpot | $18.45 – 3 line minimum | $8 – 1 line minimum |
| Europe – EuroMillions | 20.70 – 3 line minimum | $8.35 – 1 line minimum |
| Italy – SuperEnalotto | $15.50 – 5 line minimum | $8 – 1 line minimum |
| Spain – BonoLoto | $14.80 – 8 line minimum | $2.04 – 1 line minimum |
| Spain – El Gordo | $14.85 – 3 line minimum | $6.00 – 1 line minimum |
| Spain – La Primitiva | $12.40 – 4 line minimum | $4 – 1 line minimum |
| USA – MegaMillions | $15 – 3 line minimum | $3 – 1 line minimum |
| USA – New York Lotto | $9 – 6 line minimum | $1.50 – 1 line minimum |
| USA – Powerball | $15 – 3 line minimum | *** see note |
*** When clicking on the "play" button to buy a Powerball ticket on Lotterymaster, one gets redirected to another site that is not secure!
Winner: Both. theLotter doesn't allow purchasing 1 ticket line like Lotterymaster but in most cases has better multiple line pricing.
Bonuses and Perks
Who doesn't want a few bonuses and perks thrown into the mix? theLotter takes this very seriously and outshines the Lotterymaster all the way!
Both websites offer some form of a loyalty program. Joining the VIP club of theLotter can save players 5% (Silver level) to as much as 20% (Diamond level) on all tickets on top of subscriptions and multi-draw discounts. Lotterymaster offers a Frequent Players Program or FFP which offers either cash back in bonus money and additional discounts.
Subscription services are both offered at these competing online websites but theLotter ups the ante by giving the subscriber a minimum of every 10th lottery ticket free and 25 VIP points on the spot.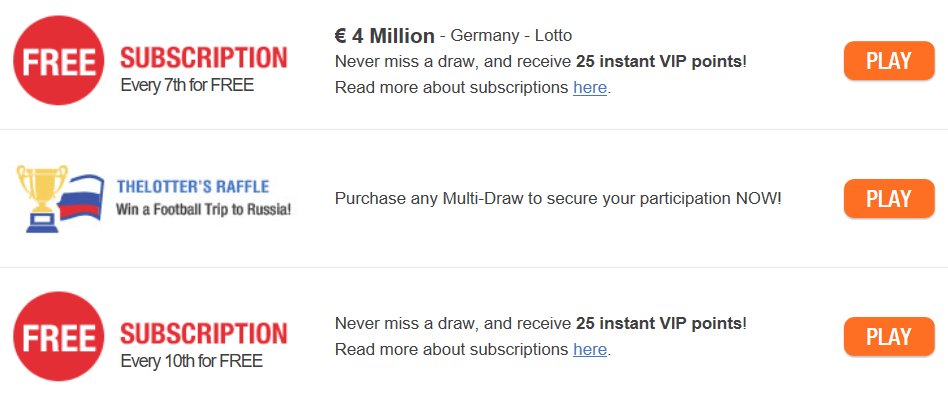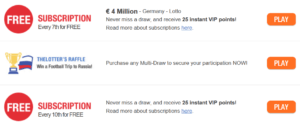 One teaser on theLotter's Special Offers page was a raffle to win a football trip to Russia by purchasing any multi-draw! Clicking on the link brought me to the page to purchase tickets for the EuroMillions Superdraw in Spain for €130 million to be held in April 2018.
Again, theLotter goes the extra mile to make their players happy with their Tell A Friend promotion club. Invite friends to play and after they register, you will get $10 in bonus money and your pal also gets $5 in bonus money within 24 hours of that first ticket purchase. Everybody's happy!
Lotterymaster offers a "Tell a Friend Bonus" but it's not clear what you or your friend receive as a bonus. They claim that "you will get a free participation in a pool of players in a lottery draw" which is the "bonus" and your friend gets nada.
This is an apples-to-apples comparison, meaning both sites have similar bonuses and perks. However, Lotterymaster is like the tiddly pomme, the world's tiniest apple of New Zealand which is the size of a golf ball and theLotter is the size of a large McIntosh or Cortland – both are apples but one is just bigger!
Winner: theLotter
[thelotter_cta]
Ease of Use
Both theLotter and Lotterymaster's online websites are easy to use, with quick navigation without having too many needless clicks and have user-friendly language. Having said this, Lotterymaster is almost too simple – not too many bells and whistles.
One feature that jumps to the head of the line to capture that coveted ticket buyer is language options. Not many of us are polyglots. We can read a menu in our native tongue but reading the fine print in a lottery website in another language – not so good.
Lotterymaster offers their website in 4 languages – English, French, German and Russian. But theLotter triples that number adding Spanish, Portuguese, Italian, Chinese, Japanese, Polish, Romanian, Svenska (Swedish), and Magyar (Hungarian).
Both sites have jumped on the social media bandwagon with Facebook, Twitter and Google+. But again, theLotter stays ahead of the game by adding a fourth platform – YouTube!
Winner: theLotter
[thelotter_cta]
Mobile App
Yes, we are one big global community today and communication is at the tip of our fingers – literally! We are wired and connected to each other 24/7 and in ways that are incredible and awesome. We tend to take this connectivity for granted and when the Wi-Fi acts up or when we are in a dead zone with no signal, hell hath no fury like a techie scorned. Or something to that effect.


Buying an online lottery ticket on your mobile phone while sitting in an Uber or waiting to board a flight at the airport is just a no-brainer! I can order toilet paper and cat litter to be delivered to my house from my phone so why not a lottery ticket?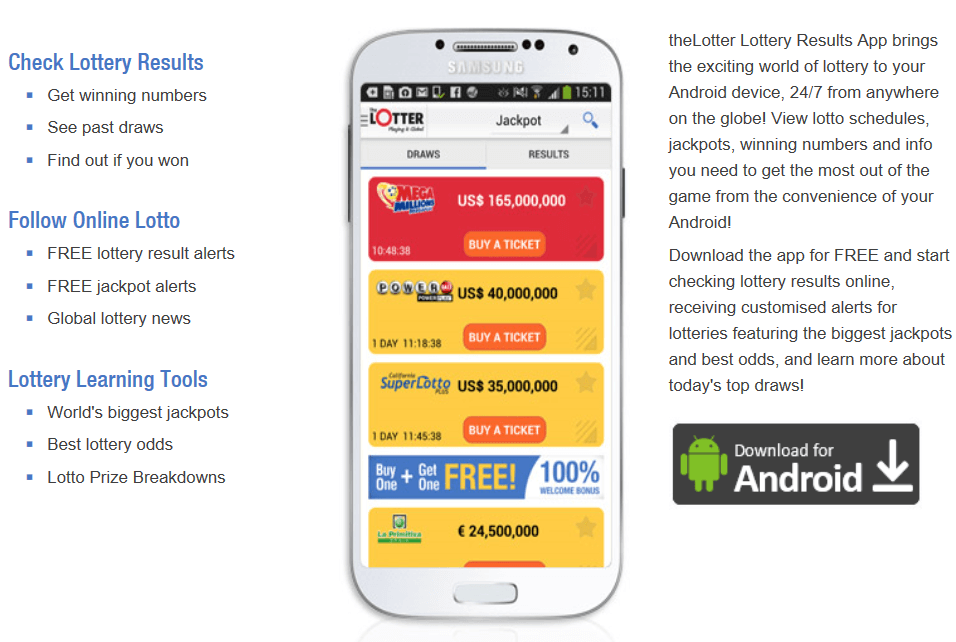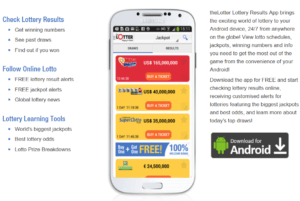 Well, theLotter offers apps for the iPhone, Android and iPad so you can get global jackpot info, instant results, tickets and the most important feature – do I have the winning ticket? Lotterymaster doesn't offer this feature which knocks them back to the pre-digital dark ages.
Winner: theLotter
[thelotter_cta]
Banking
Online banking can be both a blessing and a curse in lottery ticket purchases. A savvy player needs to sort out the various options for depositing and withdrawing cash, different currency options, etc. before hitting that "play" button.
The clear winner in this battle is theLotter with a staggering 32 deposit and 7 withdrawal options! Lagging behind is Lotterymaster's 6 banking options which limits playing in the international lottery world. Here is a partial list:
| | | |
| --- | --- | --- |
| Deposit Options | theLotter | Lotterymaster |
| Visa | ✓ | ✓ |
| MasterCard | ✓ | ✓ |
| Skrill | ✓ | |
| POLi | ✓ | |
| Giropay | ✓ | |
| WebMoney | ✓ | |
| iDeal | ✓ | ✓ |
| Klik & Pay | ✓ | ✓ |
| Maestro | ✓ | |
| Nordea | ✓ | |
| ePay.bg | ✓ | |
| Itau | ✓ | |
| Banco de Brasil | ✓ | |
| OXXO | ✓ | |
| Trustly | ✓ | |
| Yandex | ✓ | ✓ |
| QIWI Wallet | ✓ | ✓ |
| Neteller | ✓ | |
| CartaSi | ✓ | |
Winner: theLotter
[thelotter_cta]
Claiming Prizes and Security
Don't overlook this important section! This may make you think twice before clicking the "play" button. When that jackpot hits 7 figures, like the US Powerball, most of us follow the results no matter which time zone we live in. At theLotter, winners get an automatic email notification, but they must sign up to their Alert Service with a valid mobile number to get the SMS. Their Terms of Service sections 11-13 clearly spells out their notification procedure.
Things get fuzzy with Lotterymaster's notification procedures. In their Terms of Use section, they basically throw the responsibility to collect winnings on the player and "such notification will be done solely via the User Account." Hmmm. I assume this means that every player has to login to their account and check if they are a winner according to Lotterymaster.  Seems like someone is asleep at the wheel at Lotterymaster.
A jackpot win at theLotter means that the money (minus any taxes) will be deposited in your account – no matter if it's $2,500 or $2 million. Lotterymaster, on the other hand, will charge an additional 10% commission if the winning ticket is US $1 million or higher due to additional handling involved. So, on a US $2 million winning ticket, they take out US $200,000 to cover their costs!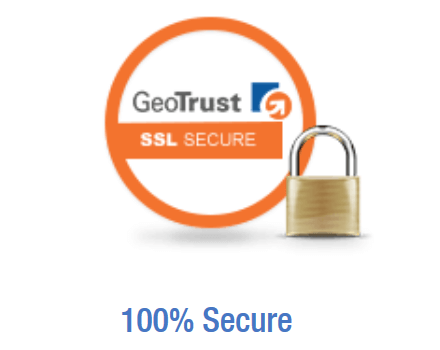 Safeguarding personal and banking information should be high on any online lottery player's list. The home pages of both websites claim to have protective measures in place – GeoTrust 128-bit SSL security layer at theLotter and McAfee Secure at Lotterymaster. With deeper digging on Lotterymaster's payment section, they claim that all payment details will be encrypted under GeoTrust 128 SSL bit security.
These issues are crucial for all online lottery players and should determine which website gets the business. Answers to these simple questions should be spelled out and transparent – did I win, how do I get my winnings and how safe is my info.  My hats off to theLotter team on making the online lottery experience as painless as possible.
Winner: theLotter
[thelotter_cta]
Customer Support
Help! Who you gonna call? Not the Ghostbusters – that's so 1980's. Things go wrong in life and online lottery is not excluded. A sign of a smart and legit site is a dedicated customer service and support system.
Email, fax, live chat in 13 languages, and 8 toll-free numbers in the UK, Russia, Australia, Germany, Canada, South Africa, Ukraine and France are offered by theLotter. And they are on the social media bandwagon with WhatsApp, Facebook, Twitter, Google+ and YouTube! Plus, their FAQ section is very thorough with more info provided on the drop-down menu.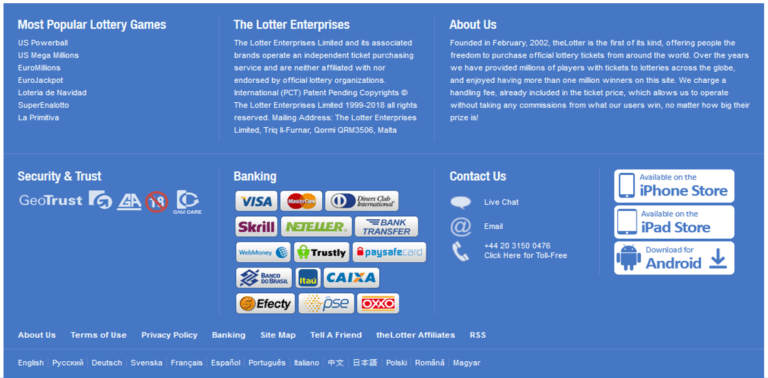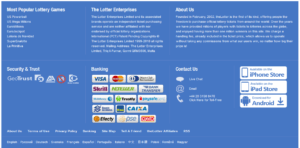 Lotterymaster offers email, 4 phone numbers in the UK, Australia, New Zealand and South Africa and a chat line that appears not to be online all the time. They have a dictionary that provides definitions of commonly used online lottery terms and also offer information via Facebook, Twitter and Google+.
Winner:  theLotter
[thelotter_cta]
The Ultimate Winner: theLotter
The undisputed winner in this match is theLotter. They've done their homework to give the online lottery player an optimum playing experience. More games, more languages, more payment and customer service options along with mobile apps all demonstrate that theLotter outshines the competition and is simply the better choice.
[thelotter_cta]