What State Has The Most Lottery Winners?
Last Updated: July 21, 2019
Find out if your state has a high tendency of producing lottery winners in the tables below.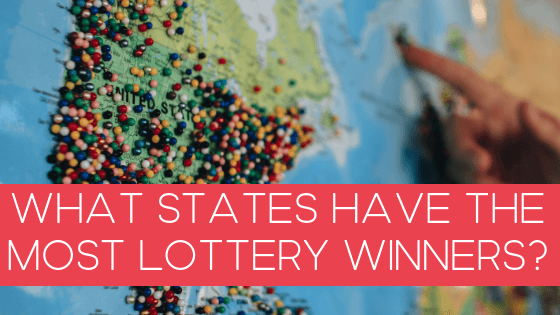 We've shared dozens of jackpot winners' stories in the past – where they're from, how much they've won, and what they're up to these days. Now, let's find out where most of these wins take place.
Or more specifically, which states have the most lottery winners?
In this article, we'll show you exactly that. We've compiled partial lists of lottery wins by state – covering the top 10 for the two biggest games out there. We separated that into three tables for easy reference – one for Powerball, another for Mega Millions, and a third to account for both lotteries.
Our Counting Method
But before we go over the numbers, let's first establish how we went about finalizing our rankings.
We only counted jackpot wins for Powerball and Mega Millions.
If a jackpot was split between multiple ticket-holders, each winning ticket-holder counts as one win.
If a winning ticket is owned by a group of people (eg. a lottery syndicate), that win still only counts as one.
If a winner is originally from one state, but purchased their ticket from another, the win is credited to the state where the ticket was purchased.
Also, we added the approximate number of years each state has been a member of the stated lottery. This is represented as # of Years Operating in the tables below, and should give you more context to determine just how "lucky" a state is.
Top 10 States with the Most Powerball Winners
Powerball first started in 1992 – the year it replaced its precursor, Lotto*America (not to be confused with Lotto America, a game that still exists today).
Over the years, the game added more member states to their ranks, and this has only increased its popularity. Today, it stands to be one of the biggest lotteries out there, and has turned dozens of lucky individuals into instant millionaires.
So where are all those winners from? We'll break that down in the table below.
The states with the most Powerball winners are:
Jackpot Wins
State(s)
# of Years Operating
39
Indiana
27
31
Missouri
27
22
Minnesota
27
18
Kentucky
Pennsylvania
27
17
17
Louisiana
Wisconsin
24
27
13
Arizona
25
12
Florida
10
11
Kansas
New Hampshire
Washington DC
27
24
27
10
Nebraska
Delaware
25
27
9
Iowa
New York
27
9
It comes as no surprise that majority of the winners are from Indiana, Missouri, and Minnesota. After all, these states have been selling Powerball tickets since the game's early days. Props to New York, though. They made the cut even if they joined in on the fun less than a decade ago.
Top 10 States with the Most Mega Millions Winners
Mega Millions launched in 2002. Its predecessor, The Big Game, started in 1996 and was only available in 6 participating states. More states have joined the consortium since then and the game has evolved into the version we all know today.
Even though Mega Millions started 10 years after Powerball did, it's gained a large following and has produced its fair share of winners, too.
Below are the states with the most number of Mega Millions winners:
Jackpot Wins
State(s)
# of Years Operating
36
New York
17
30
California
14
21
New Jersey
17
19
Ohio
17
17
Michigan
17
15
Georgia
17
12
Texas
16
11
Maryland
Illinois
17
17
9
Virginia
17
5
Washington
17
Interestingly, a man from Georgia named Stephen Cooke experienced a double-win when he bought two winning tickets for the November 11, 2003 Mega Millions draw. That's right – he played the same numbers twice and won the jackpot! For the purposes of this tally, we counted his two wins as one.
The Luckiest States
So which states have the most lottery winners overall? This table provides a quick overview:
| | | | |
| --- | --- | --- | --- |
| State | Powerball Wins | Mega Millions Wins | Total Wins |
| New York | 9 | 36 | 45 |
| Indiana | 39 | 2 | 41 |
| California | 8 | 30 | 38 |
| Missouri | 31 | 2 | 33 |
| New Jersey | 8 | 21 | 29 |
Finally, it's also interesting to note that four states have not produced any Powerball or Mega Millions jackpot winners at all. These are Maine, North Dakota, Vermont, and Wyoming. Perhaps playing the lottery isn't very popular in those places.