Can Lottery Winners Remain Anonymous?
Last Updated: February 20, 2023
Yes, but the list of states that allow it isn't very long.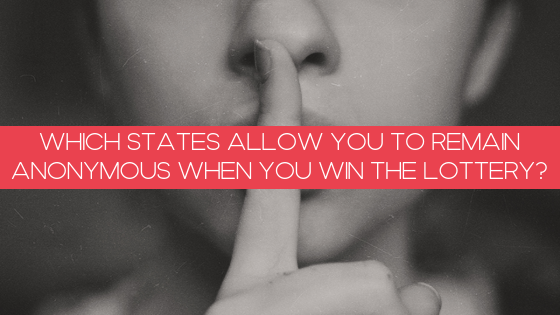 In this article, we'll show you which US states let lottery winners stay anonymous. We'll also talk about why most states don't allow it, and what measures you can take to protect your privacy in case you do win.
What States Allow Anonymous Lottery Winners?
Apparently, just a handful. Only 9 US states allow lottery winners to protect their privacy and stay anonymous. Those are Arizona, Delaware, Georgia, Kansas, Maryland, North Dakota, Ohio, and Texas.
Some states have different rules. For some lotteries, only winners of prizes over a certain threshold are allowed to remain anonymous. Check out the table below for more details.
States that allow lottery winners to remain anonymous
| | |
| --- | --- |
| State | Who can stay anonymous? |
| Arizona | Winners of prizes $100,000 and above |
| Delaware | All winners |
| Georgia | Winners of prizes $250,000 and above |
| Kansas | All winners |
| Maryland | All winners |
| North Dakota | All winners |
| Ohio | All winners |
| South Carolina | All winners |
| Texas | Winners of prizes $1 million and above |
Take note that in Arizona, lottery winners of prizes $600 and above also have the option to remain anonymous – albeit temporarily. Their names and identities are kept private for 90 days after the prize is awarded, and only made public knowledge after that time period is up.
States that do NOT allow lottery winners to remain anonymous
All other states not included in the previous list either do not have a state lottery, or require winners' identities to be released to the public. This includes their name and usually, their photo.
However, there have been some exceptions in the past. Take a look at some special cases where a lottery winner was granted an exception and got to collect their prize while keeping their name secret:
In New Hampshire, a woman filed a lawsuit against the state's lottery commission in order to keep her identity off public record. She was the $560 million jackpot winner from the January 6, 2018 Powerball drawing. After a short trial, she was allowed by the ruling judge to remain anonymous and was only required to disclose the name of her hometown, Merrimack. The judge ruled in her favor citing that disclosing her name would jeopardize her safety, and that the Powerball numbers were drawn in Florida anyway.
In Oregon, a man from Iraq who purchased his Oregon lottery ticket from a third-party website won $6.4 million from the August 24, 2015 Megabucks drawing. Months later, he was able to travel to the lottery headquarters in Salem where he collected his earnings. After speaking with the lottery director, he was also given the opportunity to stay anonymous to protect his safety when he returned home.
Why Can't Lottery Winners Remain Anonymous?
The reason is quite simple. Announcing winners' identities gives players the assurance that the game isn't fixed and that real, everyday people have a shot at winning. It's a layer of transparency that is integral to the success of the game. With confidence in the lottery, more people are inclined to play, which in turn produces more excitement about the game, bigger jackpots to be won, and more significant contributions to society –  the goal of all US lotteries.
Former New Jersey governor Chris Christie, when asked to explain why he voted against passing a lottery anonymity bill in his state, said it best:
"This bill could undermine the transparency that provides taxpayers confidence in the integrity of the lottery and its games. Moreover, the bill could have the unintended consequence of reducing lottery sales by hampering marketing efforts and the public excitement generated when lottery winners are announced."
What Can Lottery Winners Do to Protect Their Privacy?
There are some ways that let players protect their identities when playing the lottery. Here are some of them:
Claim your winnings through a trust or other legal entity. This is a common practice in states that do allow it, which includes Colorado, Connecticut, Massachusetts and Vermont. The idea is to first set up a trust and then request the lottery to award the winnings to said trust. Ask for help from a lottery lawyer on how to do this, if whether or not it's plausible in your state, and if there are other ways you can protect yourself and your money.
Wait for the hype to die down a bit. In most states, winners have 6 months to a full year to claim their prize. Be warned, however. This strategy isn't always effective as sometimes, the closer to the deadline you wait, the more buzz around the uncollected prize money there is.
Participate in group play or syndicates. Playing with others can also be a way to minimize your risk and exposure. Your name is less likely to make headlines and you'll be increasing your chances of winning as a bonus. The drawback, of course, is that you'll end up winning less.
You can also enlist the service of a third-party lottery website when playing. These sites aren't in the limelight as often as official lotteries are, and some of these services will allow you to stay anonymous completely. You can check out our list of recommended lottery sites for more specifics.