Comparison Of Lottery Affiliate Programs
Last Updated: July 21, 2020
The lottery is a multi-billion-dollar industry. That's why it is considered by many as a stepping stone to financial freedom. But did you know you don't even have to win the lottery to earn money from it? All you need is a website, marketing grit, and the best lottery affiliate programs to partner with. Not familiar with any lottery affiliate programs? We've got you covered! Below are some of the best lottery affiliates we've come across so far. And if you're skeptical, don't fret! We are a member of many of these lottery affiliates, so we have first-hand experience to back it up!
theLotter Affiliates
TheLotter Affiliates
is theLotter's very own simply named lottery affiliate program. theLotter is one of the most popular online lottery sites around, and is known as an industry pioneer. They've been around since 2002 and have been growing bigger ever since. With over 3,930,930 winners worldwide, they've shown no signs of slowing down any time soon. Best of all, they have a
very high lifetime value per player.
So, in short, they are the perfect lottery affiliate program to partner with.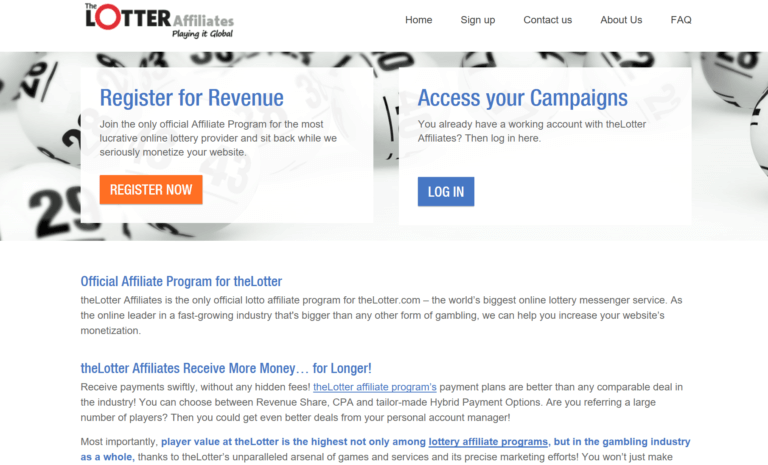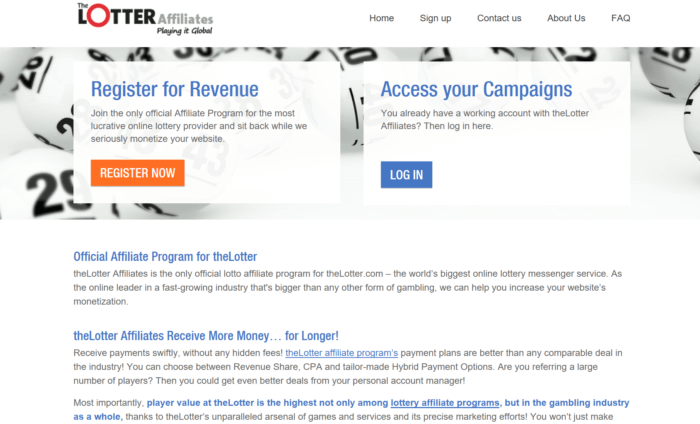 Why Choose theLotter Affiliates?
Launch a campaign immediately and without hassle.
Get assigned a personal affiliate account manager.
Receive payments quickly, no hidden fees.
Choose between Revenue Share, CPA or tailor-made Hybrid Payment Options.
Refer a large number of players, get better deals from your account manager.
Control panel with in-depth statistics. Check sales from referrals, traffic, training materials, and more.
theLotter Affiliates pays out commissions via PayPal, Neteller, Skrill, Webmoney or Bank Transfers.
24/7 support via phone, live chat, Skype, and email.
Lottery Affiliate Marketing Tools
theLotter Affiliates
offers a bevy of useful marketing tools for boosting conversions. They have multi-language banners, dynamic banners, widgets, pop-ups, video ads, and more. theLotter Affiliates can also provide customized tools and/or creatives upon request. All you need to do is let your affiliate account manager know about it.
Lottery Partner
Established in 2012, Lotto Agent is currently among the top rankers in our list of the best lottery sites. They offer some of the biggest international lotteries and pocket-friendly prices. You'd be crazy not to at least give Lotto Agent and its
lottery affiliate program, Lottery Partner
, a look!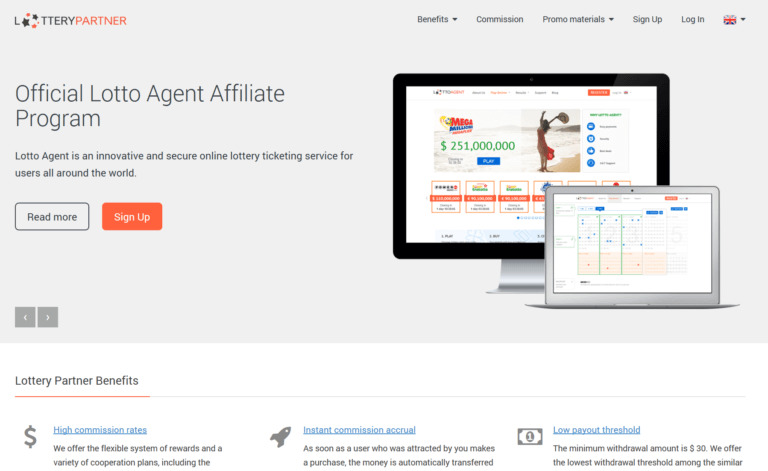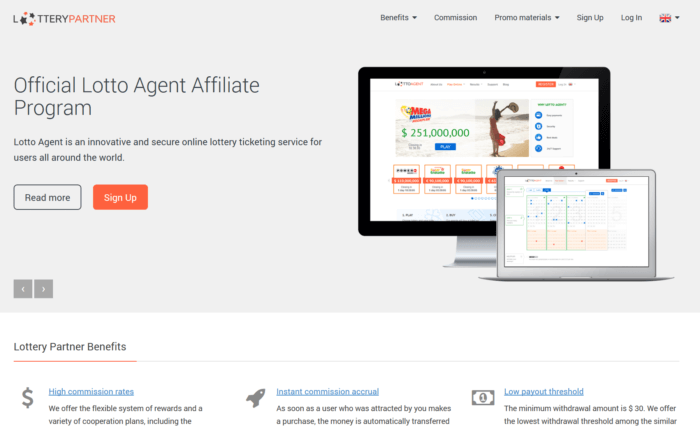 Why Choose Lottery Partner?
High commission rates. Around 10-20% for Revenue Share, or $15 or more for CPA.

Choose between Revenue Share, CPA or a special Hybrid Plan.

Immediately get paid as soon as a referral buys a ticket.

Withdraw as low as $30.

Get detailed statistics on commissions, fees, referred users, and more.

Works on various devices, including mobile.

Multilingual interface.

Get marketing materials in 8 different languages.

Get paid via PayPal, Skrill or Webmoney—your choice.

Invite new affiliate partners, get commissions.
Lottery Affiliate Marketing Tools
Lottery Partner
offers a range of marketing tools designed for
better conversions
. For starters, they offer advertising banners with various configurations (themes, sizes, etc.). And with dynamic widgets, you can let readers fill out lottery numbers right on your website. They also offer unique "page peels," which act like virtual dog-eared pages, on your website. These invite curiosity and attracts users. Finally, they also offer text links, and HTML ads. Thanks to these tools, earning via an e-lottery affiliate becomes much, much easier!
LottoElite Affiliates
LottoElite Affiliates allows you to promote WinTrillions or LottoKings – two highly popular lottery sites. Additionally, you can also promote Trillionario (a Spanish version of WinTrillions) and BuyLottoOnline. With these choices, it's easy to customize campaigns to suit a specific audience.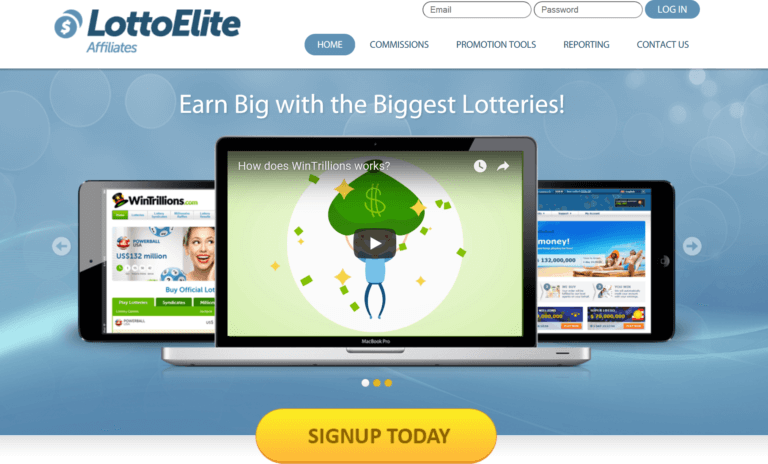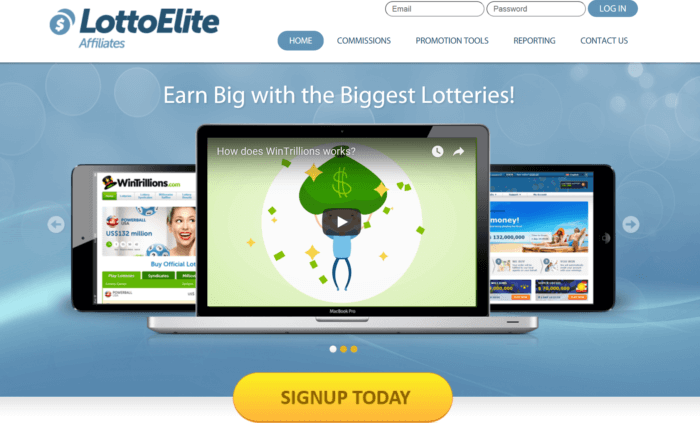 Why Choose LottoElite Affiliates?
Revenue Share commissions range from 10-15%. CPA commissions range from $35-$45 for WinTrillions, and around $10-$14 for LottoKings.
Earn commissions if referrals play in Instant Win games.
Get real-time, in-depth updates on transactions, sales, and traffic statistics.
Marketing materials in 14 languages
Earn more by referring new affiliates to LottoElite Affiliates. Also earn from their referrals.
Get paid via bank transfer, Payoneer, PayPal, Neteller, or Skrill.
Lottery Affiliate Marketing Tools
LottoElite Affiliates offers creatives like banners, mobile ads, newsletters, and landing pages. Plus, you get to choose between four templates that should be perfect for all kinds of scenarios. The templates allow you to market four promotions:
100% Refund
30% Discount
Buy 1 Get 1 Free
1 Free Ticket
Additionally, they also offer advanced RSS Feeds and an iFrame Tool. These tools can help you get dynamic links on your website. While LottoElite Affiliates' marketing tools aren't comprehensive, they are pretty decent. Plus, they offer creatives in
14 different languages
, so reaching a large audience is easy.
MultiLotto Affiliates
At
MultiLotto
, players can play
US Powerball
,
Mega Millions
,
Euromillions
,
SuperEnaLotto
, and more. They even offer a unique Bitcoin jackpot that offers up a grand prize of 1,000 Bitcoins (or $6,655,445.00, currently). Or, you can also play a variety interactive casino games. In other words, MultiLotto is quite marketable from an affiliate's standpoint. For prospective affiliates, you don't have to look far. The company offers its own lottery affiliate program called MultiLotto Affiliates.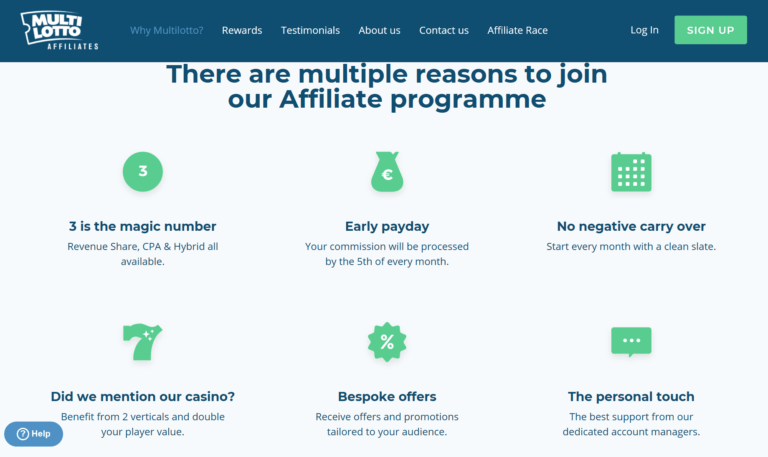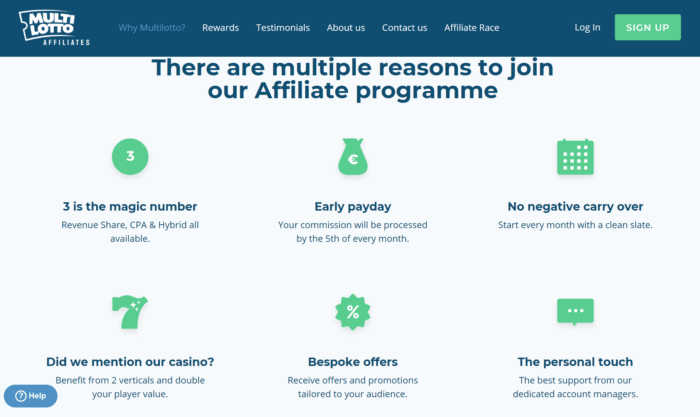 Why Choose MultiLotto Affiliates?
Choose between Revenue Share, CPA, and Hybrid reward models.
High commission rates. With Revenue Share, for example, you can earn between 20-40% commission. Sometimes, you can even earn up to 50%!
Fast payouts. Commissions are processed by every 5th of the month.
No negative carry overs, so every affiliate starts every month with a clean slate.
Get assigned a personal account manager.
Promote offers customized for your audience.
Get detailed statistics like number of clicks, referrals, and more.
Get paid via Visa, MasterCard, Neteller, Skrill, Paysafecard, Entropay, and Trustly.
No withdrawal threshold.
Lottery Affiliate Marketing Tools
MultiLotto Affiliates provides all the tools you need to become a successful lottery affiliate. Their control panel allows you to track various performance metrics. You can, for example, track sales or impressions. Best of all, statistics are shown in real-time. As a result you can easily adjust your marketing strategy. They also provide promotional creatives such as banners, landing pages, and more. Best of all, your account manager can provide
exclusive offers tailored for your audience.
These are great for driving up conversions.
Lottoland Affiliates
Lottoland
is a lotto betting site that offers 33 lotteries, several syndicates, and a wide range of interactive games. For example, you can bet on the outcome of US Powerball or Mega Millions games (among other lotteries). Or, if you want faster-paced games, you can play scratch cards, video slots, and more. In short, lottery aficionados will definitely love the variety of games on offer. For lottery affiliates, that's great news! Even better, Lottoland offers its own affiliate program so you don't have to look far.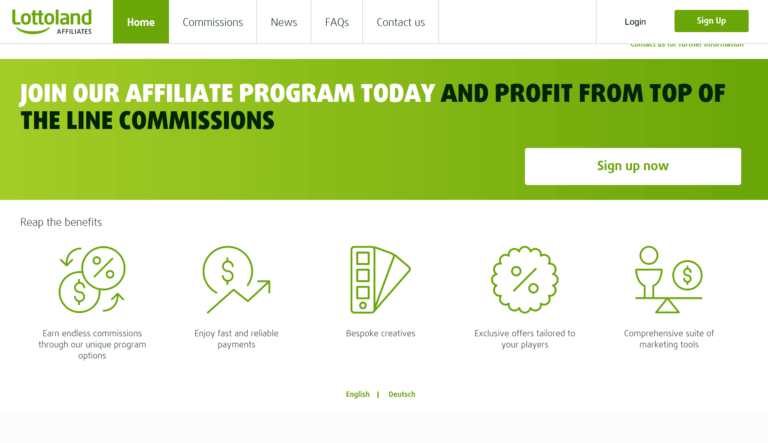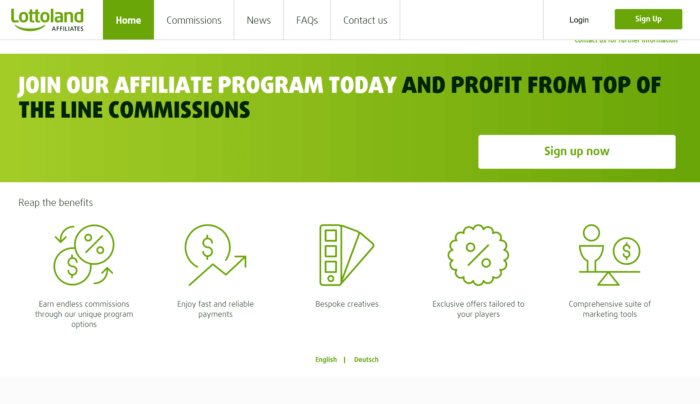 Why Choose Lottoland Affiliates?
Choose between Revenue Share or CPA.
Get around 25-35% commission with Revenue Share.
No negative carry overs, which means you start each month fresh.
Access to a comprehensive suite of marketing tools.
Offer bespoke promos to your audience.
Get paid by the 15th of every month.
Get paid via Neteller, Skrill or wire transfer.
Lottery Affiliate Marketing Tools
Affiliates get access to a variety of marketing tools at Lottoland Affiliates. They offer a wide range of bespoke HTML5 banners and textlinks, and you can also request email templates, too. Lottoland Affiliates also offers customized promos. These allow you to effectively entice your audience to play at Lottoland. Best of all, they also work directly with affiliates to provide creative support so you can get the most out of your campaigns.