Lottoland Review
Written by Nicholas Christensen
Last Update: July 10, 2018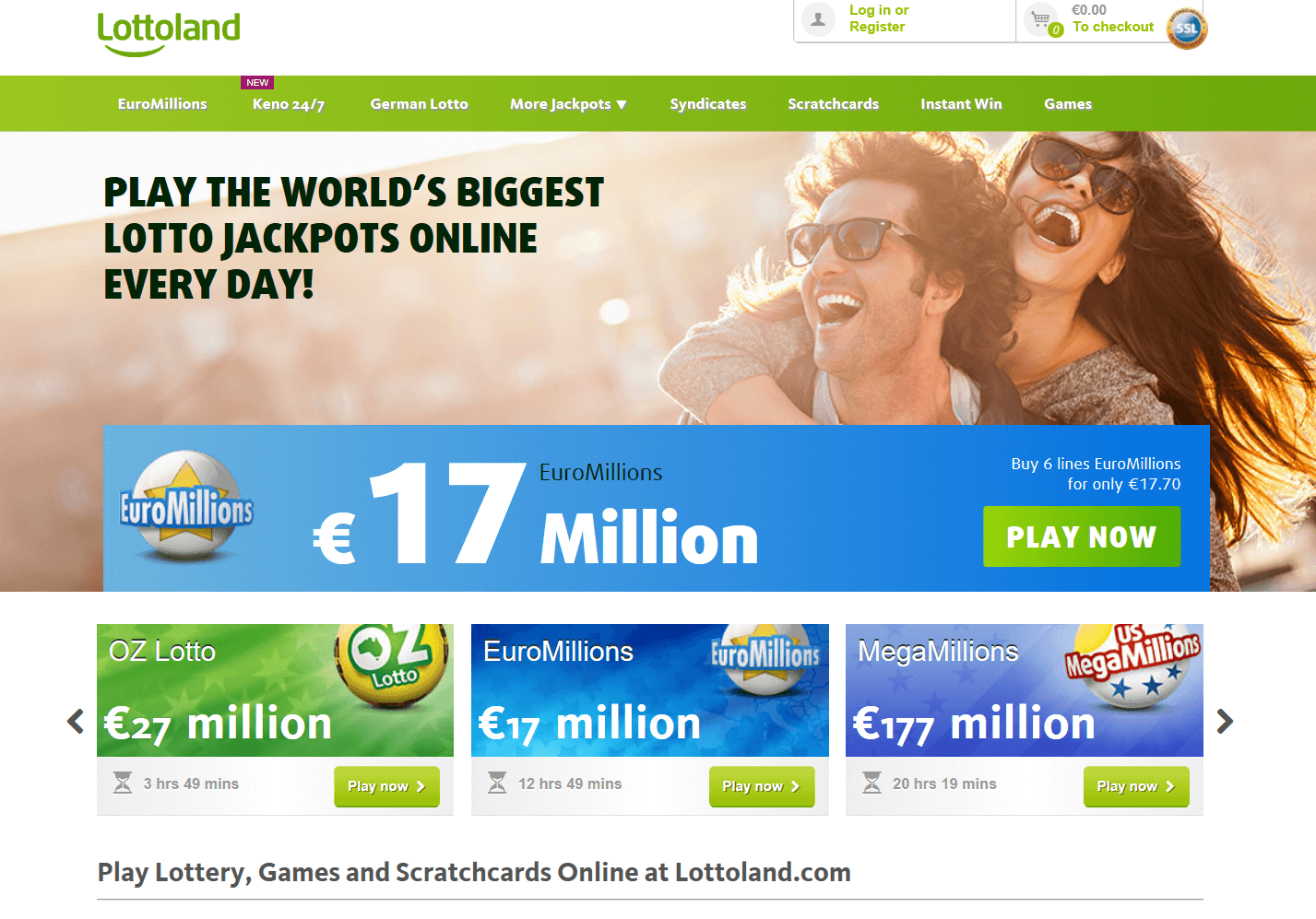 Even though I prefer lottery agents over lotto betting services - which Lottoland is - I was impressed by what they offer.
Yes, you won't actually get to participate in the lottery games they offer here—at least not officially—but the fact that Lottoland offers a vast collection of games more than make up for it. Also worth noting is that they deposit all winnings directly to your account. And the best part? Lottoland is licensed and regulated by two gambling commissions, which ensures guaranteed payouts.
Sure, Lottoland only accepts less than 10 payment methods and their support options are a bit limited, but the positives here definitely outweigh the bad. Intrigued? Let's dive right in.
Number of Lotteries: 33
| | | |
| --- | --- | --- |
| Austrian Lotto | Brazil Quina | Cash4Life |
| El Gordo Christmas Lottery | El Gordo de Verano | El Niño |
| EuroJackpot | Euromillions | French Lotto |
| German Keno | German Lotto | Hong Kong MK 6 |
| Irish Lotto | Keno 24/7 | KeNow |
| Mega Sena | Mega Millions | MINI Lotto |
| Mon & Wed Lotto | Multi Keno | OZ Lotto |
| OZ Powerball | OZ Saturday Lotto | Polish Lotto |
| US Powerball | Sunday Lotto | SuperEnalotto |
| Swedish Lotto | UK Lotto | WorldMillions |
| Friday Lotto | MEGA 2018 | |
Lottoland Promotions and Bonuses
Free line bet
2 for 1 discounts
Get 3% bonus on deposits made via bank transfers
Overall 3.6/5
Registration 4.0/5
Bonuses, Promotions, and Games 4.0/5
Trust and Security 4.2/5
Experience (Interface and Ease of Use) 4.2/5
Payment/Withdrawal Options 2.0/5
Customer Support 3.0/5
Other Great Online Lottery Reviews


Score: 5/5
TheLotter Review


Score: 4.5/5
Lotto Agent Review


Score: 4/5
WinTrillions Review
Registration
4.0
Creating a free Lottoland account is pretty straightforward.
Take note, however, that while Lottoland accepts players from around the world, if you reside in one of the countries that they do not support, you won't see it in their country selector. For instance, US players are not allowed so you won't be able to choose United States as your country of residence during registration. But this is pretty standard as far as lottery sites go.
Bonuses, Promotions, and Games
4.0
Regular Lottery Games
As far as lotto betting sites go, Lottoland is one of the few that is able to offer such a vast collection of games. Heck, they even offer more than some of the best lottery agent services out there.
Lottoland currently offers 33 single play lottery games, ranging from popular ones (like US Powerball, Mega Millions, and Euromillions) to relatively obscure ones (like German Keno, Hong Kong MK 6 and KeNow). If you're looking for game variety, this is a good place to start. Check out all the offered games below:
Lottery Games

Austrian Lotto
Brazil Quina
Cash4Life
El Gordo Christmas Lottery
El Gordo de Verano
El Niño
EuroJackpot
Euromillions
French Lotto
German Keno
German Lotto
Hong Kong MK 6
Irish Lotto
Keno 24/7
KeNow
Mega Sena
Mega Millions
MINI Lotto
Mon & Wed Lotto
Multi Keno
OZ Lotto
OZ Powerball
OZ Saturday Lotto
Polish Lotto
US Powerball
Sunday Lotto
SuperEnalotto
Swedish Lotto
UK Lotto
WorldMillions
Friday Lotto
MEGA 2018
(Update: 01/29/2018) – LottoLand is now offering players the chance to win Bitcoin via the Bitcoin Lotto! It's a straightforward game that utilizes that oft-used 6/49 lotto matrix. That means you need to pick six numbers from a guess range of 1 to 49. To win the jackpot, you simply need to match all six numbers. Jackpots start at 1000 BTC which is equal to €11.8M as of this writing.
---
Syndicates
Lottoland also offers a decent variety of group play games.
They currently offer a total of 17 options—all of which are different syndicate variants of games like Irish Lotto, Euromillions, Mega Millions, and Powerball. Check them out below:
| | | |
| --- | --- | --- |
| | Number of Lines | Shares Available |
| Irish Lotto 210 | 210 | 100 |
| Irish Lotto 420 | 420 | 100 |
| Irish Lotto 630 | 630 | 100 |
| Euromillions 50 | 56 | 68 |
| Euromillions 100 | 105 | 105 |
| Euromillions 160 | 168 | 100 |
| Euromillions 330 | 336 | 100 |
| Euromillions 500 | 504 | 100 |
| Euromillions 1000 | 1008 | 81 |
| Mega Millions 250 | 252 | `100 |
| Mega Millions 500 | 504 | 124 |
| Mega Millions 750 | 756 | 137 |
| Mega Millions 1000 | 1008 | 158 |
| Powerball 250 | 252 | 100 |
| Powerball 500 | 504 | 132 |
| Powerball 750 | 756 | 156 |
| Powerball 1000 | 1008 | 145 |
---
Interactive Games
Lottoland also offers a wide array of online games, perfect for those looking for a bit more interactivity. 
Currently they offer 25 virtual scratch cards, 22 instant win games, 126 video slots, 12 table games, 5 live dealer games, 3 video poker games, and some roulette games. As far as lottery sites go, that's one of the most insane game selections around!  If you're looking for game types other than single/group play games, Lottoland is a good place to start.
---
Lottoland Promotions
Lottoland does not impress as far as promotions go.
As of this writing, the only promotions they offer are various free line bets (on the first line), a 2 for 1 discount on Powerball lines, and a 3% bonus if you deposit via bank. Don't get me wrong, these are quite decent promos. However, considering other lottery sites offer loyalty programs, multi-draw discounts, and other more significant promotions, Lottoland's definitely pales in comparison.
Trust and Security
4.2
Yes - Lottoland offers a safe and secure lottery site where you won't have to worry about the money you deposit or any payouts to you.
Not only does Lottoland utilize SSL encryption to secure data going to and from their site, payouts are also guaranteed. The bets you place on their website are made with EU Lotto Limited, which is regulated by the Gibraltar Gaming Commission and the UK Gambling Commission. They also hold a fixed odds license (RGL No. 066).
Experience (Interface and Ease of Use)
4.2
Lottery Education Materials
Lottoland does a pretty good job of explaining each lottery game they offer in detail.
A very meaty Help & FAQ section is provided for each lottery game, which delves into topics like the game's core mechanics, the various prize tiers, the odds, and more. Though Lottoland does not provide a lottery glossary like other sites do, I didn't really miss it here just because of the wealth of information they already provide for each game.
---
Lottoland Ease of Use
Lottoland's website doesn't stray far from the norm—it's simple and an absolute breeze to use.
If you've played in lottery sites before, Lottoland should immediately feel familiar. However, the thing that stood out the most was their focus on the games they offer. On their front page alone, you can get a quick glimpse of what kind of games they have. Not only do they put single play games front and center, they also feature some scratch cards, instant win games, and more. This makes it easy to gauge whether they carry the games that interest you the most or not.
It's worth noting, however, that while Lottoland offers their site in 10 languages, there are no Asian languages featured. They only offer two versions of English (standard and Canadian), two versions of Portuguese (standard and Brazilian), German, Slovak, Polish, Swedish, Czech and Swiss (German). It's not a big deal—though of course it would have been ideal to make the site more user-friendly for eastern players.
---
Playing
Like creating an account, playing lottery games at Lottoland is equally straightforward—plus, there are a few unique features here, too.
Here's how:
Log in to your account.
Choose from any of the available games.
At the main navigation menu, you can also choose to purchase a set number of tickets immediately without having to pick numbers. You can, of course, do it yourself if you want.
If you chose the latter, you are directed to the play slip. Here, you can manually choose your numbers, how many lines you want and the like. You can also choose to have your numbers randomly chosen for you.
Choose which draws you want to participate in.
Choose how many weeks' worth of draws you wish to join. You can also subscribe, or choose the the JackpotHunt option if you want to keep participating in draws until the current jackpot is won.
You can also choose to participate in draws with a specific jackpot amount and date.
Choose whether you want to enable the PowerPlay multiplier to get the chance to win more money.
As mentioned above, Lottoland offers some unique features, too. You can choose to use/tweak any of these when you are picking your numbers:
Double Jackpot: For some games, you can choose to enable this feature if you want to win twice as much as the current jackpot. You pay twice as much, too.
NumberShield: When activated, this feature guarantees that you won't have to share your winnings with anyone if you hit the jackpot—even if they also have the winning numbers.
If you're satisfied with your selections, hit the "Submit" button.
Confirm your purchase order and payment details.
Click the "Pay Now" button once you are done.
Wait to see if you win!
Payment/Withdrawal Options
2.0
Deposit
It's disappointing that Lottoland accepts less than ten payment methods.
Currently, they only accept popular credit cards Visa and Mastercard, plus e-wallets like NETeller, Skrill, PaySafe and UKash. They also accept payment via bank transfers. If you do choose to deposit funds via bank transfer—and you deposit over £100—they will add a 3% bonus on top of it.
Withdrawal
There are currently only two options for withdrawing your winnings: via bank card or your bank account.
Withdrawing winnings to your registered bank card is quite simple—choose how much you want to draw and click on the "Withdraw" button. Withdrawing winnings to your bank account is a bit more involved, however. You need to know information such as your Bank Identifier Code (BIC) and your International Bank Account number before being able to complete a transfer.
---
Winning
It's great that you won't have to travel to collect larger prizes, but there's a caveat that you need to be aware of.
Yes—unlike most lottery sites, Lottoland deposits all your winnings to your account, regardless of how much your prize is. That's fantastic! They also don't take commissions from winnings. That being said, if you win the jackpot for US Powerball or Mega Millions, it's a different story.
Lottoland claims that they aim to replicate how official payouts are handled with regards to these two lotteries, which means that they also take into account the tax that an official winner has to pay. In other words, a 35% reduction is made to your jackpot winnings. They don't do this for other lotteries.
Customer Support
3.0
Live Support
No
Phone Support
No
Lottoland's support options are lacking - though they do reply in a timely manner.
While their FAQs are comprehensive enough, the same, unfortunately, cannot be said of their live support options. That is, they don't have any—no phone or live chat options here. Instead, if you need to get in touch with them directly, you can do so by filling up an online contact form or emailing them directly.
I have to say though that while I was disappointed about the lack of live support options, they did reply to my query in a timely manner. Sure, the reply came an hour or two after I submitted the contact form, but that's still a lot faster than most lottery sites' response times.
Review


Bottom Line for Lottoland
Overall: 3.6
Good, a solid choice.