WinTrillions vs Lottoz: Which Lottery Site Should You Select?
Last Updated: August 24, 2021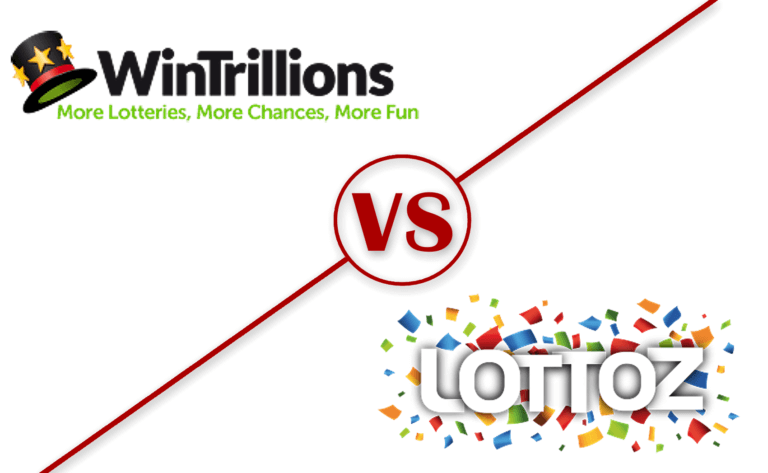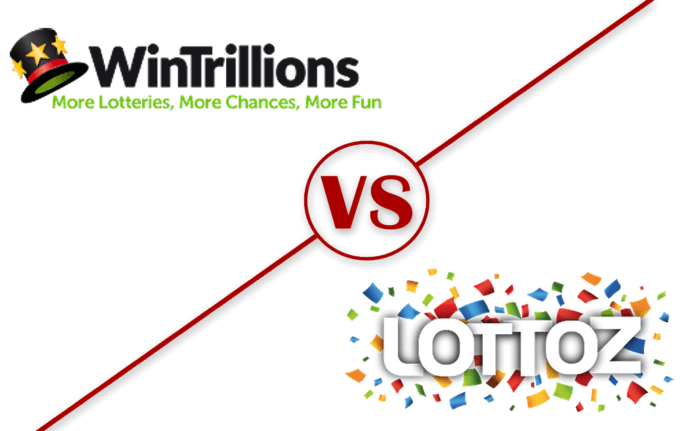 Do you fantasize about winning a huge Powerball jackpot or the EuroMillions SuperDraw? Silly question. Of course, you do! The online lottery world is ready to make your dreams come true without leaving the comfort of your sofa. Just click the play button on an online lottery website and that ticket is yours! The question is which lottery site offers a better overall experience? We compared two of the better ones in the industry: WinTrillions and Lottoz. The former has been in the business for more than a decade, while the latter only entered the scene in 2017. Let's see how they match up!
A Look at Both Companies
WinTrillions has the edge with over 13 years in the online lottery industry. Based in Curacao and owned by Legacy Eight Curacao NV, they also own LottoKings, a "competitor" and Trillonario, which appears to be WinTrillions in Spanish. Offerings include 9 language options, 19 international lotteries, syndicate lotteries and raffles, 5 promotions and mobile apps for iPhone, Android, Windows Phone and Blackberry (on your browser).
A latecomer to the online lottery, Lottoz burst on the scene in 2017 with an impressive 17 lotteries and 2 additional websites under the Lottoz umbrella for the UK and Ireland. Owned and operated by Morpheus, based in Malta, this start-up is giving other sites a run for their money.
Read on to see how they compare!
WinTrillions
Lottoz
Pros
Syndicate and millionaire

raffles offered

Cheaper ticket prices
Website in 9 languages
17 international lotteries
Mobile apps for iPhone, Android, Windows Phone, Blackberry (on browser)
11 combos, including the Ultimate Combo with 17 lotteries and 22 lines
Over 30 deposit and withdrawal options
Cons
No single draws – only multiple draws
Only 3 payment options
Website only in English
The Winner: WinTrillions
[wintrillions_cta]
Number of Games Offered
Too close for comfort but WinTrillions manages to squeak by with 19 games to Lottoz's 17. They both offer the powerhouses of the online lottery world, including Powerball, Mega Millions, EuroMillions, EuroJackpot, La Primitiva, El Gordo, SuperEnalotto, Powerball Australia, Oz Lotto and Mega Sena.
Here is an additional comparison list:
| | | |
| --- | --- | --- |
| Lottery Games | WinTrillions | Lottoz |
| Canada – Canada Lotto | ✓ | |
| France – France Lotto | ✓ | ✓ |
| Germany – 6 AUS 49 | | ✓ |
| Germany – German Lotto | ✓ | |
| Ireland – Irish Lottery | | ✓ |
| Italy – BonoLoto | | ✓ |
| Poland – Lotto PL | | ✓ |
| UK – EuroMillions UK | ✓ | |
| UK – National Lottery | | ✓ |
| UK – Thunderball | ✓ | ✓ |
| UK – UK Lotto | ✓ | |
| US – Calif. SuperLotto | ✓ | |
| US –  Florida Lotto | ✓ | |
| US – New York Lotto | ✓ | |
Lottoz offers a menu of cool combo options in which they choose themed combinations – like the American Combo with both the Powerball and Mega Millions or the Around-the-World Combo with the US Powerball, Oz Powerball, BonoLoto, EuroMillions and Mega Sena all wrapped into one nifty ticket order.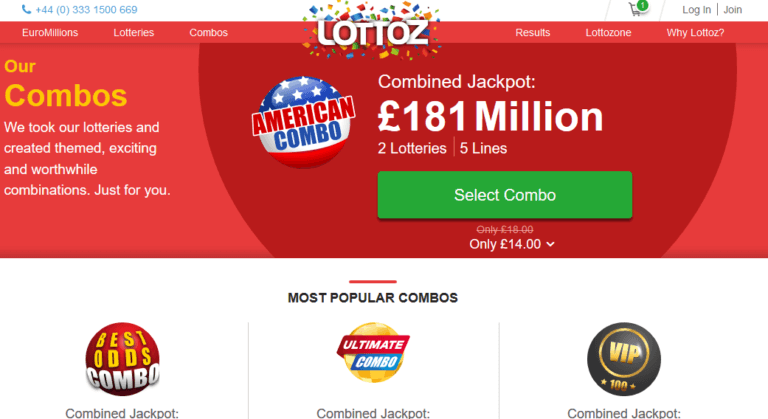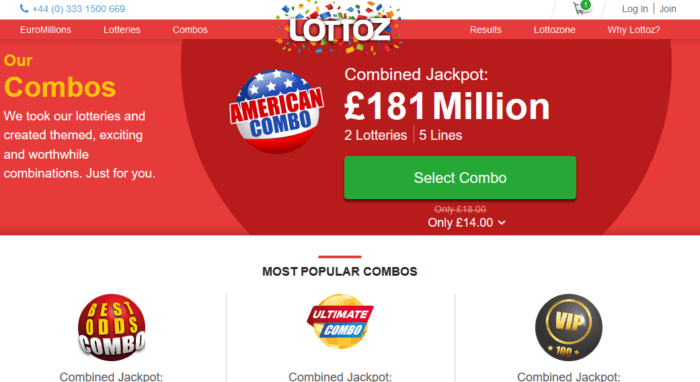 Not to be outdone by Lottoz, WinTrillions offers 12 syndicates where you pool your money to purchase more shares with other players. And after you click to play on a particular syndicate, there is a handy FAQ section that describes the process of buying tickets in a syndicate, what happens if you win and how to collect.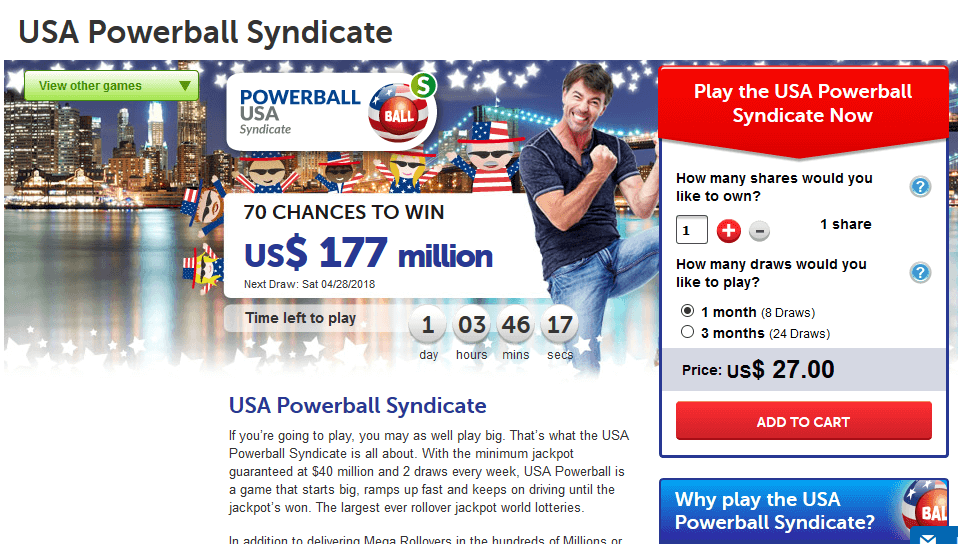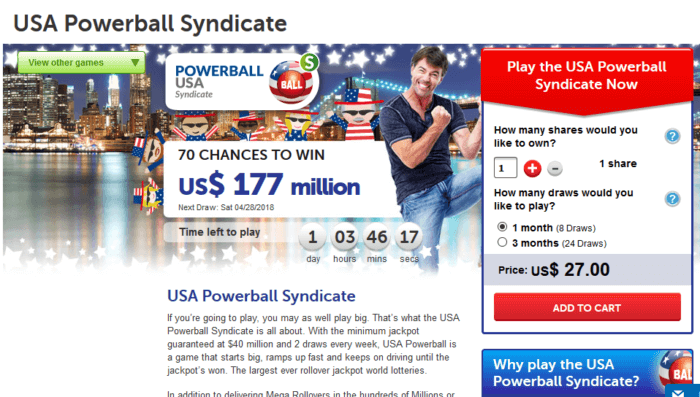 WinTrillions takes it one giant step further with their Monster Combo Syndicate! This is like Godzilla, King Kong and Viserion (wake up, Game of Throne fans!) rolled into one monstrous jackpot! This combination brings together Mega Millions, US Powerball, EuroMillions and Spain's La Primitiva, with 8 weekly draws and jackpots that never fall below US $140 million each week.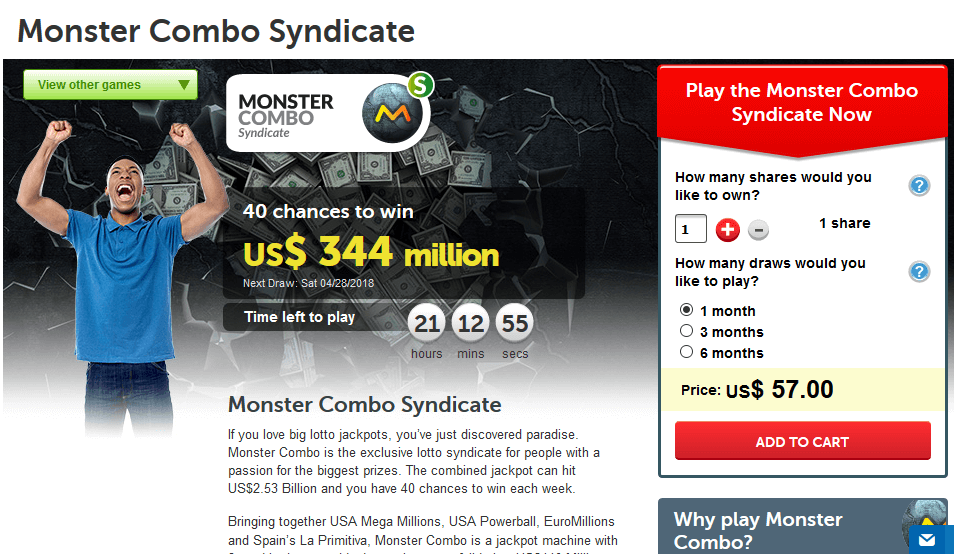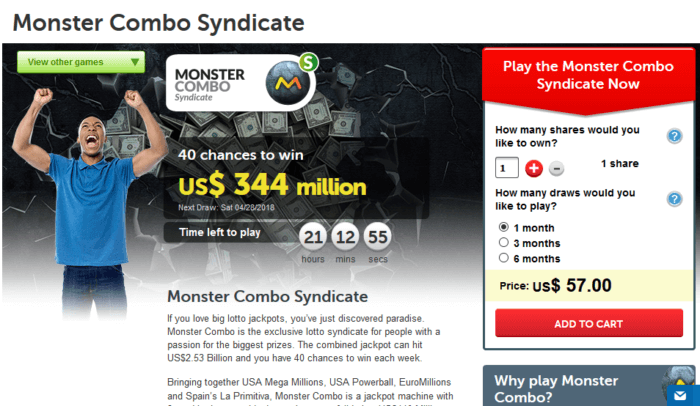 Again, WinTrillions goes the extra mile by offering Millionaire Raffles, taking place in Spain, Mexico, and Ireland.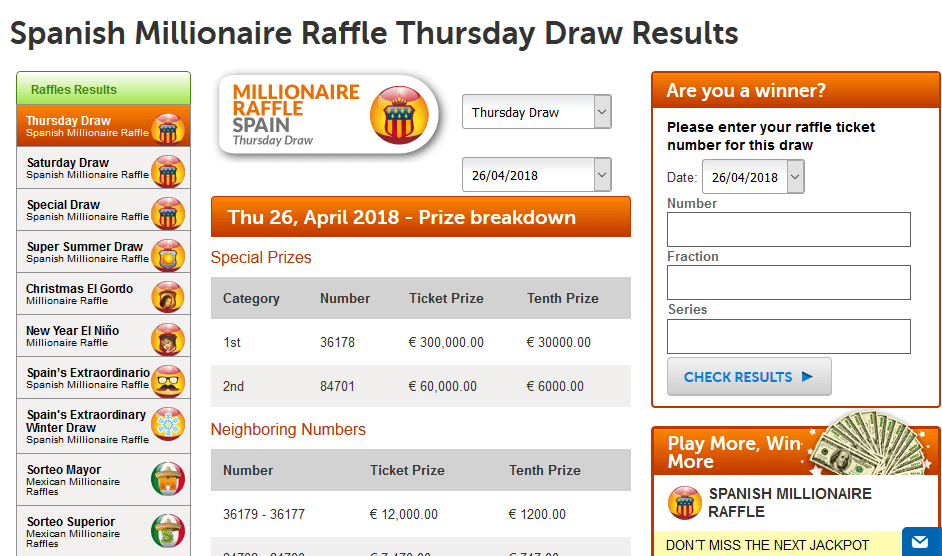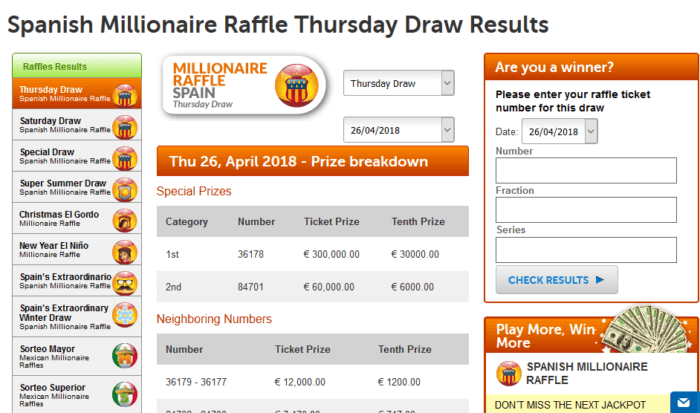 The Winner: WinTrillions
[wintrillions_cta]
Ticket Prices
Pricing gets complicated here. WinTrillions assumes that players are willing to drop a good chunk of change on their subscription-like pricing. Do I really want to buy tickets for EuroJackpot for one straight month? On the other hand, Lottoz gives everybody a choice to buy single and multiple draws.
| | | |
| --- | --- | --- |
| Lottery Game | WinTrillions | Lottoz.com |
| Australia OzLotto | $15 for 4 consecutive draws for 1 month |  €5.00 – 2 line minimum |
| Europe Eurojackpot |  $37 for 6 consecutive draws for 1 month |  €7.00 – 2 line minimum |
| Europe – EuroMillions |  $37 for 4 consecutive draws for 2 weeks |  €8.00 – 2 line minimum |
| Italy – SuperEnalotto |  $39.90 for 6 consecutive draws for 2 weeks |  €5.00 – 2 line minimum |
| Spain – El Gordo |  $37 for 6 consecutive draws for 1 month |  €5.00 – 2 line minimum |
| Spain – La Primitiva | $27 for 4 consecutive draws for 1 month Sat. |  €4.00 – 2 line minimum |
| US – MEGA Millions |  $10 for 2 consecutive draws for 1 week |  €7.00 – 2 line minimum |
| US – Powerball |  $39.90 for 4 consecutive draws for 2 weeks |  €8.00 – 2 line minimum |
And to further complicate matters, WinTrillions sneaks in the automatic renewal of your subscription, which is spelled out in Item 14 in their Terms and Conditions section. This means that you have to remember when your subscription ends, or you will get charged for another one!
The Winner: Lottoz
[lottoz_cta]
Bonuses and Perks
WinTrillions outrivals Lottoz in the benefits area. Their promotions include Daily Deals, Gift Vouchers, Refer a Friend, and a VIP Loyalty Program.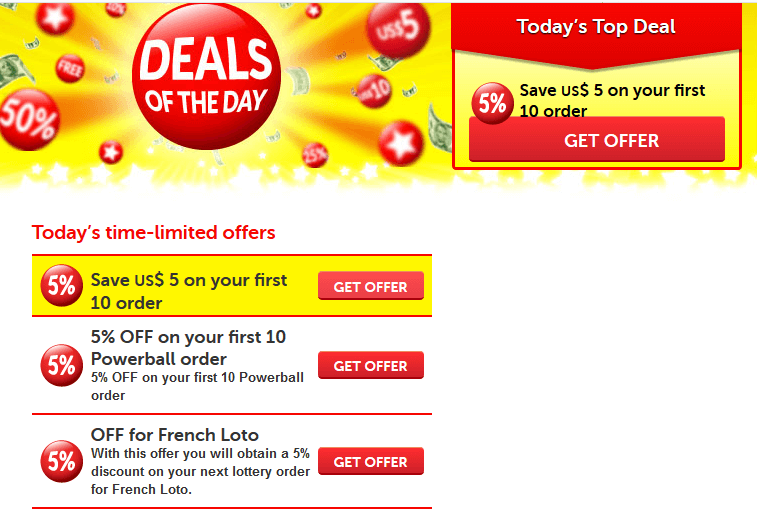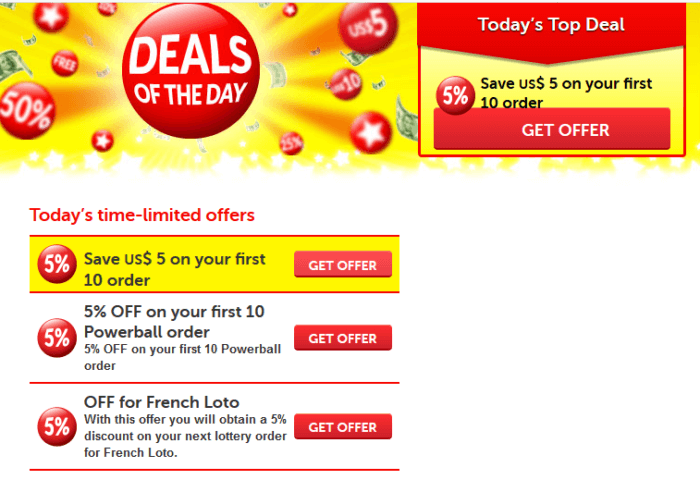 An interesting feature of WinTrillions' Gift Voucher is aimed at the corporate world. Attention CEOs – you can gift vouchers to your clients, employees and suppliers! If you opt-in for one of WinTrillions' 4 Membership tiers, this opens the door for discounted syndicate plays, $5 free credit, reserved games with limited tickets, such as Christmas El Gordo or EuroMillions Special Draws, depending on the particular tier.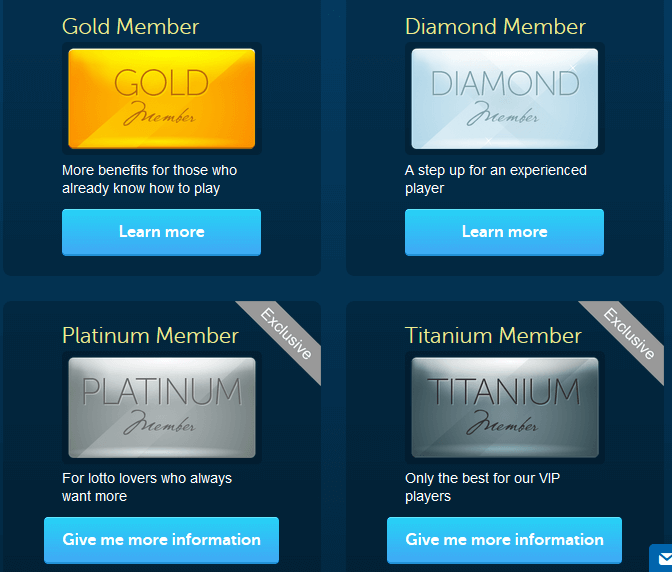 Lottoz has some catching up to do in the Bonuses and Perks area. Nothing to date is offered but they hint at an upcoming VIP loyalty program.
The Winner: WinTrillions
[wintrillions_cta]
Ease of Use
Truth be told, I am a sucker for "how to" videos. From fixing a leak in the loo to researching spices for cooking vindaloo, with a few clicks and I am the master of my own universe. On their home page, WinTrillions has a brilliant short video explaining their lottery messenger service, followed by basic information such as lottery games offered, security measures, and a rotating carousel of payment methods, mobile apps, language options, to name a few.


Lottoz takes the no-frills approach to buying online tickets, akin to buying an old school Nokia phone instead of the iPhone X. Some players know what they want and don't feel like wading through too much information and choices when all they want to do is "click and play."
WinTrillions pushes the limits of user-friendliness by offering a website in 9 languages, including 2 Chinese dialects, versus English-only on Lottoz. Potential players from around the globe whose English is so-so may be turned off by this limitation.
The Winner: WinTrillions
[wintrillions_cta]
Mobile App
No contest in this section! Score: 4-0. WinTrillions whitewashes Lottoz with 4 apps for iPhone, Android, Windows Phone and Blackberry (on your browser).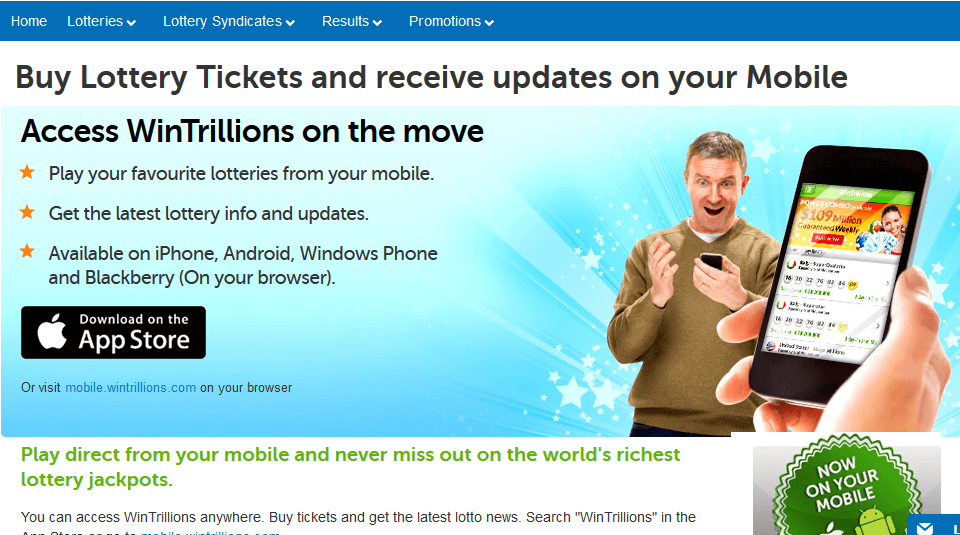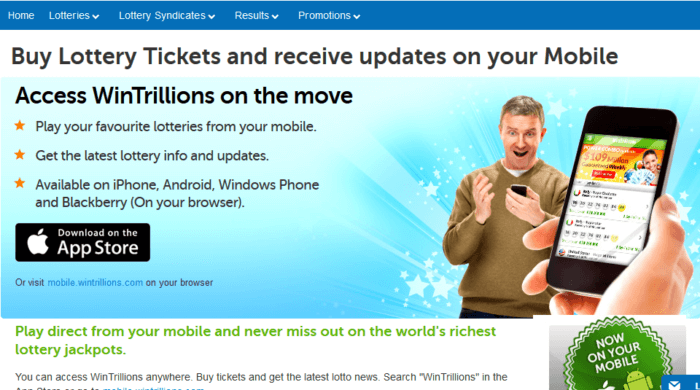 Lottoz does offer a mobile website which is simply not the same as an app. Statistics show that most millennials use their smartphones and tablets for playing games, communication and shopping. To tap into this lucrative market which includes online lottery, they need to jump on this bandwagon posthaste!
The Winner: WinTrillions
[wintrillions_cta]
Banking
WinTrillions scores another goal against Lottoz in the financial sector. They offer at least 30 methods for deposits and withdrawals, including the majors like Visa, MasterCard, American Express, Skrill, Neteller, and Ukash, to name a few. And, I guess it was just a matter of time that Bitcoin entered the payment platform and who knows, maybe Ethereum, a rival cryptocurrency may soon join the list.


Lottoz is again keeping life simple with just 3 banking methods offered – Visa and Mastercard debit/credit and Maestro debit card.
The Winner: WinTrillions
[wintrillions_cta]
Claiming Prizes
First of all, congratulations, if you got that email notification "you're a winner!" WinTrillions has multiple ways of notifying you of a win as explained in their FAQ section: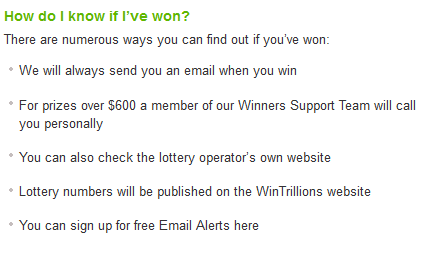 Lottoz announces the winning numbers of each lottery on their website but ultimately, you as the lucky winner needs to check your account for the official notification.


WinTrillions has a Winners Support Team who will work with all winners to claim prizes "from as little as $10 right up to millionaire jackpots." And no commission will ever be deducted from the winnings – all you do is pay the price of the subscription. Does Lottoz charge a commission or other fees to be deducted from the winning jackpot? Check out this section from their Terms and Conditions and you decide for yourself!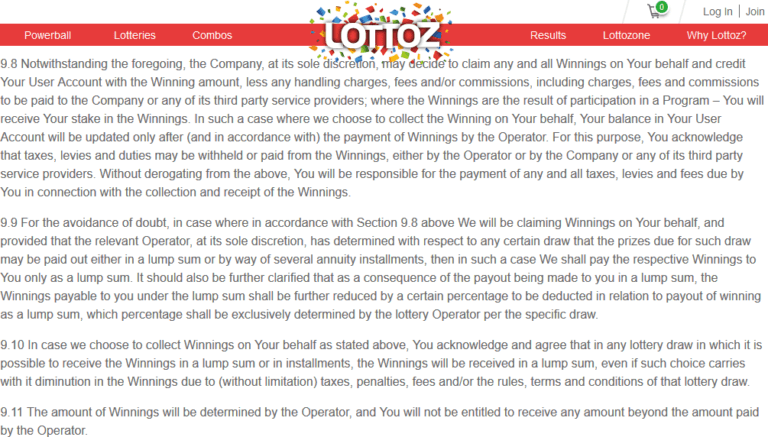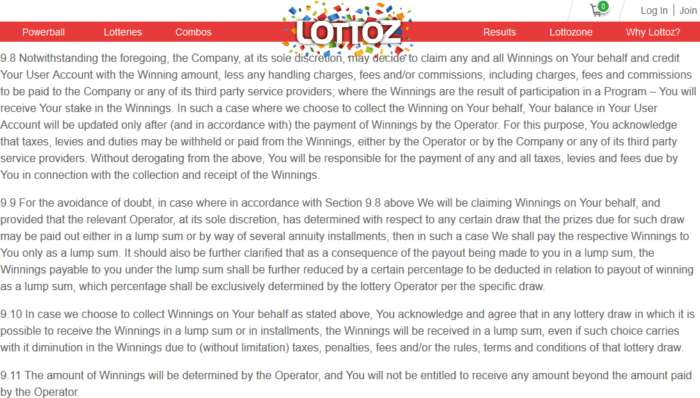 The Winner: WinTrillions
[wintrillions_cta]
Security
Don't worry, be happy! Both websites offer safety measure to protect personal information – WinTrillions with GoDaddy.com's 256-bit SSL and Lottoz with Norton Secured.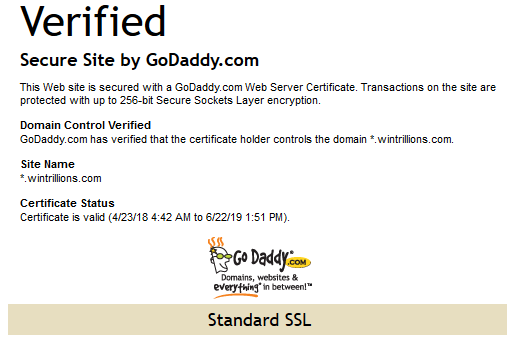 Lottoz protects their users' information with Norton Secured – powered by Verisign. However, it's worth mentioning that a warning in their Privacy section, highlights in bold that security might be an issue in countries outside the European Union.


WinTrillions does add an additional security layer with a spam filter with their mailings monitored by the Return Path system and are fully compliant with the Can-Spam Act which has been in effect since January 1, 2004.
The Winner: WinTrillions
[wintrillions_cta]
Customer Service and Support
Life rarely happens without a glitch and when that time comes, we want answers. Quickly. The best websites anticipate problems and attempts to provide immediate solutions. Hopefully with a few clicks on the keyboard, you're on your way to that million-dollar Powerball or National Lottery ticket!
WinTrillions did a bangup job on their support system. Under "Help" at the bottom of their home page, there are 5 ways to get answers to your questions – live support (chat not available 24/7), the nifty How It Works Video, 6 extensive FAQ sections, Help and Contact us.
Lottoz offers the bare minimum in customer service and support. The pickings are slim to none on their FAQ but they do have a social media presence on Facebook, Twitter and LinkedIn.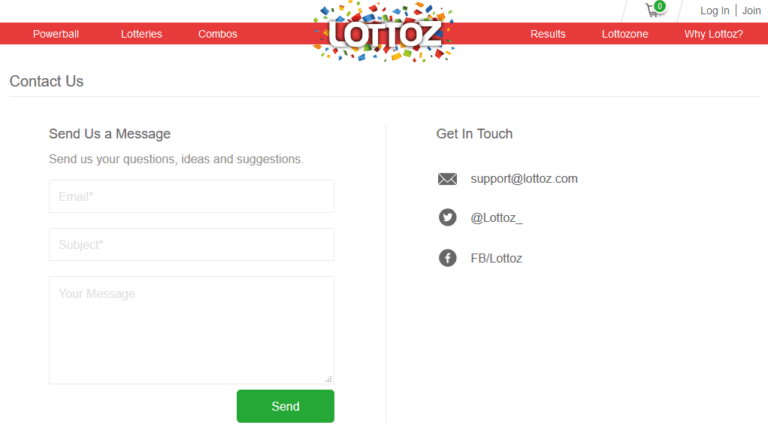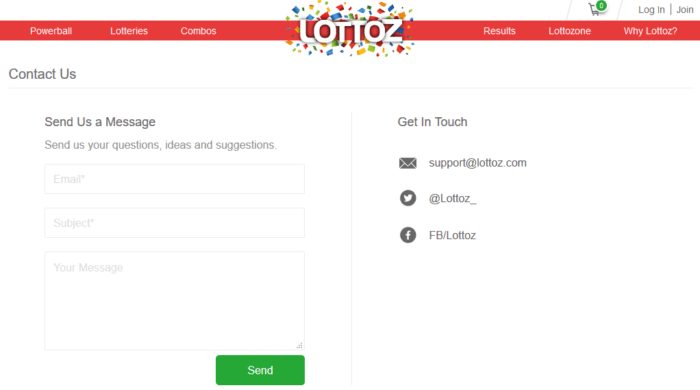 The Winner: WinTrillions
[wintrillions_cta]
The Ultimate Winner: WinTrillions
More Lotteries, More Chances, More Fun is the motto of WinTrillions and they have brilliantly accomplished. More banking and language options, syndicate and raffle games, over-the-top service, no commissions ever taken – some of the pluses of WinTrillions.
That said, I'm not throwing start-up Lottoz out of bed for eating crackers! Not yet. Their pricing is competitive and let's hope they maintain this edge. Stay tuned for a future update!
[wintrillions_cta]