LottoKings vs Lottoz: Which Lottery Site Should You Choose?
Last Updated: May 6, 2021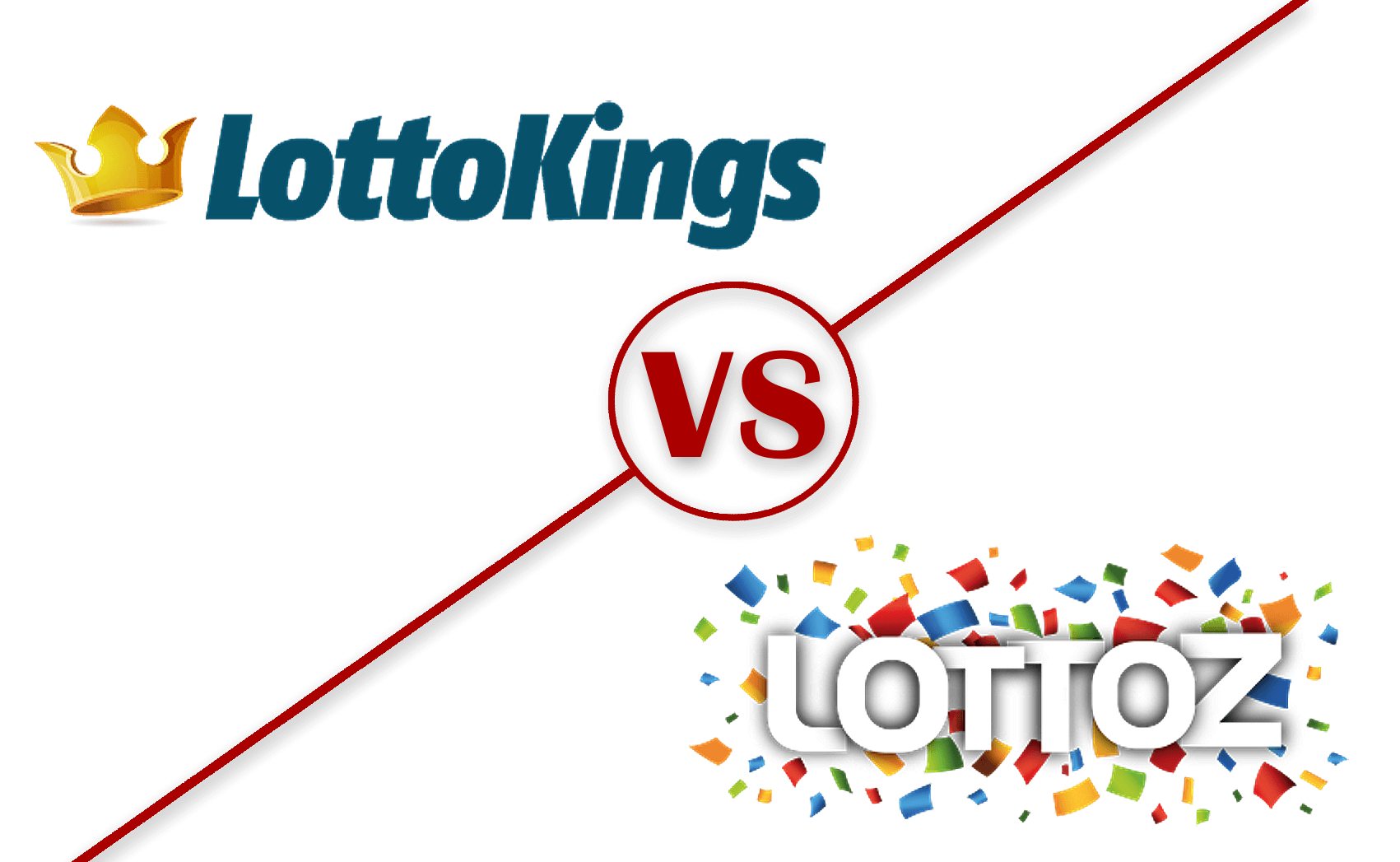 Welcome to yet another face-off in the online lottery world! Will Lottoz prove to be a worthy opponent against LottoKings? Granted, this is nowhere near the epic Battle of the Bastards in Game of Thrones but there's a lot at stake here!
A Look at Both Companies
Owned by Legacy Eight Curaçao NV, LottoKings offers opportunities to play 19 international lotteries, syndicate games and Spanish Millionaire Raffles with no commission ever taken out! They earn bragging rights with payouts over $1 million dollars to 11,000 + winners. Not too shabby for this 10-year reign for LottoKings which, by the way, is the re-branded CongaLotto and the sister website of WinTrillions and Trillonario.
As the new kid on the block, Lottoz has managed to give industry veterans like LottoKings a run for their money since their website went live in 2017. Based in Malta, Morpheus Games MT is the owner and operator of this site along with 2 others – Lottoz.co.uk and Lottoz.ie, for residents of the UK and Ireland. With 17 lotteries and 11 combination plays, Lottoz has done their homework to keep up with the big boys!
Will LottoKings remain on the throne? Or will they get knocked off by Lottoz?
Read on to see!
LottoKings
Lottoz
Pros
19 lotteries, 4 syndicates & 3 Spanish Millionaire raffles
11 combo packages at discounted rates
No commissions or fees charged
Discounts on subscriptions and multi-ticket lines
Website in 7 languages
Cheaper tickets
Cons
No refunds on cancellation of Multi-Draw packages
Limited banking options – Visa, MasterCard and Maestro only
No mobile apps
Lack of transparency if they charge commissions or fees on winnings
Banking options buried in FAQ
Website in English only
Winner: LottoKings
[lottokings_cta]
Number of Games Offered
LottoKings and Lottoz are pretty much on equal terms in the amount of games they offer — more or less. But at closer inspection, it just depends on what games you want to play. They offer the same global dynamos in online lotteries such as Powerball, Mega Millions, EuroMillions, EuroJackpot, La Primitiva, El Gordo, SuperEnalotto, Powerball Australia, Oz Lotto and Mega Sena. But take a look at where they part ways:
| | | |
| --- | --- | --- |
| Lottery Games | LottoKings | Lottoz |
| Canada – Canada Lotto | ✓ | |
| France – France Lotto | ✓ | ✓ |
| Germany – 6 AUS 49 | | ✓ |
| Germany – German Lotto | ✓ | |
| Ireland – Irish Lottery | | ✓ |
| Italy – BonoLoto | | ✓ |
| Poland – Lotto PL | | ✓ |
| UK – National Lottery | | ✓ |
| UK – Thunderball | ✓ | ✓ |
| UK – UK Lotto | ✓ | |
| US – Calif. SuperLotto | ✓ | |
| US –  Florida Lotto | ✓ | |
| US – New York Lotto | ✓ | |
LottoKings adds more North American lotteries – California SuperLotto, Florida Lotto and New York Lotto and Canada Lotto. Lottoz sticks to the continent by including lotteries from Ireland, Italy and Poland.
By the way, both websites are calling the same UK lottery different names when they are one and the same – LottoKings's UK Lotto is the same as Lottoz's National Lottery.
Winner: Both LottoKings and Lottoz
Ticket Prices
Let's be honest. Ticket prices do matter because it's our hard-earned paycheck or pension check going out the window. But when there's a big jackpot at stake, sometimes we throw caution to the wind, buy a lot of tickets and get caught up in the frenzy.  So, we end up spending more money than we care to admit.
However, in less crazy times, we do watch what we spend. LottoKings and Lottoz have different ways to buy tickets so one must be handy with the calculator to figure out the bottom-line ticket price.  To complicate matters, Lottoz only deals in Euros and LottoKings in US dollars.
| | | |
| --- | --- | --- |
| Lottery Game          | LottoKings | Lottoz.com |
| Australia Oz Lotto | $5.90 for 2 tickets – 1 draw |  €5.00 – 2 line minimum |
| Europe EuroJackpot |  $13.00 for 2 tickets – 1 draw |  €7.00 – 2 line minimum |
| Europe – EuroMillions |  $12.00 for 2 tickets – 1 draw |  €8.00 – 2 line minimum |
| Italy – SuperEnalotto |  $7.00 for 2 tickets – 1 draw |  €5.00 – 2 line minimum |
| Spain – El Gordo |  $12.00 for 2 tickets – 1 draw |  €5.00 – 2 line minimum |
| Spain – La Primitiva | $14.00 for 2 tickets – 2 draws |  €4.00 – 2 line minimum |
| US – MEGA Millions | $10.00 for 2 tickets – 1 draw |  €7.00 – 2 line minimum |
| US – Powerball |  $10.00 for 2 tickets – 1 draw |  €8.00 – 2 line minimum |
Pickings are slim at LottoKings for discounted pricing as compared to Lottoz's generous "+1 free" offers for 7 lottery games in its repertoire.
LottoKings offers a nice feature before you click on the orange Confirm Order button – Quick Play tabs giving you the option of adding other games at check-out.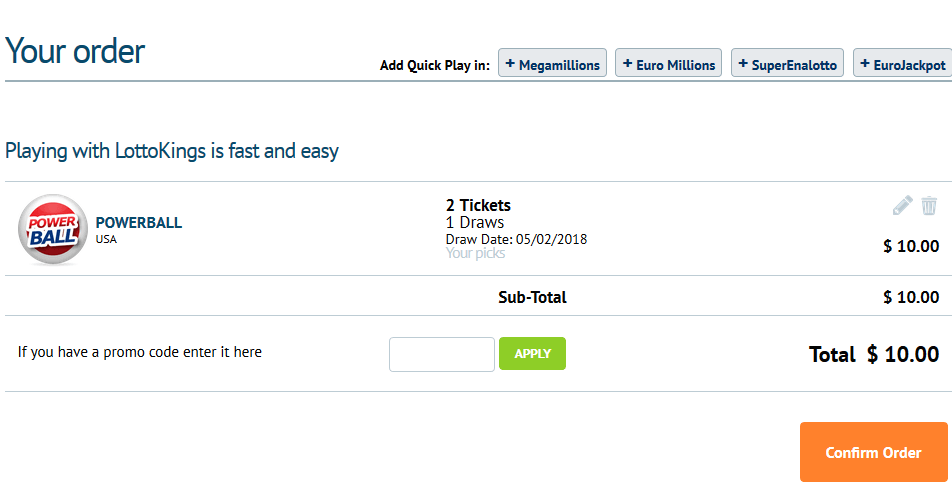 Winner: Lottoz
[lottoz_cta]
Bonuses and Perks
To boost sales, get new players and keep them coming back for more is the purpose of a good bonus system. This is a gold mine for online lottery websites and some use it to their advantage while others choose to concentrate on other areas.
LottoKings gets a failing grade in the benefits area, offering absolutely nothing. I scrolled and clicked to my heart's content but couldn't find a darned thing. On the other hand, Lottoz with their "+1 free" purple button and discounted combo packages made my day!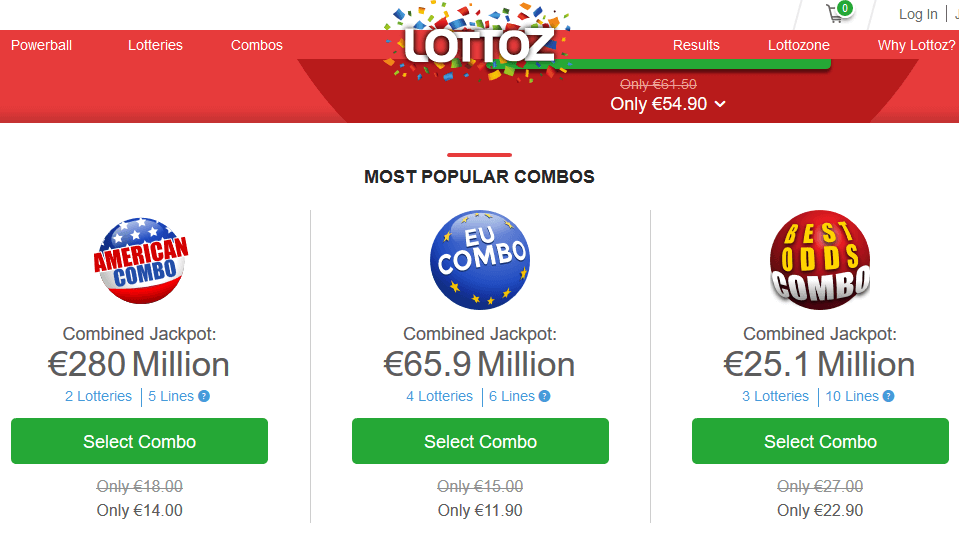 Winner: Lottoz
[lottoz_cta]
Ease of Use
It's rare to get a second chance to make a first impression so a website's home page is its virtual front door. Visitors to LottoKings and Lottoz are greeted by very similar design elements – colorful horizontal banners at the top, countdown to the next big jackpot, list of lotteries, etc. Registration and buying tickets on both are accessible and familiar.
Sometimes you can refresh a room by just rearranging the furniture and I think LottoKings can accomplish more by moving or re-sizing sections. Their list of lotteries, syndicates and Millionaire raffles should move towards the top of the page, so visitors can immediately see what's offered versus languishing towards the bottom of the home page. Also, move or downsize the large testimonial section in the middle to a smaller sidebar which will free up real estate for more important action items.
Lottoz, meanwhile, is good for the player who wants to click, play and pay – no browsing, no dawdling, no frills. Maybe their development team studied all the online lottery websites and came up with a more stream-lined, user-friendly experience. They didn't need to reinvent the wheel – just make it better!
Winner: Lottoz
[lottoz_cta]
Mobile App
Both LottoKings and Lottoz do not have mobile apps.
Winner: Neither
Banking
I am old enough to remember when we could write a bank check at the supermarket. Or pay with cash, for that matter. Do you know that there are retail stores and restaurants in the US that will not accept cash – only debit or credit cards?
For lottery ticket sales at brick and mortar outlets in the US, like at a petrol station or convenience store, each state has its own sets of rules. In the state of Colorado, you can only buy a ticket on a "cash only" basis (cash, money order or debit card) and Montana only allows cash and check purchases!
Online lottery banking can also be confusing, especially when dealing with different currencies and governmental regulations. Lottoz, for example, only accepts Visa and Mastercard debit/credit and Maestro debit cards.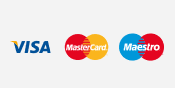 LottoKings currently offers 9 payment methods, namely: Visa, MasterCard, American Express, JCB, Skrill, Entropay, uKash, checks and bank transfer. One minor gripe that I have is that they decided to bury all this information in their FAQ. It would be so much more transparent for them to list this at the bottom of their home page.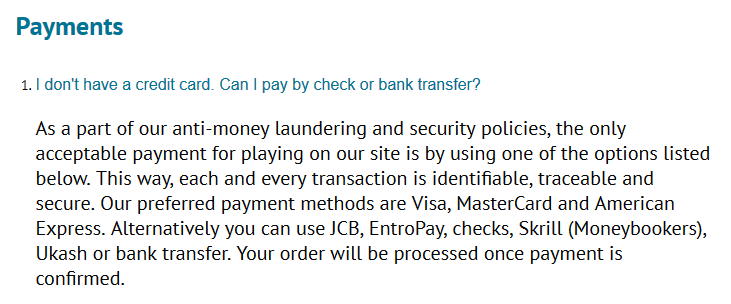 Winner: LottoKings
[lottokings_cta]
Claiming Prizes
The unthinkable happened – you won the lottery! After the initial shock wears off and before you start mentally spending the money, it would be wise to figure out how to get it into your bank account!
LottoKings clearly spells out how to collect your winning in the Winnings section of their FAQ. And no commissions are taken out!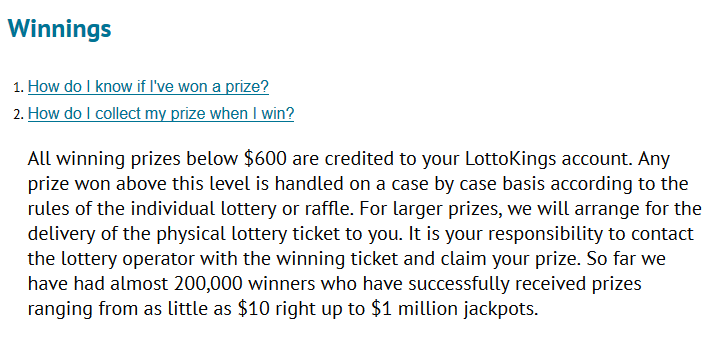 On the other hand, understanding how to claim your jackpot on Lottoz is mired in legalese! Once all parties determine you are the actual winner, then you have to make arrangements to pick-up the actual ticket.
The actual ticket holder is most likely a 3rd party who physically bought the ticket from a brick and mortar outlet in the country where the lottery took place. Okay, fine. Make sure you go with a friend. Just saying.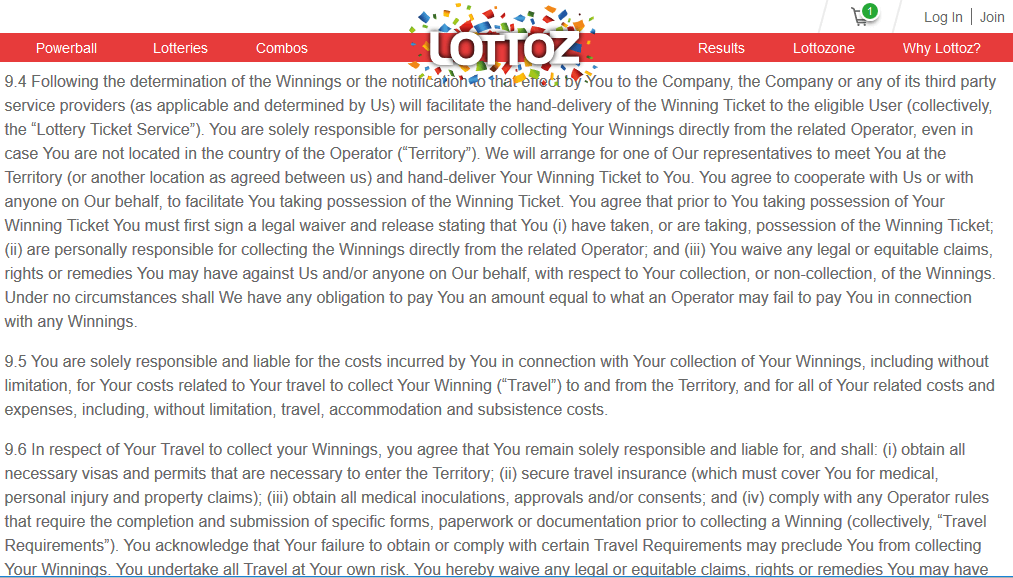 Winner: LottoKings
[lottokings_cta]
Security
Both LottoKings and Lottoz safeguard their players' personal and financial information. No slacking off in this area!
LottoKings adds an additional layer of security which is included in the FAQ section under Payments –  The information on the site and all transactions are protected by 256-bit encryption security from McAfee and GoDaddy, so we can guarantee that all of your personal information and financial transactions are 100% secure. Unfortunately, the McAfee logo is missing at the bottom of the home page, so it's unclear whether they really utilize it or not.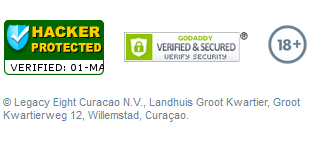 Lottoz protects their users' information with Norton Secured – powered by Verisign as evidenced by the logo at the bottom of the home page. However, in the Privacy section, there is a warning highlighted in bold that security might be an issue in countries outside the European Union.
Winner: LottoKings
[lottokings_cta]
Customer Service and Support
What did you do before email and chat if you had a problem? Yeah, old-school pick up the phone and be on hold for an hour! The internet has changed our lives for the better – it gives us customer service in the form of email, chat, rants in Facebook, Twitter, etc.
In the online lottery world, buying a ticket potentially worth millions of dollars needs to be a smooth transaction. There's a lot more at stake here than ordering and returning a purchase at Rakuten or Amazon! Time is of the essence and time is money.
LottoKings and Lottoz understand that a few minutes delay in buying a Powerball ticket is crucial. You have a question, you need answers ASAP!  Here's how they work under pressure:
Lottoz has support via email, Twitter, Facebook and live chat (if they are online) but no phone line.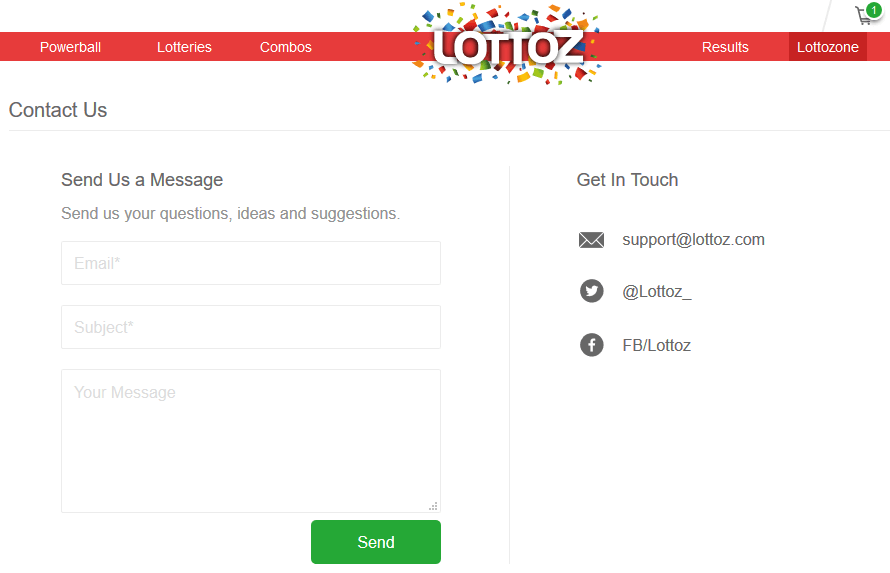 LottoKings offers similar customer service via email, live chat and 2 phone lines. But which countries are the 2 phone lines based out of? These are the listed contact numbers:  +44-203-139-9052 or +52-554-777-2359. The first one is for their UK office, while the other is for their office in Mexico.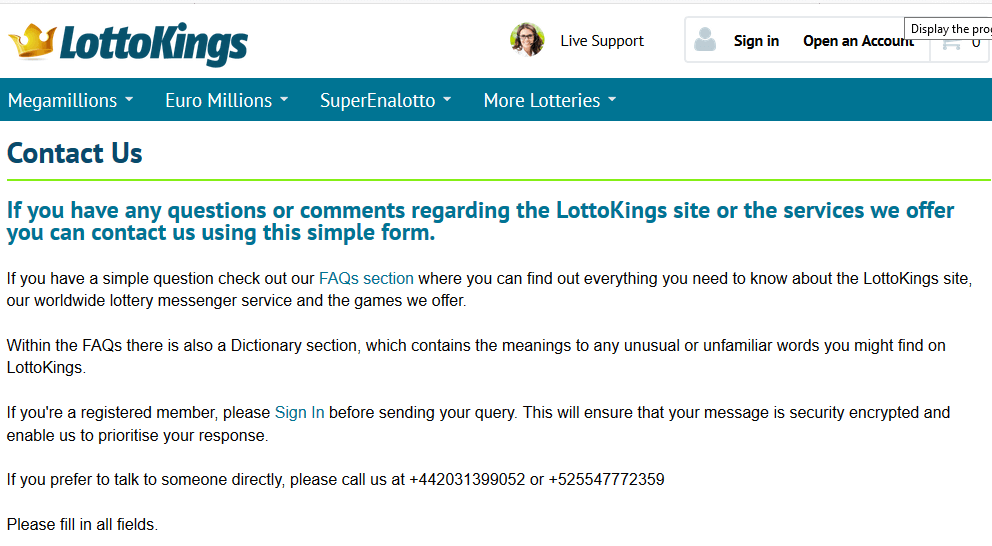 Another valuable form of support is the FAQ section. LottoKings has done a brilliant job of anticipating questions and their FAQ has 17 sections with an extensive drop-down menu. In contrast, Lottoz barely scratches the surface in their limited FAQ.
Winner: LottoKings
[lottokings_cta]
The Ultimate Winner: LottoKings
LottoKings retains its crown in this battle! It was pretty close, I have to admit. If Lottoz wants to remain in the game, they need to read my review. LOL! They came out ahead in several key features – ticket pricing and bonuses. And managed to tie with LottoKings in the number of games offered and user-friendliness.
But I had to give it to LottoKings based on fundamental points – no commission taken out of winnings, more language and banking options and the ease of claiming your prize.
Check back with me for future updates!
[lottokings_cta]