David Johnson wins $298 million US Powerball jackpot
Last Updated: May 3, 2020
New York's Second-Largest Powerball Win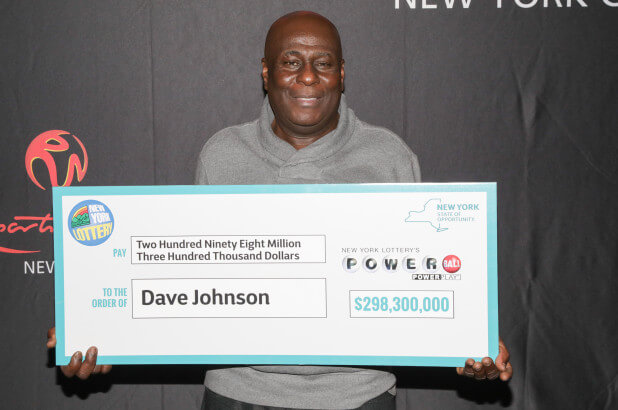 Brooklyn's David Johnson scored the third consecutive Powerball win for the New York Lottery last December 26, 2018.
Johnson, a 56-year-old truck driver, won the $298.3 million jackpot with the winning numbers 5-25-38-52-67 and a Powerball number of 24. His prize is the second-largest Powerball win in the history of the New York Lottery.
(The largest one is the $687.8 million jackpot for the October 27, 2018 drawing, which was split between New York resident Robert Bailey and a woman from Iowa.)
David Johnson's Powerball Payout
The win might be considered a fitting payoff: Johnson played games like Mega Millions, Powerball, and New York Lotto regularly in the hopes of catching one of the massive prizes.
Now, with his Powerball win, Johnson has opted for the lump sum payment, which totals $180,227,550. Factoring in required taxes, Johnson will be taking home a net sum of $114,091,248.
Johnson Plans Retirement with Powerball Winnings
The big surprise comes partly through one of Johnson's co-workers, who told him that the winning ticket had been sold at Arnold's Service Station on Linden Boulevard. The shop stands across the street from Iberia Foods, Johnson's workplace — and it just so happened to be the shop where Johnson buys his lottery tickets.
"I went to the store and gave the ticket to the clerk to check," Johnson recalls in a press release from the New York Lottery. "He scanned it and said, 'Congratulations.' I needed to see it for myself, so I scanned and saw it read BIG WINNER."
Johnson, a Jamaican native who moved to the US as a teen, is all set to bid his truck-driving days goodbye. In an interview with news outlet WABC, Johnson exclaimed, "I'm not going to work, I'm quitting right away!"
Among his shopping list of things to buy with the prize money are a red Porsche for himself, and a new home for his family.
Good for him!
If you have the time, check out other lottery winner stories and our guide on the best lottery prediction software tools that help increase your odds of picking winning numbers meaningfully. Good luck players!