How to Find the Best Weather in the UK Year-Round
Last Updated: September 15, 2022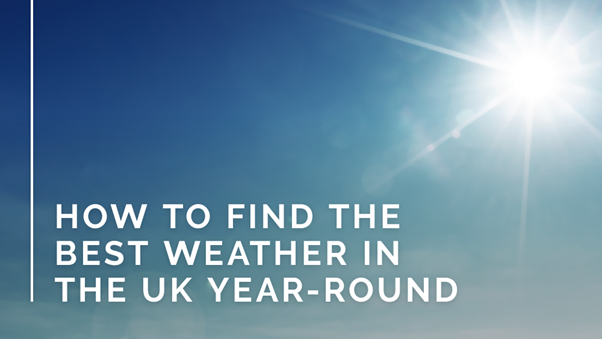 UK weather can seem a bit like the lottery—you can never be certain what you'll land with.
Interested in the Brits' fascination (read: obsession) with their ever-changing forecast, Lottery Critic wanted to find out which UK regions are predicted to have the luckiest weather during certain months. To give you an idea of which towns and cities to head to if you're craving a bit of good weather, we analyzed:
Ground frost
Rainfall (mm)
Sunshine hours
Snow days
Wind speed (meters per second)
Mean temperature (°C)
Autumn
Autumn can be a bit of a drag for some. The dark nights start to set in and drizzly weather becomes the norm. But if you're looking for somewhere to escape the harsh weather (at least, as much as you can!), then check out these results.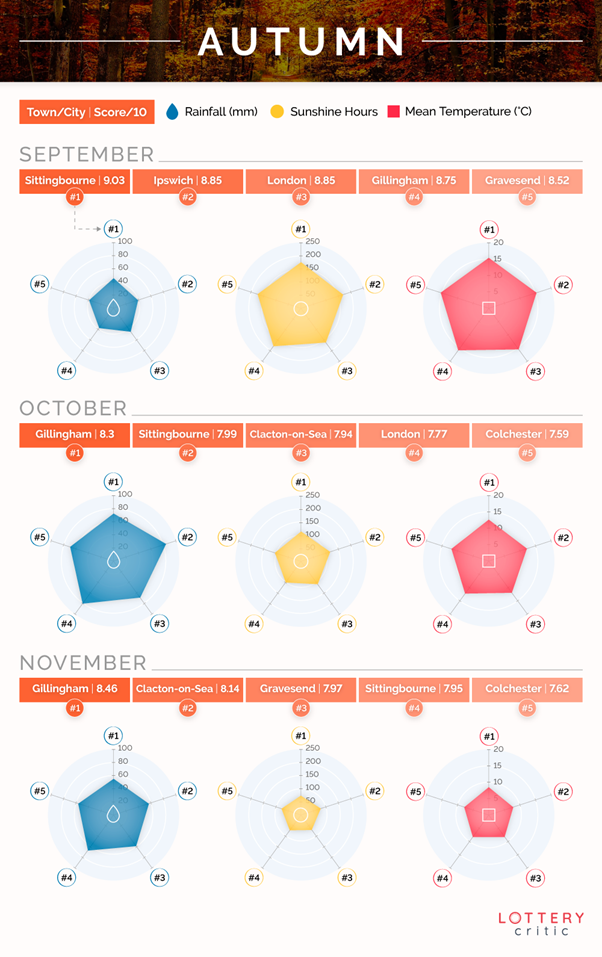 If you're not looking forward to wrapping up from September to November then head for Sittingbourne. It received an overall score of 9.03 out of 10 in September—the highest throughout all of autumn. The town, situated in Kent, has just over 65 mm per month on average during this season. You're also quite likely to enjoy a fair number of sunshine hours at an average of over 121 during the autumn months.
Gillingham fought its way to the top of the leaderboard in October and November with respective scores of 8.3 and 8.46 out of 10. There's no need to panic about frosty and slippy pavements as the town has few days with frost on the ground (an average of 2.71 days throughout autumn).
Not quite making it over the threshold of 9 is Ipswich, with a high score of 8.5, which it achieved in September. You won't have to worry about strong gusts of wind in this Suffolk-based town, as it has an average wind speed of 3.77 meters per second during autumn.
You're lucky with the weather if you live in England's capital, too, with an average score of 8.02 out of 10 throughout autumn. It's likely that you won't have any snow days in London and very few days with ground frost (an average of 3.86 during this season), so there's no chance you'll be slipping or sliding on your way to work in the mornings.
Clacton-on-Sea is, as the name suggests, a coastal town in Essex. And while relaxing by the sea may not be high on your list of priorities in autumn, this area has an average score of 8.11 out of 10 between September and November. October may be your best bet for visiting though, as the mean temperature is almost 12 °C and you'll have a low chance of rainfall with an average of 68.88 mm.
Winter
The winter chill comes everywhere in the UK, but some areas are luckier than others. Find out where to spend this season if you're looking for weather that's a bit less cold and icy.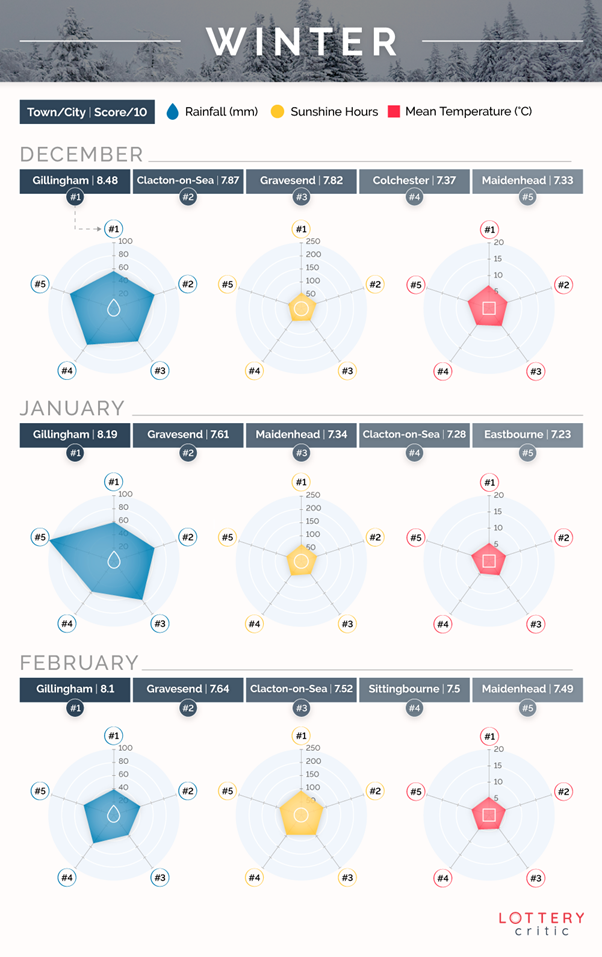 Gillingham is again sitting at the top spot for best weather in the UK, this time for its winter climate. With an average score of 8.26, it tops the lists from December to February. The most notable figures are a high mean temperature out of the top five at 6.96 °C, and an average rainfall of 52.5 mm.
Maidenhead makes its first appearance in the top spots during December with a score of 7.33 out of 10. If you're planning on visiting this area during the Christmas season, keep in mind the high number of days with ground frost (over 12 on average throughout the month) and a large amount of possible rainfall (over 70 mm).
Eastbourne, which missed out on the top spots in December, rounds out the top five in January. The score of 7.23, which is largely down to the high mean temperature of 5.79 °C, does just enough to secure fifth place.
If you're in the Midlands, your best chance of a good forecast during winter can be found in Derby. The city comes in seventh place for the best weather in February with a score of 7.33 out of 10.
Spring
The sun starts peeking through in spring, but it's often paired with flurries of storms and chilly temperatures. To get the most out of this season, head for these areas.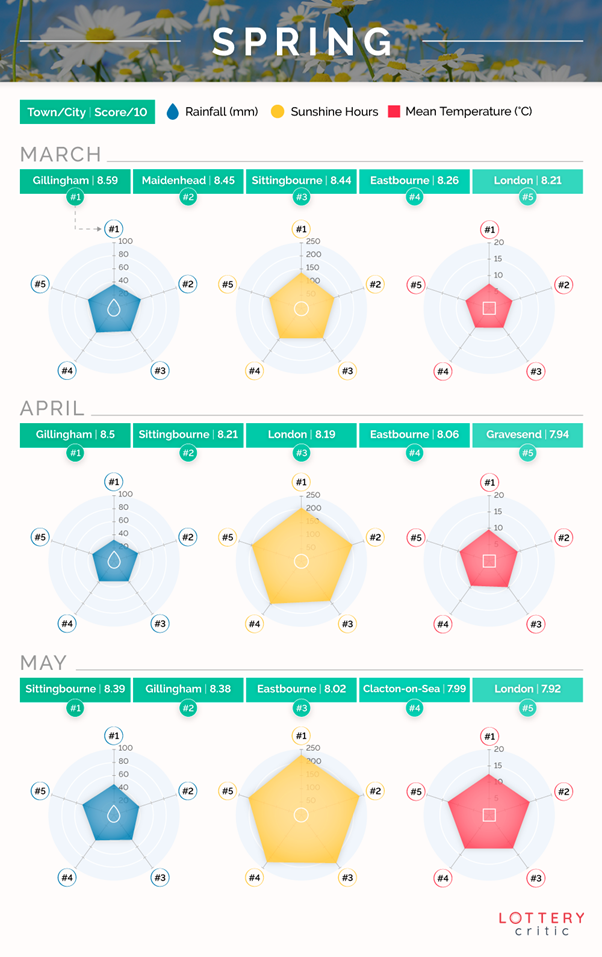 If you're searching for a northern area to spend your spring, Birkenhead is in the top 20 places for the best weather in March. It has received a score of 7.02 out of 10, less than two points below first place, and comes with an acceptable 128 hours of sunshine on average.
Take cover from any April showers in Gillingham as the area only has an average of nearly 33mm over the month and the highest overall score out of all UK areas in this study. Your second best bet for avoiding the rain is Gravesend with an average of just over 34mm in April.
May is the starting month of the best times to visit the UK for weather too, so why not double your chances of a great time by picking one of the other three areas in the top five: Eastbourne (8.02), Clacton-on-Sea (7.99), and London (7.92).
Summer
If you're someone who looks forward to the summer months every year, then you can make the most of them in these UK hotspots.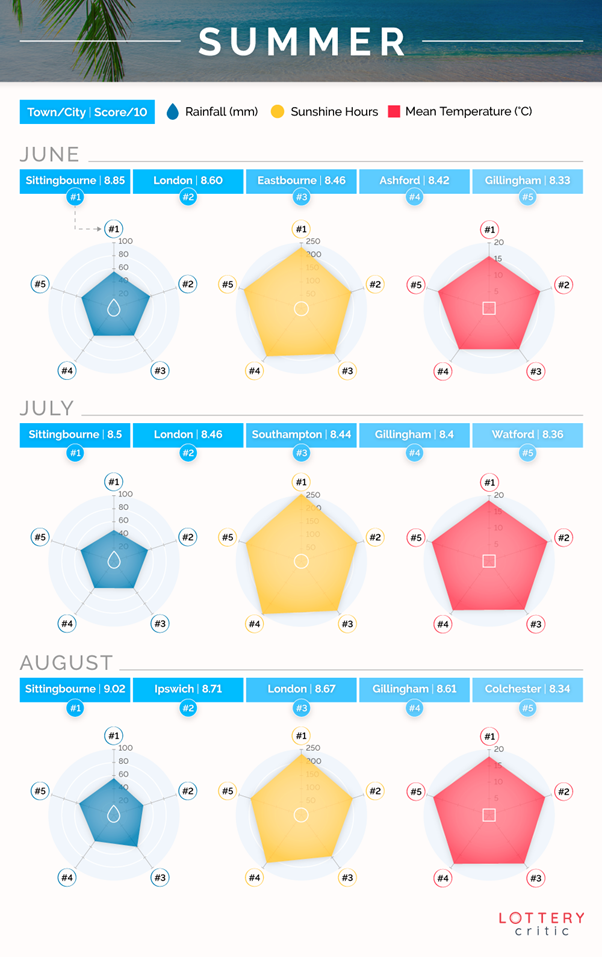 Sittingbourne claims the top spot for every summer month, with a score of 8.85 for June, 8.5 for July, and 9.02 for August. So heading to this southeast corner of England throughout the season will help you secure the best weather in the UK.
The other top choices for June include the first-time appearance of Ashford. The historic market town, located in the southeastern county of Kent, has an overall score of 8.42 out of 10, and the third highest number of sunshine hours with an average of over 225 over the month.
With the top two places in the UK in July with the best weather remaining the same as June, let's look at third place. For the first time so far, Southampton has made the top five with a score of 8.44. The mean temperature is 18.47 °C and the city enjoys a pleasant average wind speed of 3.66 meters a second.
Watford is another new contender, coming in fifth place with a score of 8.36. This town boasts the lowest wind speed of just over three meters a second, so there's a low probability of having to contend with strong gusts of wind in this area.
Ipswich makes it into the top five for August with a score of 8.71, sitting just behind Sittingbourne. It has the lowest figure for rainfall at just over 47 mm during the month, and the second-lowest figures for both days with ground frost (an average of just 0.02).
The rest of the top five is populated by London (8.67 out of 10), Gillingham (8.61), and Colchester (8.34).
Sunniest Spots in the UK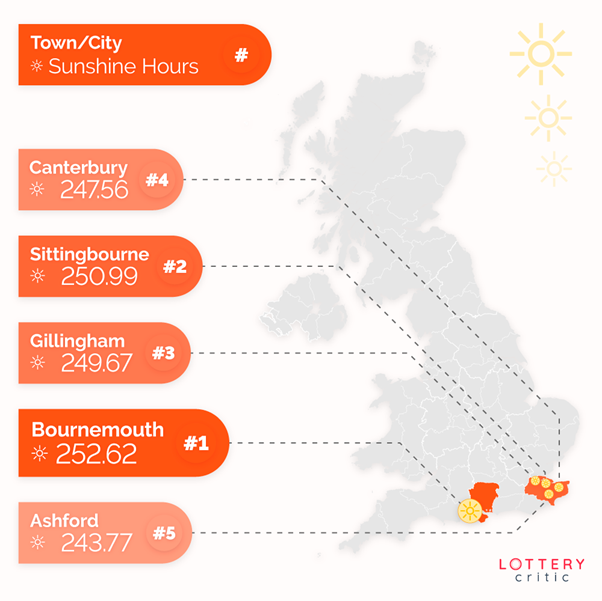 Sun chasers travel around the globe to stay in the golden rays, but if you're looking to do this in the UK then head for these areas.
All of the top five highest average for sunshine hours fell in July, but Bournemouth takes the top spot with an impressive number of 252.62. It's closely followed by Sittingbourne (almost 252 hours) and Gillingham (249.67 hours).
You'll be likely to enjoy a bit of sun in Canterbury and Ashford too, with respective average sunshine hours of 247.56 and 243.77.
Places With the Most Snowy Days in the UK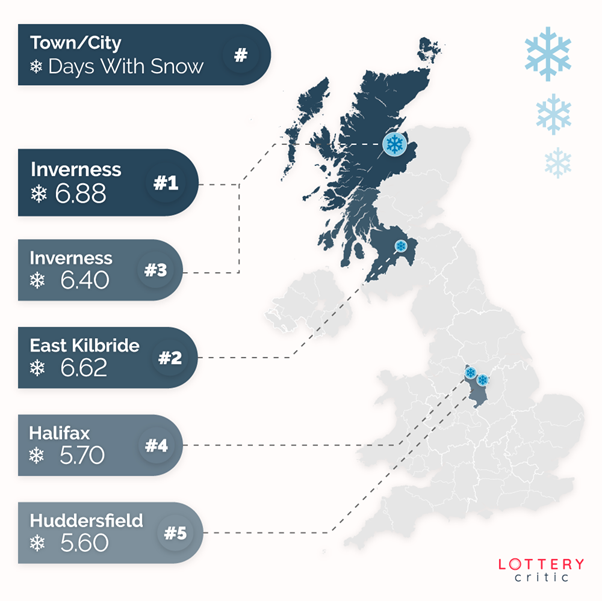 If snow is your thing, then head for Inverness. The city in the Scottish Highlands appears twice in the top five as it has the highest number of snowy days out of all areas in the study in January and February with an average of 6.88 and 6.4 days with snow.
Other places you may be able to catch a smattering of snow include the Scottish town of East Kilbride (a high of 6.62 snowy days in one month) as well as the northern areas of Halifax (5.7 snowy days) and Huddersfield (5.6 snowy days).
UK Places With the Worst Weather Year-Round
Is your idea of good weather high temperatures and sunny days? If so, Inverness shouldn't be high on your list of destinations. It has the lowest score of all areas in this study for 11 months of the year and so can be crowned the UK city with the "worst" weather.
The only time it isn't rock bottom is July, when East Kilbride takes this title.
If you're lucky enough to avoid the rain and ice in these areas of the UK then who knows? You may just be lucky enough to ace the UK lotto results too. You can even use lottery prediction tools to increase your chances as well.
Methodology
LotteryCritic.com sought to predict the UK city, which would have the best weather in September.
Monthly weather data for the past 10 years was obtained from CEDA Archive—a collection of gridded climate values derived from the network of UK land surface observations.
The data included: number of days with ground frost (per month), rainfall (mm/per month), sunshine hours (per month), number of days with snow laying (per month), wind speed at 10m (m/s per month) and mean temperature (°C per month).
Using the tool QGIS and geographic coordinates for each reading, each weather reading was mapped to one of the 288 local authorities (LA) within the UK.
Data was separated into each month and grouped by LA with averages taken over all six variables. Hence, for each LA there is an average weather variable over every month for the past 10 years.
The final score was determined with a PERCENTRANK—positive weighting on sunshine hours and mean temperature; negative weighting on rainfall, number of days of snow and wind speed.
All data was collected on 8 August 2022 and is subject to change.