3 Syndicates Offered
Only 3 lotteries are included in Wshful's syndicate bundles, but at least they are 3 of the biggest games around.
If you want to join syndicates that include Euromillions, Mega Millions and Powerball, Wshful is definitely a good bet. Starting at $4 a week, you can join a 20-line syndicate that's good for four weeks.  Once the first four weeks are up, you are then billed every four weeks thereafter until you cancel.
And the best part? Wshful actually purchases the tickets on your behalf. That's right, there's no lotto betting here, so you'll actually be participating in official games.
Another perk that Wshful offers is that each syndicate only has a total of 88 people in it. This means that, compared to other sites where syndicates normally go up to hundreds of shares, you can, in theory, get a bigger piece of the pie here.
Of course, Wshful's approach comes with some issues.
For starters, three lottery games don't really scream "variety"—despite the presence of three different subscription plan options. On top of that, you can only get Powerball lines per referral, so all you're technically paying for are Euromillions and Mega Millions shares.
On the plus side, each successful referral translates to five weeks of free Powerball lines.
Below is a full breakdown of Wshful's three subscription plans:
| | | | |
| --- | --- | --- | --- |
| | Silver | Bronze | Gold |
| Price / week | $4 | $10 | $16 |
| Price / month | $16 | $40 | $64 |
| Euromillions | 5 lines x 2 weekly draws | 15 lines x 2 weekly draws | 30 lines x 2 weekly draws |
| Mega Millions | 5 lines x 2 weekly draws | 15 lines x 2 weekly draws | 30 lines x 2 weekly draws |
| Powerball | 5 weeks free per successful referral | 5 weeks free per successful referral | 5 weeks free per successful referral |
| Number of Syndicates |  1 |  3 |  6 |
| Total # of Lines / month | 80 | 240 | 480 |
Banking Methods at Wshful
Wshful doesn't accept many payment methods, which is a bit disappointing.
On the plus side, the payment methods they accept—Visa, MasterCard, Maestro and Visa Electron—are all quite popular. These at least make their service more accessible to a lot of people. However, those that use alternative payment methods (such as, say, Skrill, DineroMail, or PayPal, among many others) may find Wshful's banking methods to be lacking. Withdrawing, on the other hand, is easy as it is done via your bank account.
Is Wshful Safe?
Yes, Wshful is guaranteed to be safe and secured.
They use SSL encryption to keep players' payment details under lock and key, for starters. Plus, they are also PCI DSS compliant, and are verified by Visa and MasterCard. In a nutshell, this simply means that using credit cards to pay for their subscriptions is guaranteed to be safe. This isn't some fly-by-night outfit looking to pilfer your credit card details—Wshful is the real deal.
Customer Support at Wshful
Customer support is pretty good from what I've experienced.
For starters, Wshful's FAQ is quite informative. It doesn't look like it at first, especially since, at first glance, it seems barebones, but, because Wshful's service is itself pretty simple, the seemingly sparse FAQ manages to cover all the basics.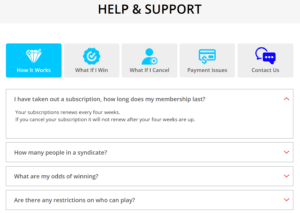 And if you need to contact them, you can do so via phone, email, and online contact form. Alternatively, they also have their business address listed—in case you wanted to get in touch in person or through snail mail. They aren't open 24/7 though, so it's important to keep their business hours in mind: they are open from Monday to Friday, every 09:00 to 17:00 GMT, and closed every Saturday, Sunday and bank holidays.
Other Features
Wshful Points Program
Wshful's referral system is, again, quite unique as far as lottery sites go.
You don't get VIP points or cash back offers here; instead, each successful referral gets you Wshful Points. Once you reach certain milestones, you automatically earn shares in additional lotteries. Typically, you can earn 5 weeks' worth of free US Powerball lines. As far as I know, this is the only way to get Powerball lines, so if you want to play in the biggest and most popular lottery game there is, you better start referring Wshful to your circle of friends.
How Wshful Works
Setting Up an Account
Creating an account with Wshful is a fairly straightforward process.
Here's how:
Click on the "Join Now" button located at the top-right corner of Wshful's page.
Choose one of the three subscription plans they have available.
Fill up the registration form by providing details such as: first and last names, email, password, birthdate, phone number, and complete address.
Confirm that you are of legal gambling age and have read and accepted their Terms & Conditions.
Select one of four payment methods.
Provide your payment details.
Click on "Pay" to complete your order.
One other thing to note: you can also speed up the registration by a bit if you link your Facebook or Twitter accounts.
Playing
Wshful doesn't believe in dilly-dallying—you're entered into the games as soon as you complete registration.
One of the best things about Wshful is that everything is fully automated. Unlike other lottery sites, you don't need to choose your numbers or how many draws you want to participate in. All you need to do is complete the registration (the process of which is detailed above) and pay for the subscription plan you chose. That's it! No fuss, no muss. And if, for whatever reason, you decide to cancel, you can do so at any time and your Wshful subscription will not renew once the next billing period rolls in. Easy peasy, right?
Winning


Winning with Wshful is equally as easy—everything is taken care for you.
If you win, Wshful will immediately contact you via email and phone, on one condition: your winnings must be above £100 (or around $136). If, however, your winnings are £100 or less, you must manually check your Wshful account, instead.
Another thing worth noting is that there are no deadlines for claiming prizes. So if, for some reason, you won't be able to collect it upon winning, you can do so at any time without any repercussions. And if you cancel your subscription with some winnings still in your account, Wshful will transfer your it to your bank account for you—all without taking any commissions or extra charges.
On the flip side, if your account only has less than £3 upon cancellation, Wshful will leave that in your account because the cost of transferring is too high—not to mention doing so is too time consuming for such a small amount. The good thing here is that if you do decide to play again, the winnings will still be in your account. However, once a whole year passes, any uncollected amount that is still in your account will be donated to Unicef.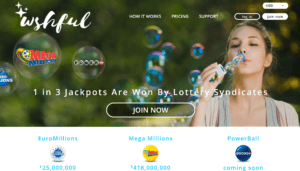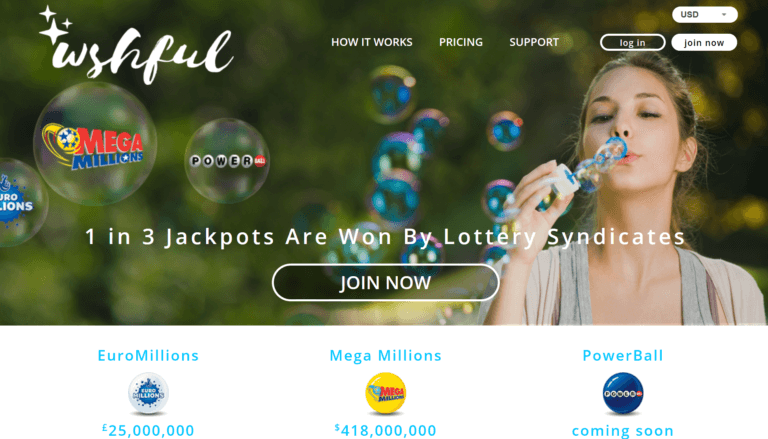 If you're a syndicate lover, Wshful definitely should be on your list.
Wshful largely succeeds in offering a simple, no-nonsense lottery experience for lovers of group play games. Here, what you see is what you get—and it's that straightforward nature of Wshful that really sets them apart from most lottery sites. I just wish there were more lottery syndicates offered or payment methods accepted, but these are but minor gripes in the grander scheme of things. Certainly, there's room for growth, but it's good to know that Wshful makes good use of what they have got. And that deserves a thumbs up in my book.
About Wshful
An associated brand of Cloud Canyon Ltd, and registered in the UK, Wshful is a unique lottery site focused solely on providing syndicate games to players all over the world. Players choose from three different—affordable—subscription plans containing syndicate shares to Euromillions and Mega Millions. Players can also refer friends to gain shares in Powerball draws.