PlayHugeLottos Review
Written by Nicholas Christensen
Last Update: August 9, 2018


A run-of-the-mill lottery site at first glance, PlayHugeLottos proves there's more to it than meets the eye.
PlayHugeLottos, which is part of a large umbrella of lotto sites, surprises with its range of offerings. Not only do you get to play in the biggest lottery games around, a range of supplementary games help keep things fresh and exciting. They also provide several unique features that alter the way you play. That said, PlayHugeLottos may not be for some players.
Number of Lotteries: 14
| | |
| --- | --- |
| US Powerball | Mega Millions |
| Euromillions | SuperEnaMax |
| SuperEnaLotto | Mega-Sena |
| UK Lotto | France Loto |
| EuroJackpot | El Gordo |
| La Primitiva | Oz Lotto |
| Oz Powerball | Lotto 6aus49 |
PlayHugeLottos Promotions and Bonuses
LottoPoints loyalty program
Free entries on first purchase
Free entries upon using non-credit card payment
Various giveaways
Overall 3.2/5
Registration 4.0/5
Bonuses, Promotions, and Games 3.0/5
Trust and Security 4.0/5
Experience (Interface and Ease of Use) 3.0/5
Payment/Withdrawal Options 3.0/5
Customer Support 2.5/5
Other Great Online Lottery Reviews


Score: 5/5
TheLotter Review


Score: 4.5/5
Lotto Agent Review


Score: 4/5
WinTrillions Review
Registration
4.0
PlayHugeLottos makes account creation easy--even for those who live in countries where playing online lottery is prohibited.
You read that right! Their registration process is pretty run-of-the-mill, but what makes them stand out is the fact that people from countries like the United States (where playing online lottery is largely illegal) can also create and account. Word of warning though: just because PlayHugeLottos allows you to create an account with them, it doesn't mean you're automatically exempted from the law. Play at your own risk!
Bonuses, Promotions, and Games
3.0
Regular Lottery Games
PlayHugeLottos offers 14 lottery games consisting of some of the world's most popular lotteries.
Staying true to their name, PlayHugeLottos offers games that are known for their astronomical payouts. Lotteries like the US Powerball, Mega Millions, Euromillions, and SuperEnaLotto are all present here, along with other big games from around the world. The amount of offered games is definitely not the most impressive I've encountered, but it should be more than enough for most players.
Here are all the games they offer:
PlayHugeLottos' Lottery Games

US Powerball

Mega Millions
Euromillions

SuperEnaMax

SuperEnaLotto

Mega-Sena
UK Lotto

France Loto

EuroJackpot

El Gordo
La Primitiva

Oz Lotto

Oz Powerball

Lotto 6aus49

While PlayHugeLottos officially enters you into lotteries, it should be noted that they also offer lotto betting games. Personally, I prefer being an official entrant over betting on a game's outcome, but I do recognize that lotto betting has its merits too—especially if it's properly implemented. PlayHugeLottos' implementation, however, leaves a lot to be desired.
The biggest problem here is that lotto betting draws seem to pop up at random. And with no ticket scans, it's difficult to suss out which draw is official and which isn't. PlayHugeLotos says on their FAQ that if a game's jackpot is larger than what a lottery has officially announced, that means it's a lotto betting game.
The truth is, according to one of the representatives I talked to, even PlayHugeLottos itself doesn't know which draws will be turned into lotto betting games. Apparently, it's all up to their insurer to decide.
So, if you want to avoid lotto betting games your best bet is to keep abreast of the latest official jackpots. If the top prizes announced on PlayHugeLottos don't match up with the official ones, then there's a chance you're looking at a lotto betting draw.
It's not really practical, and it's much easier to just go to a different lottery site that only offers official games—like theLotter, for instance. Of course, if you are fine with lotto betting, there's no reason you won't enjoy what PlayHugeLottos offers. You're getting the best of both worlds, after all!
---
Keno
If you prefer faster-paced games, Keno might be right up your alley.
One of PlayHugeLottos' newest offerings is Keno, which works a bit similar to regular lottery games but is much faster. Draws are held every 3 minutes, so this is great for those looking for more excitement.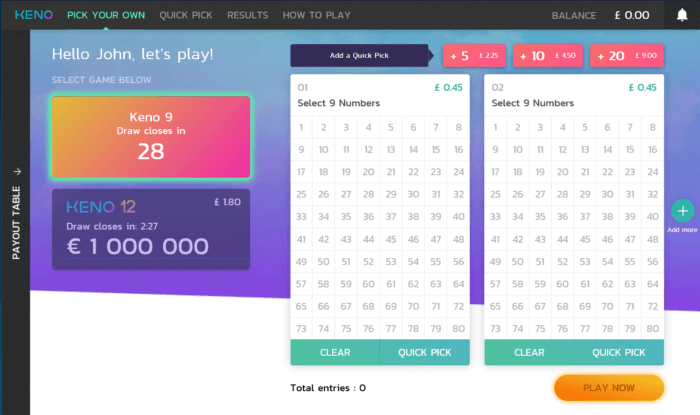 Players can choose between two versions:
Keno 9: Players choose a total of 9 numbers to play.
Keno 12: Players choose a total of 12 numbers to play.
Keno 9 will cost you £0.45 per play and you can add 5, 10, or 20 quick pick lines—which costs £2.25, £4.50, or £9.00 each, respectively. Meanwhile, the Keno 12 will cost you £1.80 per play and, just like the Keno 9, you can also add quick pick lines. 5 quick pick lines will cost you £9.00, 10 quick pick lines will cost you £18.00, and 20 quick pick lines will cost you £36.00.
---
Instant Win
If interactive games are more your speed, PlayHugeLottos' range of Instant Win games are fantastic—though I ran into some problems.
PlayHugeLottos' array of video game-like Instant Win games include the fun, pirate-themed Skulldiggery, the Alien Invaders knockoff Cashtrovaders, the nostalgia-powered Snakes and Ladders, and 10 more themed games.
Prices differ depending on each game. Some cost as low as £0.10 while others cost as much as £1.00 per play. Each game offers different prizes, too. Star Match, for example, only offers as much as £5,000, while Lotto Machine and Bingo both offer up to £250,000.
If you're unsure which game is right up your alley, PlayHugeLottos also allows you to play a demo of each Instant Win game they offer so you can get a feel for their mechanics. Unfortunately, during my testing, demos weren't loading properly, even after several browser refreshes. To be fair, this might be an isolated case, or it could simply be browser-related. Your mileage may vary.
---
Scratch Cards
Some lottery sites have been removing scratch cards from their repertoire lately, so it's refreshing to see it among PlayHugeLottos offerings.
There is a total of 18 scratch cards on offer, each with its own unique theme. The mechanics are pretty much the same across the board though. Players "scratch" various cells to reveal what's beneath and must match at least 3 of the same image to win. Depending on what scratch card you go with, top prizes range from £500-£100,000. Prices differ with each scratch card, but it's guaranteed that they are all quite affordable.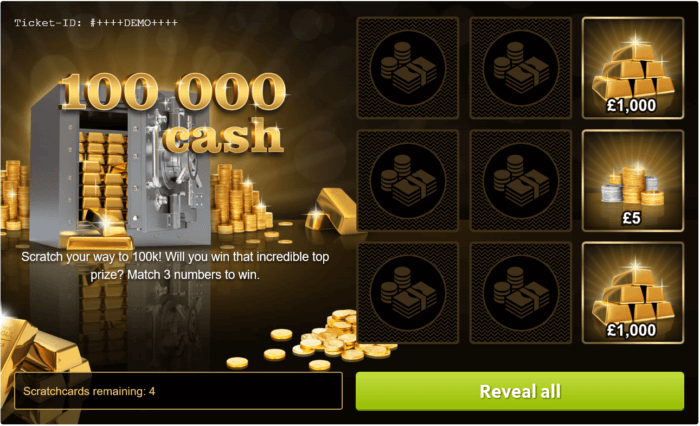 ---
Promotions
PlayHugeLottos offers several cool promotions.
These are:
Free Entries: You can get 10 free entries upon your first ever purchase, plus another 10 if you use a non-credit card payment method.
LottoPoints Rewards Program: This allows you to can earn points for every purchase. Once you accumulate enough points, you can exchange them for tickets.
Competitions: Want to win cool prizes? PlayHugeLottos frequently holds competitions and/or giveaways. Players have won prizes such as vacation packages and tickets to the Rugby World Cup--maybe you will, too!
Trust and Security
4.0
All signs point to PlayHugeLottos' site being quite safe.
For starters, their website utilizes Comodo SSL which, if you're not familiar, makes sure that all data passing from browsers to servers (and vice versa) is encrypted. In other words, it keeps your information—like payment details—under lock and key. Third-party security consultant, SRC, even gives PlayHugeLottos' website security a thumbs up.
On top of that, PlayHugeLottos—along with the range of websites under the Play UK Internet umbrella—is duly licensed and regulated by the government of Curacao. This means that they must comply with the standards set by the curacao gaming commission, lest they face penalties.
Experience (Interface and Ease of Use)
3.0
Lottery Education Materials
PlayHugeLottos' education materials are quite decent, but lacking depth.
You can learn more about a game's history, its mechanics, its prize structure, and even its biggest winners so far. There's nothing much beyond that though. If you're curious about hot and cold numbers or if you're looking for an in-depth breakdown of a game's odds, you should probably look elsewhere.
---
Ease of Use
PlayHugeLottos' website is quite easy to use, with some minor issues.
For the most part, PlayHugeLottos is set up like any other lottery site. The games can be readily accessed right on the landing page if you want to purchase tickets immediately. Or, you can dig deeper through their navigation menus and play the other games they have on offer. Even those not familiar with online lottery can easily get their bearings.
The website also supports a total of 11 languages, namely: English, Russian, Deutsch, Français, Polski, Česky, Magyar, Svenska, Română, Portuguese, and Spanish. It would have been ideal if they supported more languages (especially for the live chat) so even more people around the world can easily play. As it stands, however, the current offering is decent enough.
Another minor issue that I have is that finding the Help Section—specifically the FAQ section—was quite confusing at first. Usually, it's not hard to miss the FAQ or Help Section of a lottery site, but PlayHugeLottos, for some reason, decided to hide everything inside the "Contact Us" link. It's not a huge deal, but for some people it might get confusing.
---
Game Options
The various options available to players make the PlayHugeLottos experience more exciting.
PlayHugeLottos offers 6 "Game Options" that alter the way you play. They are:
Rapid Play – If participating in every draw of the lottery game of your choice sounds appealing, give this one a go. You can enter every draw in a week, an entire month, or you can also set your own parameters.
Standard Bundle – This option bundles all their games in one package. You can choose between 5 different bundles: One Week Play, Four Week Play, Three Month Play, Six Month Play, and One Year Play.
Super7 Bundle – If you don't want to play every game PlayHugeLottos offers, this option lets you customize a 7-game bundle instead. You can also choose how long you want to play: a week, a month, three months, six months, or a whole year.
Big 5 Bundle – This game option bundles 5 of the biggest lotteries offered by PlayHugeLottos, namely: US Powerball, Mega Millions, EuroJackpot, Euromillions, and SuperEnaMax. The best part is that you can choose to play the bundle for a whole week, four weeks, three months, six months, or even an entire year. This allows you play in all the draws of all 5 games.
IntelliPlay – This is probably the most interesting game option that PlayHugeLottos offers. IntelliPlay allows you to create certain conditions that, if met, will trigger the system to automatically play an entry on your behalf. For instance, the IntelliPlay system can play an entry once it detects a Powerball jackpot that is the result of a quaruple rollover.
Extra Numbers – The most straightforward out of all the game options, this allows you to simply add extra numbers to your entry.
---
Playing
Buying tickets at PlayHugeLottos is easy as it doesn't stray from the norm.
Here's how:
Log in to your account.
Deposit funds
Choose a lottery game you want to play.
Select your numbers manually or via the Quick Pick option.
Choose how many draws you wish to participate in and on what draw date your ticket will first be entered.
Confirm your purchase.
Cross your fingers and hope to win!
Also take note that PlayHugeLottos offers two ways of picking numbers. The first one takes you to a page dedicated specifically to the lottery of your choice. This is what you will encounter in most lottery sites.
The second way is more interesting. It lists down all the available lotteries in one page where you can directly purchase tickets. It's pretty convenient because you don't have to go back and forth between pages or browser tabs if you want to play multiple games. You can find this under the "More Lotteries" link on the navigation menu.
Payment/Withdrawal Options
3.0
Purchasing tickets is made easier thanks to the various methods accepted by PlayHugeLottos—which should delight those that don't use Visa or MasterCard exclusively.
In total, they accept 24 different payment methods, ranging from bank transfers to online wallets and more. This is great news for those that don't use popular credit cards Visa and MasterCard (which they also accept, by the way). Check out the full breakdown below:
Accepted Payment Methods

Visa
MasterCard
EntroPay
Bank Transfer
Neteller
Skrill
ePay.bg
WebMoney
Neosurf
Abaqoos
Moneta
POLi
DineroMail
Euteller
Giropay
Boleto Bancario
Przelewy24
Sofort-Überweisung
EPS
Trustly
Qiwi Wallet
HalCash
AstroPay
PaySafeCard
---
Winning
Claiming prizes is easy because PlayHugeLottos takes care of almost everything for you.
If you win, your prize will be automatically transferred to your account as soon as the latest results have been officially announced. You can use your winnings to play more lottery games and get a 25% top-up bonus, or you can simply withdraw it.
Depending on the withdrawal method you chose, withdrawals can take as long as 2 weeks or as fast as 2 days. For those that win larger prizes, PlayHugeLottos will be in touch and guide winners every step of the way to ensure that winners receive their prizes without any issues.
Customer Support
2.5
Live Support
Yes
Phone Support
Yes
The customer support options available to users are fantastic, but I found some minor issues.
To start with, the FAQs do a pretty good job of explaining nearly everything about PlayHugeLottos' service in detail. But for those whose concerns can't be addressed by self-help means, they offer a wide range of options. You can call them through various international numbers for players in UK, Poland, Sweden, Argentina, Brazil, France, Romania, and Hungary. Alternatively, you can request that they call you instead, thanks to a call back feature.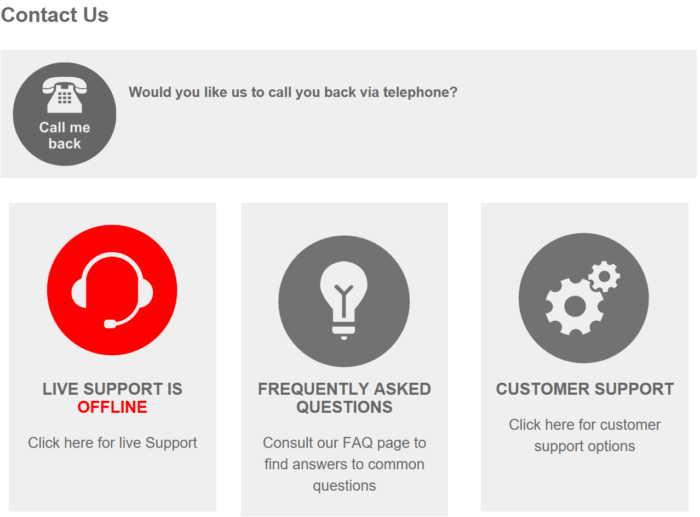 In addition, they also have live chat—which I got to try. The agent that assisted me was really helpful and quite knowledgeable. One caveat is that their live chat only offers two languages: English and Portuguese. The other thing that you should take note of is that the live chat option isn't available 24/7. In the event that it is offline, you will be diverted to an online contact form instead. It's a good thing that you can also reach their support team via email if phone or live chat fails.
Review


Bottom Line for PlayHugeLottos
Overall: 3.2
Fine, but look for alternatives.