20 Lottery Games Offered
Regular Lottery Games
Aside from offering the most popular and lucrative lotteries, OneLotto also offers a few obscure ones.
They currently have 20 games on tap, with the usual suspects leading the charge: US Powerball, US Mega Millions, Euromillions, and SuperEnalotto.
But that's not all – they also have quite a few not-so-popular ones as well, like Greek Joker or Greek Lotto.
Overall, it's a pretty good mix despite not being able to match the sheer variety of games offered by some of the heavyweights in the industry.


Syndicates
OneLotto also offers several group play games, though don't expect a large selection.
So far, they only offer 7 syndicates for lotteries like: US Powerball, US Mega Millions, Euromillions, EuroJackpot, and SuperEnalotto. It's a bit disappointing that they don't offer anything more beyond these, but at least their syndicates involve the most popular and lucrative lotteries around. This ensures that, at the very least, you're looking at the possibility of winning bigger prizes than if they had chosen obscure syndicate games.


Deposit and Withdrawal with OneLotto
OneLotto lags behind their competition when it comes to banking options.
Accepted payment methods are severely limited here. In fact, they only accept a measly 4 payment options, namely: Union Pay, Visa, MasterCard and NETeller.
This is a problem because it limits the number of people that can play at OneLotto. Sure, these are all popular payment methods, but not everyone uses them. No one will go out of their way and apply for these when they can simply find another lottery site that accepts the payment methods they use.
And yes – there are a lot of sites that accept numerous payment methods. Just look at WinTrillions.
Is OneLotto Safe?
OneLotto offers a pretty secured lottery experience, thanks to several security measures.
For starters, the company utilizes 128-bit GeoTrust SSL encryption and HTTPS to secure player transactions.
They are also a certified by ICO, or Information Commissioner's Office, which is basically a regulatory body officially appointed by the Crown and reports directly to the British Parliament.
In short, OneLotto is pretty legitimate.
OneLotto's Customer Support
Overall, you're getting solid customer support from OneLotto.
Their FAQs, for starters, are pretty comprehensive and should enough to help you get up to speed regarding their services. You can learn about topics like: Playing with OneLotto, Registration and Account, How to Play, Payments, and more.
If you need more assistance beyond self-help measures, you can easily contact OneLotto via phone (which is available 24/7), live chat, email, postal, or social media sites like Facebook, Twitter, and Google+.
Other Features
Lottery Education Materials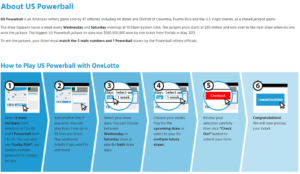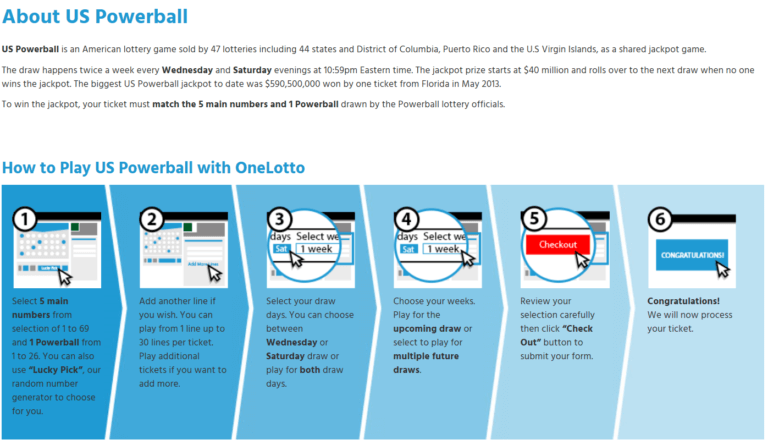 OneLotto helps every player learn the mechanics behind each lottery game.

Like most lottery sites, OneLotto includes informational tidbits about each lottery in their respective game pages.
However, unlike other sites, it takes a few clicks to get to the information as they chose to house them in separate pages (i.e. not everything can be found in a game page).
It's not a deal breaker though, especially since the information they provide is a bit more meaty than other lottery sites'.
Ease of Use
For the most part, OneLotto's website is pretty easy to use – but some players may find it tricky.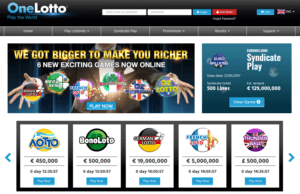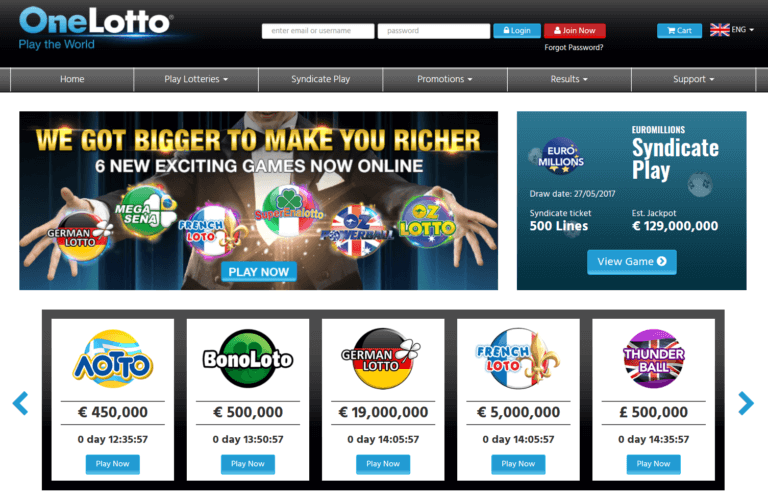 Their website doesn't stray far from the design language that many lottery sites adhere to, so you won't have problems using it.
The latest lottery jackpots and results are displayed front and center, while a quick description of how their service works can be found at the bottom. And up top you'll find links to the various sections of their website. Even if you are a newcomer to the online lottery industry, you'll be gliding across their website in no time at all.
That is, if you understand English, Chinese or Thai.
If not, well, the experience might not be a pleasant one because OneLotto decided not to include language options beyond these two.
Of course, you can always turn to Google Translate, but that's just not a 100% reliable solution. Having an official translation is always ideal.
Promotions
One of the interesting things that OneLotto does is that they offer a variety of promotions that can help you save some money.


They currently have 3 different promotions:
Multi-Draw Discounts: As the name suggests, you can get discounts (up to 10%) if you purchase entries for multiple draws. The mechanics are as follows:


| | |
| --- | --- |
| Number of Draws | Discount |
| 8 Weeks | 5% |
| 4 Weeks | 2.5% |
| 26 Weeks | 7.5% |
| 56 Weeks | 10% |

Deal of the Day: If you purchase 10 lines, you get 1 line for free. That said, with this being a "Deal of the Day" promo, this might change in the future (though they don't really say if that's the case).
Free Play Rewards: Playing 1 line on any game entitles you to 1 Reward Point, which converts into a Free Play Reward if you reach 25 Reward Points. You can then use the Free Play Reward on any lottery game of your choice.
How OneLotto Works
Setting Up an Account
Creating a free account at OneLotto is a breeze  though it does pose a problem for players in some countries.
First off, here's how you create an account:
Click on the red "Join Now" button located at the topmost part of OneLotto's website. It will take you to the registration page.
Fill up the necessary fields with your first and last names, email, country, mobile number, date of birth and gender.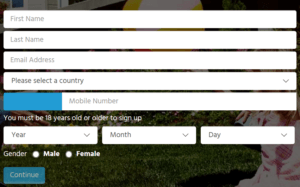 Click on the blue "Continue" button once you are done. Doing so will take you to the second part of the registration process.
Fill up the required fields with your chosen username and password. You are also asked to enter your account currency.
Click on the blue "Register" button.
Start playing!
Pretty easy, right?
For most people it should be, but for some reason OneLotto makes it impossible for players in some countries to create an account.
During the first part of the registration process, the website can automatically detect if you are living in a country that they do not support yet.
If you live in a supported country, you should be able to register with no problems. But, if you are living in an unsupported country, you won't be able to continue registration.
It's not really an issue since lottery sites usually don't support some countries due to specific laws and restrictions. But it's a little odd that countries you thought would be supported are not (and vice versa).
For instance, other online lottery sites support players from, say, the Philippines. But OneLotto does not.
Alternatively, most lottery sites do not allow players from the United States to register, but OneLotto does.
Granted, they only accept US players from minor outlying islands – but still. It's a little confusing, to say the least.
Playing
If you manage to register without issue, the playing process should be even more hassle-free.
Here's how:
Log in to your OneLotto account.
Choose the game you want to participate in. You can do this via their front page, or their lotteries page to see every game they have on offer.
Once you've chosen a lottery game, it's time to pick your numbers! You can do so manually, or randomly via 3 options:

Lucky Pick 5 lines: This option automatically chooses the numbers for 5 lines for you.
Lucky Pick 10 lines: Going with this option means the numbers for 10 lines will be automatically chosen for you.
Play Last Numbers: This option inserts the last numbers you played. Note that you need to be logged in/have an account.

Choose which draws and how many consecutive weeks you want to participate in.
Review your selection.
If you are satisfied, click the red "Checkout" button.
And you're done!
Winning
OneLotto automatically notifies you if you've won, and makes prize claiming a fairly easy process.
While results are published on their website 3 hours after official draws have ended, you don't really need to check OneLotto's site every now and again to see if you've won. They immediately scan every ticket to see if any matches the winning numbers. If you win, they send you an email informing you. All winnings are then deposited to your account wallet where you can withdraw your money.
One minor gripe about their prize claiming process is how the process for jackpot wins is ambiguous.
This is how they describe the claiming process for large wins:
"For Jackpot and large 2nd tier wins we will immediately contact you to direct and guide you through the process. This will be based on your location and amount won."
Now, this doesn't seem like your winnings will be automatically deposited to your account like what they claim (at least for jackpot and 2nd tier prizes).
That said, their live chat agent did confirm to me that if you won the two highest prize categories, OneLotto will claim your winnings on your behalf. They will then coordinate with you regarding the procedure for claiming your prize.
They should have been more clear upfront, but kudos to their support agent for getting back to me in a timely manner and actually answering my question!
Alternatives to OneLotto
Though OneLotto is pretty decent, there are several lottery sites that offer much better service.

You can choose from a ton of lottery games!
theLotter currently offers 53 lottery games, plus a handful of syndicates. You can also choose to purchase in bundles, which gives you entries to both regular lottery games and group play games – for a discounted price!
They accept more payment methods!
theLotter accepts 29 deposit methods, and 7 withdrawal options. These range from popular ones like Visa, MasterCard, and the like, to lesser known ones.
Their ticket prices are a bit expensive though.
Sadly, the handling fees they tack on to every ticket raises the prices. They are a bit expensive, but theLotter's track record makes it worthwhile.
Game variety is their forte!
WinTrillions offers 20 lottery games, along with several syndicates, raffles and even raffle syndicates.
They accept a lot of payment options.
Like theLotter, WinTrillions accepts a wide array of payment options. Currently, they accept 32 – including Bitcoins.
Unfortunately, you can't purchase entries for single draws.
You can only purchase entries for multiple draws, which makes every purchase rather pricey.
They offer more than regular lotteries!
Like WinTrillions, LottoKings offers 19 lottery games – plus syndicates and a few raffles.
You can choose to claim prizes via 3 methods.
LottoKings can claim prizes on your behalf, which you can collect via check or at a LottoKings office near you. If you don't want LottoKings doing things for you, you can opt to claim it yourself in person.
They don't scan tickets.
Unfortunately, LottoKings does not scan your tickets, so don't expect them to send you a copy. They do, however, send purchase invoices instead.
Give OneLotto a look, but keep your expectations in check.
There is a lot to like at OneLotto: decent game variety, zero commissions, various promotions, and an easy prize claiming process.
However, several limitations – like lacking payment methods, game types, and language options – prevent some people from truly enjoying their service.
It's a shame, because I truly think OneLotto has the potential to be one of the lottery industry's greats. For now, however, they are just another decent lottery site.
About OneLotto
OneLotto is an online lotto agent that purchases tickets on a player's behalf and offers a secure online lottery experience. They are owned and operated by Ardua Ventures (UK) Ltd., and is certified by the Information Commissioner's Office.