OneLotto Review
Written by Nicholas Christensen
Last Update: June 22, 2018


I think OneLotto is a pretty decent lottery site, but it's hindered from rising above most of its ilk by a lot of limitations.
It's a shame that OneLotto's limitations – few payment methods, few languages supported, and lacking game types – drag down an otherwise solid lottery site. They offer 20 games, 7 syndicates, and tons of promotions, for starters. Plus, they also make prize claiming an absolute breeze by depositing your winnings straight to your account. They don't take a percentage from your prize, either. Were it not for the aforementioned missteps, I would have rated OneLotto much higher. Still, it is worth a look.
Number of Lotteries: 20
| | | | |
| --- | --- | --- | --- |
| EuroJackpot | BonoLoto | Irish Daily Million | EuroMillions |
| UK Thunderball | Mega-Sena | Mega Millions | Lotto 6aus49 |
| France Loto | Greek Loto | SuperEnalotto | La Primitiva |
| Irish Lotto | UK Lotto | SuperLotto Plus | US Powerball |
| Greek Joker | El Gordo | Oz Lotto | Australia Powerball |
OneLotto Promotions and Bonuses
Multi-draw discounts
Deal of the day
Free play
Overall 2.5/5
Registration 1.3/5
Bonuses, Promotions, and Games 3.5/5
Trust and Security 4.0/5
Experience (Interface and Ease of Use) 2.5/5
Payment/Withdrawal Options 1.0/5
Customer Support 3.5/5
Other Great Online Lottery Reviews


Score: 5/5
TheLotter Review


Score: 4.5/5
Lotto Agent Review


Score: 4/5
WinTrillions Review
Registration
1.3
Creating a free account at OneLotto is a breeze – though it does pose a problem for players in some countries.
For most people it should be easy as it is pretty standard, but for some reason OneLotto makes it impossible for players in some countries to create an account. During the first part of the registration process, the website can automatically detect if you are living in a country that they do not support yet. If you live in a supported country, you should be able to register with no problems. But, if you are living in an unsupported country, you won't be able to continue registration.
It's not really an issue since lottery sites usually don't support some countries due to specific laws and restrictions, but it's a little odd that countries you thought would be supported are not (and vice versa). For instance, a lot of online lottery sites support players from, say, the Philippines, but OneLotto does not. Alternatively, most lottery sites do not allow players from the United States to register, but OneLotto does. Granted, they only accept US players from minor outlying islands – but still. It's a little confusing, to say the least.
Bonuses, Promotions, and Games
3.5
Regular Lottery Games
Aside from offering the most popular and lucrative lotteries, OneLotto also offers a few obscure ones.
They currently have 20 games on tap, with the usual suspects leading the charge: US Powerball, US Mega Millions, Euromillions, and SuperEnalotto. But, that's not all – they also have quite a few not-so-popular ones as well, like Greek Joker or Greek Lotto. Overall, it's a pretty good mix despite not being able to match the sheer variety of games offered by some of the heavyweights in the industry.
---
Syndicates
OneLotto also offers several group play games, though don't expect a large selection.
So far, they only offer 7 syndicates for lotteries like: US Powerball, US Mega Millions, Euromillions, EuroJackpot, and SuperEnalotto. It's a bit disappointing that they don't offer anything more beyond these, but at least their syndicates involve the most popular and lucrative lotteries around. This ensures that, at the very least, you're looking at the possibility of winning bigger prizes than if they had chosen obscure syndicate games.
---
Promotions
One of the interesting things that OneLotto does is that they offer a variety of promotions that can help you save some money. 
They currently have 3 different promotions:
Multi-Draw Discounts: As the name suggests, you can get discounts (up to 10%) if you purchase entries for multiple draws. The mechanics are as follows:
4 Weeks' Worth of Draws = 2.5% discount
8 Weeks' Worth of Draws = 5% discount
26 Weeks' Worth of Draws = 7.5% discount
56 Weeks' Worth of Draws = 10% discount
Deal of the Day: If you purchase 10 lines, you get 1 line for free. That said, with this being a "Deal of the Day" promo, this might change in the future (though they don't really say if that's the case).
Free Play Rewards: Playing 1 line on any game entitles you to 1 Reward Point, which converts into a Free Play Reward if you reach 25 Reward Points. You can then use the Free Play Reward on any lottery game of your choice.
Trust and Security
4.0
OneLotto offers a pretty secured lottery experience, thanks to several security measures.
For starters, the company utilizes 128-bit GeoTrust SSL encryption and HTTPS to secure player transactions. They are also a certified by ICO, or Information Commissioner's Office, which is basically a regulatory body officially appointed by the Crown and reports directly to the British Parliament. In short, OneLotto is pretty legitimate.
Experience (Interface and Ease of Use)
2.5
Lottery Education Materials
OneLotto assures that every player, whether new or a veteran, knows the mechanics behind each game thanks to the various education materials they offer.
Like most lottery sites, OneLotto includes informational tidbits about each lottery in their respective game pages. However, unlike other sites, it takes a few clicks to get to the information as they chose to house them in separate pages (i.e. not everything can be found in a game page). It's not a deal breaker though, especially since the information they provide is a bit more meaty than other lottery sites'.
---
Ease of Use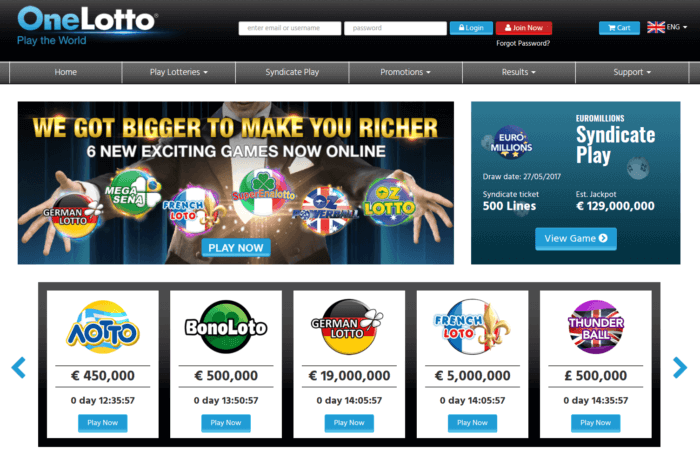 For the most part, OneLotto's website is pretty easy to use – but some players may find it to be the opposite.
Their website doesn't stray far from the design language that many lottery sites adhere to, so you won't have problems using it. The latest lottery jackpots and results are displayed front and center, while a quick description of how their service works can be found at the bottom. And up top you'll find links to the various sections of their website. Even if you are a newcomer to the online lottery industry, you'll be gliding across their website in no time at all.
That is, if you understand English, Chinese or Thai. If not, well, the experience might not be a pleasant one because OneLotto decided not to include language options beyond these three. Of course, you can always turn to Google Translate, but that's just not a 100% reliable solution. Having an official translation is always ideal.
Payment/Withdrawal Options
1.0
OneLotto lags behind their competition when it comes to banking options.
Accepted payment methods are severely limited here. In fact, they only accept a measly 4 payment options, namely: Union Pay, Visa, MasterCard and NETeller. This is a problem because it limits the number of people that can play at OneLotto. Sure, these are all popular payment methods, but not everyone uses them. No one will go out of their way and apply for these when they can simply find another lottery site that accepts the payment methods they use. And yes – there are a lot of sites that accept numerous payment methods.
Customer Support
3.5
Live Support
Yes
Phone Support
Yes
Overall, you're getting solid customer support from OneLotto.
Their FAQs, for starters, are pretty comprehensive and should enough to help you get up to speed regarding their services. You can learn about topics like: Playing with OneLotto, Registration and Account, How to Play, Payments, and more. If you need more assistance beyond self-help measures, you can easily contact OneLotto via phone (which is available 24/7), live chat, email, postal, or social media sites like Facebook, Twitter, and Google+.
Review


Bottom Line for OneLotto
Overall: 2.5
Fine, but look for alternatives.