Netlotto Review
Written by Nicholas Christensen
Last Update: July 16, 2018


Netlotto has a lot of things going for them, but I would advise you to look before you leap.
Netlotto isn't exactly an ideal lottery site. For starters, they only offer a handful of Australian lotteries—don't expect popular games like Euromillions or Mega Millions here. They also accept less than 10 payment methods, so it might prove a bit tricky for some players to purchase tickets or deposit funds into their accounts.
That said, you should still give Netlotto a look because they get a lot of things right. Prize claiming is a breeze; players from other countries are accepted; and the games are tax-free (for the most part). Your money's in safe hands, too: Netlotto is a legitimate—not to mention accredited—reseller of Australian lotteries, with 15 years of experience under their belt. Want to know more about them? Continue reading below for my full take!
Number of Lotteries: 6
| | | |
| --- | --- | --- |
| Monday Lotto | Oz Lotto | Wednesday Lotto |
| Powerball | Saturday Lotto | The Pools |
Netlotto Promotions and Bonuses
Limited-time promotions (varies)
Overall 2/5
Registration 4.0/5
Bonuses, Promotions, and Games 2.0/5
Trust and Security 4.0/5
Experience (Interface and Ease of Use) 1.5/5
Payment/Withdrawal Options 1.3/5
Customer Support 1.5/5
Other Great Online Lottery Reviews


Score: 5/5
TheLotter Review


Score: 4.5/5
Lotto Agent Review


Score: 4/5
WinTrillions Review
Registration
4.0
Registration for a free Netlotto account shouldn't take more than 10 minutes to complete.

Netlotto's registration process is simple and no-nonsense. Just fill out the registration form with the required details—which aren't that many, by the way—and then you can start playing. Netlotto also asks you whether you want to receive email updates or not.
More interestingly, you can also choose to be notified whenever lotto jackpots go above a certain threshold. Only looking to play in draws worth more than $1M? No problem!
Bonuses, Promotions, and Games
2.0
Regular Lottery Games
Netlotto has a limited selection of lottery games.
Currently, you can only play in 6 games, all of which are Australian lotteries. If you're hoping to play in mega lotteries like the US Powerball, Euromillions or Mega Millions, Netlotto is definitely not the place. Sure, they do have the Australian version of Powerball, but the original, US-based one is the bigger—and more lucrative—of the two.
Here are the lotteries offered by Netlotto:
Lottery Games

Monday Lotto
Oz Lotto
Wednesday Lotto
Powerball
Saturday Lotto
The Pools
Why consider playing Netlotto's games? At Netlotto, draws take place almost every day of the week:
Monday: Monday Lotto
Tuesday: Oz Lotto
Wednesday: Wednesday Lotto
Thursday: Powerball
Saturday: Saturday Lotto, The Pools
Fridays and Sundays are the only days of the week without draws. In other words, if you join all of Netlotto's games, you have 6 chances of winning every week.
---
Ticket Prices
Netlotto has one major flaw when it comes to affordable ticket prices.
Netlotto doesn't allow players to purchase one line at a time. Instead, you can purchasing lines ranging from 10 to 100.
Let's use Australia Powerball as an example. The most "pocket-friendly" option (if you can even call it that) is AUD20 for 10 lines minimum! At the very least, Netlotto does allow you to enter your tickets one draw at a time.
Lotto players on a budget, Netlotto might not be the site for you.
---
Syndicates
If single play games aren't enough, Netlotto also offers group play lottery games.
Currently, Netlotto carries a total of 12 syndicate games involving 4 lotteries. The games are as follows:
Powerball

Syndicate
# of Standard Games
Combo Systems
161
Solo Special
150
Guaranteed the Powerball
400
Saturday Tattslotto

Syndicate
# of Standard Games
11 Numbers
462
8,9,10
322
Smart Systems
170
SuperDraw – High Roller
3404
Oz Lotto

Syndicate
# of Standard Games
High Roller
3814
10 Ten's
1200
Super 8's
800
Mega SMART Systems
840
Monday Lotto

Syndicate
# of Standard Games
Combo
310
---
Promotions
Netlotto doesn't offer many promotions.
As of this writing, their "Special Offers" page is currently empty. If you want a good deal, you'll have to wait a while until they offer one. Unlike other lottery sites, Netlotto don't have any ongoing discounts, loyalty programs, or referral bonuses.
Trust and Security
4.0
Yes, Netlotto is a perfectly safe lottery site.
Netlotto uses GoDaddy SSL encryption to protect player data. On top of that, they're also an accredited reseller of Australian lottery games. Netlotto is part of the Tattsgroup and the Australian Government Reseller Agreement so you know they're on the up-and-up.
If you're still skeptical, Netlotto has been doing this for over 15 years, so you know they're not some fly-by-night outfit.
Experience (Interface and Ease of Use)
1.5
Lottery Education Materials
Netlotto's hidden strength? Its educational support for lottery players.

When it comes to lottery education, Netlotto does things a bit differently than other lottery sites. Sure, the comprehensive lotto glossary feels familiar, but it's a different story when it comes to the individual lottery games.
Most lottery sites include dollops of information about each game they offer inside their respective lottery pages, but not Netlotto.
If you scroll to the bottom of Netlotto's website, you'll find a download link for a comprehensive PDF file on all the games they offer. Netlotto gives you the detailed mechanics of each game plus other important rules you need to know.
The PDF lets you learn about the games at your own pace, but some might find it a heavy dose of information overload. Netlotto's lottery games PDF is basically a wall of text. But, hey, at least they went out of their way to thoroughly educate players.
---
Ease of Use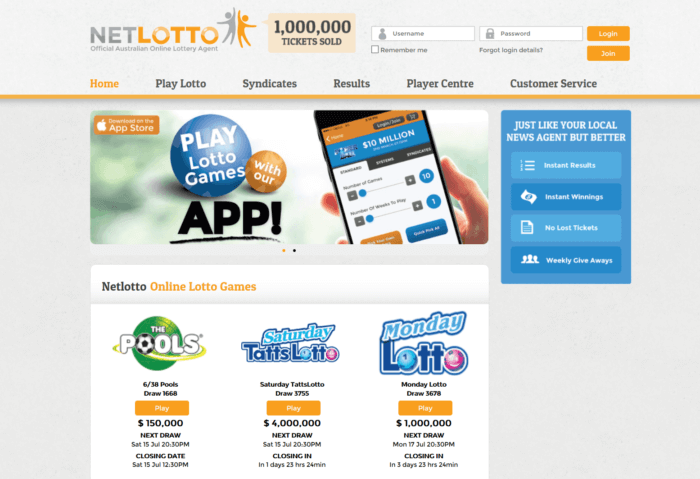 While Netlotto's website is generally easy to use, I did encounter a few issues.
Netlotto doesn't deviate much from what other lottery websites are doing. The Netlotto website's simple design and effective layout make it easy to navigate and play. Online lottery veterans and newcomers alike should have no problems getting around.
That said, Netlotto does stumble in some areas.
For starters, a dedicated link to their FAQ page is nowhere to be found. Clicking on the "Customer Service" link simply takes you to their Contact Us page. You'll need to examine the Contact Us page closely for 3 quick links which, if clicked, will lead you straight to the FAQs. In short, finding Netlotto's FAQs is a chore.
Beyond that, Netlotto doesn't do a great job explaining their Systems and Smart Systems features. The given explanations don't get into the nuts and bolts of these unique systems. No other lottery websites offer these features, so you can't use another site as a reference. It would've been better if Netlotto taught you more about making the most of these features.
---
Playing
Netlotto has a few unique features, but it feels like any other lottery site as far as playing goes.
Here's how you play:
Log in to your Netlotto account.
Choose from any of the available lottery games.
Choose the starting draw date you wish to participate in.
Select how many games and succeeding draws you prefer.
Pick your numbers (either manually or via Quick Pick)
Click the orange "Add to Basket" button if you're satisfied with your order.
Review your order at the next page.
Click the orange "Go to Checkout" button if you're done.
Wait to see if you win!
Simple and easy, right?
Netlotto also offers a few unique game features that can change the way you play.
Auto Play: This is Netlotto's version of the usual lottery website subscription, with more customization options thrown in.
You can, for example, choose to use the same numbers for each draw, or have Netlotto randomly select numbers for you.
If you prefer to only join draws with jackpots above a certain amount, Netlotto lets you choose the minimum jackpot from a dropdown list.
Systems: You can choose from a range of numbers (usually between 7-12) and play every possible combination of those numbers as individual games.
Smart Systems: You can eliminate the least likely number combinations, thanks to number matrices. Essentially, you pick at least 15 numbers and click the "Create Smart System" button. Netlotto's system will produce the number combinations most likely to win from your selection.
Unfortunately, I think this system sounds too good to be true. Netlotto doesn't give any proof that the numbers produced by their system have a higher chance of being picked.
---
Winning
Netlotto has a straightforward prize claiming process.
When you win a prize at any of Netlotto's featured games, your winnings automatically get credited to your account. No need to claim anything in person. This applies for all winnings, whether small prizes or multi-million jackpots. Netlotto will even send you an email notification to let you know you've won.
Payment/Withdrawal Options
1.3
Deposit
Netlotto only accepts a few payment methods, which can keep some users from playing.
Currently, Netlotto accepts 7 methods of payment: Visa, MasterCard, JCB, Diners, BPAY, PayPal and bank transfers. 2 other payment methods (Poli and Skrill) are listed as coming soon, so you may want to keep an eye on Netlotto if you're using either of those.
---
Withdrawal
Netlotto only offers 2 withdrawal methods: bank and check.
Once your winnings are in your account, you can withdraw any amount to your nominated bank account. In some cases, especially when it comes to prizes over $250AUD, it may take up to 48 hours to appear in your bank account.
If you don't want the winnings sent to your bank, you can also ask Netlotto to send you a check.
Here are Netlotto's withdrawal processing fees:
Australia

Overseas

Bank Transfer
Check
Bank Transfer
Check
Free
$1.00AUD
$20AUD
$1.00AUD
Customer Support
1.5
Live Support
No
Phone Support
Yes
Netlotto's customer support options are decent at best.

Take Netlotto's FAQs: these are as basic as it gets. Do you want detailed information about topics like registration, accounts, promotions, troubleshooting, and the like? You won't get this from Netlotto.
For concerns that go beyond the scope of DIY measures, you can contact Netlotto through phone, email, or online contact form. They also provide their postal and business address. But who has the time to send Netlotto inquiries via snail mail?
Review


Bottom Line for Netlotto
Overall: 2
Fine, but look for alternatives.