Mater Prize Home Lottery Overview
Mater Prize Home Lottery gives players from all over the world the chance to win their dream home for as little as A$2. Additionally, a portion of all ticket sales goes to fund medical research and provide care for people in need. Sounds awesome? We think so! Find out everything you need to know to get started in the sections below.
---
What We Like About Mater Prize Home Lottery:
Beautiful homes up for grabs
A worthy cause to support
Streamlined and easy-to-use
Open to many countries, including the US
The draws always result in a winner
What We Don't Like About Mater Prize Home Lottery:
Infrequent draws for the grand prize
Limited game variety
---
What is Mater Prize Home Lottery?
Mater Prize Home Lottery is a charity lottery based in Queensland, Australia that you can play on the internet. It is available worldwide, so you can win a brand new house down under from halfway across the globe.
The drawings are held 6 times every year, and the houses you can win are typically million dollar homes that come fully furnished, complete with all the essentials and also some luxuries.
The price for a ticket is A$2. Buying at least 3 gives you a small discount. If you buy 100 or more, they're half-price.
How does Mater Prize Home Lottery work?
It's very simple and convenient. To break it down:
First, register a player account.
Purchase as many tickets as you want. You can also join the VIP Club at no extra cost for awesome perks.
Receive your electronic tickets in your email.
Wait for the official draw and check the results online.
If you win, Mater Prize Home will contact you on the day of the draw. They will assist you in claiming your prize, and even cover the costs of doing so.
Repeat! One of the perks of the VIP Club membership is that this process is automated for you.
You can also visit any of the Mater Lotteries offices or the current featured home to buy physical tickets. But we recommend going the online route as it's much more convenient.
Login and Signup
Creating a Mater Lotteries account is quick and easy. Just provide your personal details – including your full name, date of birth, email address, physical address, and telephone number – to sign up. These are needed to verify your eligibility and so that the lottery knows how to contact you in the event that you win.
You can also find Mater Lotteries agents in physical locations like supermarkets and commercial spaces to apply for a membership.
General Information on Mater Prize Home
One thing we'd like to mention is that every purchase or donation you make with the charity lottery helps support the sick and needy, as well as fund medical research that aims to treat and prevent serious diseases.
In 2018 alone, Mater lotteries raised over A$13 million in funding that helped improve the lives of real patients at all Mater hospitals, and advance clinical research at the Mater Medical Research Institute. In total, the Mater Group of companies provides medical care for over 500,000 patients every year.
Review of Mater Prize Home's Games, Promos, and Bonuses
Current Grand Prize – Lottery No. 286
Holiday Home in Palm Cove, Queensland
House value: A$1.55 million
Address: 2 Beachmont Place, Palm Cove, Queensland 4879
Open for viewing: Daily from 9:00 AM to 5:00 PM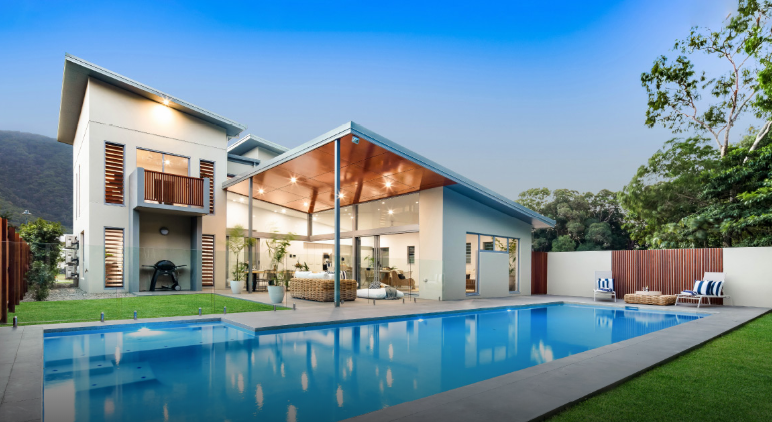 Currently up for grabs is a gorgeous holiday home located in idyllic Palm Cove, a coastal suburb in the Cairns region in Queensland.
The entire property consists of the following:
4 bedrooms, including 1 master bedroom with walk-in robe and en suite
4 bathrooms
Open plan kitchen and dining room
Office or study room
Rumpus room
Large alfresco area
Saltwater swimming pool
Security system
The lucky winner will also receive over A$97,000 worth of furniture, design, and electronic goods; plus A$5,000 worth of gold bullion.
Current draw ends: December 19, 2019
Your Chances of Winning
The odds of winning Mater Prize heavily depend on two things: a) the number of tickets you purchase, and b) the total number of tickets bought for the relevant draw.
For draw no. 286, the maximum number of tickets that can be sold is 7,365,000. And since the winning ticket is always drawn from the range of purchased tickets, there will always be a winner. In other words, you have – at the very least – a a 1 in 7,365,000 shot at winning the grand prize. If you want better odds, make sure to buy more tickets, and pray that others don't.
Also, while the chances of winning the grand prize are much better than most other lotteries, the lack of secondary prizes means you that if don't win the house, you don't win at all. That is, unless you join the VIP Club.
Mater Prize Home VIP Club
The lottery's VIP Club is essentially a monthly subscription to the lottery so that you don't miss out on any draws. Joining the program also automatically qualifies you to exclusive bonus draws that take place throughout the year. These yearly special draws include:
6 second chance draws for A$50,000
6 gold bullion draws worth A$25,000
52 weekly draws for A$5,000
and A$100 bonus draws during your birth month
To sign up for the VIP Club, just opt in when you buy a ticket. Subscriptions auto-renew, so in case you want to change your mind and unsubscribe, just contact the lottery to cancel your membership.
Our advice? If you're serious about winning your dream house, then we recommend that you join the VIP Club. It's definitely worth it because a) it makes it very convenient to participate in the lottery, b) you get more chances of winning, and most importantly c) you won't be paying anything extra for it – just the price of the tickets which you would normally be paying for anyway.
Other Mater Lotteries
Mater Lotteries has a few other lotteries you can participate in. Like Mater Prize Home, these lotteries operate year-round and support the same worthy causes. Definitely check them out, too.
Cars for Cancer: Get a chance to win a brand new high-performance vehicle. With only 25,000 tickets in play for any given draw, the odds of winning are pretty favorable.
Cash 4 Kids: This A$10,000 lottery specifically benefits children who need serious medical attention. It has even better odds with a maximum of 5,000 tickets in play for each draw.
As far as lottery sites go, there's definitely not much variety to choose from. But it would be a bit unfair to compare Mater Lotteries to the third-party companies we usually review, so this isn't that big of an issue.
Mater Prize Home Review of Security, Trust, and Scams
Who owns Mater Lotteries?
Mater lotteries are owned by the Mater Foundation, the charitable arm of the Mater Group whose origins date back to 1906.
Is Mater Prize Home Lottery a scam?
Absolutely not. The Mater Prize house lottery has been around for more than 60 years and has consistently produced hundreds of new homeowners.
Is Mater Prize Home Lottery legit?
Definitely! Mater Foundation is a legitimate charity that is registered with the Australian Charities and Not-for-profits Commission, a national regulatory body that oversees over 56,000 charities and non-profits around the country.
Each Mater Lotteries drawing is held in the presence of a third-party auditor. The general public is also welcome to attend any of the Mater Lottery drawings as they take place. Just visit the lottery's office in Woolloongabba, Brisbane to see the operation firsthand.
Is Mater Prize Home safe?
Yes. This is a non-negotiable for any lottery site worth checking out, and Mater Prize Home does not disappoint. Your payment information is kept secure thanks to industry-standard encryption that makes it impossible for external parties to obtain your personal details.
Does Lottery Critic trust Mater Prize Home Lottery?
Yes, of course. The Mater lotteries gets our seal of approval.
Review of Mater Prize Home Payments, Prizes, and Winners
How do I purchase Mater Prize Home tickets?
The easiest way to buy tickets is to create an account on their official website and select any of the ticket options available. Another method is via the mobile app, which you can read more about in proceeding section.
The current payment options supported include PayPal, Visa, and MasterCard.
Alternatively, you can also buy physical tickets from directly from the Mater offices or from the grand prize house itself. A final route you can take is via telephone. Just look for the contact information in the sections below.
Who are eligible to play Mater Prize Home Lottery?
Players must be at least 18 years old in order to play.
Also, while Mater Prize Home is based in Australia, the lottery is available to players from all over the globe. As long as the country you are playing from permits online gambling and owning property from abroad, there should be no issues. Please consult with a lawyer in your area to make sure.
How do I cancel Mater Prize Home tickets?
To unsubscribe from the VIP Club, you must get in touch with customer support and they will cancel your membership for you. You can find the contact information in the appropriate section below.
How do I claim my Mater Prize house?
In the event that you win, a customer representative will immediately contact you by telephone. You will also be notified by email. From that point, Mater Lotteries will assist you in claiming your prize, and will even cover travel expenses as well as the associated legal fees as transfer costs for awarding you your prize.
Has anyone won on Mater Prize Home Lottery?
Yes! Each drawing results in a winner. That means that to date, hundreds of real people have won the home of their dreams.
Mater Prize Home Winners
Here are some of the most recent winners who have all won their dream homes through the Mater Prize Home Lottery:
Hilary, winner of lottery draw number 281. He won a A$2.1 million apartment in the Emporium Residences at South Bank, Brisbane.
Michael and Jane, winners of lottery draw number 279. They won a A$1.6 million waterfront home on the Gold Coast.
Rebecca, winner of lottery draw number 277. She won a A$1.8 million luxury home on Bribie Island.
Jessica, winner of lottery draw number 271. She won a A$1.7 million waterfront home on the Gold Coast.
For more winners' stories, you can check out the Mater Prize Home official news page.
Mater Prize Home Review of Mobile Options
You can take the Mater Prize Home lottery with you wherever you are thanks to the official mobile app. The software is free to download and works with any iOS and Android device. With the Mater Lotteries app, you can purchase tickets for both Mater house and car lotteries, as well as check the latest results. You'll also get notifications for new drawings, so you never miss out.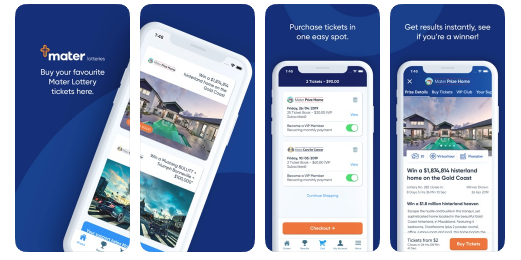 It's a great tool that's convenient and functional. To download, just click on the following links. Please note that the Google Play Store doesn't allow gambling apps, so you'll have to get the app directly from the Mater Lotteries website.
Customer Support on Mater Prize Home
Mater Lotteries Contact Information
You can contact Mater Lotteries through the following channels. One thing we're missing is the option for live chat, but since this type of lottery isn't as fast-paced as other lotteries, we can let that one slide.
In any case, getting in touch with a friendly customer representative is easy.  Pick your preferred method below.
Email: [email protected]
Mail: Mater Lotteries: Locked Bag 2000, Coorparoo DC, Queensland 4151
Office Address: 620 Stanley St, Woolloongabba, Queensland, Australia 4102
Telephone (open Monday to Friday 8:00 AM to 8:00 PM, Saturday 8:00 AM to 12:00 PM)

Within Australia: 1800 067 066
Within New Zealand: 00 800 6283 7000
International: +61 7 3163 1998
Mater Lotteries Player Resources
There's not much on hand in the way of player resources. A relatively short FAQ section is what's mostly available. However, that's really all that's needed for this type of lottery site, and most of the important questions are readily answered already.
If you're looking for more specific things like game rules and mechanics, you'll have to dig a bit deeper into the terms and conditions sections – which as far as those things go, Mater Lotteries' is a breeze to go through.
Mater Lotteries Social Media Accounts
For news, regular updates, and other awesome content, you can head over to any of their social media sites:
Our Experience with Mater Prize Home Lottery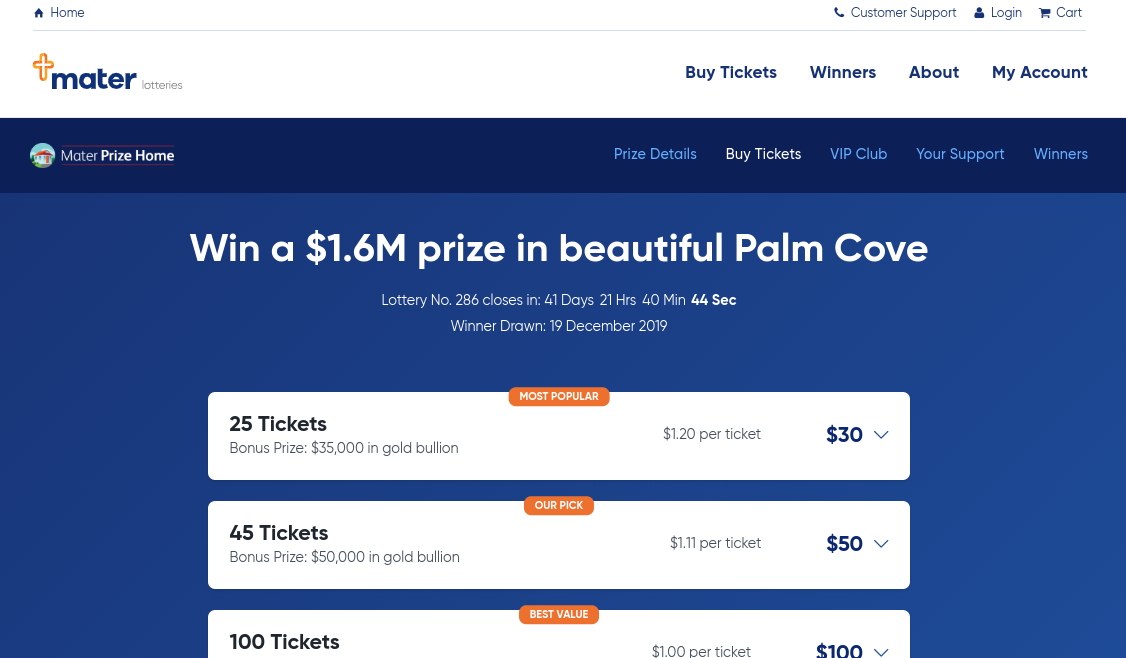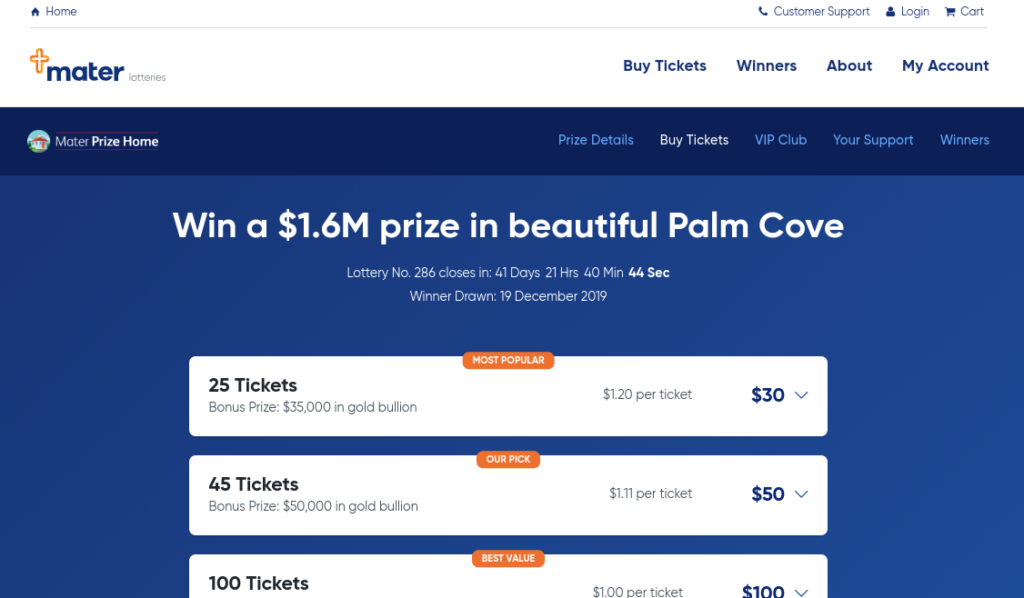 Our experience with Mater Home Lottery is almost completely positive. Save for a few very minor gripes, there's really nothing to complain about here.
Playing is super easy and convenient, as the website and mobile app both allow for a very pleasant gaming experience. Everything just feels polished and put together. When it comes to flexibility, there's a ton of purchase options available. You can buy as few as a single ticket, or as many as you want in 1,000 increments. Best of all, you get huge discounts when you buy a lot of tickets.
On top of that, winning is made hassle-free thanks to automatic notifications. They'll even pay for most of your expenses when claiming your prize, which is not very common among online lotteries.
Overall, we have plenty to cheer about with Mater Home Lottery. It's a different kind of lottery site, but for the most part, in the best way possible.
Final Thoughts on Mater Prize Home Lottery
If it wasn't clear by now, we highly recommend playing the Mater Prize Home Lottery. Sure, it might not have all the famous lotteries like Powerball and EuroMillions, but we already have tons of other sites for those games. This is something entirely unique, and everyone is welcome to join.
The Bottom Line: The Mater Prize Home Lottery is definitely one of our new favorite places to play online. It's a unique experience that manages to do everything right. On a final note, we'd like to leave you with a short video straight from the lottery.