LottoPark Review
Written by Nicholas Christensen
Last Update: June 22, 2018


I thought LottoPark had potential initially, but the closer I looked, the more evident the cracks became.
I had high hopes the moment I saw LottoPark's website. It's simple, but it gives you the impression that they are serious about lottery. In a way, they are—what with the impressive language options, good prices and even well-thought out educational materials—but LottoPark misses the mark on a lot of things. What are those? Join me below as I take a deeper dive!
Number of Lotteries: 7
Powerball
Euromillions
SuperEnalotto
EuroJackpot
Mega Millions
UK Lottery
Polish Lotto
LottoPark Promotions and Bonuses
None
Overall 1.5/5
Registration 2.5/5
Bonuses, Promotions, and Games 1.0/5
Trust and Security 3.0/5
Experience (Interface and Ease of Use) 1.5/5
Payment/Withdrawal Options 1.0/5
Customer Support 2.0/5
Other Great Online Lottery Reviews


Score: 5/5
TheLotter Review


Score: 4.5/5
Lotto Agent Review


Score: 4/5
WinTrillions Review
Registration
2.5
Creating an account was incredibly easy and fast.
Kudos to LottoPark for making the registration as simple as possible! On the flip side, I didn't like the fact that they don't make it clear which countries they cater to and which are prohibited from playing. Some lottery sites go so far as outright blocking you from accessing their website--it gets the message across pretty clearly. LottoPark, meanwhile, leaves it entirely up to the player to figure out if they are legally allowed to play lottery online or not.
Yes, players should be responsible enough to know their local gambling laws before purchasing any ticket, but some clarity from LottoPark wouldn't hurt, either.
Bonuses, Promotions, and Games
1.0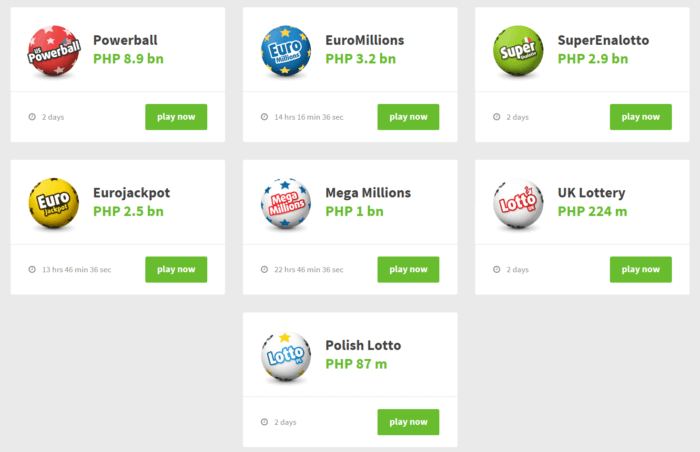 LottoPark's game offerings aren't impressive—in fact, they're quite limited.
After all, you only have 7 lottery games to choose from, namely: Powerball, Euromillions, SuperEnalotto, Eurojackpot, Mega Millions, UK Lottery and Polish Lotto. It's good that they offer the biggest and most popular games around—which is more than enough for some people—but more options would have been better.
They don't even have other game types on tap. Syndicates, raffles—heck, even scratch cards—are nowhere in sight here. So far, their only saving grace is their prices. When compared to prices of industry leader theLotter, for example, LottoPark comes out on top:
Price Comparison (least # of lines)

LottoPark
theLotter
Powerball
€2.55
€14.95
Mega Millions
€1.70
€14.95
Euromillions
€2.00
€20.68
Part of the reason why LottoPark's prices trump theLotter's is that they let you buy only one ticket line at a time. A lot of lottery sites require you to buy a minimum of ticket lines, but not LottoPark.
Trust and Security
3.0
For the most part, LottoPark is quite secure.
For starters, they utilize SSL encryption technology to secure user data and transactions. You also don't need to worry about legitimacy because LottoPark is licensed and regulated by the Curacao government. Also, LottoPark is quite serious about player anonymity. They will only request personal data from you if you win—which is for verifying your identity to ensure the winnings get transferred to the right person. If you don't win anything, you stay anonymous. It's not a big feature, honestly—but it should satisfy those who prefer to stay anonymous (for the most part, anyway).
Experience (Interface and Ease of Use)
1.5
Lottery Education Materials
LottoPark's education materials are spot on—it might be one of the site's strong suits.
Each lottery page is brimming with information. If you wanted to, say, learn about the history of a particular game, LottoPark has got you covered. If you wanted to learn how to play a certain game, they also have that on tap. You can also learn what a game's odds of winnings are, what the draw dates are, and even catch up on the latest news regarding each lottery game.
---
Ease of Use
Another area where LottoPark shines in is their ease of use.
LottoPark's website is quite simple. The design is minimalistic and pleasing to the eyes, and the focus is squarely on the lottery games—no gimmicks here. One other thing that I liked was how, for the "big three" lottery games (Powerball, Mega Millions & Euromillions), you can make a 3-line quick purchase right on the navigation menu. If you're in a particular hurry, or if you simply want the easiest way to enter these three games, then this feature could prove quite useful.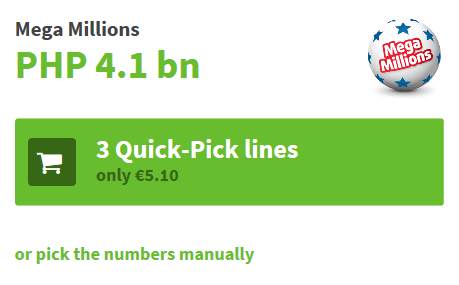 Another thing that I really liked? The fact that LottoPark offers their website in 37 different languages. In addition to English, you can easily switch to any of these languages on the fly:
| | | |
| --- | --- | --- |
| Čeština | Deutsch | Eesti |
| Spanish | Hrvatski | Latviešu |
| Македонски | Nederlands | Polski |
| Portugués | Romanian | Shqipja |
| Slovenčina | Slovenščina | Svenska |
| Tiếng Việt | Greek | Russian |
| Georgian | | |
*note that this is just a small sampling of the languages they offer.
---
Playing
Just like signing up, playing in LottoPark is equally easy—though some features that come standard in most lottery sites are, unfortunately, absent here.
Here's how you play:
Sign in to your LottoPark account.
Choose the game you want to play.
Add as many lines as you want to play. Or, you can simply play only one line—your choice!
Pick your numbers. You can do so manually, or via the Quick Pick option if you'd rather have your numbers picked at random.
Click on the green "Continue" button if you're satisfied with your numbers.
Review your order. You can also add more tickets if you want.
Click on the "Pay Now" button if you're all set.
Choose your payment method.
Pay for your tickets.
Wait to see if you win!
Pretty straightforward, right? Unlike most lottery sites though, you can't subscribe to lottery draws here. The same holds true if you want to manually pick how many draws you want to participate in. It's the price to pay for sheer simplicity, I guess.
---
Winning
Claiming your winnings isn't as streamlined—nor as easy—as other sites'.
Unlike other lottery sites that would call you by phone or send you an email, LottoPark doesn't automatically notify you if you win. Instead, you'd have to manually compare your ticket with the winning numbers drawn. If the draw date slips your mind? Tough luck.
As for claiming your prize, you'd have to send LottoPark an email—complete with your user account name, the name of the lottery, the draw date, the numbers you picked, and the withdrawal method you prefer. The type of method you can use depends on how much your prize is:
Winnings amounting to €10,000 or less can be withdrawn using the 4 methods (BitCoin, Neteller, Skrill or wire transfer).
For winnings beyond €10,000, LottoPark will arrange a suitable claims process for each winner. It could be anything from sending you the original ticket so you can claim the prize on your won, to allowing them to claim your winnings for you and having them transfer the prize to your preferred withdrawal method.
Oh and, yes, you can request for the original ticket if you want. However, it will cost you. Fees depend on where the ticket will be sent from and where it is being sent to. It's also important to note that LottoPark does not scan tickets—so this is the only way for you to get a copy of your ticket. It's purely optional though.
Payment/Withdrawal Options
1.0
Compared to other lottery sites, LottoPark's accepted banking methods are—to say the least—quite lacking.
LottoPark only accepts 7 deposit methods, such as: Visa, MasterCard, BitCoin, Neteller, Skrill, Cubits, tpay.com, and Sofort. LottoPark also adds wire transfers to the mix, as far as withdrawal methods go. Make no mistake though, it's a decent enough assortment of deposit methods, but players from certain parts of the world might get alienated by the lack of variety. What if these payment methods aren't that popular where they live? Sure, they can easily apply for some of these e-wallets, but that's another step that most people might not be too keen to take.
Customer Support
2.0
Live Support
No
Phone Support
Yes
LottoPark's customer support options are quite decent—if a little lacking.
The FAQ's, for instance, give a good overview of their services, what their banking methods are, and even how they stand out from other lottery sites. It's informational, but not too densely packed that it becomes overwhelming. Sure, it could use some more meat—but as it is, LottoPark's FAQ section gets the job done.
As for getting in touch with their support, you can give them a call, send an email, or leave a message on their online contact form (which is strangely in Dutch, even if the rest of the site is in English). They also provide their business address. Finally, if you were hoping for a live chat feature, you're out of luck.
Review


Bottom Line for LottoPark
Overall: 1.5
Bad, find something else!