General Information on LottoPalace
LottoPalace is an online lotto betting site and occasional lottery agent. It's owned and operated by Altair Entertainment N.V., a gaming company that's licensed by the Curacao government. LottoPalace offers 13 lotteries, group games, as well as virtual scratch cards and other alternative games.
What is LottoPalace?
LottoPalace is a hybrid lottery site. It operates mostly as a lotto betting site, meaning you don't join the official games but bet on their outcomes instead. Big prizes are paid out by a third-party insurance provider that covers the betting games.
Once jackpots exceed €50,000,000, though, LottoPalace starts operating as a lotto agent. This means it starts buying official tickets on your behalf. Any jackpot wins will then be claimed from the lottery operator.
How does LottoPalace work?
LottoPalace lets you bet on the outcomes of lottery games. Once jackpots for these games exceed €50,000,000, though, LottoPalace shifts into lottery agent mode: instead of bets, your purchases will net you official tickets to the lottery games instead.
You have two options when it comes to games:
Solo play: You can buy up to 6 tickets for the current draw in one go.
.Group play: You can buy shares in a syndicate.
LottoPalace also lets you buy ahead for multiple draws. If you want to keep entering draws indefinitely, you can sign up for a subscription instead.
Aside from the standard lottery games, LottoPalace offers an impressive variety of alternatives:
Virtual scratch cards
Instant Win games
Virtual games
I discuss these in more detail below. Just know that you'll never get bored at LottoPalace.
Login and Signup
LottoPalace has a short registration process.
LottoPalace asks for your email, preferred password, full name, date of birth, and mobile number. If you'd like to speed up the process, you can also sign in with your Facebook account instead.
For registered users, there's a login button at the top of the website.
Review of LottoPalace's Games, Promos, Bonuses
LottoPalace Promo Codes, Vouchers, and Discount Codes
LottoPalace doesn't offer many promo codes.
Popular Lottery Games at LottoPalace
LottoPalace offers 13 different lotteries, from blockbusters to lesser-known games.
LottoPalace offers a varied, if small, selection of lottery games. You'll find the usual suspects like the US Powerball and US MegaMillions alongside smaller games like the Irish Lotto or Australia's Oz Lotto. This is great if you'd like to mix up your game choices and try your hand at less popular lotteries.
Some of the European lottery staples are missing, though. For example, you won't find the SuperEnaLotto, surprisingly enough. Meanwhile, the France Lotto is only available as a syndicate game.
Here are all the lotteries you can get for solo play at LottoPalace:
| | | | |
| --- | --- | --- | --- |
| US Powerball | US MegaMillions | EuroJackpot | EuroMillions |
| Australia Powerball | UK Lottery | El Gordo de la Primitiva | Irish Lottery |
| Oz Lotto | Lotto Austria | Sweden Lotto 1 | Lotto 6aus49 |
| Bono Lotto | | | |
You can buy up to 6 tickets in one go. If you'd like to play in advance, you can buy ahead for 8, 16, or 24 draws. You can also sign up for a subscription.
LottoPalace Results
LottoPalace reports results for 15 different lotteries.
You'll find results for all the lottery games that LottoPalace offers, as well as extras like the UK Thunderball.
Most results are found at the bottom of the LottoPalace homepage. There's also a handy link to take you to the main results page. Conveniently, LottoPalace lets you view results from previous draws just by choosing a date from a dropdown menu.
Other LottoPalace Games and Syndicates
LottoPalace Scratch Cards
LottoPalace offers 10 virtual scratch card games.
LottoPalace offers different scratch cards than what you'll usually see at other lottery websites. The concept is the same, though: Buy a card, see what it holds, claim a prize if you win.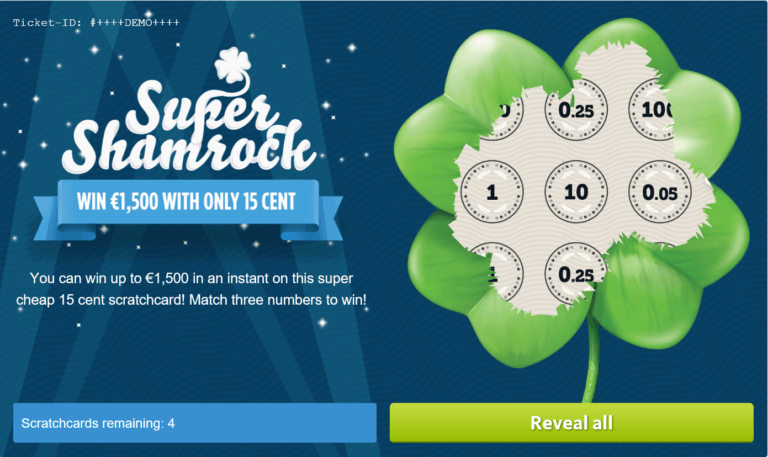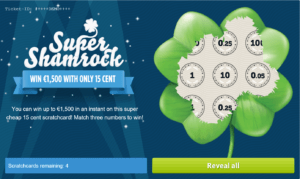 The great thing is that most of these cards are very affordable. The cheapest one, for example, costs €0.05 per card. Meanwhile, prizes can go as high as €100,000.
LottoPalace Instant Win Games
LottoPalace spices up its game selection with 10 video game-like instant win offerings.
LottoPalace's instant win games feel exactly like video games where you can push your luck. The bonus? You can win actual money.
Cashtrovaders, for example, functions like the Space Invaders video game. You click on enemy spaceships to reveal icons. If you find 3 matching ones, you can collect a prize.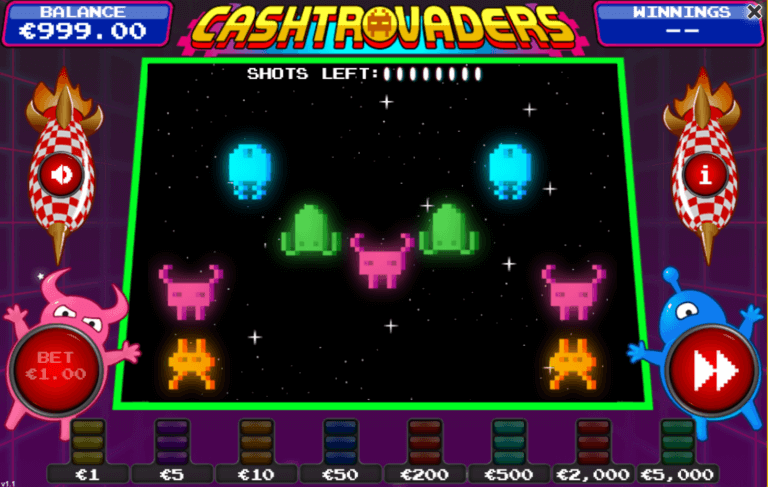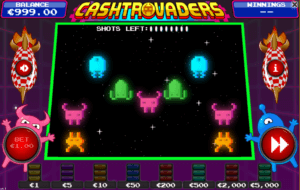 Despite how frivolous these games feel compared to lotteries, they still offer some serious prize money. Winnings can go as high as €100,000 for some games. If you'd like to take a breather from lotteries and scratch cards, these are interesting alternatives.
LottoPalace Games
Take a break from betting and buying with 33 virtual games.
Speaking of games, LottoPalace leans hard into alternative offerings with luck-based games that don't involve any money. You can try any of 33 games that range from dice-rolling to roulette to simple gift selection.
LottoPalace Syndicate
LottoPalace offers 12 syndicates and 1 combo group game.
LottoPalace carries syndicates for almost all the lotteries that they offer for solo play. You'll also get a syndicate-exclusive game: Lotto France. All syndicates offer 150 shares and 50 lines or tickets per set.
Better yet, these are actually some of the more affordable syndicates you can find online, with shares costing less than €10 each.
Here's a list of LottoPalace's syndicates:
| | | | |
| --- | --- | --- | --- |
| US Powerball | US MegaMillions | EuroJackpot | EuroMillions |
| Australia Powerball | UK Lottery | El Gordo de la Primitiva | France Lotto |
| Oz Lotto | Irish Lotto | Bono Lotto | Lotto 6aus49 |
Interested in US lotteries? LottoPalace offers a convenient combo group game that lets you play both the US Powerball and US MegaMillions with one purchase. There are 150 shares and 100 lines/tickets per set.
LottoPalace Review of Security, Trust, and Scams
Is LottoPalace a scam?
No, LottoPalace isn't a scam. It's owned and operated by a Curacao-based company, and it holds a legitimate gaming license from the Curacao government. All lotto betting operations are covered by a third-party insurance provider that's responsible for paying out prizes. For larger jackpots, LottoPalace buys official tickets, so you're assured of a payout if you hit the jackpot.
Is LottoPalace legit?
Yup, LottoPalace is run by a legitimate company called Altair Entertainment N.V. It operates out of Curacao, and it holds a gaming license from that territory's gambling commission.
Is LottoPalace safe?
Definitely. LottoPalace boasts a 256-bit Comodo SSL encryption for all actions and transactions on its website. They've also got a payout guarantee that assures you of full transpareny when it comes to the disbursement of winnings.
Is LottoPalace a real or fake company?
LottoPalace is definitely real. It's operated by a legitimate company (Altair Entertainment N.V.) which holds an up-to-date gaming license from the Curacao government.
Who owns LottoPalace?
LottoGopher is owned and operated by Altair Entertainment N.V., which is based in Curacao.
How does LottoPalace make money?
LottoGopher doesn't charge commissions for your winnings. Instead, it adds handling fees to its ticket prices. Since part of LottoPalace's operations involve lotto betting (meaning they don't have to buy official tickets from a lottery operator), their ticket prices can still be relatively low.
Is LottoPalace legal?
Yes, LottoPalace is legal. It carries an up-to-date gaming license from the Curacao government, meaning it adheres to an established set of laws and regulations.
Does Lottery Critic Trust LottoPalace?
Sure, we do. LottoPalace protects all website transactions with a 256-bit Comodo SSL certificate, and the company carries a gaming license from the Curacao government. This is as secure as you can expect from most lottery websites.
LottoPalace Review on Payouts, Withdrawals, and Winners
LottoPalace Payout Rules
LottoPalace's payout system is pretty standard.
LottoPalace doesn't charge commissions or deduct taxes from your prizes. Like many lottery websites, LottoPalace uses the $600 prize threshold for official lottery ticket entries:
Any prizes worth $600 and below automatically get credited to your account
For prizes beyond $600, you'll have to collect the money from the lottery operator yourself.
You can arrange to have the ticket sent to you via courier, or you can collect the ticket from a LottoPalace representative in the country where the lottery operator is based. Both options can be quite inconvenient, though, especially if you live far from the lottery operator — either way, you'll still have to travel. Depending on the size of your lotto prize, the collection process might end up costing more than what you've won.
For the lotto betting side of LottoPalace's operations, meanwhile, payouts go like this:
Most prizes get credited automatically to your account
Prizes in Tiers 1 and 2 (jackpot and second prize) will require you to fill out a claim form. Once your form is received and processed, you'll get the prize amount within 30 days.
LottoPalace Payment and Withdrawal Methods
LottoPalace only supports 5 payment methods.
LottoPalace offers much fewer payment options compared to other lottery sites. You can choose from these:
| | | | |
| --- | --- | --- | --- |
| Method | Processing Time | Country | Currency |
| Visa | Instant | Worldwide | €, A$, C$, R, £ |
| MasterCard | Instant | Worldwide | €, A$, C$, R, £ |
| Sofort | Instant | Germany, Austria | € |
| Giropay | Instant | Germany, Austria | € |
| PaysafeCard | Instant | Germany, Austria | € |
The selection already pales in comparison to other lottery websites like theLotter, which offer over 20 payment options. LottoPalace disappoints further: 3 out of 5 of its payment methods are limited to 2 countries. Basically, if you're playing from almost anywhere in the world, you'll only have Visa and MasterCard.
How to withdraw money from LottoPalace
You can withdraw winnings just by putting in a request through your account's payout page. LottoPalace sends money through cheque, credit card transactions, bank transfers, or other methods they might deem applicable. You'll have to shoulder any transaction fees associated with your chosen payout method, though.
Has anyone won on LottoPalace?
Unfortunately, LottoPalace doesn't provide any information about past winners or any of its biggest payouts.
LottoPalace Review of Mobile Options
LottoPalace offers a mobile-responsive website for on-the-go lottery play.
LottoPalace relies on a mobile-responsive website, which performs well enough on phones and tablets. You can buy tickets, check lottery results, and so on.
However, it would've been better to get a dedicated mobile application for the added convenience.
Customer Support at LottoPalace
LottoPalace seems to have scaled back its customer support options to just email.
LottoPalace used to have more support options. Currently, it seems you can only contact them through email ([email protected]). Some sections of their website still advertise a live chat option, but I didn't get responses.
LottoPalace also has a short FAQ that nevertheless answers most common questions. There are other helpful pages scattered throughout the site, like guides for buying tickets or understanding the basics of lotto strategy.
Our Experience with LottoPalace
LottoPalace Website
Navigating LottoPalace's website is a cinch, but it could use more language options.
A single look tells you exactly what you can get from LottoPalace's website. The homepage displays most of the games on offer, including scratch cards and instant win games. The navigation bar lets you hop quickly to all of the website's important sections, too.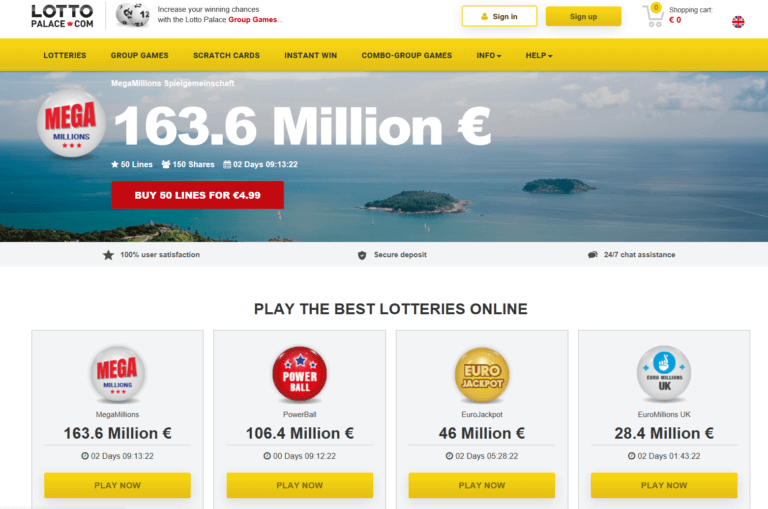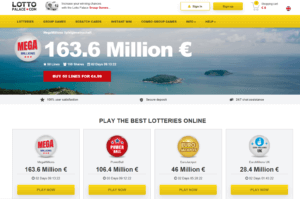 I'm deducting points for LottoPalace's limited language options, though. You can only get the website in English or German, which is a blow for people from other regions of the world. For a website that caters to an international audience, this is a tad disappointing.
LottoPalace Playing Experience
It takes less than a minute to buy tickets on LottoPalace. Clicking through to a lottery game takes you to the number selection screen. You can choose numbers for up to 6 tickets in one go. If you're in a hurry, you can use LottoPalace's random selection option to get a set of random numbers instead.
Final Thoughts on LottoPalace
LottoPalace gets top marks for game variety, but a few issues keep it from true excellence.
LottoPalace offers a fantastic array of push-your-luck games. If you ever need a breather from lotteries or lottery syndicates, you can switch quickly to virtual scratch cards, instant win games, and even 30+ other virtual games, all on the LottoPalace site.
However, LottoPalace doesn't extend the same range of choices when it comes to language options or payment methods. That loses the company a lot of points, especially since LottoPalace intends to cater to an international audience.
Still, LottoPalace shows a lot of promise, and if you're looking for a change of pace, it's a great website to try.