13 Lottery Games Offered
Regular Lottery Games
LottoPalace offers a good mix of games that hail from various countries.
The 13 games include US games like Powerball and Mega Millions; European lotteries like EuroJackpot, UK Lotto, and Euromillions; and even Australian lotteries like the Australian Powerball and OZ Lotto. The ticket prices, meanwhile, are quite affordable, too (eg. US Powerball tickets cost €3.00 or $3.53). Check out all the games they offer below:
Lottery Games
US Powerball
Mega Millions
UK Euromillions
EuroJackpot
OZ Lotto
Lotto 6aus49
UK Lotto
Irish Lottery
El Gordo de la Primitiva
Australia Powerball
Lotto Austria
Sweden Lotto 1
Bono Lotto
Syndicates
LottoPalace doesn't skimp on syndicates like other sites; they currently have 12 on tap.
Their syndicates include almost all of the lotteries found in their single play selection, plus one that is exclusive to group play: Lotto France. Beyond that, they also offer 4 syndicate bundles. Check them out below:
| | | |
| --- | --- | --- |
| Combo | Games Included | Total Lines |
| US Combo | US Powerball + Mega Millions | 66 |
| US Mega Kombo Group Game | US Powerball + Mega Millions | 100 |
| Lotto 6aus49 – Euromillions – EuroJackpot Weekend | Lotto 6aus49 + Euromillions + EuroJackpot | 174 |
| 6aus49 EuroJackpot Powerball Combo Weekend | 6aus49 + EuroJackpot + Powerball | 257 |
Scratch Cards
LottoPalace also offers 11 virtual scratch cards.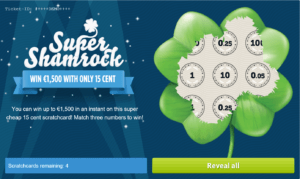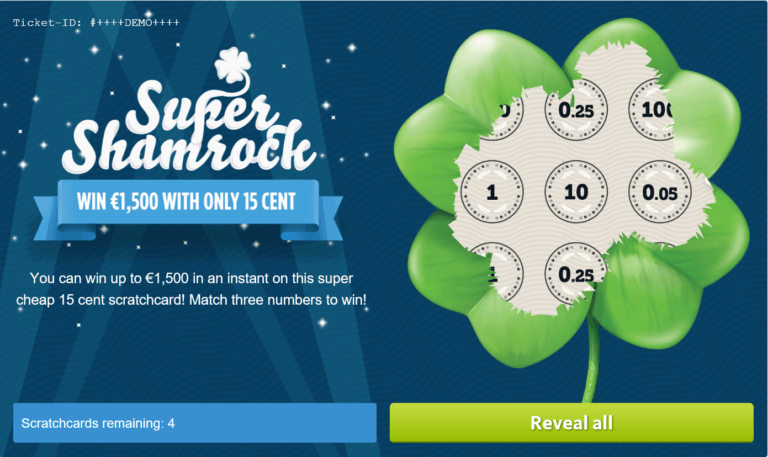 These aren't the usual games offered by other lottery sites—which is good—but the concept is the same. The prices aren't bad, either. The cheapest game you can enter costs €0.05 per game, for instance.
Meanwhile, the highest prize you can get is €100,000. Not bad for scratch cards.
Instant Win Games
If virtual scratch cards aren't your thing, LottoPalace also offers 8 instant win games.
These games function more like video games.
One, for example, looks like a retro video game in the vein of Space Invaders, but works a little differently. You click on each enemy spaceship to reveal an icon, which you collect 3 of to get a prize.
Meanwhile, SkullDiggery is a pirate themed game wherein the player must choose where to dig for treasure. Again, if you match several of the same treasure, you win the corresponding prize.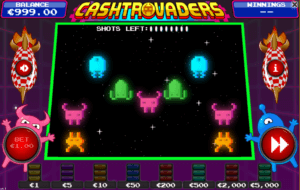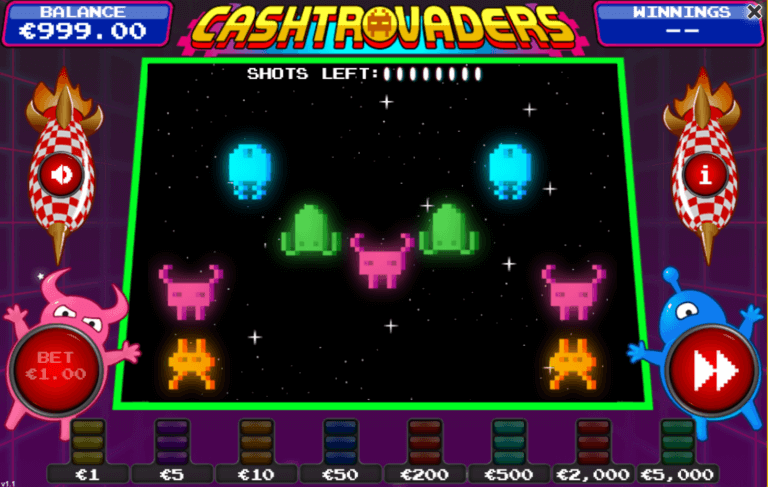 As you can see, these games offer a bit more interactivity than scratch cards, but what's more enticing about these instant win games is the fact that they offer bigger prizes.
LottoPalace's virtual scratch cards only lets you win up to €100,000, whereas you can win as much as €250,000 when you play the Bingo game.
Deposit and Withdrawal with LottoPalace
Deposit
LottoPalace's banking methods aren't as robust as other lottery sites.
They only accept 4 payment methods, namely: Visa, MasterCard, SoFort, and giropay. Below are more details:
| | | | |
| --- | --- | --- | --- |
| Payment Method | Fee | Processing Time | Currency |
| Visa | None | Instant | € |
| MasterCard | None | Instant | € |
| Sofort | None | Instant | € |
| Giropay | None | Instant | € |
Withdrawal
LottoPalace only offers one withdrawal method.
Currently, they only offer bank transfers and nothing else. It's also important to note that they may require ID and other documents from players before a withdrawal is granted.
Also, high withdrawal requests may take up to five working days to push through. The minimum withdrawal is €5.
Is LottoPalace Safe?
As far as security goes, LottoPalace has the goods.
To secure data that goes to and from the website, they use 256-bit Comodo SSL encryption. They are also licensed and regulated by the Curacao government, so you can be sure they adhere to e-gaming standards. Google Safe Browsing also notes that no unsafe content is found on their website. They don't register on Norton SafeWeb and Webutations though.
LottoPalace's Customer Support
LottoPalace's customer support is nothing spectacular—just adequate.
Don't get me wrong—their FAQs does a pretty good job of explaining the basics, but it feels like its lacking. It's not as in-depth as other lottery sites. If you need to contact them, you can only do so via live chat and email.
I tried reaching them through live chat support and, to say the least, I wasn't 100% impressed. For starters, the live chat window seems to be permanently stuck in the German language option. I tried changing switching from English to German and back to see if it will affect the live chat window, but that didn't change anything.
Thankfully, the live chat agent understands English. The agent that assisted me was helpful, to a certain degree. At first, when asked if jackpot winners would have to travel far to claim their prizes, she simply copied what was written on their FAQs.
In the first place, I was asking that very question because their FAQs weren't exactly all that clear. I needed someone to explain the details to me—not parrot an FAQ answer. She did give me clear, concise answers after a few minutes though.
Other Features
Lottery Education Materials
LottoPalace's education materials are severely lacking.
For starters, unlike other lottery sites, they don't provide information about each lottery game they offer. If you wanted to learn more about US Powerball, for instance, you're pretty much on your own.
They don't explain each individual game mechanics, the different prize tiers, and the like. Sure, they do provide lotto strategies, but that's not enough.
Ease of Use
For the most part, using LottoPalace's website is a cinch.
I really like how simple their website design is and how it is devoid of obtrusive ads. I also liked how they provide a few samples of all the game types they offer right on the front page.
In addition to allowing quick access to the games, these also make it easy for players to get a good sense of what's on tap without having to rummage through LottoPalace's entire selection.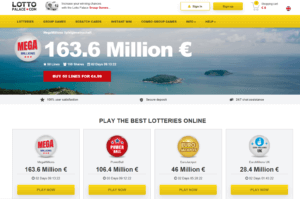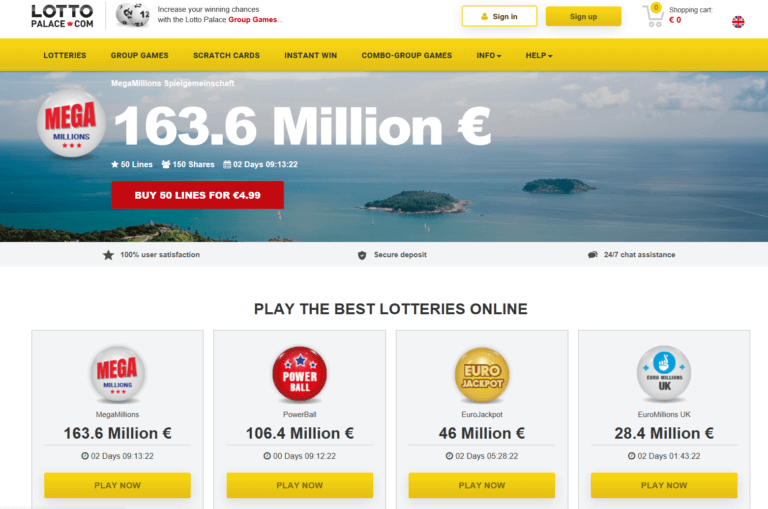 On the other hand, what I didn't like about their website is how limited the language options are. As of this writing, LottoPalace only lets players switch between 2 languages: English and German.
Sure, players can always turn to Google Translate, but an official translation straight from the source is always going to be more accurate.
How LottoPalace Works
Setting Up an Account
Creating an account at LottoPalace is as easy as pie.
Here's how: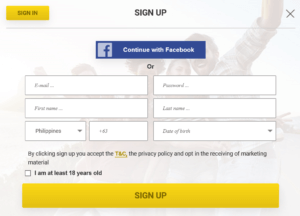 Click on the yellow "Sign Up" button located at the upper right corner of their website.
Complete the registration form by providing your first and last names, email, password, country, phone number and date of birth.
Confirm that you are at least 18 years of age.
Click on the big, yellow "Sign Up" button.
Start playing!
Alternatively, you can also sign up using your Facebook credentials—you need only click on the blue "Continue with Facebook" button in the registration form to sign up.
It's much faster, especially if you are already logged into Facebook on your computer or mobile device.
Playing
Playing at LottoPalace is equally simple—especially if you are familiar with online lottery sites.
Here's how:
Log in to your LottoPalace account.
Choose from any of the games they offer.
Choose how many lines you want to play.
Pick your numbers. You can also choose to have it randomly picked for you by their system.
Choose how many draws you wish to participate in. You can also subscribe if you want.
Click on the yellow "Submit" button.
Confirm your purchase order.
Click on the yellow "Buy Now" button.
Wait to see if you win!
Winning
LottoPalace makes it easy for winners to claim their winnings—regardless how much you win.
Since LottoPalace is not a lottery agent, you don't really need to appear in person if you win the jackpot. Whether it's a small win or the jackpot, LottoPalace credits all winnings to your account.
That said, there are different rules depending on how much you win—though they don't seem to openly divulge this information. Still, this is one of the better "side-effects" of them not being a lottery agent service.
Alternatives to LottoPalace
If lotto betting isn't to your liking, there are tons of lottery agents out there that offer much better services. Here are the top 3:
Choose from a plethora of games.
theLotter is king when it comes to single play games. They have 53 lotteries on tap—which includes the most lucrative lotteries around, plus some relatively obscure ones as well.
They accept more than twenty payment methods.
Players can choose to use any of the 29 accepted deposit methods, and 7 withdrawal methods.
They support more languages.
theLotter currently supports 14 languages, which include English, Russian, German, Spanish, French, Japanese, and more.
They offer a wide variety of game types.
On top of the 20 single play games they offer, WinTrillions also has 14 syndicates, several millionaire raffles and some raffle syndicates.
Like theLotter, they have robust banking methods.
They accept over 32 different payment methods so you don't have to worry if you don't have Visa or MasterCard.
You can switch between 10 different languages.
International players can rest easy; WinTrillions lets you switch between various languages easily if you don't understand English that well. They have Spanish, Portuguese, French, German, Russian, Chinese, Taiwanese, Parsi, and Polish.
Of the 3, they have the most affordable ticket prices.
LottoKings is known as one of the most affordable lottery agents around. One Powerball ticket, for instance, costs only $3.50, whereas it would cost double or triple elsewhere.
They also make it easy for winners to get their prizes.
Jackpot winners don't have to travel far—you can claim prizes at the nearest LottoKings office. You can also choose to be issued a check instead. Of course, you can still claim prizes the traditional way if you want.
They don't provide ticket scans.
Though LottoKings is a lottery agent, they don't scan the tickets they purchase on a player's behalf. They do provide purchase invoices though.
The Bottom Line
If you don't have a problem with lotto betting, LottoPalace is well worth a look.
For starters, LottoPalace gets game variety right. Not only do you get a decent number of single and group play games, you can also play in several interactive games and scratch cards if you want a change of pace.
Plus, who wouldn't like an easy prize claiming process where all you have to do is wait for the winnings to be credited to your account? More than that, they also don't take commissions from your winnings—just applicable bank transfer costs.
LottoPalace's mistake is that, by accepting only a handful of payment methods and offering only 2 language options, they are making it a bit difficult for some people to use their website.
On top of that, their support options aren't all that impressive. Decent, sure—but quite lacking in some areas. It's a shame, really, because their website is, for the most part, a breeze to use.
That said, if you can get past their shortcomings, there's no harm in checking out LottoPalace.
About LottoPalace
LottoPalace is a licensed lotto betting site that is operated by Altair Entertainment N.V., and is regulated by the Curacao government. Unlike lottery agent services, LottoPalace does not purchase tickets on a player's behalf—they simply allow players to bet on the outcome of official games.