Lotto 247 Review
Written by Nicholas Christensen
Last Update: July 23, 2018


Lotto 247 is a unique and interesting specimen as far as lottery sites go—but that doesn't mean it's a sure bet.
Lotto 247 straddles the line between being a lotto agent and a lotto betting site, switching between the two when the situation calls for it (i.e. when jackpots reach a certain threshold). It's certainly a fresh approach—and it helps that Lotto247 makes the experience more exciting and accessible. Those are largely thanks to the secure, user-friendly site; the excellent game variety; and the various payment methods you can use. However, because of its hybrid nature, parts of Lotto247's service end up being overcomplicated—not to mention limiting. Check out my in-depth review below to see if it's still worth your time!
Number of Lotteries: 14
| | |
| --- | --- |
| US Powerball | Mega Millions |
| Euromillions | EuroJackpot |
| SuperEnalotto | SuperEnaMax |
| La Primitiva | El Gordo |
| Oz Lotto | Lotto 6aus49 |
| Mega-Sena | France Loto |
| Oz Powerball | UK Lottery |
Lotto247 Promotions and Bonuses
None
Overall 2.7/5
Registration 4.0/5
Bonuses, Promotions, and Games 1.0/5
Trust and Security 4.0/5
Experience (Interface and Ease of Use) 2.0/5
Payment/Withdrawal Options 2.5/5
Customer Support 4.0/5
Other Great Online Lottery Reviews


Score: 5/5
TheLotter Review


Score: 4.5/5
Lotto Agent Review


Score: 4/5
WinTrillions Review
Registration
4.0
Creating a Lotto247 account is a breeze—it takes less than five minutes to set up.
If you've used other online lottery sites, then their registration process will be immediately familiar. Heck, Facebook's registration process is far more complicated! It's also worth noting that players from a wide array of countries can easily create a Lotto247 account—even those residing in some U.S. territories (like the U.S. Virgin Islands and other minor outlying U.S. islands).
Bonuses, Promotions, and Games
1.0
Regular Lottery Games
Lotto lovers will no doubt appreciate that the most popular lotteries around the world make up Lotto247's game selection.
Not only do you get to play US Powerball, Mega Millions, Euromillions and SuperEnalotto, they also have games like El Gordo, Eurojackpot and more. Check out the full list of games below:
Available Lotteries

US Powerball

Mega Millions

Euromillions

EuroJackpot

SuperEnalotto

SuperEnaMax

La Primitiva

El Gordo

Oz Lotto

Lotto 6aus49

Mega-Sena

France Loto

Oz Powerball

UK Lottery
The downside is that Lotto247 does not offer any form of syndicates, nor do they have millionaire raffles. The good news is that they offer other types of games.
---
Keno
Lotto247 offers two types of Keno games—with thousands or even millions up for grabs.
You can choose between Keno 9 (with a €50,000 prize) or Keno 12 (with a €1,000,000 prize). The difference—besides the offered prizes—is that the former tasks you to choose 9 numbers, while the latter tasks you to choose 12. It's easy to play, too—especially when a helpful How to Play section is just a click away. Keno 9 starts at €0.50, while Keno 12 starts at €2.00.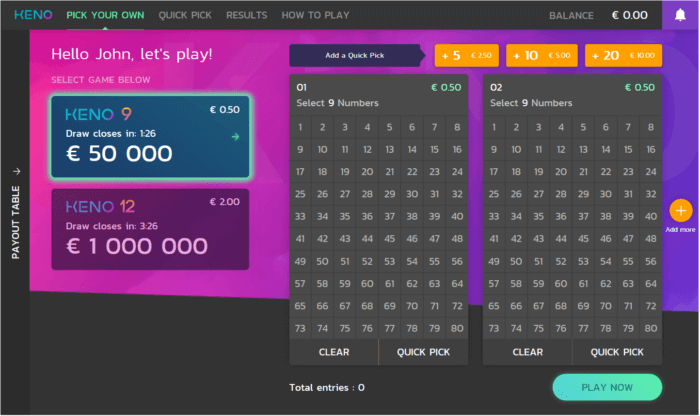 ---
Instant Win
For those looking for a bit more interactivity, Lotto247's instant win games should scratch that itch perfectly.
There's a total of eight, arcade-style instant games on tap—each carrying a specific theme. These include a Space Invaders themed game, a treasure hunting game, a Snakes and Ladders-themed game, and more!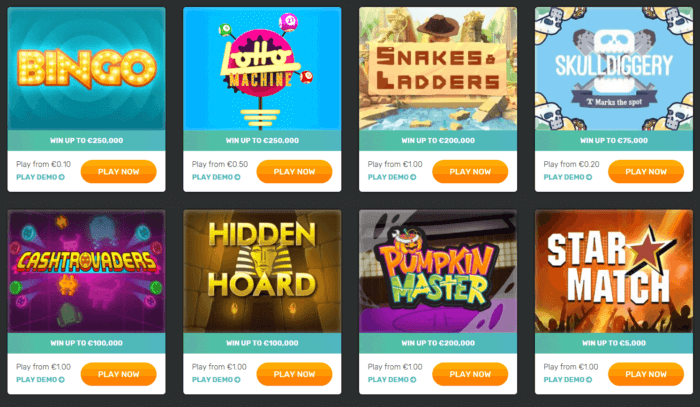 Each game has different prices—but the lowest lets you play from a measly €0.10. As for prizes, some games—like Skulldiggery, for example—allows you to win up to €75,000, while others allow you to win as much as €250,000. Before you pony up some cash though, better try out which game you like more—a free demo for each one is one click away.
---
Scratch Cards
Lotto247 offers 17 different scratch cards—which is more than some of the competition.
Each scratch card sports a unique theme and its own prices and prize structure. For instance, one game—the Elephant—starts at €0.50 for 1 game, while other games start at €0.70 or more. If you're not sure which scratch card to play, Lotto247 allows you to play a sample game just by clicking on the "Play Demo" button for each.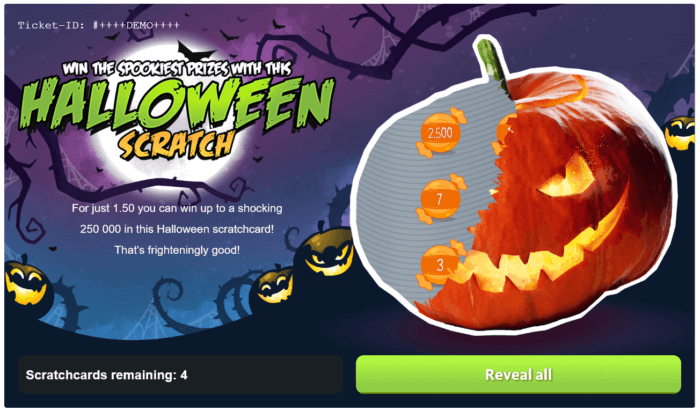 Trust and Security
4.0
Yes—playing lottery with Lotto247 is perfectly safe thanks to SSL encryption.
Lotto247 utilizes Comodo SSL encryption technology to ensure your data is kept from prying eyes. This technology secures connections so that anything going to and from the Lotto247 website don't get compromised. More than that, they are also accredited by SRC and are licensed and regulated by the Curacao government.
Experience (Interface and Ease of Use)
2.0
Lottery Education Materials
For the most part, Lotto247's education materials are quite decent—though a bit more meat would definitely be welcome.
There's nothing inherently wrong about the way Lotto247 presents their education materials—you get to learn about each lottery's history, mechanics and prize structures, after all. However, the information they offer feel more like overviews—or even bullet points—than the in-depth education materials offered by other sites (like Lotto Agent, for instance). Don't get me wrong, Lotto247's current education materials are just fine. However, they could do a lot better.
---
Ease of Use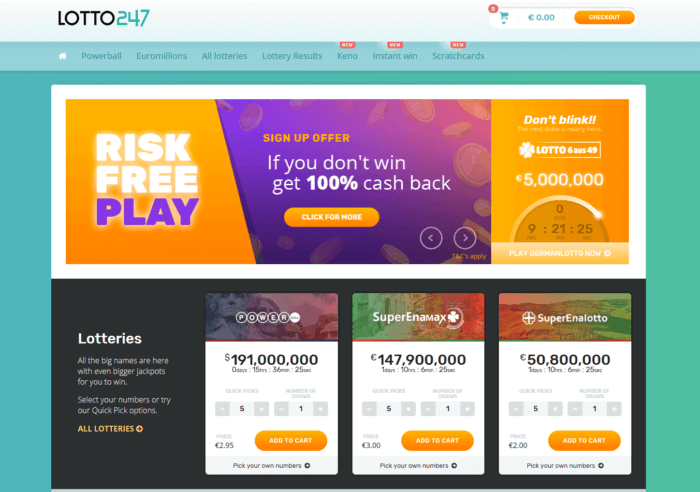 Despite their missteps, Lotto247's website is, thankfully, quite easy to use.
I liked the simplicity of the website—it's clean and easy on the eyes. There's no distractions, navigation is a breeze, and everything works as intended. I also loved how you can take a quick peek at your shopping cart and make a purchase right then and there.
I also liked the fact that Lotto247 offers their website in 14 different languages. So if you're not fluent in English, you can easily switch to a language you are comfortable with—provided you do speak or read any of the (mostly European) languages on offer, of course.
That said, I do have one minor gripe regarding their website: I'm not that fond of the font color they used. The light green hue was particularly tough to make out at times, especially due to the bright white background. Other than that, I didn't have a problem using Lotto247's site—from browsing lotteries to choosing my numbers.
---
Playing
If you've played in lottery sites before, you'll find Lotto247 quite familiar. Playing is pretty straightforward.
Here's how:
Sign in to your Lotto247 account.
Choose which lottery game you want to play.
Pick your numbers manually or randomly via the Quick Pick option. They also have a quick purchase option that lets you buy tickets with randomly chosen numbers much faster.
Select how many draws you want to participate in.
Click on the "Add to Cart' button. You can continue to add more entries if you want, or you can proceed to the Order Summary page.
Review your order/s.
Head to the payment page if you're satisfied with your order.
Select your payment method of choice.
Complete your order.
Wait to see if you win!
Payment/Withdrawal Options
2.5
Lotto247 accepts an impressive array of payment methods—but not everything is available to all players.
First, the good news: Lotto247 accepts a whopping 30 payment methods. These include popular credit cards like Visa and MasterCard, e-wallets like Neteller or Skrill, and more. Check out the full list below:
| | | |
| --- | --- | --- |
| Visa | MasterCard | Entropay |
| Wire Transfer | Banamex | Banco Do Brasil |
| Bradesco | Itau | Santander |
| Finnish Banks | Trustpay | WebPay |
| Neteller | Skrill | PaySafeCard |
| MTS | Todito Cash | Abaqoos |
| Moneta | DineroMail | Qiwi Wallet |
| Giropay | Przelewy24 | Sofort-Überweisung |
| EPS | Trustly | Boleto Bancario |
| BBVA Bancomer | Oxxo | Multibanco |
Now, the bad news: Lotto247 locks out certain payment options depending on your country. For instance, when I wanted to deposit some funds in my account, the only options available to me were Visa, MasterCard, and Neteller.
This is par for the course for a lot of lottery sites though—even theLotter does this. I understand that some payment options simply do not cater to an international audience, but the issue here is that some options that you would expect to be available are locked out.
In fact, both Entropay and Skrill are available where I am, but it's not offered as an option to me by Lotto247. I'm sure other e-wallets accept customers from a wide array of countries as well. It's not a major deal breaker though.
---
Winning
Winning in Lotto247 is a mixed bag—I would have praised it if it weren't for the confusing payout terms.
For the most part, winning here works just like it does in most lottery sites. Winners, for instance, immediately get notified via email only—that is, if you win €200 or less. Meanwhile, those who win more than €200 will get notified via phone call (which is why it's important you provide the correct mobile phone number upon registration).
Winners can also view the amount they've won in their Account Balance. And, once the winnings have been transferred to your account, you need to decide what to do with your winnings. You can:
Use your winnings to top up your account. This is great if you want to use your prize money to buy more tickets. It's ideal for smaller prizes.
Withdraw your winnings.
Take note that you can also choose to leave your winnings untouched in your Lotto247 account for the time being. If you do decide to withdraw them, expect to receive your winnings somewhere between 2-20 working days.
---
Payout Terms
Sounds pretty simple and straightforward so far, right? It is—until you dive deep into Lotto247's Terms and Conditions. According to their T&C, winners are split into three different categories, namely:
Category A: This refers to jackpot winnings.
Category B: This refers to second-place winnings.
Category C: This refers to other secondary prizes.
Now, on the surface, that doesn't sound so complicated. However, each category has their own complex payout terms. For example, if your bet (i.e. an insured entry) nabs a Category A or B win and there are no winners announced by the official game, then you will get the full amount as advertised by the lottery.
On the other hand, if there are winners in the official game, winning bets will receive the appropriate share of the prize. So, for instance, if there's 1 winning bet, and 2 winners in the official game, you would get €10,000,000 from a €30,000,000 jackpot.
Meanwhile, if there are multiple winning bets, prizes are still distributed in a similar manner. So, if there are 2 winning bets, and 1 winner in the official game, the 2 winning bets will get 1/3 of the prize each. Using the same example above, a €30,000,000 jackpot means that the two winning bets stand to win €10,000,000 each.
As for Category C winners, the prizes will be the same as the ones advertised by the lotteries. But that's not all—Lotto247's Terms and Conditions also outlines different payout terms for Powerball, Mega Millions and SuperEnaMax!
Powerball and Mega Millions: Should Lotto247 or its insurer decide to give you the winnings as a lump sum, Category A winners receive 60% of the advertised prize less a percentage of the lump sum amount.
SuperEnaMax: Lotto247 pays out prizes as an annuity that spans 39 years for this lottery game. At their sole discretion, they can also pay out prizes as a lump sum, less any applicable taxes.
Customer Support
4.0
Live Support
Yes
Phone Support
Yes
I didn't expect much from Lotto247's customer support—but I was honestly impressed.
First off, their FAQ's, while not as robust as other sites, do the job just fine. It covers the basics and gives just enough information. Of course, I would have preferred for it to be more in-depth, but what's on offer is just fine. No need to fix what isn't broken, after all.
What impressed me more, however, was their live chat support. I fired up the chat window expecting the agent on the other side to be less than helpful and simply parrot what their FAQ's say. Needless to say, Nina—the chat agent who assisted me—was really friendly and warm. More importantly, she seemed like she knew exactly what she was talking about and gave me information not normally found in their FAQ. Two thumbs up for Lotto247's live chat!
If live chat isn't your thing, they also offer a call back option wherein you leave your number and one of their agents will call you back as soon as they become available. You can also send them an email, or fill up the online contact form. Finally, you can also reach them via Facebook.
Review


Bottom Line for Lotto247
Overall: 2.7
Fine, but look for alternatives.