Giant Lottos Review Overview
What is Giant Lottos?
Giant Lottos describes themselves as a proxy service for lottery players. Basically, when you play on their website, you are entrusting Giant Lottos to purchase lottery tickets and collect any winnings on your behalf.
You can play a number of international lotteries on their site, even ones that are based in a different country than you. Giant Lottos will play the numbers you choose and actually buy your tickets before the draw. In the event that you win, they'll collect your prize and credit it to your account.
What We Like About Giant Lottos
Options for single ticket purchase, discounted bulk purchases, or subscriptions
Well-designed, simple, effective UI
What We Don't Like About Giant Lottos
Only 10 lotteries to choose from
A 5% fee is applied to prizes over £1,000
How does Giant Lottos work?
Once you have funded your Giant Lottos account, you can start participating in any of the games available. Lottery tickets can be purchased individually, in bulk (often with big discounts), or as part of a subscription.
You add lottery and raffle tickets to your shopping cart and simply checkout once you're done. The cost will be deducted from your funds and all you have to do is wait for the official draw.
Giant Lottos will notify you in case you win.
Login and Signup
You can sign up for a free Giant Lottos account in no time. Just provide your name, date of birth, email address, mobile number, and country of residence. Alternatively, you can also sign up with your Google or Facebook account.
Remember to type in any promo codes you have upon registering.
Review of Giant Lottos Games, Promos, Bonuses
Popular Lottery Games on Giant Lottos
10 Lottery Games Offered
Giant Lottos has a rather limited selection of lotteries to choose from.
It's a little disappointing, especially since many of the top lottery sites we've reviewed have at least a dozen or two games on tap.
Check out all the offered games below:
| | | | | |
| --- | --- | --- | --- | --- |
| USA Powerball | USA Mega Millions | UK National Lottery | Irish National Lottery | Italy SuperEnaLotto |
| Brazil Mega-Sena | Canadian Lotto 649 | German 6aus49 Lottery | EuroMillions | EuroJackpot |
Syndicates
Giant Lottos does provide support for group play or syndicates. It's a good way of increasing your chances of winning while still sticking to your budget.
There aren't many options available, but it's still a nice addition considering that syndicate-play isn't available in many other lottery sites.
Here's a quick rundown of the syndicate options available on Giant Lottos:
| | | |
| --- | --- | --- |
| Syndicate | Lotteries Included | Shares Available |
| Mega Millions | USA Mega Millions | 400 |
| Mega Power | USA Mega Millions + USA Powerball | 52 |
| EuroMillions | EuroMillions | 300 |
| Double Euro | EuroMillions + EuroJackpot | 40 |
Bundle Play
You can also purchase packages with multiple lotteries included. These will automatically qualify you for the next week's draws of the applicable lotteries. You can purchase up to four weeks of bundles.
Choose from any four of Giant Lottos' bundle deals below:
| | |
| --- | --- |
| Bundle | Lotteries Included |
| All Draw Bonanza | All Giant Lottos Lotteries |
| MegaPower | USA Mega Millions + USA Powerball |
| Giant4 | USA Mega Millions + USA Powerball + EuroMillions + EuroJackpot |
| Euro Millionaires | EuroMillions + EuroJackpot + Italy SuperEnaLotto + UK National Lottery + German 6aus49 Lotto |
Note that purchasing the All Draw Bonanza bundle comes with a money-back guarantee. If none of the tickets included win you a prize, Giant Lottos will refund you the entire cost of the bundle.
Millionaire Raffles
Finally, Giant Lottos also lets players participate in four giant raffles from Spain.
| | | |
| --- | --- | --- |
| Raffle Name | Draw Date | Jackpot |
| Loteria Nacionale Extra | Every 1st or 2nd of the month | Up to €140 million |
| El Gordo de Navidad (Christmas Lottery) | Every December 22 | €2.31 billion |
| El Gordo de Verano (Summer Lottery) | Every first Saturday of July | €140 million |
| Loteria del Nino (Spanish New Year Lottery) | Every January 6 | €630 million |
Giant Lottos Review of Security, Trust, and Scams
Is Giant Lottos a scam?
No. Giant Lottos is a safe and legitimate platform where players can enjoy a number of international lotteries right from the comfort of their own homes. There is no evidence to suggest that Giant Lottos is a scam.
Is Giant Lottos legit?
Absolutely. You can rest assured that if you win with Giant Lottos, you will receive your prize. The company has an excellent track record of successful payouts made to its players – boasting a 100% payout record for all their past winners.
Is Giant Lottos safe?
Yes. Giant Lottos is a EU-based eCommerce company and thus subject to strict data protection laws. The website uses Thawte 128-bit enrcyption to protect all online transactions.
Giant Lottos is also fully PCI compliant and conducts regular security checks to ensure that their members' information is secure.
Finally, Giant Lottos is prohibited from releasing player information to third-parties without their consent.
Is Giant Lottos a real or fake company?
Giant Lottos is a real company that has been operating for the last 12 years. They also have actual offices in Cyprus.
Who owns Giant Lottos?
According to the official website, Giant Lottos is owned and operated by Neezy Technologies Limited, a company that specializes in the electronic gaming industry.
How does Giant Lottos make money?
Giant Lottos profits primarily through the sale of lottery and raffle tickets on their website. Ticket prices on Giant Lottos are higher than with authorized retailers, which is what lets them cover the costs associated with running a lottery agent business.
They also charge an agent fee for larger prizes which also provides them with revenues.
Is Giant Lottos legal?
Yes. Giant Lottos is essentially a courier for playing the lottery – a practice that is fully legal and common to many other legitimate lottery sites. As long as you are 18 years old, you are free to make use of their services.
Does Lottery Critic trust Giant Lottos?
Yes. Giant Lottos gets Lottery Critic's seal of approval.
Giant Lottos Review on Payouts, Withdrawals, and Winners
Giant Lottos Payout Rules
After every drawing, Giant Lottos will check for winners and verify the results with the relevant lottery operator. After that, any winners will be contacted by email. Winners of large prizes amounting to more than £500 can expect a call from Giant Lottos representatives.
Once the relevant lottery operator has released the funds, the money is automatically credited to the player's account within 5 banking days, minus any applicable taxes. This can then be withdrawn to the player's bank account upon request.
Please remember that it is the player's responsibility to file income taxes after they have received their prize.
Also, there is a minimum withdrawal amount of £10.00, €15.00, or A$20.00, depending on the player's chosen currency.
Finally, take note that Giant Lottos charges a 5% agent fee for winnings above £1,000. This is automatically deducted from your winnings.
How to Withdraw Money from Giant Lottos
To withdraw funds from your Giant Lottos account, you will have to:
File a format withdraw request by sending an email to [email protected] with your full name and the amount you wish to withdraw.
Prepare copies of proof of identity and proof of address to Giant Lottos.
Wait for the funds to be transferred to your account.
Giant Lottos Payment and Withdrawal Methods
Giant Lottos accepts the following payment options:
Visa or MasterCard credit card
Skrill
Neteller
EasyEFT
Manual bank transfer
For withdrawals, Giant Lottos will only pay out via international bank transfer. This has a corresponding fee of £25 for every transaction.
Has anyone won on Giant Lottos?
Yes. There's been plenty of winners who got lucky playing on Giant Lottos. You can read about some of their stories here: Giant Lottos Winners.
Giant Lottos Review of Mobile Options
Unfortunately, Giant Lottos doesn't have an official app for Android or iOS mobile devices. Players will have to make do with the official website to access any of their services.
The good news is that the website is optimized to work on any device, so this shouldn't be too much of a problem.
Customer Support on Giant Lottos
Giant Lottos Contact Information
You can reach Giant Lottos customer representatives through the following channels:
Unfortunately, there is no option for live chat.
Giant Lottos Player Resources
Giant Lottos features one of the better FAQ sections we've seen on a lottery site. It's concise, easy to browse, and overall very informative.
They also do a good job at explaining how each game works, so even newbies to the lottery should have no issues when it comes to playing.
Our Experience with Giant Lottos
Giant Lottos Website
Giant Lottos take a minimalist approach to online lotteries. This is also evident in the design of their website.
The official website, while attractive, offers only the bare necessities when it comes to playing the lottery. You'll find links to their games, the results page, and your own account dashboard, and that's pretty much it. But to be honest, that's all you'll really need access to anyway. Personally, we dig it. No unnecessary clutter means only the important things are there.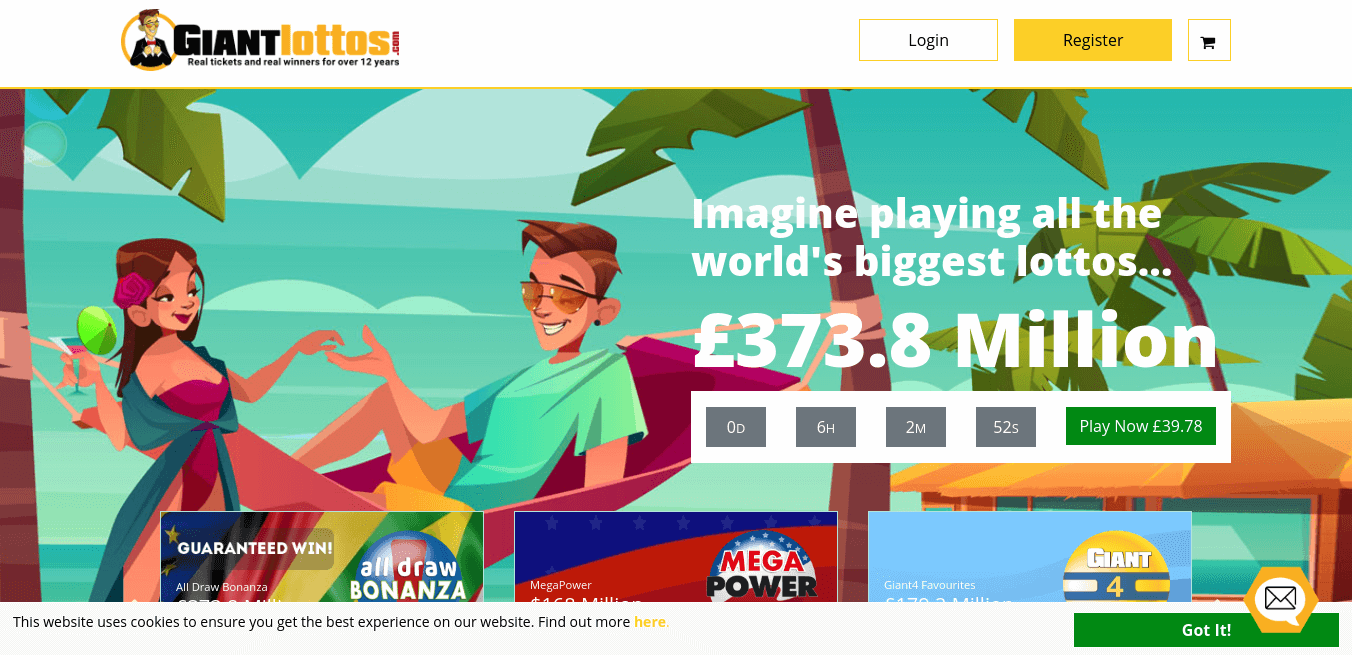 Playing
Playing on Giant Lottos is quick and easy.
It's very convenient to play on Giant Lottos. Selecting numbers is fast and purchasing tickets takes no time at all. We also like that individual ticket purchases are allowed, which is something that isn't available on some of its competitors.
Overall, we couldn't find anything negative about the play experience. We're confident you won't, either.
Final Thoughts – Should You Use Giant Lottos?
It's a good service, but there are better alternatives that offer more game variety.
Giant Lottos gets a lot of things right. A great website, some nifty bonuses, and a secure play environment are all necessary in a premium lottery agent. However, it's not quite enough in our opinion.
First, there's only 10 games available. And while they are some of the biggest ones out there, that's a small offering compared to other lottery sites we've reviewed. The lack of a mobile app and live chat support don't help either.
The bottom line: In the end, we can't think of a good enough reason to choose Giant Lottos over something like theLotter, for example. Perhaps in the future, it can be a top contender, but as it is now, there are better places you can play.