Endeavor Prize Home Review Overview
Endeavor Prize Home is an Australian-based charity lottery that lets players win million dollar homes while supporting people with disabilities. It's open to players from anywhere in the world, even those living outside Australia. Ticket prices start at A$10, but huge discounts are given when you buy multiple tickets.
Check out our in-depth review of the lottery in the sections below.
---
What We Like About Endeavor Prize Home Lottery:
Open to players from across the globe, including the US
Amazing homes you can own
Convenient and simple to play
Each draw results in a winner
Usually more than one home up for grabs
What We Don't Like About Endeavor Prize Home Lottery:
Ticket prices are relatively expensive
Not very many draws
---
What is Endeavor Prize Home Lottery?
Endeavor Prize Home is a lottery that awards winners with the home of their dreams. It is based in Australia, but players from all over the world are welcome to buy tickets over the internet.
There are seven draws that take place yearly, and each one lets participants win a brand new home located in the country's prime developments. The prize houses come fully furnished, and are equipped with the necessary appliances plus a few luxuries.
On top of that, each ticket you buy helps real people in need. Endeavor Prize Home contributes all of the profits generated to provide housing and life opportunities to people who are living with disabilities.
How does Endeavor Prize Home Lottery work?
It's really quite simple. Basically, you buy as many tickets as you'd like, wait for the draw, and if you win, the prize home is transferred to your name and you can move in immediately.
To break it down step-by-step:
Go to the Endeavor Prize Home website. You can also visit the lottery office or the current prize home.
Pay for as many tickets as you want.
Receive your tickets personally, via email, or post.
Wait for the draw date and the winning ticket to be selected.
If you win, Endeavor Prize Home will contact you to make arrangements for you to collect your prize.
That's it! You can participate in the next draw or become a Star Supporter to automatically qualify.
Login and Signup
If you want to play Endeavor Prize Home online, you have to sign up when buying tickets. You can do this as you make your purchase. Personal details like your full name, address, date of birth, contact details, and credit card information are required.
Review of Endeavor Prize Home's Games, Promos, and Bonuses
Current Grand Prize – Lottery No. 425
Ultimate Family Home on the Sunshine Coast
House value: A$1.2 million
Address: 19 Ridgeview Pl, Woombye QLD 4559
Open house: 9-11 December 2019, 10:00 AM to 5:00 PM
The current prize house for draw #425 is a spacious, 4 bedroom home located in the coastal town of Woombye in Queensland.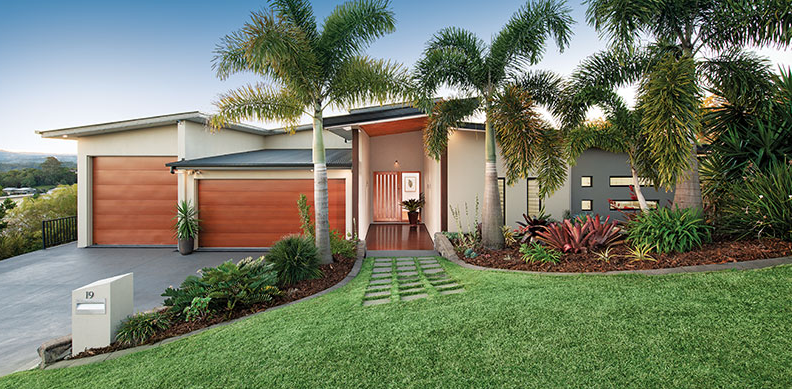 The entire property consists of the following:
617 square meter, 2 level home with multiple living spaces
Modern, outdoor kitchen
4 bedrooms
3.5 bathrooms
Garage
Games room
Workshop Space
Outdoor area with wooden deck
In-ground pool
180 degree views of Blackall Range
The grand prize also comes with complete furniture, electrical appliances, an outdoor grill, entertainment center, A$10,000 gold bullion, 6 months security monitoring fees, and a free transfer of title.
Current draw closes: 11 December 2019
Winner drawn: 18 December 2019
Your Chances of Winning
Your chances of winning the Endeavor Prize Home depends on how many tickets are sold, since the winning ticket is always drawn from the pool of purchased tickets.
In this particular drawing for house number 425, the maximum number of tickets the lottery can sell is 750,000. That means if you buy only a single ticket, and assuming all tickets are sold, your chances of winning are 1 in 750,000. Naturally, you can improve your odds by simply purchasing more tickets. Your odds also improve when fewer people participate in the draw.
Star Supporter
By becoming a Star Supporter, you ensure that you never miss out any of the prize house drawings that take place. You'll also get entered into Ultimate Life Changer Lotteries, Early Bird Cash Draws at no extra cost. On top of that, you get exclusive and automatic access to luxury car drawings, Christmas drawings, and other bonus drawings for free.
It's an awesome deal that we highly recommend since you don't have to shell out any additional cash, and the program gives you a lot in return. Extra convenience and awesome bonuses for no extra charge? Count us in!
Other Endeavor Foundation Lotteries
Apart from the prize house drawing, Endeavor Foundation also sells tickets for other lotteries that players can enter. These include:
Ultimate Life Changer Lotteries: These draws are similar to the Prize Home Lottery, except the value of the prize is limited to about half a million AUD. Prizes can be apartments, vehicles, and other luxury goods.
Early Bird Cash Draws: The Prize Home Lottery draw also has an Early Bird cash game that gives players who buy tickets early a chance to win an additional A$5,000. Star Supporters are automatically eligible for the Early Bird prize.
Ticket Prices and Discounts
Check out the table below to see how much tickets cost. It's a little pricier than other charity lotteries, which is a bit disappointing if we're being honest. However, this could also potentially mean that you'll have fewer players to compete with, so that could be a good thing in the end.
Also, note that multiple tickets give you a pretty hefty discount, so that kind of makes up for the steep cost.
| | |
| --- | --- |
| 1 Ticket | A$10 |
| 4 Tickets | A$30 |
| 10 Tickets | A$50 |
| 14 Tickets | A$60 |
| 30 Tickets | A$100 |
Endeavor Prize Home Review of Security, Trust, and Scams
Who owns Endeavor Foundation Lotteries?
The Endeavor Prize Home Lottery is operated by the Endeavor Foundation, an independent and charitable organization that was established back in 1951. It is a public company – but instead of shareholders, Endeavor Foundation is 'owned' by its members – and any surplus revenue is reinvested back into the organization.
Is Endeavor Prize Home Lottery a scam?
No, it isn't The Endeavor house lottery has been operational for over 60 years. The very first one was held all the way back in 1966. Since that time, hundreds of people have won real homes and other prizes.
Is Endeavor Prize Home Lottery legit?
Absolutely! All Endeavor Foundation lotteries are held under the supervision of the Queensland Office of Liquor and Gaming Regulations. Additionally, each drawing is conducted in the presence of an auditor.
Is Endeavor Prize Home safe?
Of course. The Endeavor lotteries are a safe way to win real prizes whether you play online or offline. Their official website is secured with advanced encryption protocols that keep your personal details away from prying eyes.
Does Lottery Critic trust Endeavor Prize Home Lottery?
Yes, indeed. Lottery Critic wholly recommends Endeavor Prize Home Lottery.
Review of Endeavor Prize Home Payments, Prizes, and Winners
How do I purchase Endeavor Prize Home tickets?
The most convenient way is to simply go to the Endeavor Prize Home website and buy tickets over the internet. By doing so, you will receive your digital tickets and numbers in your email inbox.
You can also become a Star Supporter to make things even easier. If you sign up for the program, you will automatically purchase tickets every month and receive them via mail. Please note that the only accepted payment option for online transactions is with a credit card.
If you'd prefer to buy your tickets directly from an Endeavor Foundation representative, you can visit the Endeavor Foundation office or the current prize house to speak with one face-to-face, or call the lottery through the telephone numbers provided below.
Who are eligible to play Endeavor Prize Home Lottery?
Players from all over the world are welcome to join – even those who are from outside Australia. The only requirement is that you must be at least 18 years of age.
How do I claim my Endeavor Prize house?
If you win, the lottery will be notify you via telephone and post. You will also get notified through email if you have an email address registered. From there, arrangements will be made for you to collect your prize from the main office. Then, a Customer Service Manager will take you to your new home and hand you the keys.
You can move in immediately while the lottery handles the paperwork to finalize the transfer of ownership.
Has anyone won on Endeavor Prize Home Lottery?
Yes! Each drawing produces a winner so all the previous draws have been won by real people. You can check out the official website for a more detailed look at real winners of Endeavor prize house lotteries.
Endeavor Prize Home Winners
Endeavor Prize Home 407 – Maleny
The winners for Endeavor Prize Home's 66th anniversary draw are identified as Anna and Andrew from Queensland. They won a home in Maleny, a town near the Sunshine Coast, valued at A$1.2 million. They purchased 10 tickets for the draw, and snagged their win with ticket number 530086.
Endeavor Prize Home 418 – Valdora
Identified only as J.R. from Queensland, the winner of lottery number 418 won an amazing A$1.17 million home in  after buying 4 tickets. Their winning ticket was numbered 499235.
Endeavor Prize Home 422 – Maroochy River
The winner for lottery draw 422 was identified as Maz H. from Queensland. They won a A$1.24 million home located in Maroochy River after buying 10 tickets. The winning ticket was numbered 286484.
Endeavor Prize Home Review of Mobile Options
While the absence of a mobile app is a bit of a disappointment, the well-optimized website did suffice.
One thing we do miss is an officially supported mobile app. However, we tried accessing the official website from different mobile devices and encountered zero problems. From browsing the information sections, to taking the virtual tours, and buying tickets, we experienced no issues at all.
Customer Support on Endeavor Prize Home
Endeavor Foundation Lotteries Contact Information
We listed the various ways you can get in touch with the Endeavor Foundation below. One thing to note is the lack of a live chat option. It would've been great to have, but since this type of lottery isn't as fast-paced as traditional ones, we can understand why the company chose not to support it.
Office Address: 33 Corporate Drive, Cannon Hill, QLD 4170, Australia
Mailing Address: Endeavour Foundation, PO Box 3578, Tingalpa DC QLD 4173, Australia
Email: [email protected]
Telephone (M to F, 8:00 AM to 7:00 PM; Saturday, 9:00 AM to 1:00 PM)

In Australia: 1800 63 40 40
In New Zealand: 0800 44 22 35
International: +617 3908 7295
Endeavor Prize Home Player Resources
There's not much as far as player resources go, but in all honesty, not much is enough in this case.
The website has a FAQ section that covers most basic questions, and then some. Apart from that, you can also look into the terms & conditions section for a more in-depth look into how the lottery works. They also have a blog which provides some interesting reading material to get you in the mood to play.
Endeavor Foundation Lotteries Social Media Accounts
You can follow the Endeavor Foundation's on social media for more news, updates, and other great content:
Our Experience with Endeavor Prize Home Lottery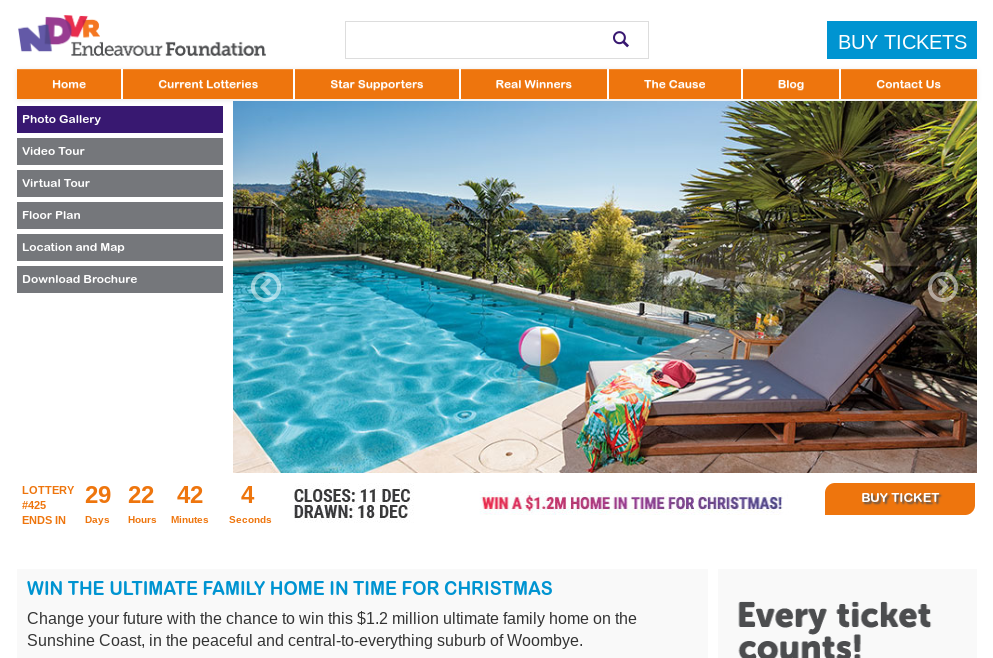 One of the first things we look at when reviewing a lottery site is the price of their tickets. And while at first glance, Endeavor Prize Home's ticket prices are higher than the usual, we still think it's a great service that provides real value.
First, value to the user. Endeavor Prize Home delivers an excellent gaming experience that's totally hassle-free. Whether you choose to play online (which is what we recommend) or offline, you'll be in excellent hands the whole time. Service is great, and did we mention they'll even pay for your travel and accommodation expenses should you need it when claiming your prize? That's quality service right there.
Second, value to society. In a world where ideally, a person with a disability is entitled to the same quality of life, opportunities available to them, and potential for growth as everyone else, the Endeavor Prize Home Lottery establishes itself as a prime example of how companies should walk the talk when it comes to bringing about positive change.
Final Thoughts on Endeavor Prize Home Lottery
As far as charitable lotteries go, Endeavor Prize Home is one of the best we've reviewed so far. It's not the traditional lottery site that we usually look into, but that's what makes it so special. You'll be playing for an actual house, which means you're less likely to squander your prize or be the target of people looking to take advantage.
More importantly however, it's a charity that – forgive the pun – hits very close to home. When you buy a ticket, you'll be supporting people and projects that are often ignored. People with disabilities are present in every community, and it's only right to find ways of supporting them, even if it's as simple as buying a lottery ticket. And although you're paying a bit more than usual for this lottery, you know your money is doing something truly worthwhile.
The Bottom Line: If you're looking for a worthwhile charity lottery to play, Endeavor Prize Home is an excellent chance to win a beautiful home while simultaneously improving the lives of real people.