General Information on Bmillions
Bmillions is a relatively young lottery website that's made waves with its syndicate-focused approach. Owned and operated by Profit Ninja Ltd., Bmillions is based in Sofia, Bulgaria. It works with a hybrid business model that offers both official lottery tickets and lotto bets depending on the size of a lottery's jackpot.
What is Bmillions?
Bmillions is a hybrid service. Depending on the size of a lottery game's jackpot, Bmillions acts as either:
a lottery agent that buys you official tickets
a lotto betting service that takes your bets on the outcome of the lottery
How does Bmillions work?
Bmillions either registers your purchase as a bet on the lottery's outcome or buys an official lottery ticket on your behalf. Which service you get depends on the size of a lottery game's jackpot: If the jackpot is at EUR 50M or less, Bmillions uses a lotto betting system. For jackpots above EUR 50M, however, Bmillions acts as a lottery agent buying official lottery tickets.
Bmillions' business model isn't the only unique thing about it, though. Unlike many lottery websites, Bmillions focuses solely on syndicates. You can't play solo here.
Bmillions offers 9 different syndicates for lotteries based in the US, Europe, and Australia. Aside from single-draw syndicates, you have the following options:
Combos: Bundles of multiple syndicates. These are a great way to save money if you want to play several lotteries.
Multiple draws: When you buy shares, you can choose to participate in draws for the next 1, 3, or 6 months.
Login and Signup
Bmillions' short registration form means you can start playing quickly.
Bmillions requires a bit more information than usual, but the registration process is still pretty quick. You just need to provide your full name, country and mobile number, email address, and password.
If you're already registered, the "Login" button is at the top of the Bmillions site.
Review of Bmillions's Games, Promos, Bonuses
Bmillions Promo Codes, Vouchers, and Discount Codes
Bmillions doesn't run many promotions or offer discounts.
Popular Lottery Syndicates on Bmillions


Bmillions has a relatively limited lottery selection.
Bmillions lets you play 9 lotteries from the USA, Europe, and Australia. You mostly get the big-ticket games like US Mega Millions, though there are a few smaller lotteries mixed in.
There's one glaring omission here, though: the US Powerball is nowhere to be found. It's strange: the Powerball used to be an option here, and it's baffling why the site seems to have dropped one of the biggest and most popular lottery games out there.
Here's what you'll get at Bmillions:
| | | |
| --- | --- | --- |
| Lottery Syndicate | Lines | Shares |
| US Mega Millions | 60 | 180 |
| UK Lotto | 49 | 130 |
| EuroJackpot | 68 | 145 |
| EuroMillions | 38 | 120 |
| EuroMillions UK | 50 | 145 |
| Oz Lotto | 55 | 73 |
| Lotto Sweden | 65 | 75 |
| UK Thunderball | 69 | 90 |
| Lotto 6aus49 | 37 | 80 |
Each Bmillions syndicate has a set number of total shares. You can buy 1, 2, or 5 shares ine one go. When all the shares in a syndicate have been bought, Bmillions starts a new one, so you don't have to worry about running out.
I have one quibble here: Bmillions locks you into a minimum 1-month subscription by default. There doesn't appear to be a way to play one draw at a time. This means a single purchase at Bmillions can easily cost as much as EUR 100, especially for lotteries that have multiple draws per week. If you're on a budget, Bmillions is not the way to go.
Bmillions Results
Bmillions displays results for 14 lotteries in all.
You can jump straight to Bmillions' lottery results page from the navigation bar. You can select previous draws from the dropdown menus.
Aside from the 9 lotteries that Bmillions offers as syndicates, you can check results for these lotteries:
El Gordo de la Primitiva
France Loto
Lotto Österreich
Bono Loto
Powerball Australia
You can play many of these through one of Bmillions' Combo packages, even if they're not available as individual syndicate options.
Other Bmillions Games
Bmillions Combos


Bmillions' Combos deliver value-for-money game variety.
If you're eyeing several syndicates, you can save money with Bmillions' Combo packages. You have 6 Combos to choose from — one less than Bmillions used to offer.
Each Combo is a bundle of syndicates. (TheLotter offers a similar service.) Some Combos actually include lotteries that you can't get as a standalone syndicate, like El Gordo Primitiva and Powerball Australia.
Your money can go a long way with this approach. For example:
You can pay €71.04 to buy 1 share of the MegaMillions syndicate, valid for 1 month's worth of draws.
Or you could pay €18.99 for 1 share in the Big 4 Combo, which gives you 1 share for EuroMillions, Mega Millions, Oz Lotto, and EuroJackpot, valid for all these lotteries' draws for 1 week.
If you'd like to spread your risk (and your chances of winning!) around, Bmillions' Combos help you do that without breaking the bank.
Here's what you can get with Bmillions' Combos:
| | | | |
| --- | --- | --- | --- |
| Combo | Included Lotteries | Total Lines | Total Shares |
| Big 4 | Oz Lotto, Mega Millions, EuroJackpot, EuroMillions | 80 | 150 |
| Daily Pack | El Gordo, BonoLoto, Mega Millions, Lotto Sweden, Powerball Australia, EuroJackpot, Lotto 6aus49 | 90 | 75 |
| Deutschland | Lotto 6aus49, Mega Millions, EuroJackpot | 40 | 150 |
| British Deluxe | EuroMillions, Thunderball, UK Lotto, Mega Millions | 80 | 150 |
| OZ Pack | Oz Lotto, Powerball Australia, Mega Millions | 60 | 150 |
| Svenska Pack | Lotto Sweden, EuroJackpot, EuroMillions | 30 | 150 |
Bmillions Review of Security, Trust, and Scams
Is Bmillions a scam?
No, definitely not. Bmillions is run by a legitimate company, and it has airtight security measures in place to protect transactions. The site is protected by 256-bit SSL encryption, and it has a payout guarantee.
Is Bmillions legit?
Yes. Bmillions is owned and operated by Profit Ninja Ltd., a company based in Sofia, Bulgaria.
Is Bmillions safe?
Yes. Bmillions protects its website using a 256-bit SSL certificate that ensures airtight encryption for all transactions.
Is Bmillions a real or fake company?
Bmillions is real. It's run by a Bulgarian company called Profit Ninja Ltd. Unlike other top sites we've reviewed, though, Bmillions doesn't seem to have a license issued by a government gambling commission.
Who owns Bmillions?
Profit Ninja Ltd. owns and operates Bmillions. Profit Ninja is based in Sofia, Bulgaria.
How does Bmillions make money?
Bmillions doesn't take cuts from your winnings. Instead, it funds its operations through the handling fees that are part of every purchase made on the website.
Is Bmillions legal?
Yes, Bmillions is legal. Despite the lack of a government-issued license, Bmillions operates in compliance with laws on information security, etc.
Does Lottery Critic Trust Bmillions?
We do. Bmillions has bank-grade 256-bit SSL encryption to protect users, so you know your account is in good hands. It would've been better if Bmillions had an official license, though.
Bmillions Review on Payouts, Withdrawals, and Winners
Bmillions Payout Rules
Bmillions has a simple payout system, though claiming bigger prizes could get complicated.
Like many lottery websites, Bmillions doesn't charge commissions for any winnings.Better still, the site guarantees that you'll get your prize money in the shortest possible time.
At Bmillions, any prize below $600 gets credited to your account.
Prizes beyond $600, meanwhile, will have to be claimed in person. In these cases, you can choose to have the physical ticket delivered to you via courier. Alternatively, you can travel to the lottery operator's country and get the ticket yourself before claiming the prize.
How to withdraw money from Bmillions
Cashing out your winnings is as simple as sending Bmillions a request. In most cases, especially for big amounts, you'll have to give Bmillions proof of your identity. Once your identity has been verified, you can opt to receive the money through check, wire transfer, or credit card.
Bmillions Payment and Withdrawal Methods
Bmillions offers support for a short list of payment methods.
Bmillions only supports 5 payment methods:
Visa debit and credit cards
MasterCard debit and credit cards
Giropay
Sofort
Bank transfers
This is a bit disappointing, as some of these alternatives might not be available for many countries. That means users can get stuck with just Visa or MasterCard as payment options. For users without debit or credit cards, this could stop them from finishing their transaction entirely.
Has anyone won on Bmillions?
Bmillions doesn't provide any information about past winners. Unlike many lottery websites, Bmillions doesn't advertise its most recent winners or biggest payouts.
I'm sure winners appreciate Bmillions' discretion. Most lottery winners seem eager to keep their good fortune under wraps. Just read up on the biggest lottery winners of all time—most of them seem happy to disappear from the spotlight!
Bmillions Review of Mobile Options
Bmillions relies on a mobile-responsive website.
You won't get a dedicated mobile app here. However, you can access the Bmillions site easily on a mobile device.
Customer Support at Bmillions
Bmillions offers one main support channel, with no options for urgent assistance.
Bmillions used to get a lot of complaints regarding its sluggish responses. This past year, though, Bmillions has shown signs of improvement. After a rough few months, I've started seeing faster responses. There's also been an uptick in the quality of responses to standard support questions.
You can reach Bmillions' support team via email or their on-site contact form. A live chat option would've been a good way to round out those options, especially for users who want urgent assistance.
Bmillions has a barebones FAQ section, so don't expect to find detailed help here. The FAQ only covers 7 questions, and answers are far from thorough. Maybe Bmillions just doesn't get a lot of questions, but a more detailed FAQ would've been better for users who need to do DIY troubleshooting.
Our Experience with Bmillions
Bmillions delivers a simple, convenient playing experience, especially for European players.
Players interested in European games or group play should give Bmillions a look.
Bmillions Website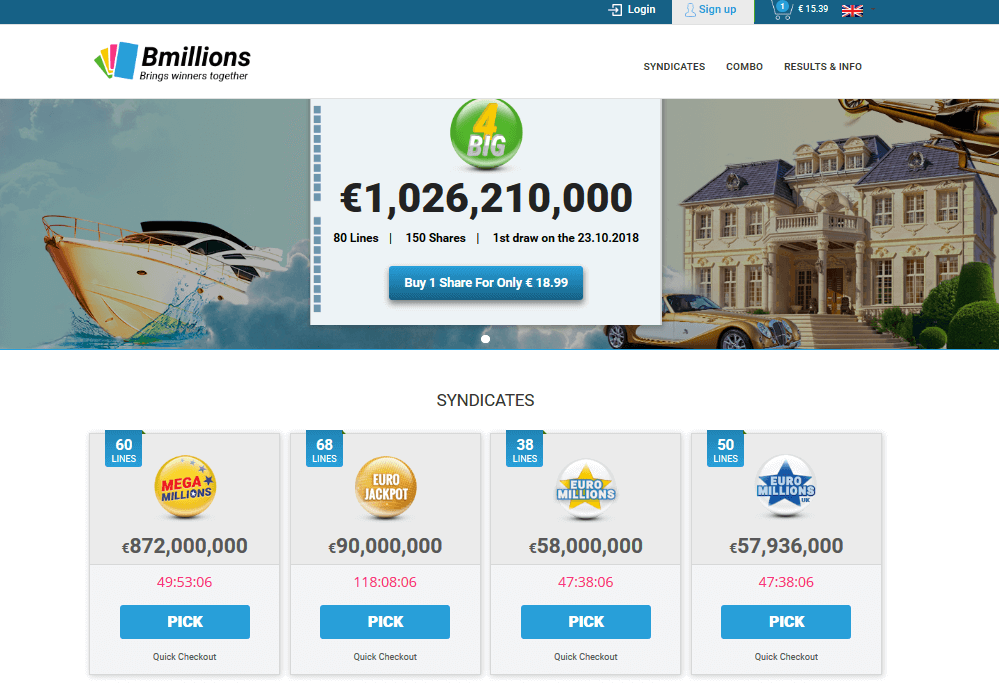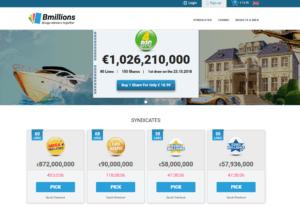 Bmillions has a simple, uncluttered interface.
Bmillions has given its website a fresh coat of paint. Unfortunately, some of Bmillions' design highlights seem to have been lost in the process.
The handy draw countdowns and convenient navigation bar are still there. However, lottery results have been pushed to the bottom of the homepage.
One good point, though: Bmillions has also been expanding its language offerings.
Initially, you could only get the Bmillions site in 4 languages: English, German, Spanish, and Swedish. Over time, though, they've bumped that up to 8 in all, adding Čeština, Portuguese, Suomi, and Norsk Bokmål.
Non-English speaking players, especially from various parts of Europe, won't have problems here. Of course, Europe isn't the only continent that plays online lottery. Let's hope Bmillions adds language support for players from Asia, Africa, and more.
Bmillions Playing Experience
Bmillions' minimum 1-month subscription for individual lotteries can be a bit of a bummer, since it drives up the price. The Combos offer a better deal for players on a budget.
Whether a lone syndicate or a Combo package, though, Bmillions makes it easy for you to pick your preferred option and proceed to checkout.
Final Thoughts on Bmillions
Bmillions works best for group play enthusiasts with deep pockets.
If you like syndicates, Bmillions might be the lottery site for you. Bmillions' syndicates cover a good spread of lotteries, from popular games like EuroMillions and Mega Millions to smaller games. If you're looking for a good bargain, Bmillions' Combos stretch your money further while boosting your chances of winning. Plus, their zero-commission policy means you won't have to suffer deductions from your winnings.
Bmillions' simple, mobile-optimized website delivers a pleasant user experience, too. Registration is a breeze, and you can easily make a purchase from any page on the site.
Bmillions have also shown promising signs of improvement in terms of customer support. The past few months have been rough, and the comments from disgruntled users were enough to spook anyone. But Bmillions now seems to have re-committed to improving their customer service — a great turnaround.
If you love group play strategies for online lottery, Bmillions is a solid option. It doesn't offer as many games, payment methods, or even language options as other websites, but Bmillions' focus on the group play niche makes it a unique option that's worth trying for yourself.