11 Lottery Games Offered
Syndicates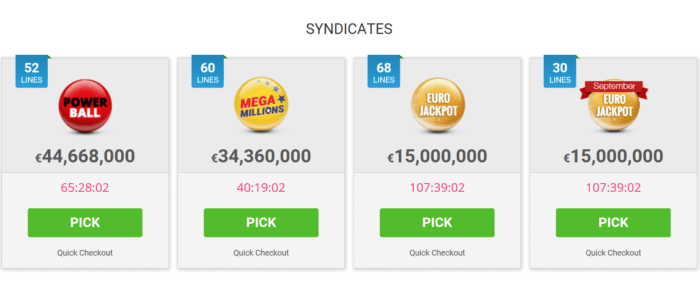 Bmillions is a good one-stop shop for group play online lottery.
Bmillions specializes in syndicates, which let you buy more lines by pooling money with other players. Any winnings will then be split according to your shares in the syndicate. The more shares you have, the bigger your cut of the prize. For lottery newbies and old hands alike, syndicates can be an affordable way to play more numbers and boost your chances.
At Bmillions, you can choose from 11 syndicates in all. There's a good mix here: You get blockbusters like Euromillions alongside smaller games like Lotto Sweden.
Each Bmillions syndicate has a set number of shares, from 75 to 180 depending on the game. When all the shares in a syndicate have been bought, Bmillions starts a new one, so you don't have to worry about running out.
Check out the complete list below:
Offered Lottery Syndicates
US Powerball (52 lines)
Mega Millions (60 lines)
Euromillions (38 lines)
Euromillions UK (50 lines)
EuroJackpot (68 lines)
Oz Lotto (55 lines)
AU Powerball (69 lines)
Lotto 6aus49 (37 lines)
Lotto Sweden (65 lines)
UK Lotto (49 lines)
Thunderball (69 lines)
---
Combos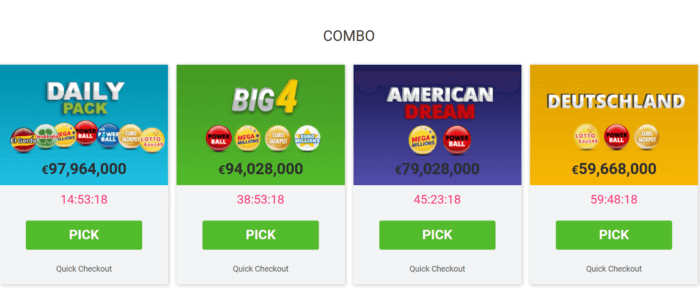 Bmillions' Combos deliver value-for-money game variety.
If you're eyeing several syndicates, you can save money with Bmillions' Combo packages. You have 7 Combos to choose from. Each Combo is a bundle of syndicates. (TheLotter offers a similar service.)
Your money can go a long way with this approach. For example:
You can pay €12.84 to buy 1 share of the Euromillions syndicate, valid for 1 draw.
Or you could pay €18.99 for 1 share in the Big 4 Combo, which gives you 1 share for Euromillions, Mega Millions, Powerball, and EuroJackpot, valid for all these lotteries' draws for 1 week.
Naturally, Combo tickets cost a bit more than the individual syndicates. But it's a small difference, which bodes well for players who'd like more variety with each purchase.
If you'd like to spread your risk (and your chances of winning!) around, Bmillions' Combos help you do that without breaking the bank. Here's what you can get with Bmillions' Combos:
| | | | |
| --- | --- | --- | --- |
| Combo | Included Games | Total Lines | Total Shares |
| Big 4 | Powerball, Mega Millions, EuroJackpot, Euromillions | 80 | 150 |
| American Dream | Powerball, Mega Millions | 40 | 150 |
| Deutschland | Lotto 6aus49, Powerball, EuroJackpot | 30 | 150 |
| OZPack | Oz Lotto, AU Powerball, Powerball | 60 | 150 |
| Daily Pack | El Gordo, BonoLoto, Mega Millions, Powerball, AU Powerball, EuroJackpot, Lotto 6aus49 | 92 | 150 |
| Svenska Pack | Lotto Sweden, EuroJackpot, Euromillions | 30 | 150 |
| British Deluxe | Euromillions, Thunderball, UK Lotto, Powerball | 80 | 150 |
Deposit and Withdrawal with Bmillions
Bmillions supports common payment methods, but not much more than those.
Bmillions currently supports credit and debit transactions via MasterCard or Visa, as well as Giropay, Sofort, and bank transfers. However, unlike some competing lottery sites, there's not much support for newer systems like cryptocurrency.
Some methods are only available to players from certain locations. I can only use Visa, MasterCard, or bank transfers, for example. While credit and debit are common enough methods globally, players who want to use alternative methods will need to look elsewhere.
Is Bmillions Safe?
Bmillions protects you with bank-grade encryption.
Bmillions claims to secure player data using powerful 256-bit SSL encryption. I ran the site through Google's Safe Browsing diagnostic tool, and those claims seem to hold up: Bmillions passes Google's checks with flying colors.
However, Bmillions doesn't give clear information about their licensing and regulatory status. There's nothing on the site to indicate that Bmillions is directly regulated by a relevant gambling commission or similar licensing body. This isn't an automatic red flag, but you should still keep it in mind.
Bmillions' Customer Service
Bmillions offers 24/7 email and phone support, but more options would've been better.
Bmillions has a barebones FAQ section, so don't expect to find detailed help here. The FAQ only covers 7 questions, and answers are far from thorough. Maybe Bmillions just doesn't get a lot of questions, but a more detailed FAQ would've been better for users who need to do DIY troubleshooting.
As for direct assistance, Bmillions has shown signs of improvement here. After a rough few months, I've started seeing faster responses. There's also been an uptick in the quality of responses to standard support questions.
Bmillions is one of the few lottery sites with 24/7 assistance, so this improvement is great. You can reach their customer support team via email or phone. However, a live chat option would've been a good way to round out those options, especially for users who want urgent assistance without having to use the phone.
Bmillions' Additional Features
Lottery Education Materials
Bmillions assumes you know your way around online lotteries.
Bmillions doesn't provide many materials to get newbies up to speed on online lotteries, the details of individual games, or prize breakdowns.
You can check out a page on Lottery Strategies for some tips on maximizing your chances. However, you won't find much more beyond that.
---
Ease of Use
Bmillions delivers a simple, convenient playing experience, especially for European players.
Bmillions keeps its website simple and intuitive. The homepage highlights the latest lottery results and upcoming draws, so you'll never get lost. The clean, uncluttered design means all that information is never underwhelming. Adding draw countdown timers is a nice touch, too.
You can jump straight to a ticket purchase from any point in the site. That's thanks to the dropdown menu, which has buttons to take you directly to a game's page. The same pane lets you glance at results by hovering on the "Results" tab.
Bmillions' website works well on mobile phones, so you can keep playing on the go. However, there's no native mobile app.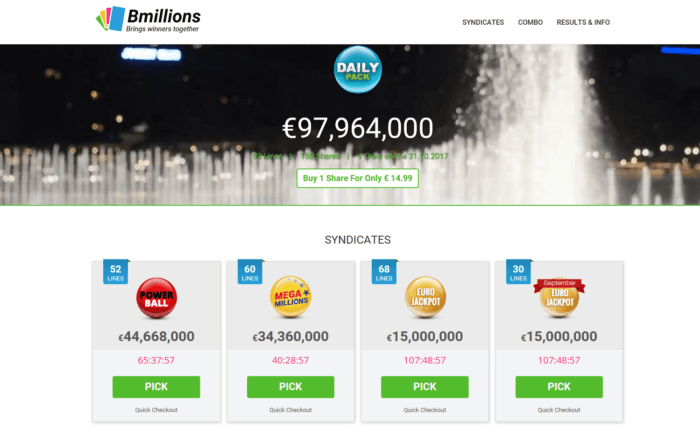 Bmillions has also been expanding its language offerings.
Initially, you could only get the Bmillions site in 4 languages: English, German, Spanish, and Swedish. Over time, though, they've bumped that up to 8 in all, adding Čeština, Portuguese, Suomi, and Norsk Bokmål. Non-English speaking players, especially from various parts of Europe, won't have problems here.
Of course, Europe isn't the only continent that plays online lottery. Let's hope Bmillions adds language support for players from Asia, Africa, and more.
How Bmillions Works
Setting Up an Account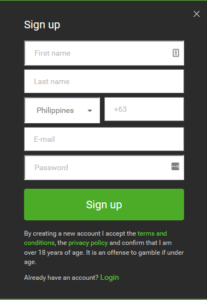 Creating a Bmillions account takes less than a minute.

Here's how:
Click on the "Sign up" button on the upper right corner of Bmillions' site.
Fill out the registration form with your first and last names; your country; your mobile number; your email; and your preferred password.
Click on the green "Sign up" button once you're done.
Start playing!
Playing
Bmillions has a simple playing process, with some tweaks to fit its hybrid model.
First, here's how you play through individual syndicates:
Sign in to your Bmillions account.
Choose a lottery game.
Pick how many shares you want to buy.
Pick how many draws you want to participate in.
Choose whether you want to subscribe or not.
Click the "Add to Cart" button.
Review your order. If you need to change something, you can do it here.
Click on the "Checkout" button if you're satisfied with your order.
Purchase your ticket/s (if you haven't deposited funds yet, you need to do so first)
Wait to see if you win!
For Combos, you can use similar steps to participate in multiple games at once:
Sign in and pick your preferred Combo.
Choose how many shares you want to buy.
Choose whether to subscribe to lottery game updates.
Purchase your Combo shares.
Wait for the results!
Bmillions works on a hybrid model, so you can either bet on a lottery game's outcome or participate directly in the game (through a ticket purchase). Unlike other hybrid websites (like Lotto247), Bmillions doesn't ask you to take any special steps.
Instead, the hybrid model applies automatically:
For games with jackpots worth up to €50 million, you're simply betting on the game results
For games with jackpots over €50 million, a Bmillions agent buys tickets on your behalf
Winning
Bmillions promises quick and easy claims for your winnings.
Whether you play individual syndicates or Combos, any winnings will automatically be credited to your account.
The big exceptions to this rule are jackpots and similar high-tier prizes:
For games with jackpots worth up to €50 million, you need to submit a claim form to get jackpot winnings or the second-tier prize. The money will be credited to your account within 30 days of submitting the form.
For games with jackpots over €50 million, any prizes above $600 must be collected personally. Bmillions will send you the original ticket via courier. This can be an expensive process if the lottery you won is based in another country. Once you get there, though, Bmillions will help you collect your winnings.
Alternatives to Bmillions
If you're itching to play regular lottery games—not just syndicates—then these three sites are some of the best around:
Choose from a wide variety of games.
theLotter has an impressive array of regular lotto games. They have a continuously growing range of lotteries — currently, you have 51 options! On top of that, theLotter also offers 23 syndicates and some millionaire raffles.
Payment options galore!
Currently, theLotter accepts a whopping 28 banking methods for depositing funds into your account. You can also choose from 7 withdrawal options.
Purely a lotto agent.
theLotter is one of the best lotto agents around. This means that they purchase actual lottery tickets on your behalf; keep these safe in a vault; and also provide you a scanned copy.
Offers an impressive selection of games.
You can choose from 19 regular lottery games to play—plus 13 group play games and several raffles.
Accepts a variety of banking options.
Players from around the globe will easily find a payment option that works for them—WinTrillions accepts 32 different banking methods.
Only accepts multi-draw purchases.
WinTrillions doesn't accept purchases for single draws. Instead, you would have to enter into multiple draws. Unfortunately, this spells higher prices for you.
Choose from various games, including syndicates!
There are a total of 19 lottery games on offer here, along with a few syndicates and raffles.
Prize claiming made simple.
You don't have to travel far to collect your winnings if you don't want to. You can simply authorize LottoKings to collect prizes on your behalf—including jackpots. Once they get your winnings, you can request to have a check sent to you. Alternatively, you can claim your prize at the nearest LottoKings office.
No ticket scanning services.
While LottoKings is a lotto agent, they don't scan tickets and send you the copies. Instead, they will send you purchase invoices to serve as your proof of ownership.
The Bottom Line – Should You Use Bmillions?
Yes, if you like group play, variety, and value.
If you like syndicates, Bmillions might be the lottery site for you. Bmillions' syndicates cover a good spread of lotteries, from popular games like Euromillions and Powerball to smaller games like Lotto Sweden. If you're looking for a good bargain, Bmillions' Combos stretch your money further while boosting your chances of winning. Plus, their zero-commission policy means you won't have to suffer deductions from your winnings.
Bmillions' simple, mobile-optimized website delivers a pleasant user experience, too. Registration is a breeze, and you can easily make a purchase from any page on the site.
Bmillions have also shown promising signs of improvement in terms of customer support. The past few months have been rough, and the comments from disgruntled users were enough to spook anyone. But Bmillions now seems to have re-committed to improving their customer service — a great turnaround, especially since they're one of a few lottery sites with 24/7 customer support.
If you love group play strategies for online lottery, Bmillions is a solid option. They don't offer as many games, payment methods, or even language options as other websites, but their focus on the group play niche makes for an easy, straightforward playing process.
About the Company
Bmillions is a relatively new hybrid lottery site that puts a strong focus on group play games. They offer syndicate games featuring some of the most popular lotteries around, like the US Powerball, Mega Millions, Euromillions and more.