Bmillions Review
My experience with Bmillions is mixed. Registration and playing were both very easy, but almost everything else felt a bit lacking or half-baked.
Important Note: Bmillions support has been so lackluster that it's hard for us to recommend them at all. You can see in our comments section below that people are having serious issues with them. That's why we would like to highly recommend checking out our favorite Online Lottery platform, TheLotter.
If you want more information, you can also read our review on TheLotter. Or if you want to see all of your options, you can see our full list of online lottery reviews.
Bmillions is a hybrid lottery site which means they both purchase tickets on your behalf and also allow you to bet on game outcomes without buying a ticket. I found that Bmillions offers a simple, easy-to-use hybrid service with some features that I really liked. If it weren't for the various limitations of their service—such as the sole focus on syndicate games or the limited banking methods—I would have given them a higher rating. Of course, other lotto players might think otherwise. Bmillions is quite unique, after all. So let's dive into some of the pros and cons.
Number of Lotteries: 11
| | | |
| --- | --- | --- |
| US Powerball | Mega Millions | Euromillions |
| Euromillions UK | EuroJackpot | Oz Lotto |
| AU Powerball | Lotto 6aus49 | Lotto Sweden |
| UK Lotto | Thunderball | |
Bmillions Promotions and Bonuses
None
Overall 3.2/5
Registration 4.0/5
Bonuses, Promotions, and Games 2.5/5
Trust and Security 3.6/5
Experience (Interface and Ease of Use) 3.0/5
Payment/Withdrawal Options 2.5/5
Customer Support 3.0/5
Other Great Online Lottery Reviews


Score: 5/5
TheLotter Review


Score: 4.5/5
Lotto Agent Review


Score: 4/5
WinTrillions Review
Registration
4.0
Bmillions makes account registration incredibly simple. 
It takes seconds to complete their short registration form. Only the bare essentials are required as far as personal details are concerned. No need to fill up a lengthy form (looking at you, WinTrillions)!And surprisingly, countries that are prohibited in other lottery sites—such as Bulgaria, Nigeria, and even the US—can easily create an account with Bmillions. Of course, as always, if you're living in a country where playing online lottery is illegal, play at your own risk!
Bonuses, Promotions, and Games
2.5
Syndicates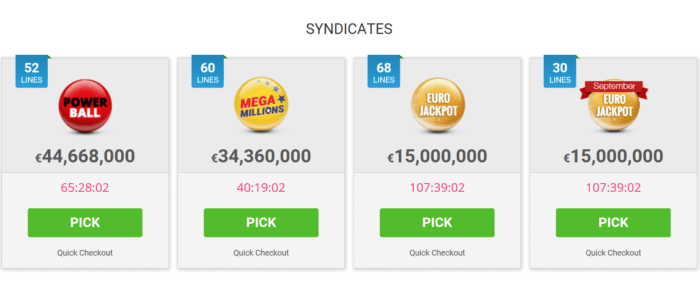 Bmillions only offers syndicate games—great, if you're into group play games.
Currently, Bmillions has a total of 11 syndicates on their repertoire. It's a shame that they don't offer any regular lottery games, but at least a good deal of these consist of—thankfully—some of the most popular lotteries around. Check out the complete list below:
Offered Lottery Syndicates
US Powerball (52 lines)
Mega Millions (60 lines)
Euromillions (38 lines)
Euromillions UK (50 lines)
EuroJackpot (68 lines)
Oz Lotto (55 lines)
AU Powerball (69 lines)
Lotto 6aus49 (37 lines)
Lotto Sweden (65 lines)
UK Lotto (49 lines)
Thunderball (69 lines)
---
Combos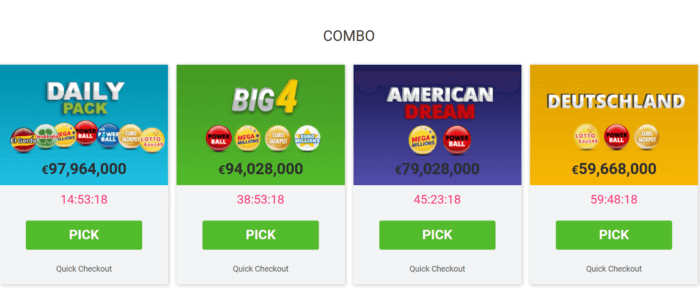 If you're looking for more variety—or value—it's a good thing Bmillions also offers combos.
Bmillions isn't the first lottery site to offer Combos—thelotter offers something similar—but these always add more excitement and, of course, value. Combos, in this case, are basically multiple syndicate games packed in a bundle. Currently, you can choose from a total of 7 Combos. Here is what's on offer:
| | | | |
| --- | --- | --- | --- |
| Combo | Included Games | Total Lines | Total Shares |
| Big 4 | Powerball, Mega Millions, EuroJackpot, Euromillions | 80 | 150 |
| American Dream | Powerball, Mega Millions | 40 | 150 |
| Deutschland | Lotto 6aus49, Powerball, EuroJackpot | 30 | 150 |
| OZPack | Oz Lotto, AU Powerball, Powerball | 60 | 150 |
| Daily Pack | El Gordo, BonoLoto, Mega Millions, Powerball, AU Powerball, EuroJackpot, Lotto 6aus49 | 92 | 150 |
| Svenska Pack | Lotto Sweden, EuroJackpot, Euromillions | 30 | 150 |
| British Deluxe | Euromillions, Thunderball, UK Lotto, Powerball | 80 | 150 |
Trust and Security
3.6
Yes—Bmillions is quite safe.
When I decided to feed Bmillions' URL through Google's Safe Browsing diagnostic tool, my expectations were pretty high. Having surveyed their website before doing so, I learned that Bmillions was using a bank-grade 256-bit SSL encryption to secure player data. I already felt that it would pass Google's standards with flying colors--and I was right!
One thing that I didn't like is the fact that Bmillions doesn't make it clear if they are licensed and regulated by a governing body. There is nothing on their website that definitively answers the question, "are they a regulated lottery site?". While this doesn't automatically mean Bmillions isn't legitimate, it is still an issue.
Experience (Interface and Ease of Use)
3.0
Lottery Education Materials
Education materials aren't Bmillions' strong suit.
For the most part, Bmillions doesn't really go to great lengths to educate you about each lottery game they offer. There's no in-depth history, draw schedules, hot & cold numbers, or even prize breakdowns (as far as syndicates go)—you can only view the latest results and the prizes won.
I did like the Lotto Strategies page—wherein Bmillions listed down several tips for maximizing your chances of winning. However, that's about as far as they go in terms of educating their players. It's a shame, really.
---
Ease of Use
For the most part, Bmillions is quite easy to use—that is, if you speak/read the few languages available.
Despite their shortcomings, I really liked how simple and straightforward Bmillions' site is. The site is clean and devoid of any distractions and clutter. I also liked how you can initiate a quick purchase right from the dropdown menu. The website also works wonderfully well on mobile browsers, though I would have preferred it if they also offered a native mobile app.
One thing that I didn't like was how limited the languages you can switch between were. Thankfully, they seem to be improving in this regard. In addition to the four languages they first offered—German, Spanish, Swedish, and English, respectively—Bmillions' website can now be viewed in Čeština, Portuguese, Suomi, and Norsk Bokmål. Asian languages have yet to be included though. Fingers crossed!
---
Playing
Playing lottery in Bmillions works just like in any other lottery site—with a few differences.
Here's how you play syndicates:
Sign in to your Bmillions account.
Choose the game of your choice.
Pick how many shares you want to buy.
Pick how many draws you want to participate in.
Choose whether you want to subscribe or not.
Click the "Add to Cart" button.
Review your order. If you need to change something, you can do it here.
Click on the "Checkout" button if you're satisfied with your order.
Purchase your ticket/s (if you haven't deposited funds yet, you need to do so first)
Wait to see if you win!
You can also enter multiple games at once via Bmillions' Combos. Simply pick the combo of your choice; pick your preferred number of shares; choose whether you want to subscribe or not; and then purchase your entry.
The difference here is that, depending on the jackpot amount, you could either be betting on the outcome of official games or actually participating in said games. The good news is that Bmillions doesn't make it complicated—unlike other hybrid lotto agent/betting site Lotto247.
Here's how that works:
For games with jackpots not more than €50 million, entries are considered as bets. That is, for games that fall under this category, you will simply bet on the outcome.
For games that offer jackpots exceeding €50 million, Bmillions will send out an agent to purchase the tickets on your behalf.
Payment/Withdrawal Options
2.5
Bmillions' banking methods are lacking compared to other lottery sites.
Currently, they only accept credit and debit for Visa and MasterCard, as well as Giropay, Sofort, and bank transfers. It's also important to keep in mind that not all of these options may be available to all players, depending on your location. For instance, the only options available to me are Visa and MasterCard—plus bank transfers for withdrawals. If you don't use any of these payment methods, you'd be better off elsewhere.
---
Winning
Because of Bmillions' hybrid nature, prize claiming is a bit different than other sites.
For bet entries (i.e. those for games with jackpots no more than €50 million), it works like this:
If you win the jackpot or the second-tier prize, you must complete and submit the claim form provided during registration. Winnings will be transferred to your account within 30 days of submitting the form.
As for other prize tiers, the winnings will be transferred immediately into your account. However, should Bmillions deem it necessary, they may ask you to submit a claim form and/or even provide additional documentation to prove your identity.
Meanwhile, if you win in official games (i.e. not bets), it works like this:
Winnings less than $600 (or the equivalent in other currencies) will be collected by Bmillions on your behalf and transferred into your account.
For winnings that exceed $600, Bmillions will send the original copy of your ticket to you (via FedEx or another courier) and it will fall on you to collect the prize yourself. It will also be on you to shoulder the delivery cost of the ticket. Also, if the lottery you joined is from another country, this means you would have to travel. On the plus side, you will receive assistance from Bmillions when it comes to collecting your winnings.
Customer Support
3.0
Live Support
No
Phone Support
Yes
I wasn't particularly impressed by the support options on offer here—a bit more meat would've been better.
Let me start off with Bmillions' FAQ section. Currently, the section only answers 7 questions. I would have preferred if they answered more questions, but what bugs me more is the fact that they don't do a very good job of providing helpful information.
For example, for the question, "What are the payment methods available on Bmillions?", they never tell you exactly what those payment methods are, except for Visa and MasterCard. Worse, there's no dedicated "Banking" or "Payment" page either. Other lottery sites provide that information upfront—no digging around necessary.
Now, as for getting in touch with them, I liked that Bmillions offers 24/7 support. A lot of the lottery sites I have reviewed usually don't offer round-the-clock assistance. Hats off to Bmillions for that. You can contact them via email or phone—plus, they also list down their office address. There's no live chat option though, so if you don't want to talk on the phone, you're going to have to make do with email support.
Review


Bottom Line for Bmillions
Overall: 3.2
Good, a solid choice.