The Pennsylvania Lottery has recently launched a new gaming platform called iLottery. But what exactly does it let you do, and is it worth checking out? We think so!

In this review, learn all about what PA iLottery can offer. Find out what types of games you can play, how rewards are paid out, and our experiences with the service. There's a lot to cover, and we're excited to share our thoughts on the matter.
PA iLottery Review Overview
What is PA iLottery?
PA iLottery is an online gambling platform that is operated by the Pennsylvania Lottery. It was launched in September 2018 and offers players in Pennsylvania access to various games of chance with the opportunity to win real money.
The service is available through their website which you can access from any browser. You can also download the official app and install it on any of your mobile devices.
Similar to the Pennsylvania Lottery, profits generated by iLottery are directed to help senior citizens living in Pennsylvania.
How does PA iLottery work?
To participate in any of iLottery's games and win cash, players must first deposit funds into their player's account. This lets you purchase plays for any of their available games. Once you start a game, the cost of each play is deducted from your account balance.
Prizes you win are automatically credited to your account. Your current balance is clearly shown and updated in real-time whenever you are playing.
Basically, PA iLottery is like a real casino – except you can access it from your computer or mobile device.
Login and Signup
Signing up for PA iLottery is easy. It also doesn't cost you any money. Just provide your email and some basic information to create a player account. However, if you wish to play their games with real stakes and rewards, you'll have to first deposit some real money. More on that further down.
Also, you must meet the following conditions to create an account and play on PA iLottery:
You are at least 18 years of age.
You are physically within the state of Pennsylvania.
Not employed by or directly involved with the Pennsylvania Lottery's or iLottery's operations.
If you meet all the above criteria, then you're pretty much all set. Click here to create an account with PA iLottery and start playing.
Please note that a PA iLottery account is separate from a Pennsylvania Lottery VIP account. If you are already a VIP Club member, you can just update your password and you'll automatically gain access to iLottery. You can also link both accounts if needed.
Review of PA iLottery's Games, Promos, and Bonuses
Daily Promotions
One of our favorite things about PA iLottery is the number of promotions they have running. There's at least one for every day of the week. It's enough reason to keep you coming back. Personally, we love Free Friday – an ongoing promotion that gives you $1 every Friday for no cost!
Other promotions include special drawings, deposit bonuses, cashbacks, participation rewards, giveaways, and much more.
We recommend that you visit PA iLottery's promotions page regularly to keep up-to-date with all the current news. Sometimes, the official Pennsylvania Lottery website also posts announcements on special promotions. Finally. you can also enable email alerts and push notifications (if you have the app) so you never miss out.
PA iLottery Bonus Code
PA iLottery bonus codes are available for free from official Pennsylvania Lottery retailers. You can also get them from occasional advertisemets that run from time to time. These occasional promos can get you as much as $20 for no cost.
You can also use our very own bonus code to effectively double-up on your first deposit. Type in LC2019 when you sign up to PA iLottery, and they'll match your initial deposit as an awesome welcome gift.
Make sure you apply that code during registration to receive your bonus.
38 Games Offered on PA iLottery
PA iLottery players can choose from 38 different games of chance, each one with the potential to reward you with real cash. Each of their games is essentially a virtual slot machine, based on some variation of match-type rules. That means it's basically luck (or RNG) that defines your chances of winning.
Games can cost as little as 1¢ per play, while others run up to $2 or more. As for possible prizes, some games have a maximum payout of $5,000, while we've seen some that go as high up as $600,000! Some games also reward you with free plays.
With all the different rules, mechanics, and prize tables for each game, it might take a while for you to find the ones you enjoy playing. That's why we suggest trying out the demo mode that's available for each game. This lets you sample its rules even before you have to invest any money.

One thing you'll notice is the lack of Pennsylvania Lottery draw games, Fast Play games or Scratch-Offs. Those games are only available at official retailers.
PA iLottery Review of Security, Trust, and Scams
Is PA iLottery a scam?
No. iLottery is an officially supported gaming service provided by the Pennsylvania Lottery.
Is PA iLottery legit?
Yes. Players can win real cash prizes by playing on iLottery.
Is PA iLottery safe?
Yes. As part of the Pennsylvania Lottery, iLottery is also regulated by the same laws and governing bodies. The site also makes use of industry-standard best practices to ensure that your private information is safe.
Does Lottery Critic trust PA iLottery?
Absolutely. We're big fans of the Pennsylvania Lottery and any service provided by them is worth our trust.
PA iLottery Review of Payouts and Withdrawals
Payment and Withdrawal Methods
PA iLottery accepts Visa and Mastercard powered debit and credit cards. Alternative payment methods include PayPal, Play+, PayNearMe, and ACH/eCheck.
Any prize money you win is automatically credited to your player's account.
How to Withdraw from PA iLottery
To withdraw your winnings, you have to file a request with PA iLottery. Just follow these easy steps:
Log in to your player's account.
Go to Cashier.
Choose from 3 withdrawal options: ACH/eCheck, PayPal ($10,000 limit), or Play+.
Complete your request.
If you choose the ACH or eCheck option, you will have to provide documents for verification. Any recent bank account statement with your full name and account number will suffice.
PA iLottery Winners
Has anyone won on PA iLottery?
Yes! There's been a lot of big and small winners on PA iLottery. You can learn a bit more about some of them below:
Pam from York County, won $40,000 last May 7, 2019, after playing Monster Wins.
KC from Dauphin County, won $20,000 last January 11, 2019, after playing Ca$h Buster Extreme.
Jesse from Lawrence County, won $8,000 last December 2018, after playing Lucky Peggs.
You can also view full records of all their winners per month, in handy PDF format, through the PA iLottery Winners page.
Mobile Options
An official PA iLottery mobile app is available for download for iOS and Android devices. Apple users can get it from the App Store, while Android users will have to download the APK from the official website. That's because Google doesn't allow gambling apps on the Play Store. This shouldn't be cause for any concern, though.
You can play any of PA iLottery's games through the official app. As an added bonus, you can also use the app to manage your VIP Club account and check out Pennsylvania Lottery results.
If you don't like installing apps on your phone, you'll be happy to know that the entire website (and all their games) works with your mobile browser. We tested it with Chrome on our device and it works pretty well.
Customer Support
PA iLottery Contact Information
If you need to get in touch with PA iLottery customer representatives, you may do so through the following channels:
Email: [email protected]
Telephone: 1-833-530-PLAY (7529)
Live Chat: Limited availability
PA iLottery Player Resources
PA iLottery provides all the information you need to start playing and winning. There's a Help Center filled with answers to frequently asked questions, and it's all easy to navigate thanks to a handy search tool.
You'll also find clear instructions and rules for each game there, but a simplified explanation is shown to you every time you start a game.
Our Experience
Website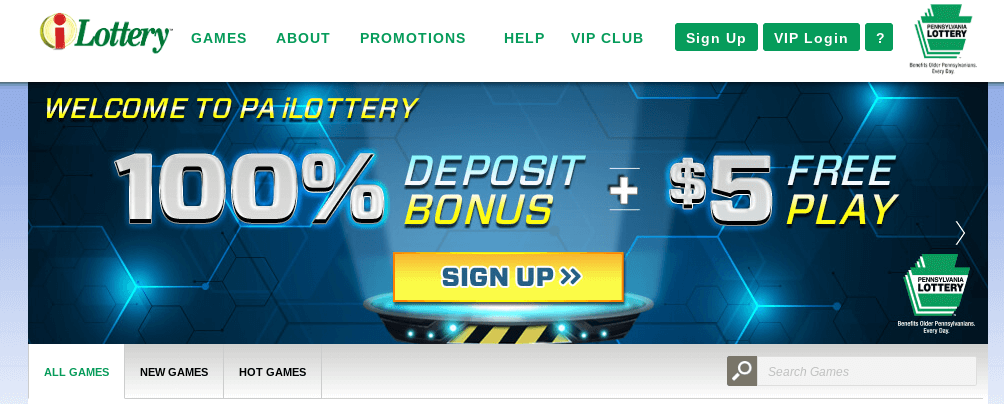 PA iLottery's website design is very simple and a breeze to navigate. Games are displayed front and center, and a drop down menu grants easy access to the most popular ones.
One minor gripe: There's a loading icon that pops up briefly any time you click to a different page. It takes less than a second, but it gets a little annoying after a while. We suspect that it's due to extra security measures put in place.
Gaming
As for the actual games, we really don't have any complaints. Graphics and animations are pleasant to look at, albeit a little basic. But that's a good thing because it lets you play smoothly on any device. Besides, it's not like there's a need for fancy visuals anyway.
Also, you can mute sounds for any game, or play in full-screen mode. You can also play multiple games at once, but in our experience, that was only possible with a desktop or laptop.
Overall, PA iLottery does a a decent job at producing games that are fun to play and feel rewarding to the player.
Final Thoughts – Should You Use PA iLottery?
If you're in Pennsylvania, enjoy match-type games, and want to win some money playing online, PA iLottery is one of your safest bets. 
Okay, so it's not really a lottery site, but PA iLottery definitely has us excited. It makes online gambling safe and convenient. And with the relatively few options available out there, the fact that it's officially supported by a real lottery commission makes it worth looking into.
The games are designed well enough, and there's enough variety to keep you entertained for a while. But our favorite thing about the service has to be the amount of promos and freebies up for grabs. It's one of the more generous gaming services we've reviewed, and we've seen quite a bit.
The bottom line: PA iLottery provides a very simple service, but does it exceptionally well. It's got all the essentials – decent payment options, good game variety, and a secure playing environment. Sign up with iLottery now and start winning some cash.