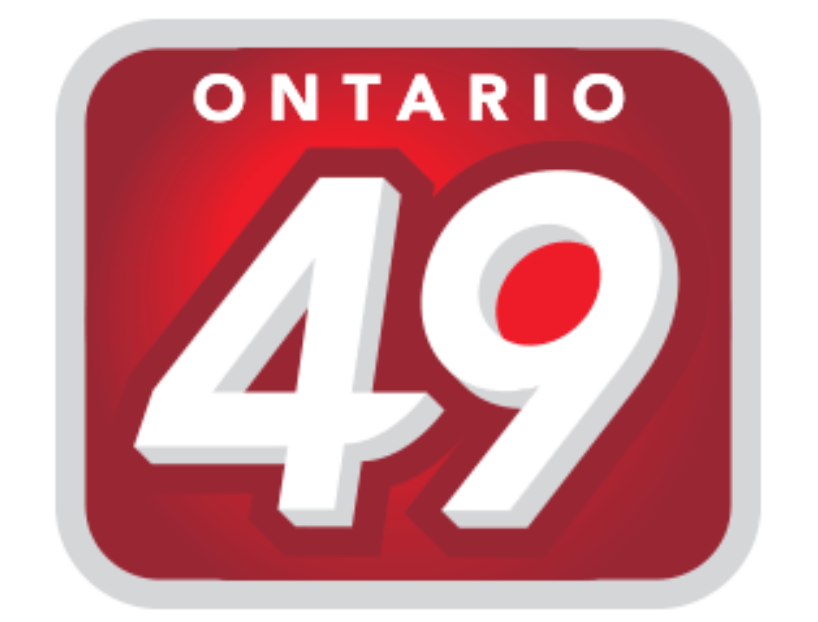 Ontario 49
Lottery Results Updated On: 12 Aug 2020 (GMT)
Winning Numbers
Date

Regular Numbers

17
18
24
34
38
40

Bonus

47

Regular Numbers

06
08
13
27
28
29

Bonus

19

Regular Numbers

10
13
16
19
27
44

Bonus

38

Regular Numbers

01
05
09
13
23
35

Bonus

28

Regular Numbers

14
20
24
27
28
35

Bonus

17

Regular Numbers

08
20
23
31
33
41

Bonus

06

Regular Numbers

01
08
27
34
40
42

Bonus

14

Regular Numbers

06
23
28
30
31
35

Bonus

44

Regular Numbers

02
11
16
24
36
39

Bonus

20
Ontario 49 Hot and Cold Numbers
Hot Numbers
Regular Balls

20

23 Times

26

19 Times

35

18 Times

27

18 Times

31

17 Times

2

17 Times

37

17 Times

39

16 Times

8

16 Times

33

16 Times

32

15 Times

3

15 Times

9

15 Times

34

15 Times

21

14 Times

16

14 Times

44

14 Times

23

14 Times

28

14 Times

22

13 Times

46

13 Times

Bonus

47

5 Times

27

5 Times

22

4 Times

34

4 Times

40

4 Times

38

3 Times

28

3 Times

17

3 Times

6

3 Times

21

3 Times

26

3 Times

41

3 Times

2

3 Times

13

3 Times

39

3 Times

18

3 Times

45

3 Times
Cold Numbers
Regular Balls

19

4 Times

7

4 Times

48

5 Times

42

6 Times

13

7 Times

25

8 Times

12

8 Times

47

8 Times

18

9 Times

41

9 Times

10

10 Times

49

10 Times

45

10 Times

40

10 Times

30

10 Times

29

10 Times

43

11 Times

6

11 Times

11

11 Times

15

11 Times

14

11 Times

4

12 Times

36

12 Times

17

12 Times

5

12 Times

24

12 Times

38

12 Times

1

12 Times

Bonus

32

1 Times

23

1 Times

42

1 Times

1

1 Times

3

1 Times

36

1 Times

15

1 Times

25

1 Times

4

1 Times

35

1 Times

33

1 Times

12

1 Times

9

2 Times

8

2 Times

5

2 Times

19

2 Times

37

2 Times

7

2 Times

43

2 Times

29

2 Times

49

2 Times

48

2 Times

10

2 Times

20

2 Times

44

2 Times

14

2 Times

16

2 Times
Ontario 49, a Canadian mid-range lottery, offers familiarity with a dose of the unexpected. Based on the 6/49 lotto format, it's easy to learn the mechanics of this game, while features like the Encore and Combination Play keep things fresh and exciting. More than that, Ontario 49 also features a fixed $2M jackpot, bi-weekly draws, and tax-free lump sum payouts. What else does it have on tap? Join me as I dive deeper and see what makes Ontario 49 tick!
About Ontario 49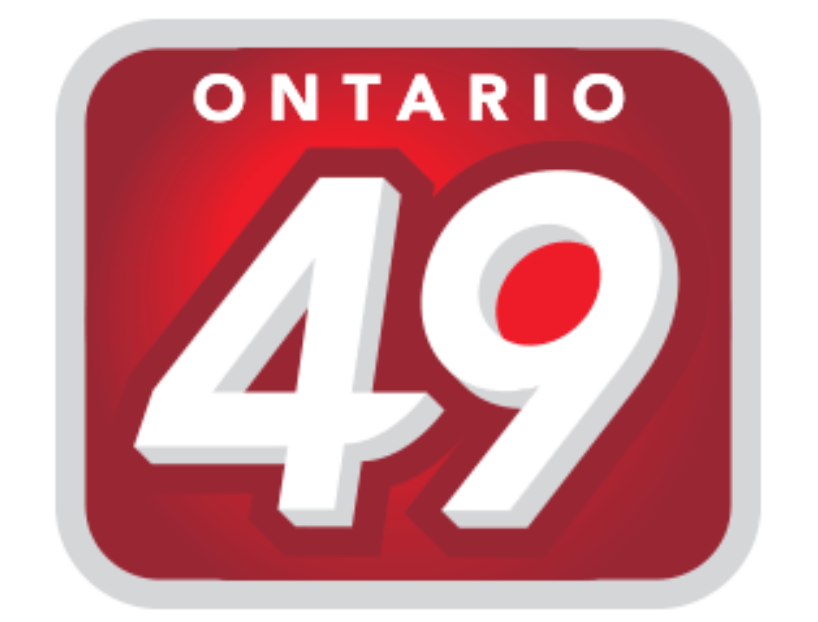 Ontario 49 was launched in 1997, with its first ever draw being held on October of that year. Since April 2000 up to today, the game has been operated by the Ontario Lottery and Gaming Corporation (OLG). For the most part, the core concept of the game has more or less remained the same since its launch.
On May 2014, however, several tweaks to the mechanics were introduced. Jackpots were now at $2,000,000, and the chances of winning any prize greatly improved—from 1 in 54 to 1 in 6.6. These changes, along with new prize categories, were seen as welcome changes as they improved Ontario 49 by a great deal.
Quick Ontario 49 Facts
Fixed Jackpot: Unlike other lotteries, Ontario 49 jackpots are of a fixed amount. Good thing is it's a pretty sizable sum: CA$2,000,000.
Bi-Weekly Draws: Draws are held every Wednesdays and Saturdays, so you get two chances to win per week.
Familiar Mechanics: Ontario 49 draws from the classic 6/49 game format so both novices and veterans alike should have no problems learning the ropes.
7 Prize Tiers: Ontario 49 features seven prize tiers you win in—where the minimum requirement to win a prize is by matching only two numbers.
Tax-Free: All Ontario 49 prizes are 100% tax-free at the source.
How Does Ontario 49 Work?
The Basics
As I mentioned previously, Ontario 49 is based off the oft used 6/49 lottery format. To old hats, playing this game should be second nature. However, if this is your first time playing the lottery, it's pretty easy to learn. To play, you must pick six numbers from a selection range consisting of the numbers 1 to 49. In addition, a bonus number is also selected—which is used to determine some lower-tier winners.
Speaking of winning, you must match all six numbers to bag the top prize. Meanwhile, matching only five plus the bonus number will award you the second prize tier. In total, there are seven tiers you can win in.
The Encore
If you're playing without the help of an online lottery site (i.e. you're purchasing straight from lottery retailers in Ontario), you can also opt to play the Encore. For an additional CA$1, you will get entry to this bonus game that gives you the chance to win prizes up to CA$1,000,000.
Combination Plays
You can also add a Combination Play ticket if you want to win multiple prizes. Combination Play tickets work the same as regular tickets, but these let you play more numbers in the form of five to nine-number combinations. So, if you activate this feature, it will increase your chances of winning. Prices start at $44.
The Odds of Winning
Ontario 49's odds are pretty much what you would expect from a mid-range lottery. In other words, you won't be facing long odds found in bigger games—like SuperEnalotto—but you're still up against a 1 in 13,983,816 chance of winning the jackpot. Check out the quick breakdown below:
| | | |
| --- | --- | --- |
| Numbers Matched | Prize | Odds of Winning |
| 6 | CA$2,000,000 | 1 in 13,983,816 |
| 5 + 1 | CA$50,000 | 1 in 2,330,636 |
| 5 | CA$500 | 1 in 55,492 |
| 4 | CA$50 | 1 in 1,033 |
| 3 | CA$10 | 1 in 56.7 |
| 2 + 1 | CA$3 | 1 in 81.2 |
| 2 | Free Play | 1 8.3 |
| | |
| --- | --- |
| Odds of Winning Anything | 1 in 6.6 |
So What Happens if You Win?
If you win in either of the first two tiers, take note that prizes are divided equally should multiple winners come forward. Thankfully, Ontario 49 prizes are paid out as a lump sum and are 100% tax-free, so you won't have to worry about other deductions.
That said, if you aren't from Canada you may have to deal with your local tax laws. Similarly, if you played Ontario 49 using a lottery agent service, take note that some services might withhold a percentage of your winnings as commission.
Winners have a year from the draw date to come forward and claim their prize. In the event that prizes go unclaimed, the provincial government will use the funds for various projects that will benefit Ontario residents.
The Biggest Ontario 49 Winners
Thanks to the fixed prize structure of Ontario 49, there aren't any "biggest winners." At least, not like other lotteries where players can win varying jackpots. Of course, those who win the top prize here are still considered big winners. Here are some of the winners of Ontario 49 so far:
| | |
| --- | --- |
| Prize | Winner |
| $2,000,002 | Harold Eastabrook |
| $1,000,000 | Tonya Mullet |
| $50,006 | Hugo Mallo |
| $50,003 | Minh Lam |
| $50,000 | Maria Pestano |
Ontario 49 Fun Facts
In 2012, a group of friends decided to try their luck on the Ontario 49 game on a whim—only to end up winning CA$1,000,000! Each of the members of the group took home around CAD$47,619.
Two entities ensure that Ontario 49 adheres to operational and legal standards. The lottery itself is run and operated by the Ontario Lottery Corporation, which is a part of the Interprovincial Lottery Corporation.
The core mechanics of Ontario 49 has largely remained the same since its inception—save for prizes getting bigger, new prize categories being added and odds getting better.
Ontario 49 utilizes a traditional, mechanical lottery machine to for drawings instead of an automated computer pumping out numbers.
The Bottom Line on Ontario 49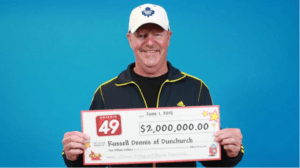 Ontario 49 has a lot of good things going for it. The simple mechanics based on the 6/49 format make it easy for anyone to learn this game in no time, while the various modes of play keep things fresh and exciting. Of course, it also helps that prizes are paid out in cash and are tax-free at the source. While some of the prizes are unimpressive—even with the bonus number matched—the jackpot is quite good for a fixed prize. All in all, Ontario 49 is one lottery game definitely worth checking out.