Oz Lotto Lottery Results & Game Details
Lottery Results Updated On: 07 Aug 2020 (GMT)
Oz Lotto Lottery Results & Game Details
Winning Numbers
Date
Jackpot

Regular Numbers

25
29
32
33
34
36
41

Bonus

3-4

Jackpot

AU$2,000,000

Regular Numbers

10
18
23
26
27
32
36

Bonus

5-20

Jackpot

AU$10,000,000

Regular Numbers

13
16
18
29
32
38
39

Bonus

15-37

Jackpot

AU$5,000,000

Regular Numbers

1
2
24
28
40
41
43

Bonus

8-37

Jackpot

AU$2,000,000

Regular Numbers

4
5
7
9
12
13
32

Bonus

19-35

Jackpot

AU$50,000,000

Regular Numbers

1
17
26
28
38
39
44

Bonus

14-41

Jackpot

AU$30,000,000

Regular Numbers

1
3
9
13
17
20
41

Bonus

28-45

Jackpot

AU$20,000,000

Regular Numbers

1
2
13
21
22
27
38

Bonus

24-33

Jackpot

AU$10,000,000

Regular Numbers

8
11
26
27
31
38
39

Bonus

3-36

Jackpot

AU$5,000,000
Oz Lotto Australia Hot and Cold Numbers
Hot Numbers
Regular Balls

5

16 Times

32

14 Times

28

14 Times

1

13 Times

9

13 Times

14

13 Times

26

12 Times

27

12 Times

30

12 Times

37

12 Times

11

11 Times

40

11 Times

22

11 Times

13

11 Times

39

11 Times

23

11 Times

29

10 Times

21

10 Times

24

10 Times

31

10 Times

42

10 Times

34

10 Times

Bonus

2

8 Times

36

7 Times

37

6 Times

42

5 Times

41

5 Times

1

5 Times

45

5 Times

14

4 Times

21

4 Times

20

3 Times

15

3 Times

8

3 Times

35

3 Times

28

3 Times

33

3 Times

17

3 Times

3

3 Times

12

3 Times

7

3 Times

10

3 Times

23

3 Times

27

3 Times

40

3 Times
Cold Numbers
Regular Balls

2

3 Times

4

4 Times

33

5 Times

18

5 Times

6

5 Times

3

5 Times

43

5 Times

15

6 Times

41

6 Times

19

6 Times

36

7 Times

16

7 Times

38

7 Times

45

8 Times

44

8 Times

17

8 Times

25

8 Times

35

8 Times

20

9 Times

10

9 Times

8

9 Times

7

9 Times

12

9 Times

Bonus

13

1 Times

5

1 Times

32

1 Times

38

1 Times

34

1 Times

19

1 Times

11

1 Times

24

2 Times

4

2 Times

39

2 Times

22

2 Times

31

2 Times

29

2 Times

18

2 Times

26

2 Times

16

2 Times

25

2 Times
Oz Lotto is one of Australia's most popular lotteries — with good reason. There's a lot to like here: jackpots rollover to the next drawing when no one wins in the current draw, jackpots start at $2 million, and the odds are pretty good compared to bigger lotteries. The best part is that it's among the easiest-to-understand lottery games out there—both newcomers and veterans alike will no doubt love it. Sounds right up your alley? Join me as I take a closer look!
About Oz Lotto

Oz Lotto began all the way back in February 26, 1994, when it was introduced as Australia's very first national game (at the time, New South Wales was not part of Saturday Lotto). Speaking of its competitor game, Oz Lotto started out with similar mechanics as Saturday Lotto wherein you pick six numbers from 1-45. However, in October 18, 2005, they changed the mechanics so that a seventh number would have to be drawn, which lengthened the odds of winning the jackpot.
For a time, Oz Lotto came to be known by different names depending on the region to reflect the change in mechanics. In regions where the Tatts Group runs the game, it was known as Super 7's Oz Lotto, while in Queensland it was known as Oz 7 Lotto. In 2012, however, the game has since reverted back to simply being called Oz Lotto in those regions.
Oz Lotto Quick Facts
Rollover Lottery: Oz Lotto's jackpots roll over when no one wins—making the next prize fund even bigger.
Minimum Jackpot: The minimum prize pool of each Oz Lotto drawing is $2 million.
Relatively Good Odds: Compared to some lottery games, Oz Lotto's odds are pretty good.
Easy, Straightforward Game: Oz Lotto is an easy, no-frills game—just about anyone will be able to grasp it in no time.
Tax-free: If you play and win in Australia, your prize is considered tax-free income. However, if you play elsewhere, your local tax laws may apply.
Draws: Oz Lotto draws are held every Tuesday.
How to Play Oz Lotto?
The Basics
Oz Lotto is, as I've mentioned before, a very easy and straightforward lotto game. You simply choose seven numbers from a selection pool of 1-45, and to win the jackpot you must match all 7 numbers. Matching less numbers still nets you prizes, though you need to match at least 3 main numbers and 1 (or 2) supplementary numbers to win in the lowest prize tier (aka "division"). It's that simple!
System Entries
Although Oz Lotto's mechanics are pretty simple, that doesn't mean there's no depth or variety. They also offer a feature called System Entries, which give you the possibility to win in multiple prize tiers/divisions using just one entry.
Basically, System Entries allow you to pick up to 20 numbers in a single entry—wherein the numbers you chose can be made into multiple combinations consisting of 7 numbers each. To put it more simply, it's like playing in several standard games, but using only one entry. So, for example, if you choose the System 9 option—where you can choose a total of 9 numbers—it's like playing 36 standard games.
Take note, however, that not every lottery site offers this feature for Oz Lotto. If you live in Australia though, then you can easily take advantage of their System Entries feature.
Oz Lotto Odds of Winning
Compared to some lottery games – especially big ones like Powerball or SuperEnalotto – Oz Lotto's odds are quite good. That said, these aren't the best odds I've seen on a lottery. You're looking at a 1 in 55 odds of winning anything, after all.
However, Oz Lotto still does offer good odds when bigger lotteries elsewhere (like the two I mentioned earlier, for instance) has some pretty astronomical odds. Check it out for yourself:
| | |
| --- | --- |
| Numbers Matched | Odds of Winning |
| 7 | 1 in 45,379,620 |
| 6 + 1 or 2 supplementary numbers | 1 in 3,241,401 |
| 6 | 1 in 180,078 |
| 5 + 1 or 2 supplementary numbers | 1 in 29,602 |
| 5 | 1 in 3,430 |
| 4 | 1 in 154 |
| 3 + 1 or 2 supplementary numbers | 1 in 87 |
| | |
| --- | --- |
| Odds of Winning Any Prize | 1 in 55 |
So What Happens if You Win?
Much like their game mechanics, winning Oz Lotto is fairly straightforward, too. For prizes less than $1,500, you can head on over to any Tatts Outlet – in either Tasmania or Victoria (wherever jurisdiction you bought your ticket). Meanwhile, if you bought your ticket in the Northern Territory, you should go to any Tatts Outlet in that area.
Meanwhile, claiming winnings over $1,500 at any Tatts Outlet is a bit more complex. For starters, winnings that range from $1,500-$3,999.99 could be paid out immediately or, if not possible, the outlet itself could make other payout arrangements – though it is at their discretion. Prizes ranging from $4,000-$24,999.99, meanwhile, will be paid out – at the discretion of the outlet – after getting authorization from Tatts proper.
You can also lodge a claim either via mail or in person (through Tatts' Victorian Office), though take note that prizes will be paid out within 10 business days upon receiving your claim.
The Biggest Oz Lotto Winners
In 2013, Oz Lotto has produced a whopping 448 millionaires—and that number's only grown since then. Here are some of the biggest lottery winners so far:
| | | |
| --- | --- | --- |
| Jackpot | # of Winners | Draw Date |
| AUD$111,972,151.04 | 4 | Nov. 6, 2012 |
| AUD$106,500,000 | 2 | June 2009 |
| AUD$70,000,000 | 10 | Dec. 2013 |
| AUD$50,000,000 | 3 | July 18, 2017 |
| AUD$40,000,000 | 1 | May 30, 2017 |
Oz Lotto Fun Facts
A man, who had been playing the same numbers for years, won the AUD$20 million jackpot by accident. Supposedly, he had mistakenly filled out numbers one line below his usual picks—which was very fortuitous for him, it turned out.
In 2013, a whopping 448 millionaires was estimated to have been produced by Oz Lotto.
On July 18, 2017, there were 3 winners of the AUD$50 million jackpot. One of which, a man from Manly, hung up on lottery officials who were calling to notify him of his big win. Luckily for the man, the officials persisted!
Bottom Line on Oz Lotto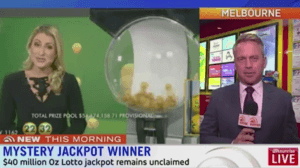 Whether you're from Australia or elsewhere in the world, if you want a simple, straightforward lottery game, Oz Lotto might just be right up your alley. Its mechanics are ridiculously easy to understand, the odds aren't half bad, and you can get more chances of winning using a single entry via the System Entries feature. Plus, if you're a native of the land down under, Oz Lotto winnings are considered tax-free income. Sure, the jackpots may not be as big as more popular mega lotteries, but with a minimum of $2 million per draw, they are still pretty sizeable.