Lotto United Kingdom (UK) Results & Game Details
Lottery Results Updated On: 14 Aug 2020 (GMT)
Winning Numbers
Date
Jackpot

Regular Numbers

06
08
27
31
37
51

Bonus

20

Jackpot

$10,700,000

Regular Numbers

02
40
49
53
56
58

Bonus

41

Jackpot

$7,100,000

Regular Numbers

01
28
42
43
51
58

Bonus

36

Jackpot

$5,100,000

Regular Numbers

04
10
13
24
53
56

Bonus

22

Jackpot

$5,100,000

Regular Numbers

01
24
39
46
49
52

Bonus

51

Jackpot

$5,100,000

Regular Numbers

10
13
14
18
33
34

Bonus

15

Jackpot

$3,800,000

Regular Numbers

02
07
11
23
37
45

Bonus

19

Jackpot

$2,000,000

Regular Numbers

01
20
24
32
33
42

Bonus

30

Jackpot

$2,000,000

Regular Numbers

09
27
29
37
44
53

Bonus

49

Jackpot

$11,300,000
UK Lotto Hot and Cold Numbers
Hot Numbers
Regular Balls

27

16 Times

23

15 Times

33

15 Times

2

15 Times

42

15 Times

7

14 Times

52

14 Times

55

13 Times

32

13 Times

47

13 Times

40

12 Times

8

12 Times

58

12 Times

39

12 Times

14

12 Times

19

12 Times

25

12 Times

16

11 Times

4

11 Times

50

11 Times

57

11 Times

51

11 Times

13

11 Times

34

11 Times

Bonus

12

5 Times

30

4 Times

13

4 Times

17

3 Times

50

3 Times

11

3 Times

9

3 Times

5

3 Times

14

3 Times

40

3 Times

41

3 Times

4

3 Times

26

3 Times

58

3 Times

39

3 Times
Cold Numbers
Regular Balls

6

6 Times

12

6 Times

15

6 Times

46

6 Times

22

7 Times

17

7 Times

53

7 Times

9

7 Times

24

7 Times

43

8 Times

36

8 Times

48

8 Times

5

8 Times

11

8 Times

41

8 Times

38

9 Times

45

9 Times

3

9 Times

31

9 Times

54

9 Times

30

9 Times

26

9 Times

18

9 Times

37

9 Times

49

9 Times

56

9 Times

35

10 Times

21

10 Times

59

10 Times

44

10 Times

29

10 Times

20

10 Times

10

10 Times

28

10 Times

1

10 Times

Bonus

57

1 Times

59

1 Times

44

1 Times

7

1 Times

46

1 Times

48

1 Times

33

1 Times

10

1 Times

43

1 Times

18

1 Times

6

1 Times

52

1 Times

56

1 Times

23

1 Times

34

1 Times

21

2 Times

1

2 Times

8

2 Times

28

2 Times

32

2 Times

25

2 Times

31

2 Times

20

2 Times

47

2 Times

49

2 Times

36

2 Times

22

2 Times

54

2 Times

45

2 Times

51

2 Times

15

2 Times

19

2 Times

42

2 Times
UK Lotto introduces an easy, bi-weekly lottery game that's sure to delight lottery novices and veterans alike. It's a rollover lottery, too—which means you get the chance to really win big if no one wins in the current draw. Plus, like all games under the UK National Lottery, all prizes, regardless of the tier, are paid out in a lump sum and are tax-free. Intrigued? Read on for an in-depth look at UK Lotto!
About UK Lotto

Launched in 1994, what was once known as the Camelot Group-operated UK National Lottery has since undergone many changes throughout the years. One of the most significant is its major rebranding in 2002 due to middling ticket sales, which led to its main game being renamed to Lotto (aka the UK Lotto). More than that, the format of the game also changed several times. In October 2013, for instance, UK Lotto underwent a refresh which saw an increase in ticket prices and the introduction of a millionaire raffle into the mix. Then, in 2015, UK Lotto changed into the form we know today—with the number pool increasing from a total of 49 to 59.
Quick UK Lotto Facts
Bi-Weekly Draws: UK Lotto draws are held twice a week, every Wednesdays and Saturdays.
A Rollover Lottery: When no one wins on a drawing, the jackpot will simply roll over to the next draw, allowing the jackpot to grow even more. Rollovers, however, are capped at £22 million.
No Annuity Payout Option: All games under the UK National Lottery, which UK Lotto is a part of, doesn't offer an annuity payout option to winners. Instead, all prizes are given out as a lump sum.
Tax-Free: All prizes won in UK Lotto are tax-free. Though if you entered online via a lottery site, you may still have to contend with local tax laws, depending on where you live.
How to Play UK Lotto
The Basics
UK Lotto is a very simple lottery game, which is great for newcomers. You simply pick six numbers from a pool consisting of 1 to 59, and you win the jackpot by matching all 6. Wednesday draws usually offer a £2 million prize, while Saturday draws usually offer prizes that range from £3.8 to £4 million.
To win the second-tier prize you have to match 5 numbers and 1 bonus ball. To be clear, you don't really pick another number in addition to the 6 you chose. If you, say, pick the numbers 6, 7, 8, 9, 11 but the winning numbers are 6, 7, 8, 9, 10 with a bonus ball of 11, you win the second-tier prize.
Of course, you can also win by matching less numbers, just like in other lotteries. You can win by simply matching 5 or 4 of your numbers, for instance. Unlike some lotteries, however, you must match at least 3 of your numbers to win any money, while you need to match 2 numbers to net a free £2 entry.
Meanwhile, if no one wins the jackpot for a particular draw, then it simply rolls over to the next. It will keep doing so until somebody wins, or until the £22 million rollover cap has been reached. Once it hits the ceiling, it can only rollover over once more. The difference this time is that when no one still wins the jackpot during the last rollover draw, the winners of the next prize tier will share the entire jackpot amount amongst themselves.
Another difference? During the final rollover draw, the total prize fund could exceed £22 million due to the most recent ticket sales also being accounted for. In other words, if you only managed to match 5 numbers, you could, in theory, win upwards of £22 million if no one wins the jackpot.
The Odds of Winning
So what does it take to win in the UK Lotto? Compared to big, mega lotteries like Powerball, the odds of winning are definitely much more enticing here. Heck, even when put side-by-side with lotteries that have decent odds—like Mega-Sena—UK Lotto still comes out a better deal. Check out your odds of winning below:
| | |
| --- | --- |
| Numbers Matched | Odds of Winning |
| 6 | 1 in 45,057,474 |
| 5 + Bonus Ball | 1 in 7,509,579 |
| 5 | 1 in 144,415 |
| 4 | 1 in 2,180 |
| 3 | 1 in 97 |
| 2 | 1 in 10.3 |
| | |
| --- | --- |
| Odds of Winning Any Prize | 1 in 9.3 |
The Biggest UK Lotto Winners
A lot of UK's biggest winners are from Euromillions, but that doesn't mean the UK Lotto doesn't produce big winners. In fact, here are a few of the biggest ones so far:
| | | |
| --- | --- | --- |
| Jackpot Won | Winners | Date |
| £66 million | 2 | January 9, 2016 |
| £35.1 million | 1 | April 6, 2016 |
| £32.5 million | 1 | February 13, 2016 |
So What Happens if You Win?
Every game under the UK National Lottery pays out winnings as a lump sum, which means you won't get to choose to be paid out in an annuity. All prizes are also tax-free, but that may differ if you chose to enter the lottery via an online lottery agent. To be clear, it will still be tax-free at the source, but—depending on where you live in the world—your local tax laws may apply.
Meanwhile, if you win—along with other players—the jackpot, it will be equally shared amongst you, just like in almost every lottery out there. Winners have a total of 180 days after the draw, up until 11pm UK time, to come forward and claim their prize. Failure to do so will results in the money—along with any accumulated interest—being funneled into a fund used for good causes.
UK Lotto History and Fun Facts
On May 24, 2017, the £25.5 million jackpot—which was on its final rollover period—wasn't won by someone matching all 6 numbers. Instead, two individuals, whose tickets matched 5 of the numbers and the bonus ball, received a cool £12,759,916 each.
The National Lottery, which UK Lotto is a part of, has raised approximately over £30 billion in funds to be used for charity and other good causes in the UK and abroad.
50% of the lottery fund goes to the prizes, while 28% of it is funneled into the National Lottery Good Causes foundation which—you guessed it—uses the money to aid various organizations and charities.
The draw machines all have names! Amusingly, some of them go by names inspired by the Arthurian legends: Arthur, Merlin, Guinevere, Lancelot, Galahad, and Vyvyan. Later on, more machines were added: Amethyst, Garnet, Opal, Pearl, Moonstone, Sapphire and Topaz.
Other UK Lotteries
Check latest lottery results, jackpot amounts, winning odds, prize payouts, weekly drawing schedule and other useful information for all United Kingdom (UK) lotteries like EuroMillions, Thunderball, Set for Life, Hot Picks, Millionaire Maker Raffle, UK 49s, and The Health Lottery.
---
Bottom Line on UK Lotto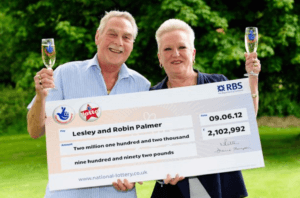 UK Lotto may not be as popular—nor as big—as Euromillions, but it's no slouch, either. It's a simple, easy to learn, bi-weekly lottery game. Not only do players get the chance to win twice a week, there's also a chance to win big due to rollovers. Even better, all prizes are tax-free and paid out as a lump sum.
As for the odds of winning? They are much, much better compared to bigger lotteries out there—Euromilions included. Plus, it's also good to know that with every ticket purchase, as with any game under the UK National Lottery, you are indirectly helping fund a variety of good causes.