This Week in Lottery: Rollovers, a Special Raffle, and More
Last Updated: July 1, 2018
[h2 display="Latest US Powerball Results" menu="Latest US Powerball Results"] The latest US Powerball winning numbers are in:
17-28-31-32-39
, Powerball:
28
, Power Play:
2x
Unfortunately, there were no jackpot winners for the November 18 draw, which offered a $120 million grand prize. This means that, come Wednesday, November 22, the jackpot will now grow to $134 million, with a cash option of $84.2 million.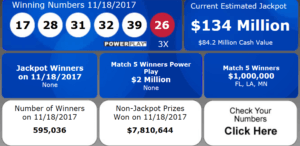 While no one won the grand prize, there were three players who won the $1 million second prize (though none of them activated the Power Play). All in all, there were 595,036 players who won at least $4 each. [h2 display="No NZ Powerball Winners, But Two Win NZ Lotto" menu="NZ Powerball Results"] No one won the NZ$35 million New Zealand Powerball jackpot in last Saturday's draw, which means the prize will rollover to the upcoming November 22 draw. Of course, as always, expect a bigger jackpot—this time to the tune of NZ$38 million! While no one nabbed the Powerball, two players did win the first prize in the main New Zealand Lotto. Each winner will take home NZ$500,000. The winning tickets were purchased at Grey Street Supermarket and Hokitika New World, respectively. The winning numbers were:
31-28-36-11-20-12
, Bonus Ball:
34
, Powerball:
2
[h2 display="Mega Millions Jackpot to Roll" menu="Mega Millions Rolls"] It seems as if last week was a pretty unlucky one for jackpot seekers. Like the US Powerball, there were no grand prize winners in the latest draw of the Mega Millions lottery. This means that, come Tuesday, November 21, the jackpot will now be an estimated $106 million, with a cash option of $66 million. That said, the November 17 draw, which offered a $95 million jackpot, did have other winners. For starters, one player matched 5 numbers with the Megaplier activated, which means he/she just won $4 million, instead of just $1 million. Meanwhile, there were 6 players who win the third-tier prize, while some 220 players won the fourth-tier prize. Here's a more detailed breakdown:
| | | | | |
| --- | --- | --- | --- | --- |
| Numbers Matched | Total Winners | Prize | Megaplier Winners | Prize w/ Megaplier |
| 5 + Mega Ball | 0 | $95M | – | – |
| 4 + Mega Ball | 6 | $1M | 1 | $4M |
| 4 | 220 | $500 | 23 | $2,000 |
| 3 + Mega Ball | 634 | $200 | 118 | $800 |
| 3 | 14,988 | $10 | 2,555 | $40 |
| 2 + Mega Ball | 14,934 | $10 | 2,396 | $40 |
| 1 + Mega Ball | 121,854 | $4 | 19,313 | $16 |
| Mega Ball Only | 304,030 | $2 | 48,621 | $8 |
The winning numbers were:
3-26-55-58-70
, Mega Ball:
15
, Megaplier:
4x
[h2 display="Previous Mega Millions Winner Identified" menu="Mega Millions Winner Found"]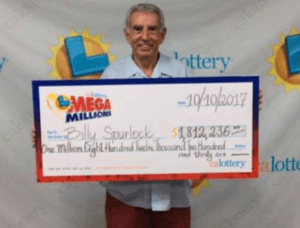 The second prize winner of the Mega Millions draw held last October 10 has now been identified as Billy Spurlock, a resident of Orange County. Spurlock, who, according to himself, has never won anything in his life, matched all five numbers and went home $1,812,236 richer. "It'll be a nice nest egg, and it'll make for a nice Christmas," said Spurlock. He's not the only one who'll be having a nice Christmas though. The lottery retailer—Costa Mesa Fuel—will receive $9,061. The winning numbers were:
16-7-61-62-24
, Mega Ball:
2
, Megaplier:
5x
[h2 display="Euromillions to Hold Special Ireland Only Raffle" menu="Ireland Only Raffle"] Heads up, lotto lovers from the Emerald Isle! Euromillions will be holding a special raffle exclusive to players in Ireland on the 24
th
of November—also widely known as Black Friday—that will allow one lucky winner to win big. Here's how the raffle works during most draws:
All players who purchase a Euromillions ticket in Ireland will receive a unique code, known as the Ireland Only Raffle (IOR) code, printed on their ticket.
10 codes are drawn, with the winners receiving €5,000 each.
On November 24, the Ireland Only Raffle will include another draw:
The 10 winners will be included in another draw, but this time only one will win.
The lucky winner will walk home with a guaranteed €1 million—on top of the €5,000!
Now, imagine if you won the main Euromillions draw
and
the Ireland Only Raffle—you could be looking at a fairly huge sum! [h2 display="Latest National Lottery Lotto Results" menu="National Lottery Results"] The results for the November 18 National Lottery Lotto draw are in! Camelot has confirmed that one lucky winner has bagged the £18.1 million jackpot—which means that the grand prize for this Wednesday's draw will be £1.9 million. The winning numbers were:
01-20-24-36-54-58
, Bonus Number:
11
Meanwhile, the winning Lotto Millionaire Raffle code is:
PLUM 0648 0728
[h2 display="Man Wins Lotto 47's $4.3M Jackpot" menu="Lotto 47 Winner"] A man from Mackinac County recently won the $4.3 million Lotto 47 jackpot. The man, who wished to remain anonymous, decided to collect his prize as a lump sum—which means he walked home with around $2.8 million. The lucky winner says that he can't wait to share his winnings with his family. "I've got six kids and several grandkids, so I'll probably be half-broke by the time I'm done with them," the man said in jest. "But it will be worth it!" [h2 display="Londonderry Couple Wins For 2nd Time" menu="Couple Wins For 2nd Time"] It was in 2015 when Catherine and Ciaran Kidd of Draperstown, Northern Ireland, won £20,000 in the Lotto Millionaire Raffle. Little did they know that, two years later, they would bag a second win—much less a bigger one.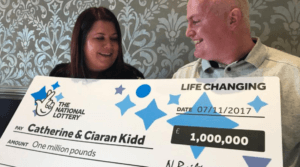 Last Thursday, the couple learned that not only did they win a second time, they won £1 million from the Euromillions UK Millionaire Maker raffle. That's around 50 times more than their win two years ago! The lucky couple, who has four children, will definitely have a very merry Christmas this year.