This Week in Lottery: An Unclaimed Prize, Lone Winners and More
Last Updated: July 1, 2018
[h2 display="Powerball Rolls Over" menu="Powerball Rolls Over"] The latest US Powerball winning numbers drawn during last Saturday's draw were:
27-35-38-57-66
, Powerball:
10
, Power Play:
2
Unfortunately, no one won the $40 million jackpot during the October 28 draw, which means that a rollover will occur. So, for the November 1 draw, expect a $52 million jackpot, with a lump sum option of $32.1 million. [h2 display="Secondary Powerball Winners" menu="More Powerball Winners"] While no one won the grand prize during last Saturday's draw (as well as the second-tier $1 million prize), there numerous winners of the lower tier prizes. Some 514,038 players each won at least $4—14,949 of which were won by Michigan players. The largest winners of the state were two players who won $200 each. [h2 display="Lone Ticket Wins $191.1M" menu="Lone Ticket Wins $191.1M"]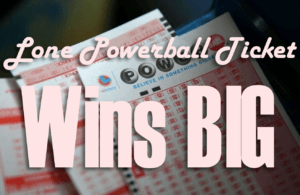 During last Wednesday's (October 25) draw, one ticket won the $191.1 million grand prize. The ticket in question was purchased from Brownie's Shop Rite in Eunice, Louisiana. Should the winner choose the lump sum option, he/she will get to take home $119.4 million before taxes. Meanwhile, another lone ticket won big as well. This time, it's for the $1 million second-tier prize—which means the ticket matched all five main numbers. [h2 display="Latest Mega Millions Results" menu="Mega Millions Results"] Time to check your Mega Millions tickets—especially if you live in Michigan. One ticket matched all five white numbers with the Megaplier active during last Friday's (October 27) draw, which means a $5 million prize is waiting for the lucky winner. Unfortunately, no one won the jackpot, which means that, come Tuesday, October 31, the grand prize will rollover to $40 million. The cash option, meanwhile, will be $24 million. Going back to last Friday's draw, the winning numbers were:
17-27-41-51-52
, Mega Ball:
13
, Megaplier:
5
As for secondary prizes, a total of 389,003 players won at least $2 each, with some 15,073 winners coming from Michigan. [h2 display="Friday the 13th Winners Claim Prize" menu="Two Claim Friday the 13th Win"] One of the two winners of the Friday the 13th Mega Millions draw two weeks ago recently claimed their prize last Friday, October 27. The father and son duo from Rhode Island claimed their half of the $42 million jackpot, which they then split evenly among them—each taking home around $4.5 million after taxes.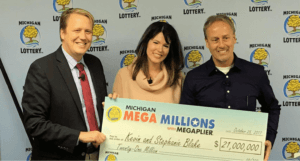 The other winning ticket was sold in Michigan. Waterford resident Kevin Blake and his wife, Stephanie, collected their $21 million share of the jackpot as a lump sum—which means that the couple took home $9.3 million after taxes. [h2 display="UK Player Wins £15M Jackpot" menu="Lone Winner Nabs £15M"] One lucky ticket holder matched all winning numbers during the October 27 Euromillions draw, which means a whopping £15,011,000 is waiting for them. The winning numbers were:
03-16-23-32-39
, Lucky Stars:
01
&
04
Meanwhile, 3 tickets won the second-tier prize, matching 5 numbers and 1 Lucky Star. Each will be taking home around £356,433.17. [h2 display="£1M Euromillions Prize Still Unclaimed" menu="£1M Prize Still Unclaimed"] One lucky Millionaire Maker winner of the June 2, 2017 draw has yet to come forward and claim their £1M prize. The ticket, bought in Crawley, is set to expire on November 29, 2017. So, if you bought a Euromillions ticket there for the said draw date, then you might want to double check your Millionaire Maker codes! The winning code was:
HQGT 61980