Jersey Cash 5 XTRA
Last Updated: September 24, 2018
A lottery game holds draws on a daily basis isn't as common as you'd think, so it's good to come across one every now and then. Jersey Cash 5 XTRA is one of those—a simple lottery game with draws held from Mondays to Sundays. More than that, it also offers progressive jackpots, relatively favorable odds, and a multiplier that can boost lower-tier winnings by up to five times! Want to know more? Join me as I take a closer look below.
About Jersey Cash 5 XTRA
Added to New Jersey Lottery's stable of games in September 30, 1992, Jersey Cash 5 XTRA was originally a 5/38 lottery game. It also didn't feature progressive jackpots, nor did it have the XTRA multiplier (so the game itself was simply called Jersey Cash 5).
However, on September 2003, the lottery changed its format and added 2 more numbers to the selection pool, making it a 5/40 game. On top of that, they also changed how jackpots worked. Previously, when no one won the jackpot, it would simply trickle down to the winners of the second-tier prize. With the 2003 change, however, progressive jackpots were added to the mechanics—meaning rollovers were now possible.
Then on September 2014, they added 3 more numbers to the pool, bringing it in line with the current 5/43 format. In addition, they also increased the minimum jackpot to $75,000. Previously, jackpots started at $50,000. Finally, on October 3, 2016, the XTRA multiplier feature was added—which also lead to the current Jersey Cash 5 XTRA naming scheme.
Quick Jersey Cash 5 XTRA Facts
Progressive Jackpot: Whenever no one wins in a drawing, Jersey Cash 5 XTRA's jackpot carries over to each succeeding draw—which increases the pot—until someone wins.
Draws Held Daily: Jersey Cash 5 XTRA gives you seven chances to win each week as draws are held every Monday to Sunday.
Multiply Your Winnings: The XTRA in the name refers to the game's multiplier feature which, if activated, multiplies prizes by up to 5 times.
Guaranteed Minimum Jackpot: Jackpots start at a guaranteed $75,000.
Relatively Favorable Odds: Because of the smaller pool of numbers to work with, your odds of winning the Jersey Cash 5 XTRA are quite good.
How Does Jersey Cash 5 XTRA Work?
The Basics
Jersey Cash 5 XTRA is quite easy to learn and play. You simply pick five numbers from a selection range of 1 to 43. To win the jackpot, you must match all five of your numbers, while matching 2, 3, or 4 out of the 5 numbers will net you the corresponding lower-tier prizes. Tickets cost $1 each.
For an additional $1, you can also activate the XTRA feature. This is basically a multiplier akin to something like Mega Millions' Megaplier which, if used, will allow you to win up to 5 times the advertised prizes for the 3rd or 4th tiers. If, however, you match 2 numbers with the XTRA multiplier activated, you simply win a fixed amount worth $2. Check out the sample breakdown below to see how the XTRA multiplier could affect your winnings:
Numbers Matched
Est. Prize
Est. Prize with XTRA Multiplier
2x
3x
4x
5x
5
Jackpot
n/a
n/a
n/a
n/a
4
$500
$1,000
$1,500
$2,000
$2,500
3
$15
$30
$45
$60
$75
2
–
$2
$2
$2
$2
The Odds of Winning
Thanks to Jersey Cash 5 XTRA's smaller number pool, the odds are relatively favorable—especially when you compare it to the odds of more popular mega lotteries. However, when paired with other small lotteries, like the California Fantasy 5, Jersey Cash 5 XTRA's odds pale in comparison (though by just a bit). Check out the quick breakdown below:
| | |
| --- | --- |
| Numbers Matched | Odds of Winning |
| 5 | 1 in 962,598 |
| 4 | 1 in 5,066 |
| 3 | 1 in 137 |
| 2 | 1 in 11 |
| | |
| --- | --- |
| Odds of Winning Anything | 1 in 133 |
So What Happens if You Win?
For prizes below $600, winners can claim their money at any official lottery retailer. For larger wins, winners will have to download a claim form from the New Jersey Lottery site, fill it out, and either mail or submit it in person to the New Jersey Lottery office. If you live out of state, these same rules apply.
Also take note that prizes larger than $5,000 are subject to federal taxes, with about 25% withheld for US citizens and around 30% for non-US citizens living in the country. Meanwhile, if your winnings exceed $10,000, a state gross income tax will be applied.
The Biggest Jersey Cash 5 XTRA Winners
While Jersey Cash 5 XTRA is a smaller game compared to some of their peers in the industry, that doesn't mean you can't win a decent sum here. Don't believe it? Here are the biggest Jersey Cash 5 XTRA winners so far:
| | | |
| --- | --- | --- |
| Jackpot | Winners | Date |
| $1,582,562 | 2 | Nov. 2014 |
| $1,155,801 | 3 | Feb. 2015 |
| $1,548,770 | 2 | Mar. 2017 |
| $1,140,000 | 1 | Mar. 2013 |
| $1,350,000 | 3 | May 2011 |
| $1,330,192 | 2 | Nov. 2015 |
Jersey Cash 5 XTRA Fun Facts
John Roland, a Garfield, New Jersey resident won not once, but three times during a December 2013 Jersey Cash 5 XTRA draw. How? Roland accidentally bought two identical tickets, which netted him 2/3 of the jackpot (there were three winning tickets at the time), or $292,935 for each ticket. His third win was from an extra ticket that matched a few of the winning numbers. It gave him an additional $515 prize.
Yokastoa Boyer, from Clifton, New Jersey, was cleaning her room and organizing some documents for the coming tax season when she found a Jersey Cash 5 XTRA lottery ticket for the April 14, 2015 draw. After checking the numbers, Boyer was shocked—she had just won $472,271! She claimed the ticket right on time, too. It was set to expire two weeks later.
Jersey Cash 5 XTRA wasn't a rollover lottery during its early years. Instead, if no one matches the five numbers during a draw, the jackpot would simply trickle down and be distributed to second-tier winners.
The Bottom Line on Jersey Cash 5 XTRA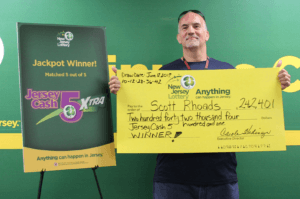 There's a lot to like about Jersey Cash 5 XTRA. The simple mechanics, daily draws, rollover jackpots, and the XTRA multiplier all make for an interesting, enticing lottery game. That said, it's not perfect. The lower-tier prizes, for one thing, are quite unimpressive (especially without the XTRA multiplier). Plus, prizes above $5,000 are subject to both federal and state taxes. Of course, those are but minor blemishes of an otherwise decent lottery game where prizes could rollover to 7 digits. Whether you're from New Jersey or not, Jersey Cash 5 XTRA is worth a look or two.